Northern Tale 2
After the evil witch Gesta was defeated, the time of peace was restored and the Viking king Ragnar decides to restore the kingdom in its former glory. Repair ruined villages, heal cursed trees and restore the domain to its former glory. However, Gesta is still alive, and an even greater evil is threatening the Vikings.

Travel through 50 gorgeous levels and explore wondrous locations. Make friends with mermaids and mushrooms in faraway lands, prevent a war between two mighty nations and see the story come to life with the improved 3D graphics!
New wondrous and colorful locations
Enchanting fairytale characters
Game System Requirements:
OS:

Windows XP/Windows Vista/Windows 7/Windows 8

CPU:

1.2 GHz

RAM:

1024 MB

DirectX:

9.0

Hard Drive:

456 MB
Game Manager System Requirements:
Browser:

Internet Explorer 7 or later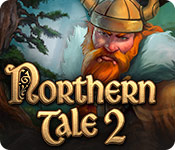 NEW299
The Big Fish Guarantee:
Quality tested and virus free.
No ads, no adware, no spyware.

Reviews at a Glance

Northern Tale 2
0
out of
5 (
0
Reviews
Review
)
Customer Reviews
They Aren't Kidding, Very Improved 3D Graphics!
If you thought they couldn't make the Northern Tale game better, you would be wrong! The graphics are improved 3D which makes the game almost lifelike. I also liked the tidbits of information they give you about the Vikings such as the surprising fact that Vikings were the only one's who bathed everyone else thought it was unhealthy! There are the usual TM tasks of collecting food and gathering resources of gold and lumber. There are 3 different modes of difficulty, normal, multi- click and relaxed without timer. You must complete the tasks given within certain times to earn 1-3 stars (in timed modes) such as repairing bridges, building houses or upgrading buildings to hire more workers. When you build gardens or mills they will continue to produce resources which are needed before bridges or gates can be constructed. There are bonus tools at the bottom of the screen that when activated can speed up the vikings or even freeze time for 15 seconds. Personally I loved this game even more than the original one, enjoy!
November 12, 2013
Northern Tale 2
I'm so glad they came out with Tale 2. The first one was absolute fun and this one is every bit as good, if not better. The graphics are fantastic and lifelike. I immediately bought it when I saw it. The option to be in the relaxed mode is great as I don't like to be under the clock to progress through the game. If you liked the first Tale, you'll love this one.
November 12, 2013
Had to have it!
Like the first game this is a story of a Viking king and his men saving his kingdom from the evil Gesta. The 3D graphics are really good and game play is smooth. You can click ahead so you don't have to wait. The story line is good and the unique info you get about the Vikings is very interesting. I have the first game and have played it several times and I am sure that I will play this one over and over. It has 3 levels of challenge including untimed which is a plus for me :-)
November 12, 2013
Another Irresistible Viking Adventure
BASED ON FULL DEMO FIRST IMPRESSIONS My favourite type of game is the HOPA, preferably one with no timer and no pressure. Yet, if I am not playing a HOG, there?s only a couple of other games where you?ll catch me. The original Northern Tale is one, my brave and sturdy Vikings with me,trying to beat the clock. What does this build/time management/strategy game (I never know what to call these things) have that most do not? Well, one thing is definitely the option of playing with no timer, which I love to have, but then don?t always use, lol. There is also an option to ?queue? your orders to the Vikings, allowing you to ?think in advance?, and I love this mode. I believe one day I?ll actually win one of these games in multi-click mode, but I haven?t yet. It goes without saying, that if you loved the first one of the series, you?ll love this one. There are few obvious signs of change. It looks and feels and sounds very similar. But the graphics really are more exciting and do give the game more depth. Everything else you?d like is the same. Like: The 3 modes of play ? normal, multi-click, no timer 45 levels, with 5 bonus levels which you can only play if you complete the main game. Top scores and Awards are kept in main menu. You can repeat any level you?ve tried before. Nice touches like having a side panel for widescreen players. The option to switch off the voices, the music, the sounds Nice little Vikings are again running around making their ?can do? way through all obstacles. And new characters and critters to meet - though I didn?t get to meet the promised mermaids and mushrooms, but I?m looking forward to it! My one issue is nothing really. The game is v.e.r.y. slow to load. FAMOUS LAST WORDS It is a fun little game, and worthy of many replays for a novice like me.
November 12, 2013
My favorite Viking is back!
Based on 39 minutes of demo time I loved Northern Tale - and the sequel, Northern Tale 2 is just as great. Unfortunately, the evil witch, Gesta is also back and threatening to wipe the Vikings off the face of the earth while you try to rebuild after the kingdom. (You just can't keep an evil witch down!) Game can be played in either a time management mode - or untimed (especially great for those of us who are a little slower on the mouse click) I will buy this as soon as I get up as it is waaaaay past my bedtime. Northern Tale is a game to play over and over; I expect NT2 to also be just as replayable.
November 12, 2013
Loved the first game
and I definitely love this second part. It is fun pure and I love it that you can play relaxed = without time pressure :-). Everything else was already commented by other Fishies.
November 12, 2013
This is awesome!
Loved the first Northern Tales - this is twice better. Graphics are excellent, game is fast paced and supplies load faster. There are villages, castles and stone bridges to repair along with more characters (such as Lizard Men). Played for 30 minutes and was hooked! You can't go wrong with this one and hope a third will come along one of these days.
November 12, 2013
Ragnar is Back!! Bigger and Better than Ever!!
I was so excited to see the sequel to Northern Tale appear today! I love it. We get to revisit with our favorite characters and join them on a new quest to repair the damage done by the evil witch! Stunning Graphics, great voice overs, excellent music! This one's a Winner!! Highly recommend it!
November 12, 2013
A fun sequel to the first one
This one is different from the first. On the first few levels, you have to use the merchant to get the goal you need. On one level I had to repeat it a few times to get through it. I would recommend this game.
November 12, 2013
Great Sequel!
I have the first Northern Tale and, I must say, this one is even better! The graphics are fabulous and the challenge is just enough to keep you interested. I played the trial in the "multi click" mode. The three different play modes lets you play according to what mood you're in. A real keeper, this one!
November 13, 2013