Northern Tale 2
After the evil witch Gesta was defeated, the time of peace was restored and the Viking king Ragnar decides to restore the kingdom in its former glory. Repair ruined villages, heal cursed trees and restore the domain to its former glory. However, Gesta is still alive, and an even greater evil is threatening the Vikings.

Travel through 50 gorgeous levels and explore wondrous locations. Make friends with mermaids and mushrooms in faraway lands, prevent a war between two mighty nations and see the story come to life with the improved 3D graphics!
New wondrous and colorful locations
Enchanting fairytale characters
Game System Requirements:
OS:

Windows XP/Windows Vista/Windows 7/Windows 8

CPU:

1.2 GHz

RAM:

1024 MB

DirectX:

9.0

Hard Drive:

456 MB
Game Manager System Requirements:
Browser:

Internet Explorer 7 or later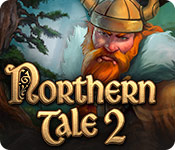 NEW299
The Big Fish Guarantee:
Quality tested and virus free.
No ads, no adware, no spyware.

Reviews at a Glance

Northern Tale 2
0
out of
5 (
0
Reviews
Review
)
Customer Reviews
A pretty good game
The graphics are good, the concept is the same as all hero quest time-management games. I've played a lot of these games and thought that this one was a bit quick to finish. I've had it for 9 days, not played every day, but just completed gold stars on all the levels and getting all the achievements. Although, saying that, some other games seemed to be completed after only a few hours of play. If you haven't tried these kind of games before it is a great choice.
November 29, 2013
Long enough, challenging enough, etc.
Like N.Tales 1, it's fun. You have little guys running around collecting stuff, etc. You get to choose from 3 options--casual (untimed), timed, and this 3d one I haven't quite figured out yet--supposedly you can click on multiple things for the guys to do but it doesn't seem much different from the timed level (can't click on stuff until the stuff in front of it has been removed first, which is how the timed option works too). I'm playing for the 4th time just to try different configurations (build the workshop to 3 stars before covering a pothole, etc.). Well worth the money.
November 23, 2013
Would've been great if not for ROOTS
I'm sorry - I love these kind of TMs, and I loved the first one in this series - but THIS one had me yelling at my screen around the level 30s! Everytime I tried to advance or do anything, those stupid roots popped up all over the place! I HATE that junk! I had to start over countless times b/c I would get to a farm or something, only have a little bit food but I'd think, "hey, I'm about to build a farm, so I'll go ahead and use it to clear this rock" (or whatever). But no, as soon as I use the rest of my food, a root pops up and blocks the farm so now I'm out of food and can't take out the root but yet can't get to my farm so I can build it and get more food. UGH!!!! I HATE when games do this and that ruined it for me. I don't want to be all mad and irritated while I'm seeking these games for relaxation! Game developers, PLEASE keep it down with the amount of unpredictability in one level! I don't even mind stuff hidden in caves or objects suddenly needing to be built 3 times instead of 1 - just STOP with the 10 million things popping up out of nowhere and needing ALL my resources - it makes it IMPOSSIBLE to just play the levels through OR ever have the hope of getting 3 stars!
November 15, 2013
I like but I don't love it
I am a big fan of TM games and when NT2 was listed I got it straight away. I loved the first one and its challenges and the story. This has all this and more for the player and it was well thought out. My big issues with this, hence the three stars are the following... The roots! Enough already. One or two levels of these were enough. They broke my concentration and threw off my game plan so many times. I know, build up the right things and you can handle them. For me, it was not an enjoyable part of the game. The time. Is anyone else having trouble with getting three stars? I have labored at some of these levels and still no luck using alternate methods again and again. I like to have goals but to have so much trouble with so many levels is a little disheartening. I don't know what to do differently and I have figured out how to adjust my strategy with many other TM games with no problem to overcome the problem. How many levels you may ask...about 2/3 of them with many barely getting the one star. I wanted to give this a five star review and while I have not given up NT2, I am leaving it alone for awhile and downloading the others again to tinker with. Would I get NT3 if and when it comes out? I don't know.
November 21, 2013
Good for a while
The game was okay for a while, nothing too new but kept me interested. All that changed around the 32nd level when the "evil vines" was introduced. Its one of those silly ploys that developers introduce to continuously throw in some sort of conflict or obstacle. That would be fine if some thought were put into it. This is just annoying and tedious. It also requires no creativity by the developer; can't think of anything new, throw in more vines.
January 4, 2014
Defeat the Lord of Nightmares
Unsuccessful experiment turned out to be the cause of great evil that devoured Mont Triste. From this moment the fate of Mont Triste and the whole world is in your hands. While the game concept is not new I appreciated the way it was presented to players. It quickly draws you in and you do your best to follow the story to the end because it is so exciting. Interactive gameplay and varied graphics (sometimes airy, sometimes dark to enhance the atmosphere) were the best things in the game. As to puzzles and HOPs, as usual, this is very personal but it seemed to me they were fun and challenging enough.
November 15, 2013
Somewhat difficult
Entertaining, takes a lot of forethought when new at it. A little hard for just enjoying a game but really good for people that like a bit of thinking. I don't think I will get the others in the series.
September 13, 2014
my heart leapt...then sank all the way down
Is it just me? I can not understand why this game is getting top reveiws? I enjoyed the first one so much I have played it four times. What a disappointment this sequel is....at level 5 i was thinking surely it will get better but it never did - and my heart sank. I am truly disappointed. There is nothing new in the game. They only added some characters - the giants, the lizard men, and included berries and fish as food. Eveything else was exactly the same - the game play, the music, sound effects, even the wee notes about the vikings were all the same as the first one. Did anyone notice the "new" things added seems copied from other TM games like the fishing, picking berries, giants? What a shame the devs got lazy with this sequel. Pretty much like playing the first one all over again with a few bits and pieces thrown in- and they decided to call it part 2. All i ask is WHY??? You guys had a great game going. if you haven't played the first one give it a go. It's still a nice game. if you have the first one, don't bother.
November 16, 2013
Where did the good reviews come from???
i just can't figure out the good reviews...i enjoyed the first game well enough, but this one...not so much. the graphics were so so, the game play slow and uninteresting. i didn't care for the limited 'stackability', and the look of the overall game seemed small. it seemed like a downgrade from the first game and was just disappointing to me
December 7, 2013
Too much like the first Northern Tale
Based on the one hour trial there was not enough that was different about this game from the first Northern Tale to make me want to purchase it. Music and sound effects the same. Tasks were the same. Challenge was the same. Overall, there was nothing that really sparked my interest. I could just go back and replay the original if I wanted to kill some time.
November 14, 2013