Royal Defense Ancient Menace
Become a part of an exciting story based on the dwarven kingdom's eternal struggle against the Ancient Menace, who only wants to crush the dwarves and claim their territory! To defeat the monstrous hordes, you must construct defensive towers and units and learn to wield powerful spells. All your towers and units have specific stats: Damage, Fire rate, Damage radius, Damage type, as well as various other features, such as enemy slowdown and Damage Over Time. Each level also brings new units and structures to help you fight your enemies. You'll never be lacking for new and exciting ways of decimating those ancient threats! Build towers, earn money, collect crystals and upgrade your spells – the enemy shall not pass!
Extensive Magic System
In-game store, for various upgrades
Hold back the Ancient Menace!
Game System Requirements:
OS:

Windows XP/Windows Vista/Windows 7/Windows 8

CPU:

600 Mhz

RAM:

512 MB

DirectX:

9.0

Hard Drive:

105 MB
Game Manager System Requirements:
Browser:

Internet Explorer 7 or later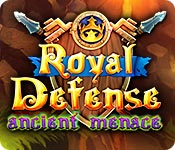 NEW299
The Big Fish Guarantee:
Quality tested and virus free.
No ads, no adware, no spyware.

Reviews at a Glance

Royal Defense Ancient Menace
0
out of
5 (
0
Reviews
Review
)
Customer Reviews
Royal Defense Ancient Menace
12
12
Even Better Than The Last One!
Big Fish has done it again, I'm already addicted to playing this game! Warning! This game will have you glued to the computer for hours if not days. This game is a tower defense strategy game that is actually very simple. You must click on the available spaces to pull up available equipment such as artillery or cannons and then click to build whichever you have the funds for. There are several paths the enemies take so you need to carefully decide what and where to buy in order to defend the castle from invasion. You get gold for each enemy you destroy which you will need to quickly upgrade weapons because each new wave sends stronger and faster attacks. You also earn gems which will be used to purchase upgrades such as a larger range or a cheaper cost. You can build mines that produce more gold but it takes the place of a weapon, however, you can sell anything you build and rebuild a different weapon. Each level has at least 6 waves of attack which can give you a few seconds to re-group between waves. If you have never tried this type of game because it doesn't look all that exciting, you might want to give it a try because I don't know anyone who has tried this type of game, say it wasn't the most addicting game they have ever played, enjoy!
November 13, 2013
Unique Tower Defense
This game is ridiculously difficult and I absolutely love it! There are so many tricks and gimmicks that makes it very challenging. There are lots of upgrades to buy and you choose what you want, the game does not decide. This game is going to take a lot of strategy to beat and trying again with different upgrades or strategies. In other words it will take a long time before you are bored with it. There are 3 modes of difficult and don't be fooled by the first one being called Easy! What really amazed me was all the original types of characters you're up against with unique abilities - which would spoil it for you if I named them. They are original to me as I had not encountered them before in any game I've played myself which are mostly the garden-type tower defense games and this game takes that concept to a new level and is still fun. There are also two different speeds which you can change which means you're never just waiting for them to walk through, in any event there is enough to do. If you like tower defence games, this one is a great one!
November 13, 2013
This is a re-run of Royal Defense
Yes, this is a re-run of Royal Defense but, the graphics layout is much better and more interesting. The game play is the same. I gave "Excellent" for Visual/Sound Quality. Well the sound is OK, the music is very repetative which makes it boring, so the excellence goes to the Visual quality. I love these tower type of games. This one has three levels, easy, normal and hard. It is very addictive and great fun to play. This really is a first class game and I only wish we could have more stratergy games of this quality. Give this game a try Im sure you won't be dissapointed.
November 14, 2013
Highly Addicive
I started of demoing Royal Defense Ancient Menace! because though I love the genre, I wanted to be sure it was both playable and enjoyable. I bought it an hour later and found myself heavily addicted to it for the following four or five days. The graphics are good. nice and clear on a wide screen. I found the sound effects to be good and the music never annoyed me at all. The most important aspect for me is to be able to manipulate the pause/play/fast forward buttons on the bottom left side of the screen. Without the ability to manipulate "Pause" before level start or in midst of an attack, defense would not be viable. Remember, you can build during pause. I began in the easiest setting, and played gaining my 'three shield' expert rating until the Shaman appeared on Level 8. I then started replaying on the normal and hard settings to gain crystals. Crystals are so very important. With them you can purchase the valuable grounds in the levels (and buying one in Easy means you also have access to it on the same level in Hard or Normal, and vice-versa); you use crystals to upgrade your starting cash and monster $ drops; to upgrade your weapons damage/cost/range; to upgrade your tower for more life; and, finally to upgrade your spell damage and cool-down time. The play is immersive. The first day I simply lost track of time, I must have played for thirteen hours or so. I had no idea that so much time had gone by. And IMHO, THAT is the sign of a pretty darn good game. A this moment in time, I've beaten everything on every level in both worlds except for the very last... it's a doosie!
November 19, 2013
My favorites
As usual with Royal Defense this is a great and addictive game! The Mac version is useless but the PC is even better than earlier RD versions. It is more even, playable and easier to attain 3 stars on all levels this time around. Completed it without having to visit our friend from Ireland :)
November 27, 2013
Third Time's A Charm
The first Royal Defense game was a solid tower defense offering and I enjoyed it a lot. The second game in the series however was painfully disappointing and it basically got panned. This one however makes up for the last one's mistakes and does just about everything right. The one problem I have with this series though is the fact that they do not support custom cursors in ANY of their games, which really detracts from the overall experience. All in all, if you're forgiving and you love tower defense games, this one will be for you. I like it a lot and may even purchase it when my trial is over. Keep em coming, and next time give us a custom cursor!
November 13, 2013
Pretty good tower game
This is the fourth in a series and it is the most like the first. I normally do not like tower games, but the strategy in this game attracted me. After one gets through the first game in the series, it becomes clear what it takes to win the levels here. One becomes good at deciding which towers are best and at pausing to upgrade or swap towers to prevent a loss. If you don?t like the fact that you can pause the game and change towers, then you would not like this series where that seems to be required. This is a tower game with more strategy than usual.
November 30, 2013
Perhaps it is the Mac version, but first time I ever regretted buying a game from BF
This has potential to be a fantastic game experience, but I'm totally stopped at the second level and can't get through. I wanted to like this game, but the Mac version is missing elements that would assist the player to form a strategy for the various waves of enemies: no options for choices of difficulty, the tutorial is very slight, and there are no help pages or info sheets within the game. This makes it impossible to look up details on what each of the icons means/does for the upgrades on your weapons, or what kinds of enemies you are going to face. Instead of me actually planning things out (knowing that certain kinds of enemies will be felled by certain weapons) I was frantically building and re-building things in the moment with no clue as to what would happen. Having to move quickly to tear down and build up new weapons in the moment is actually the most fun part of this game, but I don't like total guessing. While I love the challenge of the various waves, without decent info I can't have a fair fight. If I defeat a wave of enemies by pure dumb luck, how can I actually make a strategy for the next wave? The tip on the mines that was shared in these reviews here made me annoyed at the game developers: I had no idea what that "house" icon meant or what it was doing until I read about it here. I also still have no idea what would allow me to earn 3 vs 2 stars on a level or what that means. This missing info may be present in the PC version, and that may account for the different reactions between me and the other reviewers. Game would have been great, and I would have recommended it, had there been a better tutorial and/or help section or info pages on each of the weapons and enemies faced, so we could make informed decisions on how to spend our gems.
November 17, 2013
Didn't like
In general, I find these games boring and anticlimactic
February 1, 2014
Warning Mac Version
The Mac version, unlike the PC versions referenced in most of these reviews, doesn't have difficulty levels or allow for more gem collection (to buy upgrades) when replaying earlier levels. I can't advance past level 6. So, I got/bought about 1/40th of the game PC users did.
November 22, 2013
The Apple logo is a trademark of Apple Computer, Inc.