Plagiarii
Evelyn awoke locked up in a strange place, her whole life overturned. Even in her strangest dreams, she never could have predicted what extraordinary phenomena would soon overcome her existence: memory loss, mysterious disappearances, encounters with an unknown intelligent species, time travel. Help Evelyn escape her confinement, discover the truth behind these unusual events, present humanity with a priceless gift, and find true love along the way.
Genuinely unpredictable plot
Unique and exciting mini-games
Original music
Attractive high-definition graphics
Romantic love story
Game System Requirements:
OS:

Windows XP/Windows Vista/Windows 7/Windows 8

CPU:

1.2 GHz

RAM:

1024 MB

DirectX:

9.0

Hard Drive:

231 MB
Game Manager System Requirements:
Browser:

Internet Explorer 7 or later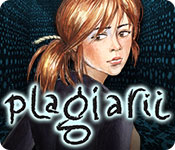 NEW299
The Big Fish Guarantee:
Quality tested and virus free.
No ads, no adware, no spyware.

Reviews at a Glance

Plagiarii
0
out of
5 (
0
Reviews
Review
)
Customer Reviews
An Interesting Game
I enjoyed Plagiarii. I read the comments from the others: usually when a game gets poor ratings I pass it by, but the comments made by a few of the reviewers intrigued me, and I'm glad I went ahead and bought this. I played it all the way through without trouble. Yes, it is mostly hidden object, but I'd say that they were "fair" in that each was distinct and not hidden in shadows. They can be quite small,so if size or resolution is a problem for you, this might not be a good choice for you. The story moves through different locations and times, but each chapter is self-contained and moves along pretty quickly. It was nice finding a game that wasn't a memory hog for a change, and there was nothing too sinister or icky. It is an enjoyable way to spend some time.
November 13, 2013
Give it a chance I really like it
This game seemed really strange when I first started to play, but the more I got into it the more I liked it. You have to do a lot of thinking for yourself and that is what makes it fun. I know it is not for everyone because it seems old school but the game is different and a lot of fun to play if you stick with it more than a few minutes. I bought it after about 30 minutes of play, wanted to see more and I love all the sounds all the items make. Made me laugh
November 13, 2013
IF you have an imagination and can read... you'll like (or love) this game.
I had to laugh about some comments made in the lowest ratings of this game... it truly is NOT a "dark" game, nor is it gloomy [it actually has some very light humorous touches despite being a SciFi theme], and it has a very good storyline. It actually has a beginning, middle and end [opposed to some games, lol]. Granted, the graphics are sketchy and cartoonish and the puzzles are not extremely complex; however, they are >different<, >interesting< AND the game in it's entirety is excellent!! So, I am very glad I purchased this game, wish there were more like it and it is nice to see many positive reviews such as mine; it's refreshing to know there are other gamers that have the insight to see a good game; one that doesn't need to jump up and down with bells and whistles and practically have to play itself in order to be amusing. Well, not for everyone, but definitely don't miss "Plagiarii" if you enjoy quirky, outside of the box and fun diversion games that are also immersive. Thanks BFG and developer... encore, encore! : )
January 13, 2014
There's good magic about this game
Thoroughly enjoying it! Can't deny that it's old school, but who cares if it creates a world you want to be in? The graphics are appealing, but what I find truly unique is the art of those intermissions where the characters appear and interact in static pictures. That art is way beyond ordinary! So far I've come across only 1 task that I didn't enjoy doing. It was time based. Not a significant drawback since there's always a way around. The game (mine now) is a definite keeper. Play when you are not hurried, and enjoy!
December 22, 2013
DON'T MISS AT LEAST PLAYING THIS ONE! FUN, IMAGINATIVE, BRILLIANT!!!
I READ ALL THE PREVIOUS REVIEWS!!! THEY HAVE NO IMAGINATION OR SENSE OF THE HUNT! I WILL BE BUYING THIS ONE! IF I TRY THE ONES I READ WHERE OTHERS HAVE SCOFFED AT THEM, I HAVE BEEN ABLE TO FIND SOME REAL GEMS!! LIKE THIS ONE!!!!!!!!
November 13, 2013
Fresh and unique
I liked this game's exciting plot which reminded me of thrillers and mysteries. I've grown kinda tired of the castles, dungeons and witches, present in most hidden-object games. The mini-games were really unusual and I loved them. Some of them would benefit from more detailed hints, but without those hints I had to use my brain which is also nice :-) The music in the game creates a nice feel, every chapter has its own tune which generates a certain mood. The game process is modern, despite the graphics being a little retro style.
January 20, 2014
Solid and decent
I like this game, it has a soothing effect on me. From its characters down to its music, this game exudes kindness, which is so rare these days. The graphics are very nice, the game process is steady and exciting at the same time. Plagiarii is an excellent addition to my game collection. I think I will play it again in a couple of months, and even in a year.
January 20, 2014
LIKE IT A LOT
Different people like different types of game, no doubt. I have downloaded the demo and I really like this game. I plan to buy it as soon as there is a sale. Hoping Big Fish will have a sale soon.
November 14, 2013
A Good Solid Game--Pleased to Read Well-Deserved Positive Reviews!
Off the beaten path of the usual dragons, witches and evil black smoke everywhere, "Plagiarii" is a pleasant surprise. I have played a game similar to this, yet, this game has already grabbed my attention like a good book you just can't put down. Some items are very small and also had to "change gears" with the different gameplay. Thank goodness, yes, different gameplay! A veteran gamer, my mind has become too accustomed to the easy way out and I'm looking all over the place for a solution when it hits me! I have to figure the game out myself and the solutions are very logical. Like I said, it's just different! Hooray! An immediate buy especially on a sale! Thank you, Devs! Thank you, BFG and thanks for those reviewers I respect so very much! If y'all could remember to include your current favorite with the reviews, that would be awesome! Enjoy! -Mama Mia-
November 12, 2014
Thanks for the good reviews!
Thanks to all who wrote a positive review of this lovely game, encouraging us all to try it despite some negative comments out there. I found it to be a wonderful, relaxing, fun, surprisingly witty, yet challenging change of pace from demons and wizards and dark castles. And it's worth it to work through challenges (though there are hints and skips available) to be rewarded with a delightful surprise ending!
November 13, 2014