Plagiarii
Evelyn awoke locked up in a strange place, her whole life overturned. Even in her strangest dreams, she never could have predicted what extraordinary phenomena would soon overcome her existence: memory loss, mysterious disappearances, encounters with an unknown intelligent species, time travel. Help Evelyn escape her confinement, discover the truth behind these unusual events, present humanity with a priceless gift, and find true love along the way.
Genuinely unpredictable plot
Unique and exciting mini-games
Original music
Attractive high-definition graphics
Romantic love story
Game System Requirements:
OS:

Windows XP/Windows Vista/Windows 7/Windows 8

CPU:

1.2 GHz

RAM:

1024 MB

DirectX:

9.0

Hard Drive:

231 MB
Game Manager System Requirements:
Browser:

Internet Explorer 7 or later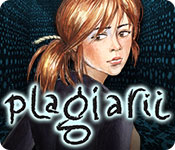 NEW299
The Big Fish Guarantee:
Quality tested and virus free.
No ads, no adware, no spyware.

Reviews at a Glance

Plagiarii
0
out of
5 (
0
Reviews
Review
)
Customer Reviews
Don't let the typewriter- type fool you. Puzzling fun
This game has simple graphics but interesting puzzles. The hidden object scenes are cleverly simple. Don't be put off by the written captions- makes the game look dated, but I thought it was better than alot of more expensive collector's editions with boring HOS and same old brain teasers. Nice change of pace.
November 14, 2013
New Games
Ok, this isn't the most sophisticated game put out there, but it is fun. I like the new games...kudos on originality. This review is based on the demo. If I had the money, I'd buy it; it has been put on my *to buy* list. Did I mention it was fun?
November 15, 2013
and now for something different
I really liked this game. at first, I found the story confusing and solved the puzzles to see where it was going, but I got addicted and had fun playing it. And the storyline is original; give it a try!
December 25, 2013
You Will Want A Magnifier For This Game!
I can overlook the poor graphics, oops I mean unique graphics, I can overlook the cartoonish characters, I can overlook the confusing mini games but I had no choice but to overlook the hidden objects because the were so TINY! I will give credit where credit is due, it doesn't have a bad story. You wake up in a dingy cell and you have no memory of who you are or where you are at. As you travel from room to room you find pieces of a mad scientist's log which is basically how you find out bits and pieces of the story,which quite honestly isn't new, but interesting anyway. You find 36 crystals hidden throughout the game and they are easier to find than some of the list items. The HOS are list finds, no interaction other than zooming in on a drawer etc. and believe me they are little items spread throughout the entire room. There are a lot of mini games some of which are not bad, others are just plain stupid and ridiculously simple such as placing fuses in the box and they are marked with letters and numbers and you simply have to spell hallway with h1, a2, l3, l4 and so on. There was one game I thought was unique, you had to find 15 traps, cameras and creatures it was actually well done. Anyway if you like the kind of hidden object game that is done with an entire room full of very tiny objects then this is a good game to play, otherwise I think it might frustrate a lot of players.
November 13, 2013
Out Of Style Perhaps, But It Has Its Moments
BASED ON DEMO FIRST IMPRESSIONS Another nice game that, while clearly down market, is a decent game, spoiled a little by being too slow. (I seem to be saying that a lot lately). This game does have a few redeeming features that should please many gamers ? the puzzles are almost all originals! There is a considerable amount of brain power put into this aspect of the game, and the results show it. SIGHTS & SOUNDS This is a low budget game, delivered in an out of date style, and if that bothers you, this game is a non-starter for sure. The graphics are essentially comic book style, with some variation into pseudo-realism, particularly in the HO scenes. These were nice and clear, even if the items are very well hidden, and occasionally too small. Another way in which this game feels nostalgic is that it is based in an abandoned hospital ? sound familiar? So the graphics are not beautiful nor cute. Another redeeming feature is the sound effects. These are a hoot. Wherever you go, remember to click on items around the room. Like the grandfather clock, when you get to it.The music is very pleasant. Voiceovers would be way out of this game?s league, but the dialogue is never much anyway. MAKING PROGRESS The searching for HOs is another return to previous fashions ? the interactive list is on the left side of the screen, and often the items are in the general location, not a close up junk pile. There are also some multiple object puzzles as well. The puzzles/mini-games are to be found fairly frequently, more so than the HOPs. As I said, they are excellent, because I?ve hardly seen a one that was familiar even in principle. Some were extraordinarily easy, but some were hard too. There is a directional hint, and nothing else to help you on your way, but it really is enough. Although not necessarily overly easy, it is logical and straightforward in its gameplay. This game also has collectibles. 36 crystals, to be exact. Whether they are used in the game I do not know. FAMOUS LAST WORDS I think this game has a place in the Big Fish pond. It is well constructed and conceived, admittedly slow and dated, but I wouldn?t consider a punchcard coupon a waste for this one.
November 13, 2013
All I can say is boring!
While the graphics were ok I found it very boring with the storyline and the stop and go motion. There was no flow. It was more comic book than game. Very beginning Hidden Object fans may like it a little but anyone that is beyond being a novice will probably find it boring as well.
June 15, 2014
THAT was a Mistake....
So the game is a little behind the times. I gave it a shot because I found myself enjoying the trial even without all the bells and whistles of more up to date fun. Tho the story line is really pretty bad, I bought it because I thought the puzzles were original and because it actually seemed to be going somewhere. For those who want something to collect, you have little star balls, but I don't think you'll be that impressed with what they get you in the end. Unfortunately, the trial was nearly the whole game. It was over about 30 minutes after I purchased it. This is the first time I have ever considered asking for a refund. Play the trial and enjoy it because there isn't much more.
November 15, 2013
WOW..WHAT A STINKER!
Absolutely the worst game I have ever played. I tried to stick with it to see if it improved but alas..after 30 minutes I just couldn't take it any more. The graphics are very amateurish (if that's a word) and the plot is really thin; amnesia...give me a break! The HOs had just about the tiniest items I have ever seen; in one scenario you need to find 15 teeny tiny fuses. I mean, 5 maybe ok, but 15...jeez. Some items in the HO scenes are only faintly drawn in, just a mere shadow. The 2 puzzles that I encountered were so simple it made me wonder what the point was. I think this must be either an old entry or one on a very limited budget. A total miss!!
November 13, 2013
Horrible
The title says it all. I played 15 minutes of the demo and had to trash it. I would have given it a minus 5 stars, if that option had been available. The HO scenes are mediocre at best, the puzzles have glitches, and the graphics are late 80s/early 90s (maybe). Do yourself a favor and skip this one.
November 14, 2013
Pass on this game
This was one of the most boring games I have ever played. The hidden object part was find so many of this and so many of that. Looked like a cartoon. Played until it gave me a headache. Do not bother!!!
November 13, 2013