Haunted Halls: Nightmare Dwellers Collector's Edition
Exclusive
Race to uncover an ancient secret in Haunted Halls: Nightmare Dwellers! The night started out like any other. A local collector was complaining about paranormal activity in her mansion, and the authorities called you to get to the bottom of things. But it turns out that the pit of bizarre activity was bottomless. Now you find yourself lost in a living nightmare brimming with strange creatures, comatose colleagues, and mysterious tentacles reaching out around every corner! Can you find the source of the happenings and destroy it before it's too late? Find out in this thrilling Hidden Object adventure game!

This is a special Collector's Edition release full of exclusive extras you won't find in the standard version. As a bonus, Collector's Edition purchases count toward three stamps on your Monthly Game Club Punch Card!

The Collector's Edition includes:
Travel into the mind of the villain in the bonus game
Replayable mini-games and hidden-object puzzles
Exciting screensavers, wallpapers, and concept art
An available Strategy Guide
Game System Requirements:
OS:

Windows XP/Windows Vista/Windows 7/Windows 8

CPU:

1.6 GHz

RAM:

1024 MB

DirectX:

9.0

Hard Drive:

767 MB
Game Manager System Requirements:
Browser:

Internet Explorer 7 or later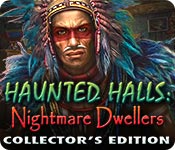 The Big Fish Guarantee:
Quality tested and virus free.
No ads, no adware, no spyware.

Reviews at a Glance

Haunted Halls: Nightmare Dwellers Collector's Edition
0
out of
5 (
0
Reviews
Review
)
Customer Reviews
Haunted Halls: Nightmare Dwellers Collector's Edition
45
45
Cute and Scary=What in the World am I Playing? The Creep-Factor is Completely Gone.
I am beyond disappointed. This was the only remaining series that this particular developer had not yet made a mess out of. Until now that is. My main complaint for awhile now is that they are in need of a serious update of...everything. Nothing has changed in over 2 years. Graphics, music, game mechanics, items in Hidden Object Scenes, puzzles, storyline; each game is exactly like the one before it. It would be fantastic to see some of that creative spark that their games used to have. I was hoping to see it here but...no. The one thing that ERS has 'added' to their last dozen games or so is a whole lot of cuteness. Fuzzy little pets that you can feed and clothe. Cuteness abounds! That's great...for kids. I'm not sure who their target audience even is anymore. Most games are a bit too mature for kids yet many are too immature for adults, hence my confusion. They carried this cuteness over into the Haunted Halls series, much to my massive disappointment. Where did the scary, creepy go? That's the one hidden object I couldn't find anywhere in this game, and I looked for scary, creepy everywhere in the demo. Never did locate it, but I did find a Cuddly Hamster with a huge appetite. The first Haunted Halls is my favorite of this series. I went back and played part of the original Haunted Halls again after playing the demo of this one and I could not believe my eyes! The graphics in the 1st game are actually "better" than the graphics in this latest release! If you own the first one, take a peek. Your jaw will unhinge and hit the floor when you see the difference. This series has actually gotten worse over time in my opinion (and the graphics agree with me). With this game, they went way too far in the wrong direction. Game-play itself is rather linear; puzzles very easy, HOS very easy. Not much challenge to be found here; therefore the SG really isn't needed. Intermediate to Expert players may find themselves getting bored and restless due to lack of challenge. Additionally, there really isn't much in the way of CE extras. This is more of an SE with some extra padding thrown in. The most frustrating aspect of this game for me is that the developers brought "cute" into Haunted Halls! This is their "scary, creepy, nightmarish" series. It's "HAUNTED" halls; it says so right in the title. Cute, cuddly and fuzzy doesn't mesh well with a scary, creepy nightmarish game. It causes massive confusion for the player. Am I supposed to scream...or play with and feed Mr. Cuddles? The demo, in my opinion, is a mess. I cannot imagine playing through the remainder of the game. Aside from the strange genre-blending, I got bored fast. The storyline is lacking and there is very little "haunted" left in the halls at all, which is a shame because this was a series I enjoyed...for the most part. Their last Haunted Halls wasn't up to par with the others either but that sometimes happens with a series. However, this one strays even further away; to such an extent that it is difficult to even associate it with the others in the series. For this developer, it appears that "super cute" and "never going to change a thing about our games...ever" is here to stay. The fact that they brought cute into a game that is supposed to be nightmarish completely ruins the experience. Sad to say this, but there are too many other games out there now using superb graphics, intriguing game-play and unique and original concepts to waste anymore of my time with these cookie-cutter repeats. For fans that were around for the original Haunted Halls game; you may find yourself extremely disappointed, especially if you weren't thrilled with the last one either. As far as morphing objects go, this is the biggest find. "Haunted Halls" completely morphed into "Cuddly Halls". As a result, I absolutely cannot recommend this as a CE. My opinion of this game aside, there isn't much in the way of CE extras here anyway so I would consider waiting for the SE on this one anyway if the budget is tight. Personally, I cannot recommend the SE either. As always, try for yourselves; opinions vary. For the original hardcore Haunted Halls fans; well, it was fun while it lasted, eh?
November 21, 2013
ERS is slacking again...and destroying another series
Haunted Halls: Nightmare Dwellers Developed by ERS Collector's Edition Review based on exceedingly painful one-hour demo IN THE BEGINNING... There was a game developer that decided to forego creativity and originality in favor of the formulaic and parochial. And thus, some of the greatest casual game series met their untimely end. Hearken to their names: Maestro, PuppetShow, Spirits of Mystery. And now, Haunted Halls?the latest victim. Like daytime soap operas villains, ERS evildoers never die. They are magically and impossibly resurrected for a thinly plotted sequel or prequel. Yes, Dr. Blackmore is back in all his tentacular horror, and this time he has help. You can vanquish him again, but I feel certain he'll rise from the ashes until this series is dead and buried, and the ground salted. PLAY THE GAME... In adventure mode, the best advice I can give is to think, "What is the most illogical, senseless action I could perform here with what I have in my inventory?" and try it. These Halls are not Haunted; they're inane. I came across three HO scenes during the demo?two sequential silhouettes and one interactive list. And one puzzle that repeated ad nauseum. All I'll say about that is: the goggles are not as cool as they initially seem to be. Nothing ground-breaking here, but lots that's migraine-inducing. SIGHTSEEING? The graphics and animation are exactly the same as every other ERS game you've ever played over the past few years. Frankly, ERS has become the McDonald's of casual gaming?generic, predictable, and a poor imitation for the real thing. SOUND WAVES? The music is the exact same piece of music that ERS uses in all their games. Do they think we don't notice? At this point, I have an almost Pavlovian negative response to it. Those violins?*shudder* TOOLBOX? The map is inside the journal, which is poor interface design. The inventory is lockable, thankfully. I didn't use hints as I prefer to refer to the SG in order to gain additional achievements. However, being as this game passed Surreal at light speed and made itself comfortable at Utter Nonsense, I referred to the SG quite often. And still found myself saying, "Well, that's idiotic. Who would think of that?" EXTRA, EXTRA? I assume the usual suspects are offered with the CE, but I'm not interested enough to find out. The demo was enough torture for me and, it should be noted, I have the first three games in the series and really like them. There's a reason why trilogies never have a fourth installment. THE LAST WORD? I wouldn't waste hard drive space. ERS has been incredibly prolific these past few years?with about a 10% success rate at putting out quality games. The rest of the time, they're coasting and should be ashamed of themselves. This time they've even cashed in on the "cute animal" fad. In a horrific supernatural game. Seriously? Nightmare Dwellers is offal dressed up in the sirloin of the Haunted Halls label.
November 21, 2013
yes, ERS HAS done it again, and that's too bad.
i played the beta of this game (which nowadays anyone can do), and, after reading the reviews, it's obvious that they have changed nothing, so i will not bother with the demo because it's exactly what i played in the beta and i *certainly* don't want to play it twice. i will say that THE ONE thing that ERS has improved since the first haunted halls game is the custom difficulty level. i really appreciate that. and, when i set the custom to get rid of the black bar tips, it does improve the experience. that's where the improvements stop. as i have said before, i'm done with cute animals. for all of us who have stated over and over and over... and over again, begging... saying that we are TIRED of them, it seems like this game was designed just to make us mad... because i have never seen SO MANY animals in so little time. they are in *every* scene, including zoom ins... and if there isn't an animal in residence in the zoom in, then you must USE an animal to "fix" or "solve" whatever the zoom in requires. and the puzzles are, once again, too easy. and the glasses... over and over and over.... and the music.... over and over and over... ENOUGH ALREADY. i own... and LOVE... the first two haunted halls. they were truly creepy, scary and, at times, almost disgusting... in a good way. this game is SO far removed from what the original games were like it's almost unbelievable. but, it remains in the realm of believability because it is what ERS has become. and, since i don't care for it, it's a NO BUY for me. again. not CE, not SE. i had to struggle to finish the beta! so, for those of you who LOVE LOVE LOVE this game... good for you! but, if you don't have the first games and buy them in the bundle sale, boy HOWDY are you going to be in for a shock! the third game, the revenge of doctor blackmore, is more like this game, but... the first two? other than doctor blackmore himself, there is NO resemblance to this game at all. none. even the artwork is better in the first two games. so, my streak of disliking ERS games continues. still have not purchased a game since before what they did to phantasmat. more's the pity because i loved the first haunted halls and i love dark alleys. but, i guess this dev does not make those types of games anymore. i keep hoping and will keep checking on every new release, whether by beta or demo. and while i *will* keep hoping, i won't be holding my breath.
November 21, 2013
YOU HAVE GOT TO BE KIDDING ME !!!
What happened to my Haunted Hall game??? What a train wreck !!! I have everyone of the HH games and love them. Sadly, I won't be adding this one to my collection even if it were FREE. I don't even know what to say about it. It is such a mess of cutesy animals and it is NOTHING like any of the other HH games. Dev's you have to do better. Just because it is called a "game" it doesn't mean you need to make it childish.
November 22, 2013
I am so disappointed with ERS
Another great series ruined by ERS! Why are you doing this ERS???? I was so excited to see a new Haunted Halls game and than the disappointment set in while playing the demo. Too geared towards kids! A pet store really? How old are the developers who are ruining the once great series for example Redemption Cemetery! Please give us a reason ERS! Do you not listen to us or read the reviews! I am banning ERS, until they stop coming out with horrible games that once was a joy to play!
November 23, 2013
The Apple logo is a trademark of Apple Computer, Inc.