Haunted Halls: Nightmare Dwellers Collector's Edition
Exclusive
Race to uncover an ancient secret in Haunted Halls: Nightmare Dwellers! The night started out like any other. A local collector was complaining about paranormal activity in her mansion, and the authorities called you to get to the bottom of things. But it turns out that the pit of bizarre activity was bottomless. Now you find yourself lost in a living nightmare brimming with strange creatures, comatose colleagues, and mysterious tentacles reaching out around every corner! Can you find the source of the happenings and destroy it before it's too late? Find out in this thrilling Hidden Object adventure game!

This is a special Collector's Edition release full of exclusive extras you won't find in the standard version. As a bonus, Collector's Edition purchases count toward three stamps on your Monthly Game Club Punch Card!

The Collector's Edition includes:
Travel into the mind of the villain in the bonus game
Replayable mini-games and hidden-object puzzles
Exciting screensavers, wallpapers, and concept art
An available Strategy Guide
Game System Requirements:
OS:

Windows XP/Windows Vista/Windows 7/Windows 8

CPU:

1.6 GHz

RAM:

1024 MB

DirectX:

9.0

Hard Drive:

767 MB
Game Manager System Requirements:
Browser:

Internet Explorer 7 or later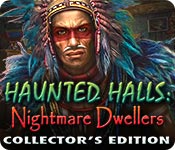 The Big Fish Guarantee:
Quality tested and virus free.
No ads, no adware, no spyware.

Reviews at a Glance

Haunted Halls: Nightmare Dwellers Collector's Edition
0
out of
5 (
0
Reviews
Review
)
Customer Reviews
Haunted Halls: Nightmare Dwellers Collector's Edition
45
45
Didn't See That One Coming!
I'm a huge fan of Haunted Halls and even Dr. Blackmore! This game doesn't disappoint, there's plenty of creepy, eerie, weird and plain ole paranormal going on, wrap it all up with some slimy tentacles and you've got yourself an awesome adventure. You are called into an investigation by a detective who doesn't have any paranormal experience, and when you arrive, you probably wish you didn't either. The owner of the house Dr. Gauss, may not be who she seems and when your fellow investigator is found hogtied and hypnotized we know something ain't quite right! You receive special goggles that allow you to decipher codes which in fact is a series of mini games. You are given several pairs of codes and you must place them in boxes side by side with the last symbol matching the first symbol on the next pair and when complete will reveal a message. The graphics are the usual white washed pastels that this series has perfected and I have to point out that they have done one of the best jobs of making the characters lip movements appear to match the words, that I have seen. There aren't a lot of HOS but they are interactive and progressive where you find the first item as shown as a silhouette and use that item in the scene to receive the next item and so forth. The whole place is filled with zoo animals which are displayed in your "zoo" but I really have no idea what the point of it is and you will come across several vials such as love vials to collect and there are 5 vials of 4 different potions.This is a solid and entertaining game that you will enjoy even if you haven't played any of the other Haunted Halls. Hopefully you will solve this mystery and avoid Morpheus the god of dreams and the evil Dr. Blackmore the half man half octopus creepy guy, enjoy!
November 21, 2013
REVIEW OF COMPLETED GAME
I stopped reviewing CEs some time back. I thought the fault was mine, that I had become rather jaded, or had burn-out, because none of them were moving me at all. They were all palling and failing to impress. Therefore, I thought it unfair to review any of them, since the fault was mine. This morning changed all that. It had not been me, it had been the games. 10 minutes into the demo of this game my mind was going "Knock your socks off, clear out of the ballpark, over the hill and far away" terrific! The ingenuity, creativity and originality of this game is awesome. It was delightful, funny, charming, creepy and at times just straight up laugh-out-loud. The fun/entertainment factor is huge and it never quits. I always used to say about ERS game that the main game took 4 hrs and the BC 1 hr, every time. This game carried me along for 6 hrs all inclusive and I could easily have carried on indefinitely. Many devs are capable for great graphics. Not many are capable of such outstanding graphics. There are twists and turns in this game that made me go "Wow, how do they come up with this stuff!". There is a jump map and great music, a story in conjunction with the prequels, and really good puzzles. The iHOS are varied, clear and very, very fun. But the best parts are the little extra delights that show up all the way through. Not necessarily integral to the game, but thing that made me grin. Widely. A word about the major beef that some folk have and that is the cutesy, fluffy creatures. Yes, they are there. But, they are not in-game. They are found in the game but they play no role. They are part of the extras and it is entirely optional whether one wants to deal with the zoo or the hamster, or not. If not, ignore them, they are not relevant. There are no "adorable" critters in the game as helpers. As to the special glasses "puzzles", they are so easy and quick I cannot understand why this is an issue. Just skip them. On one can choose how fast or slow one wants one's skip button to fill and one can change this continually throughout the game as desired. I do think personally, that there is a certain tendency to review a developer rather than a game and I feel this really unfair. A game is not bad or good because a particular developer made it. I also noted that some also had problems with the tentacled aspect of the villain. All these game have ridiculously unbelievable villains. Peter Parker as Spiderman took on spider abilities in that hit movie series. Superman is another case in point. Without these attributes we would have no villains or heroes and this genre would fall flat. I think it would be a terrible shame if people shunned a game as brilliantly presented as this one, simply because it is made by ERS. If one plays the entire one hour demo and is not impressed, fair play. But to miss out on this experience because people are using these negatives like "cutesy, boring, same old same old", etc, is extremely misleading. I have played some ERS game that have not impressed. Not many, but some. This is not one of them. It is a cut above and I had a wonderful day with it. Not had one of those in a long time. Ta, ERS. If you put out a dud, I will be the first to let you know. Not this time.
November 21, 2013
A worthy CE. Loved it...
This game was really entertaining, and although the main game took almost 3 hours to complete with a few puzzle skips, the bonus chapter took about an hour to finish. Wish game had been longer, but still felt I'd got my monies worth with the quality of this CE. The game had various levels of difficulty, including a custom mode which is always welcome. After all, we buy the games, and therefore it's right that the devs allow us to play the game the way we want to. The mode could be changed during the gameplay. Graphics were superb, and music was pleasant. A bit too much hand holding but the level of challenge was great if you clicked off the black bar tips. The game ran really smoothly on my Mac, and no pickiness with the cursor when picking up objects. The HOPs started off being quite unusual and fun, but as happens all too often they decline into junk pile with a bit of interaction which is a shame. So refreshing to have new ways to play these puzzles. I really enjoyed the mini games. They were beautifully done, different and challenging but not impossible. My only criticism was the glasses you picked up early in the game, which were used to crack some kind of code. It got quite monotonous and boring when the glasses were needed over and again. I felt this added nothing to the game. Luckily the skip button could be adjusted to skip this quickly. The map and hint system were excellent and I didn't need to consult the SG.
November 21, 2013
Dr Blackmore?s Back! In Our Dreams?
BASED ON DEMO FIRST IMPRESSIONS Oh man... I am so weirded out by this game! In the best of all possible ways of course. It?s bad enough that Dr Blackmore is apparently alive and strutting his tentacles, now he has a fond ?admirer?! Who has lured us into her extremely creepy home, captured our fellow investigator, and left us to fend for ourselves among a zooful of insane animals. This has always been an excellent and creepy series, but it went ballistic for this game. As well as the signature aspects of the series, the betentacled doctor, the electronic gadgets and a uniquely surreal game world, ERS has introduced blatant magic for the first time. I literally could write a treatise on all this game has going for it, even after just one hour of playing it, but I?ll spare you. HIGHPOINTS IN BRIEF (as I noticed them) *perhaps the most dramatic opening of any ERS game *highly customizable ? many choices on all types of options *ERS signature art, but much lighter than any other game of theirs I?ve seen. Combines beauty and creepy very cleverly *lip sync?d voiceover *cute guy as our partner *an awesome level of weirdness in the story and gameplay (E.g., put the frog in the vase and feed him a chilli pepper to melt the wax.) *special secret service goggles designed to see supernatural activity. Associated with a mini-game to reveal a game tip *choice to play the hard or the easy version of INDIVIDUAL puzzles, inside the game, as well as fully customisable difficulty level from the menu *many more puzzles/mini-games than HOPs. Only HOP I did was a find and use silhouette HOP, visited twice *(but there?s sure to be more, because) I didn?t get to the halfway point of the demo (according to the SG) before my hour was up *there are oodles of animals, but they are for the most part not very friendly. Those that are, are not very cute. I didn?t even like the cat *good interactive map, journal, directional hint *more bling! than you can count CE BLING! *bonus chapter: seeing into the enemy?s mind (Dr Blackmore?s? Cuz that would be really scary), *accessible SG (this actually didn?t look all that useful to me, it was light on information), *excellent interface in keeping with the game for accessing wallpapers, videos, concepts, screensavers, music, replayable puzzles and mini-games. *achievements in a dream room in a night time sky *collections ? 5 vials each of 4 different potions *zoo ? collection of all the animals you come across in the game *hamster (who thinks he?s a merchant) BOTTOM LINE Truly a stupendous game, particularly if you are a fan of the series. If you don?t know the series, your enjoyment of this game won?t suffer, but you?ll be wanting the previous games before the bundle sale is up!!
November 21, 2013
ERS has done it again!
Well the bunny team is back with another wonderful game from the series Haunted Halls. Look like we are going to have a little hamster companion with us on our journey. Looks like it will be and interesting adventure and one I am truly looking forward to. Side note: Those doughnuts looked awesome. I would of loved to reach in the box and take one lol. Story: Starts out about some lady complaining about paranormal activity and so she called for us to see what the problem is and to take care of the situation. Our detective thought it would be get rid of the ghosts and call it a night when our detective ran into comatose colleagues, strange creatures and those tentacles again. Dr. Blackmore in the house? Out to reach havoc once again. Well I am going to go see what happens with today's episode of "Haunted Halls: Nightmare Dwellers. Graphics: The team did a wonderful job in giving it that creepy look. Adds to the factor do I really want to go into the next room seeing how this one looks. Music: Very nicely done to where at some points you can feel the hairs on the back of your neck start to crawl. Mini games: Done just right again. No problem here. H0GS: From what I seen one was the type where you use one object on another object until you get the item you need for your inventory. Map: Jump map. Save the detective from some walking. All in all another great game from the bunny team. Kudos for a job well done!
November 21, 2013
Yes dwell into the nightmarish mind of Dr. Blackmore!!!
Haunted Halls has become a cult classic. Fans of the series are going to be delighted. Rips the ears totally off the ERS rabbit. Kudo's developers! The quest begins with entering the mansion, search for the hidden skull, stop a wedding, and free Blackmore's victims. Especially Lloyd, He is crucial to the adventure. Exciting unique puzzles and visuals, voices, etc. The bonus chapter gives you Dr. Blackmore's history, explaining the reason why he became a villan. Loved it. Collect emotion potions; love, anger, sadness, joy throughout the game. This is an awesome CE, don't wait for the SE.
December 7, 2013
Beautiful Game AND Lots of Fun
Wow, the game literally starts off with a bang. There is a break in at the home of a local collector and a crystal skull is stolen. You are called in to help investigate by Agent Lloyd who needs the help of a paranormal investigator, and yes that is definitely you. Others have done a great job of listing the game?s technical aspects so I won?t go into those except to mention that my favorite developer has now jumped on board with others who offer customized gameplay settings. I love being able to customize a game and play in a way that suits me. As is the case with all games from this developer, the graphics are excellent. The artwork is wonderful and very colorful. The sound is very good but I did have to turn it down a bit as it was quite loud. Some sounds were a bit annoying such as the metronome that I couldn?t stop. Even though the music is nothing new and is the ERS standard theme for Haunted Halls it adds to the game. When you arrive on scene you will receive a pair of special goggles from Agent Lloyd who tells you that they will help you decipher mysterious symbols that you may come across. The game begins with a mini puzzle where you will use the goggles to decipher symbols. You will use the goggles throughout the game when you encounter paranormal activity. As in the other Haunted Halls games we have a video diary, which contains your notes as well as an interactive map. The iHOP scenes are of different types. Some are list and some are the progressive silhouette type. One thing that is new to ERS games is that we now have the option to switch to playing a match 3 type game if we don?t want to look for items or if we get stuck. Since I hate using hints, I just switched to the match 3 game when I couldn?t find an item. The puzzles were fun and some were new but I didn?t find any of them to be overly challenging, which was fine since I was enjoying the game and didn?t need a frustrating puzzle to solve or skip. Throughout the game we will find twenty vials that will create four different potions that we will use for the animals we collect, presumably to cure their various neuroses, some of which are hysterically funny. IMHO, this is a true CE with a ton of extras included. I can hear it now, many of you will hate the way ERS has changed the Haunted Halls franchise with this light-hearted, fanciful twist but IMHO, I think this is the best of the series. It is funny and has all sorts of interesting twists and turns. Then again, I don?t like creepy games so Nightmare Dwellers is just right for me. I enjoyed every minute I played and can recommend the game without any hesitation. As always, I do think you should try the game for yourself because you will either love it or hate it.
November 21, 2013
A great game to re-engage!
I too had bowed out of reviewing and even buying as I had found there was not much challenge anymore. The developers had done too good a job. I was trained!. But this game hits it. Lots to do. A good story line. Good twists to challenge the grey cells (use a crab for scissors!) that bring back the spark of challenge that used to be there when all was new . I loved this game. The music does not intrude so you don't have to turn off the sound. The map is very helpful. One can indulge in capturing all the achievements or not. One can enjoy this game as a beginner or a crusty "expert". Nicely done and I am glad to have a fun game to play again.
December 7, 2013
NIGHTMARES AND SENSE OF HUMOR - WHAT A COMBINATION
I'm a little late to the show so won't bother with the story, except that it is really interesting (especially since we all have had nightmares). The HOS are very nicely done indeed - not junk piles like many - and very colorful, bright, and detailed. The puzzles, especially the one with the goggles which is played many times, are unique and refreshing. There is a real sense of humor, like the pepper-eating frog and the fancy flight of the flamingos when they hear bagpipes (guess they're not Scottish). Lovely graphics and artistry. Exceptional production values, as are all the Haunted Halls games. A nice addition to my gamelist.
December 7, 2013
An octopus, a skull and psychic phenomena!
This game has everything. You don't need to have played the previous games in the series to really enjoy this one. Agent Lloyd has contacted you as the paranormal phenomena specialist to assist with finding a stolen crystal skull from the psychologist Dr. Gauss. Detective Lloyd even brings donuts and coffee to the crime scene for you. The crystal skull is definitely connected to snakes or tentacles or both. Dr. Gauss tells you the skull belonged to Morpheus, the god of dreams, who turns dreams into reality. The whole house layout changes and you have to find the skull. But Dr. Gauss also entraps Agent Lloyd in his own scary dreams, so all is not as innocent as it appears! There are four game modes, including custom. There is a teleporting map with objectives marked, and a notebook for clues. The achievements you earn populate a dream world. There is a zoo for all the animals you find -- hamster, frog, bird, cat, flamingo and more. Each animal is portrayed with a psychic problem. You gather four 5-part potions of love, anger, joy, and sadness which seem to be connected to the hamster. It appears you may be able to purchase items for the hamster, but I did not find anything during the demo. Lloyd gives you the Secret Service Goggles that lets you decode psychic symbols along the way, that give you hints about the animals. The one HOS in the demo was a silhouette that you used each item found to get the next item. The mini-games are clever and based on the theme of the game -- lead the mouse to the exit, match the skull xrays, follow a story to destroy the skull. The graphics are clean and clear, the music appropriate, the voice overs excellent. Rushing to buy this now!
November 21, 2013
The Apple logo is a trademark of Apple Computer, Inc.