Haunted Halls: Nightmare Dwellers Collector's Edition
Exclusive
Race to uncover an ancient secret in Haunted Halls: Nightmare Dwellers! The night started out like any other. A local collector was complaining about paranormal activity in her mansion, and the authorities called you to get to the bottom of things. But it turns out that the pit of bizarre activity was bottomless. Now you find yourself lost in a living nightmare brimming with strange creatures, comatose colleagues, and mysterious tentacles reaching out around every corner! Can you find the source of the happenings and destroy it before it's too late? Find out in this thrilling Hidden Object adventure game!

This is a special Collector's Edition release full of exclusive extras you won't find in the standard version. As a bonus, Collector's Edition purchases count toward three stamps on your Monthly Game Club Punch Card!

The Collector's Edition includes:
Travel into the mind of the villain in the bonus game
Replayable mini-games and hidden-object puzzles
Exciting screensavers, wallpapers, and concept art
An available Strategy Guide
Game System Requirements:
OS:

10.9/10.8/10.7/10.6

CPU:

1.6 GHz (INTEL ONLY)

RAM:

1024 MB

Hard Drive:

733 MB
Game Manager System Requirements:
Browser:

Safari 4.0 or later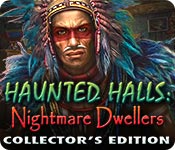 The Big Fish Guarantee:
Quality tested and virus free.
No ads, no adware, no spyware.

Reviews at a Glance

Haunted Halls: Nightmare Dwellers Collector's Edition
0
out of
5 (
0
Reviews
Review
)
Customer Reviews
Haunted Halls: Nightmare Dwellers Collector's Edition
45
45
Dr. Blackmore Is At It Again
This game was so much fun! Dr. Blackmore is at it again. This time he is causing nightmares and bringing them to life. You have to free the people trapped in the nightmares and fight Dr. Blackmore. The graphics are excellent, the music is appropriate, the voice overs are well done, the cut scenes are good, the iHos and mini games are fun. There are animals and potion vials to collect...the animals are a hoot and the hamster cracked me up. There is an interactive map and built in SG. You receive magic goggles which are used at various points throughout the game. There are achievements you earn during game play. The ending of the main game leads to the Bonus Chapter. Both the main game and bonus chapter were so much fun. The remaining extras allow you to replay the iHOS and mini games, replay music and cut scenes. I highly recommend this game!
July 27, 2014
Nightmares Become Reality!
Based on demo. Someone has stolen the Crystal Skull of Morpheus and is turning nightmares into reality. A Detective has asked for your help based on your experience with the paranormal. You arrive at a mansion owned by a strange Dr. Gauss and filled with unusual animals and animated objects. Is this a dream or reality? This is the fourth game in the Haunted Halls series. The artwork is of the same quality---colorful and fun. The evil scientist is back and so are his creepy tentacles. And there's an additional evil scientist named Dr. Gauss who has a mysterious connection to Tentacle Man! The animated objects are fun and creative and I like all the animals in the game: makes the game more light-hearted. And you get to decode messages with special goggles. The graphics and artwork are well done. The VOs and cut scenes add to the game and help develop the story. There are interactive silhouette HOSs that are pretty easy to solve. The puzzles and games are of medium difficulty. This CE has achievements to earn and potions to find. There is a journal to record important information and help you solve the game. You even get to buy things for your pet hamster. The villains are not too scary and the overall atmosphere of the game is pretty mild. Enjoyable.
November 21, 2013
SUPER CREEPY, DEFIES REALITY, CAN BE CHALLENGING
BASED ON COMPLETED GAME AND BONUS GAME ON HARD LEVEL WITHOUT HINTS OR SKIPS BOTTOM LINE: This is a very imaginative, super creepy, journey into a deranged mind that can be very challenging at times (without hints.) PROS: -The map! Without the map this game would drive me crazy with all of the backtracking. The map is a jump map that indicates where you can accomplish something AND it tells you when you have completed a section. -The graphics. They are easy on the eyes and well drawn -The voice overs. The acting is superb and the lip sync almost perfect. -The creep level. This game is full of creepy, dream-induced scenery that felt like I was having a nightmare (the intention of the devs) -The strange creatures. For the same reason as the creep level. -The story. The story will take you into other peoples' nightmares and when it does, it throws all of reality out the window. There are no holds barred as they play with your senses. Really cool, scary and may make you question your own sanity. -Many different scenes No chance you'll get bored with the scenery as you get to go into so many different ones. -HOs. I personally like silhouette HOGs because they are more of a challenge. Some are also just interactive. They are easy to see and although some objects are cleverly hidden, there are no dirty tricks. -MINI GAMES. Wow. There were a LOT of new games in this some of which I found quite challenging on the hard level. I wasn't bored with any of them. NEUTRALS (for me) VIALS. You get to collect vials but after you collect them all, there is nothing to use them for. I guess it's just an achievement. ACHIEVEMENTS. They were way too easy to earn, so I wasn't a fan, but you may like them. ZOO. After you help the odd animals, they go to your zoo, but the zoo has no purpose other than "storing" your animals. CONS: -Music was boring -There were some unrealistic uses for tools that may lead you to be frustrated (clue: try everything in your inventory, you may be surprised at what the scene wants you to use) -VERY PRECISE CLICKING REQUIRED. If you don't click on the EXACT part of an object, it will reject your tool and you may think you have it wrong. I don't like that and I think it could be discouraging for beginners. -The extra chapter was a BIG let down. It's a chapter about Dr. Blackmore's childhood and supposedly explains why he's so crazy, but it doesn't do an adequate job of it. You won't be missing anything to wait for the SE. Hope my description helps! Enjoy!
December 1, 2013
Demo only review!
Overall this was a pretty good game. A different story line with some twists and turns. You are requested to assist as a "paranormal" investigator and you join two detectives on a case to figure out who stole a crystal skull from a collector's home. You find out that this crystal skull has the ability to turn your nightmares into reality. You have to get the skull back to return everything back to normal. That said, there is a twist, the bad guy is supposedly in love with the collector. But that is as far as the demo goes. The graphics are quite stunning, although a little cartoonish. In the CE you have many side items you are looking for as well as your main goal. There are 20 vials you are looking for and each time you meet a new animal it gets added to your collection. The collection of animals tells you how to handle each animal. So far there isn't an abundance of hidden object scenes but the ones that are there vary in style such as find an object to unlock another object and also your garden variety find the object. If you want there is also a match three game you can play in each scene to clear the hidden objects. There is also an interactive map that tells the player where there are objectives and also allows the jump to scene feature. I played the game on casual mode, and the puzzles that I played are relatively easy but you can alter each puzzle to hard mode for a challenge. The sound was done well with music that does not distract or annoy, and there are voice overs as well. I liked this game, it had a lot to do and kept the player interested with trying to figure out what to do next.
November 26, 2013
ERS LETS LOOSE ZANY DARK HUMOR ON GAMERS!!
Ah! Since I wasn't REALLY looking forward to yet another Haunted Halls sequel--and I am submitting a tad late, I did wish to share my review for other BFG gamers who may think the same. Best way to describe HH: Nightmare Dwellers is to add the usual Haunted Halls dark humor, mix in Twilight Phenomena type zany characters; add more zany characters, a dash of the old classic "Alice in Wonderland" backwards logic and blend well with generous amounts of straight up humor. With lots to see and do, the game is definitely fun and different with no need to try and describe any realistic plot as there is none. Enjoy! -Mama Mia-
November 29, 2013
Departure from others in the series.
I reviewed the last in this franchise at the time of the release and said in that review that I hope they didn't make any more of the series as it had become slightly 'strained'. This 'sequel' has not changed my mind. The elements of the previous games are there including the familiarity over the map and hint etc., but the actual gameplay has taken a side-step and I am not sure whether it is side-step good or side-step bad. The only clue to the previous games was that the pendent early on seemed to be that of Dr Blackmore, and if I had played further into the game #this review is based on the hour demo#, then obviously more of the story would be revealed. If I am taking this game as a stand-alone on merit, then it is from what I have played thus far a very good game. I particularly like the 'logic style' side game when you need to use the googles, I can presume that the combinations get harder as you progress within the game. Other good elements to the gameplay were that the hidden object games were not the usual 'junkpiles' but were progressive style HO games, by this I mean that each of the objects interacted with others and you had to use one to access another, eg. a key to unlock a lock, thus opened into another. This was another element I liked. Obviously with this being a CE then there was a VO, the music and graphics were good and as good as others in the series. But that brings me to the final point, is this part of the series as such or is it too much of a departure to be actually part of the series, maybe I am just being cynical but it could be that they released this to try and sell more of three other games from this publisher, I don't know. I think they ought to have stated that whilst this had elements of previous Haunted Halls games, this game was loosely connected. Again it may have been more so as the game went on. I am not sure whether this was a true sequel, but saying that as I stated in my last review of the series that would have been like flogging a very near to death horse. So yes this brings new life into the franchise and for what it is it is a good, crime, psychological, paranormal game, that if and when it comes out as a SE or if there is a sale on CE games I may buy. If you are expecting more of the same as before then you may very well be disappointed, however if you want to see how the developers have developed the series onwards then you may very well like it. From my point of view I can recommend the game as the story-line is shaping up to be a good one and one that is involving and engaging.
November 22, 2013
Dark Are The dwellers of My Mind. Ba Ha Ha
Great game. Had a bit of everything. Not as scary as the first few. Still a wonderful game. I can hardly wait to own it.
December 18, 2013
Dr Blackmore is back!
Not a bad sequel at all. I enjoyed it. Not an all singing/dancing CE but good storyline which kept me interested, decent puzzles and a good spread of HOs.
November 26, 2013
ERS HAS DONE IT ONCE AGAIN!!!
I'm a huge fan of Haunted Halls and even Dr. Blackmore! This game doesn't disappoint, there's plenty of creepy, eerie, weird and plain ole paranormal going on, wrap it all up with some slimy tentacles and you've got yourself an awesome adventure. You are called into an investigation by a detective who doesn't have any paranormal experience, and when you arrive, you probably wish you didn't either. The owner of the house Dr. Gauss, may not be who she seems and when your fellow investigator is found hogtied and hypnotized we know something ain't quite right! You receive special goggles that allow you to decipher codes which in fact is a series of mini games. You are given several pairs of codes and you must place them in boxes side by side with the last symbol matching the first symbol on the next pair and when complete will reveal a message. The graphics are the usual white washed pastels that this series has perfected and I have to point out that they have done one of the best jobs of making the characters lip movements appear to match the words, that I have seen. There aren't a lot of HOS but they are interactive and progressive where you find the first item as shown as a silhouette and use that item in the scene to receive the next item and so forth. The whole place is filled with zoo animals which are displayed in your "zoo" but I really have no idea what the point of it is and you will come across several vials such as love vials to collect and there are 5 vials of 4 different potions.This is a solid and entertaining game that you will enjoy even if you haven't played any of the other Haunted Halls. Hopefully you will solve this mystery and avoid Morpheus the god of dreams and the evil Dr. Blackmore the half man half octopus creepy guy, enjoy!
November 23, 2013
fun game
Had lots of fun playing this hidden object game.
November 22, 2013
The Apple logo is a trademark of Apple Computer, Inc.
The Windows logo is a trademark of Microsoft, Inc.