Haunted Halls: Nightmare Dwellers Collector's Edition
Exclusive
Race to uncover an ancient secret in Haunted Halls: Nightmare Dwellers! The night started out like any other. A local collector was complaining about paranormal activity in her mansion, and the authorities called you to get to the bottom of things. But it turns out that the pit of bizarre activity was bottomless. Now you find yourself lost in a living nightmare brimming with strange creatures, comatose colleagues, and mysterious tentacles reaching out around every corner! Can you find the source of the happenings and destroy it before it's too late? Find out in this thrilling Hidden Object adventure game!

This is a special Collector's Edition release full of exclusive extras you won't find in the standard version. As a bonus, Collector's Edition purchases count toward three stamps on your Monthly Game Club Punch Card!

The Collector's Edition includes:
Travel into the mind of the villain in the bonus game
Replayable mini-games and hidden-object puzzles
Exciting screensavers, wallpapers, and concept art
An available Strategy Guide
Game System Requirements:
OS:

10.9/10.8/10.7/10.6

CPU:

1.6 GHz (INTEL ONLY)

RAM:

1024 MB

Hard Drive:

733 MB
Game Manager System Requirements:
Browser:

Safari 4.0 or later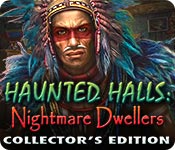 The Big Fish Guarantee:
Quality tested and virus free.
No ads, no adware, no spyware.

Reviews at a Glance

Haunted Halls: Nightmare Dwellers Collector's Edition
0
out of
5 (
0
Reviews
Review
)
Customer Reviews
Haunted Halls: Nightmare Dwellers Collector's Edition
44
44
What has happened here?
I must say Haunted Halls is one of my favorite series of HOPA games. Until this one. First, yes, you can choose your level of difficulty, including custom. The graphics are good with good background music. We see glimpses of tentacles of the old Dr. Blackmore. The HOS are mostly silhouette. The puzzles were childish. Very easy. You get a pair of goggles to investigate paranormal activity, and each time you do this, you need to solve the same sort of puzzle over and over. This I did not like at all. The gameplay was linear, however, it was absurd. The items found that matched where the item was needed was ridiculous. Here, we have a series of games called Haunted. Not Cute Haunted. Haunted. However, we get little animal helpers that can be dressed. We get a zoo for goodness sake. The CE does include the SG which isn't very necessary and some collectibles. It seems more like an SE with some fluff thrown in to make it a CE. I realize I am totally against the grain of the vote here, but I absolutely disliked the game. And it's a shame because I really enjoyed the first 3 games of this series. :(((
November 21, 2013
Not worth the CE price
I should have learned by now: this developer puts out a great game like Green Hills Sanitarium, but then each sequel gets less and less like the first; more sloppily put together, and less fun. I'm getting a little tired of the octopus-man villian, he gets "beat" in every game but keeps coming back. This game has the usual HOGS and minigames, same old, same old. The collector's edition is NOT worth buying, as the collectibles are worthless and no challenge, there is also a mime hamster that is somewhat disturbing, not cute or funny. The bonus game plot is obviously copied from a Ravenhearst game, and not nearly as well done. If you've never played a Haunted Halls game, play the first 2, the others aren't up to par.
January 5, 2014
I've dreamt this dream before. Time for a new one.
Thanks to BFG for removing my original review, at my request, so I could write another one and tell you what I really think. Nightmare Dwellers CE is an excellent game, brought to us by the same team that produced Green Hills Sanitarium, Escape from GHS, Fears From Childhood and more. As per usual, in the great tradition of this series, Nightmare Dwellers is technically superior and fun to play. These halls are not really haunted, though. And the dreams aren't nightmares unless you're 5 years old. In the main section of the game you get what you can reliably count on from this developer: first class visuals and sound with a fun story line and puzzles and HOGs that you're sure to enjoy. Because it's a CE you also get: Bonus Chapter Achievements and Collections Re-playable Mini-Games and Hidden-Object Puzzles Exciting Screensavers, Wallpapers and Concept Art Integrated Strategy Guide That's it. There's really nothing more to say about the game. Like a novelist who's figured out the winning formula and has re-written the first book 25 times over with different characters' names and backgrounds and a slightly different crime and an oh-so-minor shift in thrilling outcome, the substance of Nightmare Dwellers is the same as everything that came before it. If this is among the first games you are playing, you are sure to love it. If this is exactly the style of game you prefer with lots of fun and little intensity, it is a five star game. So I heartily recommend it to you. I enjoyed the game. It was a lot of fun. If, however, you find what thrilled you before is no longer thrilling, this is definitely NOT the game for you: There is neither the unique approach to storytelling nor the incredible creativity of the puzzles and HOS found in Nevertales (is there anything else out there like it today?). There is not the amazing depth of storyline and incomparable attention to detail as in Portal of Evil: Stolen Runes (Talk about haunting! Down to the background music of what sounds like chanting monks and special effects that give new meaning to the word special Stolen Runes is in a class by itself!!). In all fairness, this is a review of what Nightmare Dwellers is, not what it isn't. There is nothing wrong with it at all and a lot that's great. As a break from some of the intensity of other games, this is a welcome relief and a good bit of fun. It's simply not how I like my arsenic served anymore.
November 23, 2013
Not one of the best
It's not just me, I thought it was, but it isn't? this is another game that is so lacking in logic that you would be lucky to manage to follow it through without contestant hints. the hint button alone barely gives you any real understanding of where the story is going and just when you think you have a handle on it, it goes off at another tangent that leaves you feeling lost again. The scenes are good, the graphics are great, but there is nothing here i find the least bit inspiring, which is sad.
November 25, 2013
Not as good as the other series:(
I usually love to play the other "Haunted Halls" Series.However not so much this one.It was just okay for me
November 23, 2013
Time to move on to another story....
I have 3 of the Haunted Halls games and really enjoyed them all. This has the standard very nice ERS graphics and game play. Colors are very clear. Music not too bad, but gets annoying after a while. Nice voice overs, well done. I did not use the jump map, but there is a tremendous amount of running back and forth for one thing or another...a lot of unnecessary returns. Hint system was helpful and I liked the fact that you could customize the length of time you wanted for it to recharge. SG was the usual ERS as well...nicely done. I too am getting tired of animals in everything. They don't really do much for the game at all. Didn't run across much in the way of "extras," except to collect animals. Did not care for the glasses either. The puzzle that accompanied their use was extremely simple and rather childish. The only HOG I ran across was extremely simple as well. I was very disappointed in this game, as there really isn't anything new or different. It was not challenging at all and I found it almost too simple even for a beginner. I think it is time for the devs to drop the "series" and move on to something more challenging and fun. Unless there is an exceptional special coming up in the near future, I do not believe I will purchase this game. However, I have been known to change my mind once I have played it again...usually when the SE comes out. Will have to wait and see. Definitely do not see that it is CE worthy right now. As always, try it for yourself and see what you think. We all have different tastes in games and you may find this one to be exactly what you wanted. Thanks for the reviews.
November 21, 2013
ERS has lost it.
This dev's have lost my interest a while ago, specially when they brought me cute animals that i can dress. Really, I'm not a child and I remember you gave as good adult games as Redemption cemetery, Grim facade and Dark Tales. This game isn't worth a penny, because we seen it all before.
November 22, 2013
Really silly!
Have thoroughly enjoyed series. While more recent editions have not been favorites, earlier renditions were definitely there. So when I needed to pick a second collectors at a discount I went with this because I would probably not regret it. I really regret it. Waste of the 5-6 dollars or whatever. This is the silliest game I've ever played. Totally filled with mindless obvious stuff....fillers. They went beserk with the cutesy animal stuff. Played about 30 minutes and uninstalled a paid for collectors' edition. I have no interest in ever finishing that game. I'll never be that desperate!
December 4, 2013
So disappointing!
I absolutely loved the Haunted Halls series until now. Well actually until the last one. The first and second of the series was great! Good creepy storylines that were interesting. Now it's completely ruined with cute creatures. I also just played Twilight Menagerie and it felt like the same game! I used to be a huge fan of ERS but now only buy one of their games with a coupon or not at all.
November 23, 2013
Cute and Scary=What in the World am I Playing? The Creep-Factor is Completely Gone.
I am beyond disappointed. This was the only remaining series that this particular developer had not yet made a mess out of. Until now that is. My main complaint for awhile now is that they are in need of a serious update of...everything. Nothing has changed in over 2 years. Graphics, music, game mechanics, items in Hidden Object Scenes, puzzles, storyline; each game is exactly like the one before it. It would be fantastic to see some of that creative spark that their games used to have. I was hoping to see it here but...no. The one thing that ERS has 'added' to their last dozen games or so is a whole lot of cuteness. Fuzzy little pets that you can feed and clothe. Cuteness abounds! That's great...for kids. I'm not sure who their target audience even is anymore. Most games are a bit too mature for kids yet many are too immature for adults, hence my confusion. They carried this cuteness over into the Haunted Halls series, much to my massive disappointment. Where did the scary, creepy go? That's the one hidden object I couldn't find anywhere in this game, and I looked for scary, creepy everywhere in the demo. Never did locate it, but I did find a Cuddly Hamster with a huge appetite. The first Haunted Halls is my favorite of this series. I went back and played part of the original Haunted Halls again after playing the demo of this one and I could not believe my eyes! The graphics in the 1st game are actually "better" than the graphics in this latest release! If you own the first one, take a peek. Your jaw will unhinge and hit the floor when you see the difference. This series has actually gotten worse over time in my opinion (and the graphics agree with me). With this game, they went way too far in the wrong direction. Game-play itself is rather linear; puzzles very easy, HOS very easy. Not much challenge to be found here; therefore the SG really isn't needed. Intermediate to Expert players may find themselves getting bored and restless due to lack of challenge. Additionally, there really isn't much in the way of CE extras. This is more of an SE with some extra padding thrown in. The most frustrating aspect of this game for me is that the developers brought "cute" into Haunted Halls! This is their "scary, creepy, nightmarish" series. It's "HAUNTED" halls; it says so right in the title. Cute, cuddly and fuzzy doesn't mesh well with a scary, creepy nightmarish game. It causes massive confusion for the player. Am I supposed to scream...or play with and feed Mr. Cuddles? The demo, in my opinion, is a mess. I cannot imagine playing through the remainder of the game. Aside from the strange genre-blending, I got bored fast. The storyline is lacking and there is very little "haunted" left in the halls at all, which is a shame because this was a series I enjoyed...for the most part. Their last Haunted Halls wasn't up to par with the others either but that sometimes happens with a series. However, this one strays even further away; to such an extent that it is difficult to even associate it with the others in the series. For this developer, it appears that "super cute" and "never going to change a thing about our games...ever" is here to stay. The fact that they brought cute into a game that is supposed to be nightmarish completely ruins the experience. Sad to say this, but there are too many other games out there now using superb graphics, intriguing game-play and unique and original concepts to waste anymore of my time with these cookie-cutter repeats. For fans that were around for the original Haunted Halls game; you may find yourself extremely disappointed, especially if you weren't thrilled with the last one either. As far as morphing objects go, this is the biggest find. "Haunted Halls" completely morphed into "Cuddly Halls". As a result, I absolutely cannot recommend this as a CE. My opinion of this game aside, there isn't much in the way of CE extras here anyway so I would consider waiting for the SE on this one anyway if the budget is tight. Personally, I cannot recommend the SE either. As always, try for yourselves; opinions vary. For the original hardcore Haunted Halls fans; well, it was fun while it lasted, eh?
November 21, 2013
The Apple logo is a trademark of Apple Computer, Inc.
The Windows logo is a trademark of Microsoft, Inc.