Fairy Tale Mysteries: The Beanstalk
Exclusive
These are no ordinary beans! As a recently graduated investigator from the Grimm Brothers Institute, you must use all your wits - and your magic - to survive. Ascend the beanstalk to battle the mighty rampaging giant and protect the world from destruction. Find your way through the flower world, moon world, and more with the help from the elemental guardians, protectors of their realms. Revel in both full-scene hidden object quests as well as gorgeous conventional hidden object scenes. Defeat the giant in his castle to claim your reward and save the planet!
Game System Requirements:
OS:

Windows XP/Windows Vista/Windows 7/Windows 8

CPU:

1.8 GHz

RAM:

1024 MB

DirectX:

9.1

Hard Drive:

683 MB
Game Manager System Requirements:
Browser:

Internet Explorer 7 or later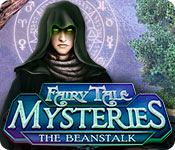 NEW299
The Big Fish Guarantee:
Quality tested and virus free.
No ads, no adware, no spyware.

Reviews at a Glance

Fairy Tale Mysteries: The Beanstalk
0
out of
5 (
0
Reviews
Review
)
Customer Reviews
Fairy Tale Mysteries: The Beanstalk
26
26
Very Fun! It's A Good Game... IF You Can Look Past The Length
BASED ON COMPLETED STANDARD EDITION GAME I wasn't a fan of the first Fairy Tale Mysteries, so my expectations were low, but this game was good! It was something new and was very, very fun. I loved it from beginning to end. So why, oh why, is this only getting a three star rating from me? One word: LENGTH. Let's be honest here, the story really isn't that great. Some games are gameplay driven, others story driven, and this one is DEFINITELY about the gameplay. The story was lacking in all areas. It wasn't really that exciting at all. It was just a side-thing for me, I was way more focused on the gameplay itself. The story rarely got exciting. The one exciting thing in the story for me was the revelation of the villain. It was a good twist. The villain was someone I wasn't really expecting. Other than that, the story went exactly as I thought it would. This is your typical fairy-tale story, based off of Jack and The Beanstalk. I thought the developers did a good job on reinventing the tale and came up with some ideas that I wouldn't have thought of, but that's about as far as the positives go for me. Overall, a pretty weak story. The game does end conclusively, but I have a big complaint: THE LENGTH. Normally, I don't really care about the length of the game, but this is an exception. I've heard of short games, but this is absolutely ridiculous. The game was 2 hours tops. I felt I was in the middle of the game when it finished. I couldn't believe it. I seriously couldn't believe the game was ending. Usually, I can tell when a game's about to end, but here I had no idea whatsoever. It's really pathetic to have a game that short. It almost makes me wish I hadn't wasted my money. I think what contributed to the game's short length was that the story was very rushed. I mean, no sooner had you discovered who the villain was than you were defeating them... get my drift? The gameplay, on the other hand, is really good. It was what first attracted me to this game. It's so different and unique, and it's really fun. Gogii have put a lot of effort in to the gameplay and I applaud them for it. So, what makes this game different, you ask? Well, HOS lovers rejoice, because EVERY SCENE is a HOS! There's heaps of items to find. The game is set out in tasks- you have to find a whole bunch of stuff to make up an inventory item, and the object isn't on your list of things to find until you actually NEED it. The tasks tell you what objects are in what scene too. If you're in a scene where an item you need can be found, the item will get brighter on the task bar, if not, it will stay dark. I really liked this in the game, it made it a lot more fun and bearable. What I also liked is that the objects weren't easy to find- a lot of them were VERY HARD. Sometimes you had to place an inventory item to get a part of another one. A great job to Gogii for making the game challenging. Despite every scene virtually being a HOS, we did still have our normal HOS. In each HOS, you would find something as part of your task. The HOS were good. I really enjoyed playing them. They were basically just the standard junkpile with a few extra-step objects. There aren't a lot of HOS in the game, but that's because of the gameplay style. Still, was happy with the amount of HOS in the game. The puzzles were also good, granted they were quite easy. I was able to solve the majority of them, if not all. The puzzles have good instructions, so I knew what to do straight away. Even though they were easy, the puzzles were very, very fun. I loved playing them. There were a good amount of puzzles in the game. The HOS: Puzzles ratio is good. There's an even amount of each. Other than the jazzed up gameplay, this is your average HOPA. It has a custom difficulty plus two others (Casual/Advanced), and the custom difficulty has some good settings. There's no fancy new features, no plus objects, or animal helpers of any kind. It has all the gameplay of a new HOPA, but all the features of a standard one. The graphics are good. They've got some good detail there, the character designs are drawn well, but I still believe that Gogii could have done much better. One issue I have is that in some areas, the graphics were too bright. This was a little distracting and sometimes, when I used the hint, it was too hard to see where the hint was directing me and I'd have to see it again. Perhaps Gogii should have focused on making the scenes a little less bright and colourful and a little more detailed. The voice-overs are standard. I have no issue. FEATURES 3 modes of difficulty: Casual, Advanced and Custom. The differences are the usual. Custom lets you set the game the way you want. I was happy with the Casual settings, so I played Casual. Hint/Skip- both recharged at a reasonable rate for the difficulty I selected. The hint is helpful outside HOS. Diary- keeps track of events. Good for remembering story details. Map- interactive and quite helpful. Lets you know where active tasks are. WHAT DO I MISS OUT ON IF I BUY THE SE? Bonus Chapter- not needed. Built-in Strategy Guide Collectible eggs Concept Art Wallpapers Music Replay Movies WHICH IS THE BETTER BUY? Definitely the SE. Absolutely no doubt. This game has next to no CE Extras. The SE game was fine for me. So, overall, it was an extremely fun game, but it was very, very short. Should I recommend this? I don't know. The game was very enjoyable... well, if you can look past the game length, give it a go. I definitely say download the trial. ON THE GAME LENGTH Very, very short. A heck of a lot shorter than any other HOPA I've played. I don't time my gameplay, but I estimate 2 hours on Casual. 2.5 hours tops. Every other game I've played has been 3 hours at least, but this was WAY shorter than that. If you want a rough estimate, let's say I had completely finished the third chapter by the time the demo ended. There are 7 chapters.
April 20, 2014
Too too little time to finish
Tried the demo and purchased the game. It is a lot of fun, good hints and guides, but it took so little time to complete, I was so disappointed in the game. If I would have known it took this little time to complete, I would never have purchased it. That is why the 3 stars, and I really wanted to give it one, but it didn't seem fair since I had so much fun doing the game. I think you should be warned about the length of a game before you spend your hard earned money on it.
November 19, 2013
The game was OK
Not really challenging and VERY short
November 19, 2013
Beautiful Graphics
Great graphics but too much skipping around to find objects for each challenge. Must find each part to put object together. Not many regular HOS
March 12, 2014
This one's going in the trash
As I just told my husband, I'm glad I got this one for free. It is difficult to figure out what you're supposed to do in the different scenes. I've become so frustrated after a couple hours play that I'm dumping it in the trash. The colors are lovely, the drawings like a beautiful story book, the music is good. But it just isn't any fun to play. Buh-bye, game!
November 24, 2013
The Naysayers are Right
Demo Review Only: The CE came out a short time ago & got some pretty bad reviews so I didn't even bother playing the demo. Now today the SE came out & I reviewed the CE reviews again & decided to play the game myself & see if all of the bad reviews were warranted. Within less than 2 min I could wholeheartedly agree with them. The game is AWFUL & the devs need to return to the drawing board immediately. If I were a dev I would be embarrassed to have my name associated with this dreck!! Please read the CE reviews & you will understand just how HIDEOUS this game is & if you want to throw caution to the wind you can play the demo yourself...ewwwwww
November 17, 2013
The Apple logo is a trademark of Apple Computer, Inc.