Grimville: The Gift of Darkness
Darkness has engulfed the quiet town of Grimville! Use all your cunning and wits to unravel the evil intrigues and save Grimville from the invasion of Darkness in this exciting hidden-object puzzle adventure game! Interact with characters to find more details in your investigation, uncover the old legend of the Magic Tower and the Gift of Darkness, and solve the mystery of the missing mayor. Your choices determine the ending. What will you choose: the path of justice or selfishness?
You decide: your choices lead to 2 different endings!
Fantastic, chilling storyline with unexpected twists
Mind-blowing mini-games and hidden-object scenes
Game System Requirements:
OS:

Windows XP/Windows Vista/Windows 7/Windows 8

CPU:

2.0 GHz

RAM:

512 MB

DirectX:

9.0

Hard Drive:

758 MB
Game Manager System Requirements:
Browser:

Internet Explorer 7 or later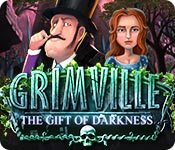 NEW299
The Big Fish Guarantee:
Quality tested and virus free.
No ads, no adware, no spyware.

Reviews at a Glance

Grimville: The Gift of Darkness
0
out of
5 (
0
Reviews
Review
)
Customer Reviews
Grimville: The Gift of Darkness
56
56
Grimville; wonderful!
I loved this game! I've been waiting for a cartoonlike game to come along & Big Fish came thru as usual. There isn't anything I didn't like about this game except maybe the music. It was a little same old, same old,but that was easily remedied. I wish there were more HO's like this one.
November 18, 2013
Different is the word
Played the full game, loved it, sometimes some games just get to you, I'm always looking for something different. This one I enjoyed, cartoonish, good graphics, dark but clear, personalities, loved the detective, appealed to the detective in me, didn't know who did it till a lot later.
November 17, 2014
A Test of Your Morality?
It took me about 20 minutes to appreciate this game, which is just kind of odd and slow moving. When the name of the town is Grimville you can't expect happiness and and cheerfulness! This is an adventure game with a cartoon theme and several scenarios which you choose the outcome. For example, a man approaches you and asks you to distract the Doctor while he robs the man. He promises to give you some money which you need for the ride into town. You are given the choice to inform the Doctor that he will be robbed, or take the route of distraction and split the loot, thus a game to test your morals. That's an awesome concept but the game itself tends to be a bit confusing, often wondering what you are supposed to do next. There are only two modes of difficulty, easy (with easy puzzles) and hard (with more difficult puzzles) You click on characters and they make a weird grunting noise and unless you are supposed to get valid information from that character you get a vague response, all of which you need to read due to lack of voice overs. You are given a task of helping a character in exchange for money or information for example you may have to earn money from one character in order to buy candy from a vendor in order to give that candy to yet another character in exchange for information on a person you are investigating. There aren't really a lot of inventory items laying around to collect, most items you receive are from the characters or are in a hidden object game. The HOS are slightly interactive such as opening a drawer to reveal an item, and they are actually done pretty well, although they do double up on the hidden object scenes. I choose the setting with the harder mini games but they didn't seem too difficult in my opinion and you can always skip them. The mini game I liked the best was where you had to start a conveyor belt full of different sized suitcases and packages, and place 20 packages into the correct opening according to the size of the package and it may sound easy but the conveyor belt wasn't exactly going that slow and if you chose the wrong slot it would return to the belt and packages would fall off the belt leaving you having to start all over! There were plenty of mini games, and I would like to have seen more HOS, I loved the fact that you could choose which scenario you wanted but in my opinion, something was lacking in this game. Perhaps the lack of voice overs, the lack of activities or just the weird noises the characters made were the things that keep me from giving kudos to this game. It wasn't a bad game, it just doesn't have any wow factors for me.
November 18, 2013
Different Hidden Object
I always enjoy a HO game that gives you different challenges. This game is different and fun because there is always a question as to what you need to do next. It isn't the same repetition over and over. A little challenge along the way. Thanks BF.
November 18, 2013
I'VE SEEN THE LIGHT!
This is based on the demo. This game is FUN! Two modes of play, casual and expert. You can skip tutorial. Cartoon characters with written words. You can choose to be a good person or a bad one. You are given things to do and find in order to progress. Not a lot of HOS and what there are appear interesting. No junk piles - a bit interactive. It's a different game than the usual.
November 18, 2013
It's funny
I liked this game, it's rather humorous, funny and reminds me of City of Fools. Even though this is a childlike/cartoon game, the language is definitely NOT for kids. When talking with one of the townspeople the word Bull-**** was included... lol. Not for kids, I wonder who tested the game and deemed it worthy for the public? (HINT:SPOILER) So it's a lot of back and forth, I had to use hints to find out the next location and what to do. There is a fork in the road and it's beyond the circus. The game itself is very well drawn, cartoonish and cute. You can talk to everyone, but they may not have much to say until you need to perform a task. Then they listen and respond. And there are plenty of tasks. There are also decisions to be made for prosecuting criminals... do you let them go or do you have them arrested and make them pay for the crime? The story is good, I've yet to finish the game. It's intriguing and pretty well written. The game play is twisty, though logical. I have a really fast computer that I bought to play games, and there is a lag in loading, I thought my computer had locked up, so it will take some patience waiting for the scenes to change. And even with this, I like the game and it's a buy for me.
November 18, 2013
Give it a chance!
I downloaded the demo for this before it was rated and after I played it, I was really surprised to see the bad reviews, so I thought I'd chip in on the positive side. I thought this game would be very dark right at the beginning, but I soon found myself hauling luggage around a train station instead of fighting the forces of evil. Now, that sounds like a bad thing, and if it was done badly, it would have been, but this story was so charming, I was totally hooked! There are no voice overs and the map is pretty, but useless. And being able to jump from location to location would have been handy. There are way more HO scenes than I normally like, but all of the items are clear and easy to find and you know why you are doing them. I rattled through them without pause and had fun with them. Unlike many games, you don't need to explore every tiny bit of the scene to check that you've got everything. This was more of a 'wave your cursor around and take a quick look'. Throughout the town there are people and places to interactive with, but they aren't available unless it's time for them to do so. So, although you might not be able to get into the smithy sometimes, you'll get in there when you need to. I found the story really good and, although the art was in a cartoon-ish style, it was well done and fitted into the atmosphere. The thing that makes this game different, is the choices you make. Throughout the game you are given decisions to make and your choice has consequences. All in all, I really liked this game. It was quirky and different and I suggest you give it a try. You might just be surprised.
December 19, 2013
Quirky Fun, But Not For Everyone
**Based on the demo, but I like it enough to purchase!** I know that some people are going to dislike this game, but I think it's fun in an offbeat and quirky way. It requires the use of brainpower. Nothing is completely laid out for you. You must use the little gray cells to figure out who to talk to and what to do next. The hint button refills within a moderate amount of time and gives just enough info to keep you going in the right direction, but does not 'play' the game for you. The artwork is simplistic. I liked it, as I'm weary of sensory bombardment, but I am sure there will be many who won't. The music is a bit boring, but lower the volume or use your mute button if it bothers you. There are no VOs, so you won't miss anything without the sound. The puzzles are not too hard and are different from the norm: crank the well by keeping a bouncing bucket within the circle, arrange suitcases from a moving conveyor to the appropriate cubbies, etc. They keep to the story, which is always a good thing, and are not just random puzzles thrown here and there. A few too many for my taste, but they are skippable. There are plenty of HOs for those of us who love them and they correspond to the task: finding a rope or lantern at the blacksmith, for example. My only gripe- there are times when you have many of the listed objects in a scene and only a few of them are clickable. For example: 3 stars were listed for you to find, yet there was a ceiling full of stars that were not part of the action. Another time, you are looking for a brick, but the furnace is made of bricks. You have to find the one single brick. Not a game killer, but certainly an annoyance. By the way, you return to various sites again and again, so if backtracking is a game ender for you, then you may not like this one. For some reason, it didn't bother me this time. Grimville is a fun game for those times when you want something relaxing that requires you to think a little but not a lot. I recommend that you try before you buy, since it most certainly will not be for everyone. It will require too much thinking for some and too little for others.
November 18, 2013
A Hidden Gem!
This game is today's daily deal and I played it dispite the "average" rating. I'm glad I did! This is not your average HOPA. The characters give you tasks to do to further your investagation into a wearwolf murder. Their attitudes and humor further my enjoyment of the game. Sometimes you have to make decisions, other reviews get into this so I won't. The visuals have a comical quality to them and I like it, for a change. I turn the music off so I can't comment. If you like to take your time and read what the characters have to say, like me, you will enjoy the game as I did. If not, then you won't understand the story as it unfolds. If you'e looking for something different that doesn't strain your brain then you should give Grimville:The Gift of Darkness a try!
November 17, 2014
REVIEW OF COMPLETED GAME
While there is much to be commended about this game, there is equally much that goes against it. It is my guess that BF have afforded a couple of very young newbies a shot at flexing their wings. They are to be praised for this. The graphics are good and there is wide screen. The navigation is top of the line excellent, which is a huge plus these days. There are no, repeat no, glitches whatsoever and everything plays like clockwork. Kudos for that too. I also liked the style of the cut scenes, ie the noir aspect and the, although some might say, rather crude style of graphics in the characters. The hint button is very helpful, sometimes telling where to to go, sometimes indicating it only with arrows. Cannot say I understand the use of both, but it was definitely necessary either way. The music is well done. I appreciated the added concept of being able to chose which scenario one wished to go with via the story line. The iHOS were well done and there were not too many of them. However, on the minus side, there are far too many gratuitous locations, with nothing to do, which must simply be passed through. There is a standard map, which I only found by accident as it is not marked and is hidden way down on the right next to the inventory. This map is not very helpful I am afraid. It does not indicate the names of the locations, nor where action is required. There are no voice overs. The story is nondescript, done many many times before. There is very little to do in each location and more often than not it is just a case of being told what is required and then having to foot slog back and forward to find the required item, not all of which are in iHOS. The puzzles did not appeal to me and I was grateful for the fast skip function. It is a decent length but the content is lacking and it became rather lacklustre and tedious about half way through due to it's lack of integration. I would say to these devs that they need to incorporate more game play into their locations as I became quickly tired of knowing that each new scene would only entail me having to backtrack to numerous locations to find required items. These items are visible but not accessible until they are needed and I do not like that in a game. If something is there to be found, I like to pick it up and keep it until needed. A valiant effort but by todays standards, short of the mark. Having said that, I think these guys have the potential to do much better since they certainly get what this genre is all about. Keep trying and thanks, good try.
November 18, 2013