Grimville: The Gift of Darkness
Darkness has engulfed the quiet town of Grimville! Use all your cunning and wits to unravel the evil intrigues and save Grimville from the invasion of Darkness in this exciting hidden-object puzzle adventure game! Interact with characters to find more details in your investigation, uncover the old legend of the Magic Tower and the Gift of Darkness, and solve the mystery of the missing mayor. Your choices determine the ending. What will you choose: the path of justice or selfishness?
You decide: your choices lead to 2 different endings!
Fantastic, chilling storyline with unexpected twists
Mind-blowing mini-games and hidden-object scenes
Game System Requirements:
OS:

Windows XP/Windows Vista/Windows 7/Windows 8

CPU:

2.0 GHz

RAM:

512 MB

DirectX:

9.0

Hard Drive:

758 MB
Game Manager System Requirements:
Browser:

Internet Explorer 7 or later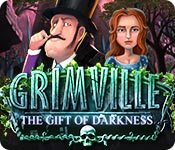 NEW299
The Big Fish Guarantee:
Quality tested and virus free.
No ads, no adware, no spyware.

Reviews at a Glance

Grimville: The Gift of Darkness
0
out of
5 (
0
Reviews
Review
)
Customer Reviews
Grimville: The Gift of Darkness
56
56
Kinda Nutty, But...
BASED ON DEMO FIRST IMPRESSIONS This not a game I would normally find interesting. The graphics are very cartoony, the story is slow and a bit hokey, and there is way too much dialogue. However, it is unique and warrants special attention because of it. SIGHTS & SOUNDS The graphics remind me of the better concept art we get in CE. Roughed out images, thickly applied colours and textures, very dark and noticeable outline. But as that type of art goes, it is pretty good. And the HOPs are more detailed and realistic, with objects clearly defined. The soundtrack is not good. No voiceovers, and there?s lots of dialogue, the music is very repetitive, and ambient sounds are mostly unnoticeable. WHAT?S HAPPENING This story is told in the opening scenes, which are too long and too many for most of us impatient to get to the action. We are a member of a society dedicated to curbing misbehaving magical beings. It is our job to track down and identify these individuals wherever suspicions may suggest their existence. When we confirm it, we call in the big guns. MAKING PROGRESS Our investigation begins in the train station of Grimville, where a suspicious murder has taken place. In order to move ahead, we must talk to many characters, real conversations, and they give us a quest to do before they will give us what we need. They also help with information and tips. At the beginning, the quests seem so inane I thought I?d wouldn?t be able to hang in for the hour, but it improves somewhat. It is definitely a game of the more adventure-style gaming than HOPs or puzzles. In the hour I came across 2 HOP scenes, each visited 3 times, and 2 (easy) puzzles. The HOPs are interactive word lists, very basic. There are also very few items just ?lying around? as we go from location to location. There is a map, but it is vague and cannot be used for help on the next move or as a jump map. There is a goodish journal. Its notes section is pretty well useless, but the task lists are detailed and very helpful. The hint is interesting. It gives us a suggestion of who we should speak to, and directional arrows to take us to where they are. One thing that was very difficult to adjust to was the directions we moved in. Going ahead is never as easy as just point up, or back. Most of the moves from one location to another are sideways and at different angles. The unique factor that may make all the difference in this game is that, throughout the game we must make choices that affect the ending of the story and what other characters do. Combine this feature with comic book graphics, lots of dialogue with lots of characters, and the quest-driven nature of the gameplay, I think it is best to view this as a mini-adventure game. FAMOUS LAST WORDS I found the whole game a little childish and I suspect there is an attempt at sending up these characters, but I didn?t find the game actually funny. Not a game for HOP fans, but perhaps for those who enjoy adventures, with a little tongue in cheek? In the end, though, it is not a game I?d recommend.
November 18, 2013
3.5 star rating full demo
-pros visual graphics are clear good hint system non-interactive map u receive interesting cinamatics hos were clear and not hard to find not tiny or junkpiled like so many hos games easy interface and gameplay -cons opening the picture moves around thought it might be that way later but it was not. no vo's alot of back and forth -personal thoughts- i was disappointed that there were no vos cannot comment on the music since i muted it...actually you don't need any sound to play this game...over all i thought it was a bit old fashioned and dated...but a nice game to play on a rainy day will get it with a gbp i do not think it is worth 6.99 tho. not sure of the length since i have not bought it yet...i do give it a 3.5 stars because of the unique game play
November 18, 2013
Not My Cup of TeaVille
I am very glad I got this game for free! I did not complete the game, but I did allow a full hour of playing before I stopped. I thought that I had found something that looked different and I did. It proved to not be a good kind of different though. The graphics were very cartoon like, which is okay for me as this game is supposed to be silly and funny, and at times it is. There are HOS and they are clear and enjoyable. There is a map which is useless as it is not interactive. There is a hint button that tells you exactly what to do. You walk through scene after scene and cannot really interact with anything until it is time to do so. You must go through all of the motions as the game dictates. That is the killer for me. There is no challenge because you are just following along doing things in order. So I quit this one and do not recommend this game.
November 18, 2013
Old Fashion H.O.
I like H.O.s so this was really fun. Love how they set up the atmosphere with background. Making it old timey and cartoonish and grainy. Great family and beginners game.
December 12, 2013
A Step too Slow
The game has some very promising qualities. The tutorial is good but not intrusive, the objects are clearly drawn. But the downers overcame the pluses for me. The cartoonish graphics, the constant minor tasks (gathering luggage?) which delay the actual story's beginning. Before you get to town, at least six tasks (probably more I didn't get to# have to be done just to get four coins for the taxi! Ouch! The dialogue is stilted #no VO's) and although the help button is actually helpful, it's recharge time is slooow! In all, this game had potential but the devs got mired in task fulfillment and lost the storyline. See if it takes you the same way. For me, this is not a buy as the level of annoyance and boredom is way too high.
November 18, 2013
Im very confused :)
I stuck through the entire demo, although after 5 minutes, I had had enough. The loose story here is that you are a hunter of darkness and need to investigate... well... dark happenings? I think lol. You need to interact with many characters and make choices on what to do. Your choices will affect the play of the game. The visuals were cartoons. The music was just piped in noise. You had to read everything... no voiceovers. I disliked the game from the beginning and disliked it at the end. Try for yourself, you may like this type of game. Happy gaming !!!
November 18, 2013
Tried
It isn't my usual game a little kiddy but looked like a laugh. I assumed the characters would talk not the pop up window text that is annoying to me. Also the fact that u have to go back and forth back and forth to get info from a character.You never know how many times u have to try a character before it is actually going to answer. Just tried wouldn't purchase but maybe kid's would.The opinion is for me not u.
November 18, 2013
Are you kidding!!!
By the time I got into it it was over. Very bad charters. Hidden objects are my kind. Very child like charters as well. I have a free game so happy to see a SE maybe to use. No way. You just needed a little more time maybe to change my mind.
November 18, 2013
OKAY HOG NOT SUITABLE FOR YOUNG CHILDREN
This game is much more of a HOG than it is a HOPA in the sense that it is basically HOS .. in my book it barely qualifies as a HOPA there are many mini games but i skipped a good number of them.. Because they were arcade type games which i dislike i would have given this game 4 stars but the lack of appealing mini games results in this game being one i will not replay nor can i replay it with younger members of the family as the story line has one scene where there is violence and blood spatter and the story itself deals with a possessed FATHER of a girl child who apparently murders.. this is in No way a suitable idea to put in a small childs mind and perhaps frighten them i can actually recommend this game If you enjoy HOGS and if the arcade type mini games dont bother you The art work is lovely and so is the atmosphere of the game...
November 1, 2014
Too Much Reading, Not Enough Fun
If you liked City of Fools you would like this game. Not enough fun parts of the game. A lot of moving through the town, talking to people (not audible, you have to read the conversations), intermittent HO games . Game is "okay" at best.
November 23, 2013