Grimville: The Gift of Darkness
Darkness has engulfed the quiet town of Grimville! Use all your cunning and wits to unravel the evil intrigues and save Grimville from the invasion of Darkness in this exciting hidden-object puzzle adventure game! Interact with characters to find more details in your investigation, uncover the old legend of the Magic Tower and the Gift of Darkness, and solve the mystery of the missing mayor. Your choices determine the ending. What will you choose: the path of justice or selfishness?
You decide: your choices lead to 2 different endings!
Fantastic, chilling storyline with unexpected twists
Mind-blowing mini-games and hidden-object scenes
Game System Requirements:
OS:

Windows XP/Windows Vista/Windows 7/Windows 8

CPU:

2.0 GHz

RAM:

512 MB

DirectX:

9.0

Hard Drive:

758 MB
Game Manager System Requirements:
Browser:

Internet Explorer 7 or later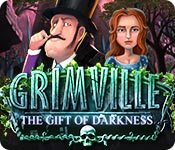 NEW299
The Big Fish Guarantee:
Quality tested and virus free.
No ads, no adware, no spyware.

Reviews at a Glance

Grimville: The Gift of Darkness
0
out of
5 (
0
Reviews
Review
)
Customer Reviews
Grimville: The Gift of Darkness
56
56
Blech
Got out of game after 2 minutes....Looked better on screenshots than it actually plays...Graphics look like early '90's, "helps" you too much...Do not know IF there were any HO scenes or mini-games..Maybe an ok game for kids 11 and under but NOT for enthusiasts of HO games..
November 18, 2013
Strange
This is a very strange game. Not one I can recommend. Sorry...
November 19, 2013
Not the best
The premise of choosing your own adventure and having different options and endings really drew me in on this game. It's a wonderful and different idea, however, this his game was a bit confusing about what was going on. The point where you did make a decision were lackluster and really felt like you had made no difference in what was going on. Wandering around clicking people while wondering how to raise money was annoying at best. The mini-games were very very easy. I never did get to the point to do a HOS. I spent a credit on this game and am kicking myself that I did. There are so many quality games out there right now, again, the premise of this game was great, it just did not deliver or stand up the same type of standards that others of this type of game do.
November 19, 2013
What Is This?
Sorry, I had trouble with this one from the get go! What is it, a game, a story or a spoof? Cartoon intro, too many bubble dialogues, weird music, no tutorial, and only a notebook to reiterate what you might have had trouble getting the gist of in the first place! Graphics after the cartoon effect were unusual but appealing and I thought hey, this might be a strange but fun game. But again I say what is it, really? Maybe I'm missing something, and maybe I should have stayed with it for the entire trial, but oh my...it exhausted me in 18 min. I value my sense of humor but wow this was bizarre, talk about a wake up call...dialogue such as the janitor's remark, "While trying to clean the fountain I lost my footing and had a bad fall with my dentures dropping out of my mouth, I need the faucet from the station operator's utility room!" This is just an example of other dialogue and to me it's just silly. Too much back and forth between train station platform, waiting room and railroad square that by the time you get through all that you don't care where the bloke is going, Grimville, where is that, not to mention the guy that wants to pick pocket for the train fare or whatever! We have been spoiled by the great games out there but sorry this one lost me, maybe you will endure the trial and enlighten me!
November 18, 2013
Irritating Game
I usually don't write reviews, but this game just bothered me so much that I had to say something about it. (I am an avid HOPA player with intermediate skill level at the time of this review.) Maybe it's that we are spoiled with such wonderful developers such as Elephant Games, ERS, Blue Tea Games among some other great developers Bigfish is showcasing currently, but this game was just so irritating to me to the point of frustration and boredom. Perhaps others will not feel this way, but this is how it struck me. The game had a seemingly good premise of choose your own ending, but in my opinion it is so poorly done that you don't want to stick around to even try it out. The graphics are comic book cartoonish, but that isn't really the problem for me as that seems to be the game's format. One problem is that the characters all have little speech squares to interact with, but they just say little or grunt at you until you wonder around finally finding someone that will kinda of talk to you and even then it's not much. It seems if they have speech square then you should be able to interact with them in a better manner than is presented here. Then you are sent off to talk to people to raise money because your wallet has been stolen and you much raise your cab fare to your first destination. (You have no idea who it is you are supposed to talk to you just have to go from person to person or try to guess who they are by their dress.) You are sent from in total to 4 people to raise 4 coins for your journey, none of which will speak to you until you go from one grunting person to another until you find out which one it is and the then tasks they want you to do are vague and you have no idea where to go to preform these tasks and when you do one such as gather up all of the baggage, you click on the baggage cart in your inventory, then the baggage scattered around in 4 locations and each time the cart goes back into inventory. The interaction between the cart in inventory and the baggage is very clunky in my opinion. Finally there is a point where you go around clicking on a character who is about to be robbed and you have to decide whether to let him be robbed and split the profits or warn the man and maybe hope for a reward thereby helping to earn your 4 coins to get to your 1st destination. This is the first instance of "choose your adventure." The tasks are long and drawn out and about as concise as my poor review here. It's just boring. So boring I never got to the point where there was an HOPA because I couldn't stand it anymore. Perhaps someone who is better at explaining things and more familiar with the reviewing language can explain what I mean, but I don't even know if I would play this game if it were free and HOPA is my favorite type of game. Maybe the game gets better as it goes along. I gave it 10 minutes and left, I couldn't stand anymore boredom. Sorry developers.
November 18, 2013
don't waste your money
I used a free credit on this because I liked the graphics. I tried to play, lasted all of 20mins. It wouldn't have been to bad except for the constant running back and forth to talk to someone else. talk talk talk talk talk! sorry but I couldn't take it. This is only the second game I deleted before finishing.
December 3, 2013
Puzzle Maniac
I'm sorry I can't give this game any kind of positive review. None of the components worked well. It was extremely vague on what was to be done anywhere; not cohesive. The mini games where extremely simple and vague.Would be OK for beginners if it actually worked well. The HOS's were not done well either.
November 18, 2013
For me, very grim indeed
In my own view, this game is very cartoonish. To much jumping back and forth. Music was awful. A child could locate items in the hidden item location. If this is a child's game, why the curse words. I could not finish the trial and left in 20 minutes. In my opinion, this game is not worth even a free game.
November 18, 2013
boring hob game
horrible game I have never written about a game before but this was so bad I had to share it. The graphics were basic the game play was a lot of going backwards and forwards it was like playing a game that was years old .
November 21, 2013
grimville gift of darkness
stupid from the get go. i spent 20 minutes jumping around to figure out what to do.
November 18, 2013