Save The Prince
An evil sorcerer has cursed everyone in the castle, turning them into stone. Now, with the help of a materialistic dwarf, you must aid the young maiden Giselle in freeing her beloved prince! Can you rescue those held captive and save the prince from the evil curse? Find out in Save the Prince, a colorful and adventurous Time Management game!
45 challenging levels
Defeat enemies and save the prince
Diverse spells and adversaries
5 stunning locations
Game System Requirements:
OS:

Windows XP/Windows Vista/Windows 7/Windows 8

CPU:

1.0 GHz

RAM:

1024 MB

DirectX:

9.0

Hard Drive:

320 MB
Game Manager System Requirements:
Browser:

Internet Explorer 7 or later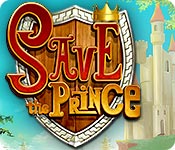 NEW299
The Big Fish Guarantee:
Quality tested and virus free.
No ads, no adware, no spyware.

Reviews at a Glance

Save The Prince
0
out of
5 (
0
Reviews
Review
)
Customer Reviews
Smart Aleck Cast
A typical TM game (I enjoy them!) that could use some help in the graphics department for sure. It is, however, a decently challenging game. I purchased it after the full trial period because TM games are too few and far between! If you can't figure a level out there is a "?" above the "menu" button that will guide you to a better strategy. I have gold in all but one level so far and have had to play some levels a few times to get it. I admit to using the "?" button a couple of times. There is one level that I can't get gold even with strategy help. The story line for me is generally not important but this one caught my eye. For some reason, the game team decided to inject a very smart aleck character who likes to talk smack. In fact, I was unable to quote said language in my review!! It was "inappropriate"!! So, if you have a credit you won't miss, don't mind a little mild trash talk, and like TM games, this one will at least keep you busy.
November 21, 2013
Troll City!
Over all this is a cute game. I love the fact the princess is saving the prince. I also love the day to night feature. There are recourses you can not gather during the day. You must use your time wisely because of this. There will be some strategy needed. This game includes multiple modes including, freeze, work faster, and my favorite collect all resources. Not bad for a TM. We get so few I am excited to see a new one. Another plus is a relaxed mode. In reviewing I try to look at it from a beginners level to an experts level. I like it. Try it and see. Thanks Big Fish for the demo. Swim on little fishes!
November 24, 2013
fun and challenging but needs editing
This is a pretty fun game and a lot more challenging than most other games of this type. I consider myself an expert at strategy and tm games, yet I found myself having to replay several levels multiple times in order to get the gold star. My biggest complaint is that the dialogue was clearly written by non-native English speakers. As an English teacher, the numerous mistakes were very annoying. They definitely need a native English speaker to edit for them. Overall, this was a decent game worth the sale price I paid for it, but if a sequel came out I wouldn't get it.
December 11, 2013
Fun and Frustrating!
Well I play lots of these. The graphics all are nice. Difficult to get gold further on but you can keep playing and go on. What I found is that too many goblins go a long way towards frustration. Oh they are ok, and you have those types of things in these games and are to be expected. But in this game I think they are overdone. I enjoyed the game and will play again, but I just quit on level 39 because I could not take the onslaught of goblins yet again. It became too much, at least for me, to enjoy the game. But,, it is the game. Just my opinion. It definitely adds to the challenge, but they really become annoying rather than challenging. Otherwise, everything is great, what you expect. Nice to have a new Time Management game and would always get new ones ... and thankfully not a viking grunting around. It is nicely done. I just feel they got a bit carried away with the goblins. But, it would not stop my purchase. I will play again, but I just have had enough goblins for now.
December 5, 2013
A little offensive in parts but a fun game
"Thanks! You're a great man!... er, I mean, dwarf" That's a paraphrased quote from the game. Hey, developers! Male dwarves ARE men. Other than this fairly offensive faux pas, the game itself is challenging enough, has some nice bonuses (auto-collect resources, eg) and cute graphics. Plus, it's refreshing that the plot involves saving a prince rather than the ubiquitous "damsel in distress".
November 21, 2013
Too Ho Hum!
The introduction video was pretty good, a young maid is madly in love with the young prince and unfortunately he is turned into stone and she falls into a river and pairs up with a dwarf. However, the TM game that follows falls a wee bit short, it's a little boring, and some of the tasks were difficult to choose because you had to click on just the right spot several times.The graphics aren't very good, and you must do the normal tasks such as collecting food off of trees and bushes, collecting chickens, removing trees, removing stones. fixing holes, collecting gold and saving different people. It wasn't a bad game but with the recent release of so many really good TM games this game seems second rate.
November 20, 2013
You?ve Got A Crush On The Prince!
BASED ON DEMO FIRST IMPRESSIONS There is nothing outstanding or unique to make this game special. It is a classic time/resource management game. The graphics are nicely done, with a very light hand, which does look nice, and very bright. There?s nothing noteworthy in the soundtrack either. But the game plays smoothly and is quite fun. WHAT?S HAPPENING I do think there is too much story/narrator voiceover in the early stages of the game. The narrator speaks in very ironic tones, indicating that the story is not to be taken too seriously. Which just as well, because our character is a silly little chit who has a crush on the prince, who practically doesn?t know she?s alive. Still, love is so often the spur that leads to acts of bravery and honour! A nasty prince (not your one) has decided he wants to marry you after catching a glimpse of you from afar, thinking you are a princess. When he finds out that you are just a servant girl, he starts waving his magic wand and cursing everyone. Now it is up to you to rescue your love. It?s kinda different, and I like that. The problem I?m having is trying to figure out how you, a servant girl, can order the men in your kingdom to do anything. Suddenly we can muster armies? The story and the gameplay don?t seem to be connected in any way. MAKING PROGRESS Anyway, the helpful guys of the kingdom go about doing what all building games are about. Follow a set of goals for each level, within a certain time. Mine, farm, saw, use magic, in every way you can to get it done on time. Or opt for the relaxed mode and take as long as you like. You will still get graded on performance with stars and achievements. The days and nights continue to progress too, which is an important part of the early levels. Another important feature is the ability to queue jobs up, giving yourself a chance to work faster. THE BOTTOM LINE I am a long way short of expert with this sort of game, but I have played enough now to see that this game, while alright, is not in the same league as a Northern Tales or Royal Envoy. I think it will appeal to those who love this genre and are always looking for another game to add to their collection. It?s pretty easy from what I saw, so maybe beginners might like it too.
November 20, 2013
OK but way too much clicking
The action was varied, some scenes required strategy and others required time management, but throughout there were pesky villains who required constant clicking to banish and the clicking on resources had to be way too exact. My strategy finally was to double click on everything and to double double click if that failed. Sometimes I had to click 8 or 10 times to get a desired result. That reduced this to a mediocre game.
December 1, 2013
same old, same old
my problem is that i am tired of these games, when you buy one, you buy them all, i have stopped purchasing them because it is always the same play, also i think there should be a way to not have a timer so children can play them too & not become frustrated as they do when there is one, & so they can enjoy the graphics without having to run like mad, in this one, my 2 guys got stuck next to a tree in the 3rd level & i could not make them walk again, they froze and that was that, never was able to make them move again so i quit, it woudl be a cute game if that was the first one like that i played but it is not and it is too much the same, may be these games shoudl be like this but also offer other options in between the clearing the rd etc... liek puzzles and such, not so much hidden objects as i think we are all a bit tired of that too. my biggest wish is that there are following games to plants versus zombies, that is a game one never tires of, it is always exciting and keeps you on your toes, this sort of games as this one i am playing are always the same plus from board to board it is also the same goings on with slight variations which also becomes boring after a while unlike the zombie hgame, which by the way has a sequel only available on ipads, wish bigfish woudl get it so i can buy it for PC. anyway, this is cute but repetitive and we have seen it all already and i am not buying these games anymore, too much the same old stuff. i own at least 3 and that is enough. i recommend this game for newcomers that have never played this sort providing the 2 guys do not freeze on the 3rd level like they did for me as i never could find the way to defreeze them, i pressed on everything imaginable!
November 20, 2013
Good game, bad story
Review based on full game. This is a challenging time/resource management game, the golds will be tough to get. You control your resource gatherers, a magical witch who must have enough mana to un-curse some buildings, and your resource buildings can be upgraded. There are goblins stealing your resources as they are produced, and a wizard throwing curses onto your production buildings. I do like the game play - the goblins are a real challenge, and they do provide optional strategy hints on each level (you have to click to see them). Having played all the levels, I can tell it will take me a while to figure out how to get golds. Anyway, I only gave three stars because the plot is just awful. Seriously, don't read the dialog. First - it is 'Save the Prince,' and it seems like gender roles may be reversed, but the woman does none of the labor, she hires dwarves. The dwarves proceed to insult her through the entire game. Mostly about how stupid she is, but also about how she just sits there looking pretty while they do all of the work. Second, her entire goal is to get the prince to marry her (not to rescue the entire kingdom which has been frozen because it is the right thing to do) - so no feminism here. At the end, she saves the kingdom and professes her love for the prince, believing he is in love with her, and it turns out he wants nothing to do with her. The King, the prince's father, forces the prince to marry her, and the final scene is the princess dragging him down the aisle. It is HORRIBLE. It is 2013. We can do better. It seems also that English is the dev's second language, and there are some misspellings and typos which are not a big deal but really bother some people.
December 8, 2013
The Apple logo is a trademark of Apple Computer, Inc.