Save The Prince
An evil sorcerer has cursed everyone in the castle, turning them into stone. Now, with the help of a materialistic dwarf, you must aid the young maiden Giselle in freeing her beloved prince! Can you rescue those held captive and save the prince from the evil curse? Find out in Save the Prince, a colorful and adventurous Time Management game!
45 challenging levels
Defeat enemies and save the prince
Diverse spells and adversaries
5 stunning locations
Game System Requirements:
OS:

Windows XP/Windows Vista/Windows 7/Windows 8

CPU:

1.0 GHz

RAM:

1024 MB

DirectX:

9.0

Hard Drive:

320 MB
Game Manager System Requirements:
Browser:

Internet Explorer 7 or later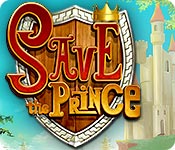 NEW299
The Big Fish Guarantee:
Quality tested and virus free.
No ads, no adware, no spyware.

Reviews at a Glance

Save The Prince
0
out of
5 (
0
Reviews
Review
)
Customer Reviews
Good game, bad story
Review based on full game. This is a challenging time/resource management game, the golds will be tough to get. You control your resource gatherers, a magical witch who must have enough mana to un-curse some buildings, and your resource buildings can be upgraded. There are goblins stealing your resources as they are produced, and a wizard throwing curses onto your production buildings. I do like the game play - the goblins are a real challenge, and they do provide optional strategy hints on each level (you have to click to see them). Having played all the levels, I can tell it will take me a while to figure out how to get golds. Anyway, I only gave three stars because the plot is just awful. Seriously, don't read the dialog. First - it is 'Save the Prince,' and it seems like gender roles may be reversed, but the woman does none of the labor, she hires dwarves. The dwarves proceed to insult her through the entire game. Mostly about how stupid she is, but also about how she just sits there looking pretty while they do all of the work. Second, her entire goal is to get the prince to marry her (not to rescue the entire kingdom which has been frozen because it is the right thing to do) - so no feminism here. At the end, she saves the kingdom and professes her love for the prince, believing he is in love with her, and it turns out he wants nothing to do with her. The King, the prince's father, forces the prince to marry her, and the final scene is the princess dragging him down the aisle. It is HORRIBLE. It is 2013. We can do better. It seems also that English is the dev's second language, and there are some misspellings and typos which are not a big deal but really bother some people.
December 8, 2013
Ehhhhhhh
Oh how my eyes widen when I see a new TM game. Then, sadly, I play the demo and realize it's another dud. There has not been IMO a good TM game is a very long time. This one has too much blabbering, diaglogue, etc. More of the game is taken up with dialogue than with game play. Good points... there is an untimed mode and you can click ahead. Other than that, it's just little dwarves spinning around running aimlessly. I'll pass.
November 21, 2013
cute, but slightly creepy
The game play was ok at best. The story line was cute at the beginning, but by the end you realize your character is actually creepy stalker girl. Kind of ruined what little fun the game had given.
December 19, 2013
Average TM game
Good game, much like any TM game, little slow but seemed like it would be a good game. Still undecided on purchase.
January 18, 2014
NOT UP TO SCRATCH
After playing the free trial (couldnt even finish the hour) i was left felling bored, the story line is to be honest dull, the graphics are basic. There are only two types of games play and nither one is any challenge a real miss in my opinion.
November 20, 2013
Ho-Hum Could Have Been Better
Though the initial intro was promising, the game fell short in many areas. The story line was so full of bad spelling, bad grammar, and some passive aggressive misogyny that it was distracting and prevented me from enjoying the game. The graphics were okay, and the tripping dwarf is cute, but in order to collect things, I had to click several times around the item in order to have it collected. In addition, the bars at the top and side often prevented me from being able to see when items were ready to be collected, and they also prevented me from seeing when items were being stolen. Overall, the game was a bit boring and there are many other TM games that have wonderful graphics and more interesting game play.
November 23, 2013
Save my Prince
I enjoyed game till my men started to freeze in place. I have no idea how you can get a gold rating when half your guys won't move. I made a big mistake in buying this game!
January 7, 2014
Warning game contains mild profanity!
This is based on the demo only. Saying that though as it is the 'clear roads', 'collect resources' type of game then you are either going to love or loathe. I normally love these types of games and have a large collection, this though I was in two minds with as whilst it does follow the same format as others in this genre, it for me didn't seem to 'flow' as well as the majority of others in this genre. Usually in these types of games even if you have the settings on 'time mode' the first first few levels are easily to complete with a top rating (stars, medals etc), but these were tight and made you think from about the second level, this was ok but it was a bit of steep learning curve. What finally put the kybosh on the game for me though was the 'mild', though to me there was no need for it anyway was the profanity used in the opening dialogue on level five. It may have only seem mild to some, to others they may not regard it as profanity at all, to me I found it very unnecessary. What also annoyed me though was that this was a 'fantasy' style game which is aimed at children and passes as a family-friendly game where the story-line is easy to follow and the whole feel of the program is that of fantasy escapisam, then on level five there is this profanity. I mean the idea that a fantasy creature like a dwarf is going to start swearing no matter how mild, will spoil the a child or adult wanting escapism to be spoiled, by the writers putting in dialogue that was not in keeping with the overall effect of the game. On the positive side, even though this was a SE the characters were talking and the graphics and soundtrack were good and in-keeping with the overall theme. Normally I would recommend this type of game if you are a fan of the genre, this one though even without the profanity, I would still err on the side of caution, owing to the fact that I couldn't 'catch' the feel of the game, the death knell though came with the use of the profanity. On this occasion I cannot recommend this game.
November 20, 2013
Disappointed
Instructions poor, characters would stop & wave for extended periods of time, given no indication on how to fix same. Numerous clicks required to achieve certain actions.
February 1, 2014
SSSSSSLLLLLLLLOOOOOOWWWWWW
Slow at everything. Jerky movements. Have to click on items multiple times. Every conversation takes so much time. Game would be average if these issues were addressed. Very amateur job.
November 23, 2013