Christmas Stories: A Christmas Carol Collector's Edition
Exclusive
Everyone deserves a second chance – even the stingiest of them all.

Your Uncle Scrooge asks for your help, but some friendly Christmas ghosts have other plans for him… and you. Undo the bad turns in his life as your uncle's alter egos work either with – or against – you to change the man's fate once and for all.

This is a special Collector's Edition release full of exclusive extras you won't find in the standard version. As a bonus, Collector's Edition purchases count toward three stamps on your Monthly Game Club Punch Card!

The Collector's Edition includes:
Help Sherlock Cat find Santa Cat in the bonus game!
Animate objects with Good Scrooge's help
Earn fun achievements and find penguin collectibles
Get soundtracks, wallpapers, screensavers, and concept art
Use the available Strategy Guide
Game System Requirements:
OS:

Windows XP/Windows Vista/Windows 7/Windows 8

CPU:

2.5 GHz

RAM:

1024 MB

DirectX:

9.0

Hard Drive:

1691 MB
Game Manager System Requirements:
Browser:

Internet Explorer 7 or later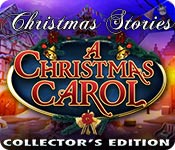 The Big Fish Guarantee:
Quality tested and virus free.
No ads, no adware, no spyware.

Reviews at a Glance

Christmas Stories: A Christmas Carol Collector's Edition
0
out of
5 (
0
Reviews
Review
)
Customer Reviews
Christmas Stories: A Christmas Carol Collector's Edition
106
106
a wonderful game - but it should be known that there is a serious glitch...
all goes well and it is tremendously fun up until you reach the point of aligning Tim's figure with its silhouette - many players can't get past this very very frustrating stage - and you have to abort the game - such a shame! and how come Elephant Games does not solve it??!! read the comments in the game's forum.
December 22, 2013
Fun game
This game is just plain fun to play. Production: Top notch presentation. The VOs aren't the best, but the rest is exceptional. There is a whole raft of cute critters to help you, but they aren't too annoying. Game play: Well designed with the usual back and forth, but the jump map helps there. The developer finally improved their map to show where immediate action is needed as well as future action. Also, they improved the HINT - it doesn't tell you exactly what to do. You are given an option to jump to the scene needing action. The HOS are some of the worst I have seen with some very tiny objects to find. I didn't get all the way through one HOS without using the HINT. The puzzles were difficult, I thought. You have to "work" on some items in inventory - combine, cut, etc. Story: I thought it was great - turn back time to make things better. Don't we all wish we could do that at times? There isn't a journal, but one isn't needed. CE stuff: There are morphing penguins to find, but I thought they were difficult to see. They are a waste anyway in my opinion. There are achievements, too, and a bonus chapter. Very enjoyable game!
December 20, 2013
Good game just not great
Has good sound and graphics. Hint button is one of the best. The HOS and puzzles are good and not hard. I just could not get into it. Soo much going all over the place finding clues and trying to remember where they go. Just seemed slow to me.
December 18, 2013
Kudos in keeping with "Christmans" yet, overall.... Bah Humbug
Fully expecting to buy this, I purchased an extra credit to apply prior to Demo-ing the game. I am not certain now that I will use those credits toward this game rather than wait for the SE. The first cut scene was enjoyable. Yet, to me, the magic, along with the graphics and storyline were more than a tad too watered down and 'sketchy; versus vivid, well polished and enticing and most importantly,overall, the game just did not flow and the storyline did not portray the classic "oomph" of the original. Rather, it offered disjointed and unintuitive and frequently annoying little interruptions and roadblocks #common to everyday games and I'll add... partly due to the game not being intuitive in nature# so ultimately there just was not the substance there to make it a true Christmas treat IMO. I believe in part the graphics are a huge part of my opinion as I just have not been able to warm up to the "artistic" style of "E" games and find them to be, frankly speaking, just a tad ugly-ish. I also do not appreciate the repetitive nature of the "E" game's puzzles overall #not enough originality#. So, this one may have to wait for a winter SE for me... and despite my being in the minority, I believe there are others that echo my sentiments. If you appreciate the graphics, the strange boxy things and doors constantly needing strange keys, the very 'typical' gameplay, etc. etc., please do enjoy and I do recommend with said reserve. Lastly and very importantly: A sincere and hearty Merry Christmas to all those swimming in the pond!
December 6, 2013
No visions of sugarplums
I bought this game hoping/anticipating/wishing it was as good as Nutcracker, from last year, and needless to say after playing this game over two nights, I quit and uninstalled. It's not horrible by any means, it's just the same ol' same ol' in my eyes. I feel the game plods along, throwing the occasional HOG at you or some super easy puzzle, while the story is just so uninspiring I don't even care what happens next. Graphics are very nice in places, not so much in others. Game play is oddly slow, the cursor drags a bit. The morphing penguins take so long to morph, the should have given a big bottle of Visine, free, with this game as you sit with eyes pasted open, waiting for a glimpse. Yes, it's a Christmas story. Always kinda nice this time of year. It has little to do with the Scrooge story except that this is an excuse for The Scrooge Guy to be mean and nasty #broken heart, don't ya know.# I'm still wondering why I have a Scrooge Angel guy lurking in the left corner, but he's creepy. IMHO not worth the CE price, and is a nice enough game if you want something to play but nothing special, exciting, new, interesting or Warm and Fuzzy Hey It's Christmas. Joyous Whatever-Your- Heart- Celebrates to all fellow fishies!
December 10, 2013
Mediocrity .....again!
Wanted to lend my support to those saying that this game fell a little short and to assure some of the British game fans that while the knowledge of the story may be impacting their approach to the game, I can honestly say that IMO that was less of a cause than just the fact that the game is weak. There is more and more of a tendency to water down games and make them way too cutesy these days. Like some of the reviewers, I just finished MCF's latest Madame Fate related game and while blown away with its complexity and challenge and then this came along. I enjoyed Nutcracker and have played more than once so I was delighted about this.....but I didn't buy it. Might use a coupon on it but it was too contrived, used too many cast members - helpful animals and angels etc for my taste. Why can't I have to find some other way to reach stuff that's high. These days all the games want to give me a fetch assistant so there's never any "how am I going to accomplish that?' feeling anymore. It's "obstacle, solution, obstacle, solution" all within a scene. So....try it. But don't be surprised if you don't like it.
December 13, 2013
Less *charme" than Nutcracker
Overall it's a good game. But...I think the story ot Dickens is badly realized in this game. Apart from some "historical mistakes", like the Pretzel etc, in my opinion the game lacks of originality and flair. The music is also less good as in Nutcracker. Sorry Elephant Games, but I feel a bit disappointed...
December 9, 2013
Mutual Admiration Is Alive & Well
As I read through the reviews, it was difficult to judge whether or not these games were worth the price. Everyone seemed so eager not only to pat Elephant Games on the back, but also to convince everyone reading their reviews that these were games that they absolutely ought to buy. Everyone's review agreed with the one before it. I also noticed that a great many of the reviews were written by Big Fish's top reviewers. Curious. I seem to be the only one not bubbling over with enthusiasm. First of all, I was thinking that "A Christmas Carol" might be an HOG version of Dickens' classic story. I was wrong. The game was a cartoonish offering BASED on the Dickens tale. And, while "Nutcracker" was a considerably better game, with exceptional art and graphics and lovely background music, I was NOT convinced that I needed to waste $13.95 on the Scrooge game, which in my opinion, was nothing to write home about. For me, the Demo was dull, and not my cup of tea. I love this particular Dickens tale, and was disappointed to find this game, with it's cutesy, Kitty Cat narrator, seemed to be aimed at a younger target audience - 9 to 14 year olds - rather than adults. For the time being, I've decided to NOT take advantage of this holiday assortment. If I was able to buy "Nutcracker" without the Scrooge game, I might then be interested.
December 5, 2013
Overated
The nutcracker game was so much better - this one has a very slow gameplay and very easy walkthrough. I did not bother playing the bonus chapter. The storyline was very odd. Not a Christmas gift for sure! C is a fair rating.
December 9, 2013
Deja Vu
It may just be me, but this game seems like a "different" theme of the same game. I loved the Nutcracker, but when I started A Christmas Carol, I felt like I had played this game before. SPOILER ALERT: (These are not specific solutions, but scene descriptions none the less) As I reached the house I started to notice some very similar rooms as The Nutcracker. The office to the right with the fireplace, going upstairs to the same hallway, having to get out of the house very similar to the Nutcracker. I was truly disappointed. I am a time management, puzzle person who loves VERY well done HOG. MCF restored my faith, and I almost bought this demo unplayed, but I will finish the demo and see if it is worth it.
December 6, 2013
The Apple logo is a trademark of Apple Computer, Inc.