Christmas Stories: A Christmas Carol Collector's Edition
Exclusive
Everyone deserves a second chance – even the stingiest of them all.

Your Uncle Scrooge asks for your help, but some friendly Christmas ghosts have other plans for him… and you. Undo the bad turns in his life as your uncle's alter egos work either with – or against – you to change the man's fate once and for all.

This is a special Collector's Edition release full of exclusive extras you won't find in the standard version. As a bonus, Collector's Edition purchases count toward three stamps on your Monthly Game Club Punch Card!

The Collector's Edition includes:
Help Sherlock Cat find Santa Cat in the bonus game!
Animate objects with Good Scrooge's help
Earn fun achievements and find penguin collectibles
Get soundtracks, wallpapers, screensavers, and concept art
Use the available Strategy Guide
Game System Requirements:
OS:

Windows XP/Windows Vista/Windows 7/Windows 8

CPU:

2.5 GHz

RAM:

1024 MB

DirectX:

9.0

Hard Drive:

1691 MB
Game Manager System Requirements:
Browser:

Internet Explorer 7 or later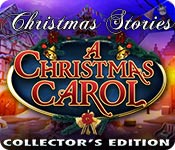 The Big Fish Guarantee:
Quality tested and virus free.
No ads, no adware, no spyware.

Reviews at a Glance

Christmas Stories: A Christmas Carol Collector's Edition
0
out of
5 (
0
Reviews
Review
)
Customer Reviews
Christmas Stories: A Christmas Carol Collector's Edition
101
101
Entertaining!!!
The storyline is very very entertaining, and different!. Not hard to follow, graphics are great. I have only played the free hour, but buying the game ASAP! This is a good gift for an avid HOBer. I like the storyline, and the even though the guide is available, its not really needed. The game is easy and challenging.
December 5, 2013
Puts one in the Christmas Spirit
I just couldnt wait to play the demo of this. There's nothing I like more than the Christmas season. I will say I liked last years offering of the Nutcracker better, however, this is a great game. Not too many (at all) HOS. Those I did encounter were a tad difficult with things hidden amongst the shadows. The puzzles were cute and interesting. You have 4 levels of difficulty to choose. A jump map which shows you the picture of the room you want to go to.... not too crazy about that. There are morphing penguins, those little guys are quick. You get help with a "good" scrooge, which was very nice as compared to a fuzzy animal helper. There is a lot of tooing and froing in this game, which I personally like. That is why I do not like a jump map which shows me a picture of the room. My one qualm, and it's a small one, the game is too quiet. The music is basically non-existent and other ambient noises, such as maybe snow blowing or church bells ringing are no where to be found. I will buy this, but as an SE. Im not a fan of the wallpaper, etc. And the penguins did not do much for me. Happy festive gaming !!!!
December 5, 2013
Baah Ha Ha! Ho Ho Ho I mean
Great game. Plenty to do. I even had to use the hint button to help. Interactive map. Nice choices pre-set up. Cute to say. Characters were great. Love looking for penguins.
December 5, 2013
Scroogetastic all the way!
I have been a fan of the Christmas stories series since the first Nutcracker game came out, and I took on this game hoping and hoping that it would be an equal to the previous game in the series. Interestingly enough, the plot was less cute and adorable as the first but held its own and was a wonderful game to immerse myself into as the snow fell outside my window and outside Scrooge's mansion. Beautiful, glittering graphics, crisp scenes and HO's, an awesome array of mini-puzzles that will satisfy both adventure and HO fans alike. The storyline was an excellent play on the classic Scrooge story with good twists. The length averaged around 6 hours for me?but I did spend a lot of time looking at the scenes and making my way slowly through the game. The Christmas feel of the game was a great mixture of nature and classical and cute. I absolutely love traditional holiday games, especially winter and Christmas themed. I do hold the Nutcracker game higher because of the overwhelming cuteness of the dolls and tiny soldier?but that's more of my obsession with miniatures, not the effort the designers put into this game. Now, after playing the CE, I would suggest the die-hard Christmas fans to go for the CE only if they want to see the kitty cats from the previous game. The bonus chapter was rather short and the last puzzle was confusing so I had to skip it?It has nothing to do with the main game at all, which wraps up in a very satisfying way all by itself. The collectables are minimal?I am NOT a fan of morphing objects to find (34 penguins) because you have to sit and wait for them to switch before you can click on them, and this game as great as it was, was really not worth the extra money, unless you want to keep the Christmas spirit going for a bit longer. I absolutely recommend this game as an SE, for any age and for any player level. It is enchanting and brings the fuzzy cozy feelings, no matter the weather or season you're in. For the big Christmas Stories fans, go for the CE. Happy gaming, Big Fishies!
January 17, 2014
5 Stars for main game, downgraded for bonus play & extras
Superb graphics and animations, interesting story, good mini games (some very easy, others quite challenging). It was fun to play, and up until the game ended, I would have rated it a 5 because I thoroughly enjoyed the scenery, especially all of the beautiful Christmas decorations, and the animated toys. Even for an old curmudgeon like me, the children in the story were loveable. It didn't bother me that the traditional story was altered. I thought it was great that your tasks were to complete acts of kindness, for which you were rewarded. It felt good, even though it's just a game. Finding the morphing penguins was fun, but I did miss a few and you are not given a chance to go back and find them at the end, nor are the locations indicated on the map. Even if they would just highlight the map to show where I had found a penguin, that would have encouraged me to go to other locations and look harder. Oh well. Perhaps in future games. Here's what I didn't like: BONUS GAME: Unless you are about 3 years old and/or REALLY love cats, I think you'd agree with me that the bonus game trivialized the main game and was quite silly. Cute, yes, captivating, no. CE EXTRAS: If you like the challenge of finding hidden objects real fast, you'll be pleased with the Achievements. I scored pitifully low on achievements because I like to enjoy the scenery and take my time looking around. Don't care about those sorts of achievements or music or concept art. Sometimes I like to capture scenes to use as backgrounds, but this game does not allow you to use the snipping tool in windowed mode. Well, you can, but there is a giant PAUSED in the middle of the screen. None of the 12 backgrounds that are offered appealed to me. I want pretty scenery, not pictures of armored things or a closeup of the not very attractive Scrooge. It sure would be nice if the game developers would add a little feature to let you select any scene to capture as a background. I don't care if there's a title in the corner. The whole CE concept kind of bothers me. Every game should be complete and come to a logical conclusion without a bonus chapter. In this game, it did, so I can't complain about that. But the problem is that you won't know if the bonus content is worth it until you've already bought it. Wouldn't it be great if you could just buy "the game" and then if you really loved it and wanted the extras, you could get them as an add-on for a few more bucks? Finally, I will ask Elephant again to NOT have the RESET option. What is the purpose? I already said I wanted to PLAY, and if I want to restart I can create another name. Does RESET do what it sounds like it would and wipe out all of your progress? I haven't tried. If it simply returns to the main screen, then please call it return, or better yet, eliminate it. If I want to quit, I can click Menu and Quit. Am I missing something? This is a wonderful game, and I highly recommend it to anyone who loves Christmas. But think carefully before you choose the CE over the SE.
January 14, 2014
Excellent
Loved this game and the bonus content was my fav part they should make one soley with just cats!! excellent.
December 23, 2013
a wonderful game - but it should be known that there is a serious glitch...
all goes well and it is tremendously fun up until you reach the point of aligning Tim's figure with its silhouette - many players can't get past this very very frustrating stage - and you have to abort the game - such a shame! and how come Elephant Games does not solve it??!! read the comments in the game's forum.
December 22, 2013
Fun game
This game is just plain fun to play. Production: Top notch presentation. The VOs aren't the best, but the rest is exceptional. There is a whole raft of cute critters to help you, but they aren't too annoying. Game play: Well designed with the usual back and forth, but the jump map helps there. The developer finally improved their map to show where immediate action is needed as well as future action. Also, they improved the HINT - it doesn't tell you exactly what to do. You are given an option to jump to the scene needing action. The HOS are some of the worst I have seen with some very tiny objects to find. I didn't get all the way through one HOS without using the HINT. The puzzles were difficult, I thought. You have to "work" on some items in inventory - combine, cut, etc. Story: I thought it was great - turn back time to make things better. Don't we all wish we could do that at times? There isn't a journal, but one isn't needed. CE stuff: There are morphing penguins to find, but I thought they were difficult to see. They are a waste anyway in my opinion. There are achievements, too, and a bonus chapter. Very enjoyable game!
December 20, 2013
Good game just not great
Has good sound and graphics. Hint button is one of the best. The HOS and puzzles are good and not hard. I just could not get into it. Soo much going all over the place finding clues and trying to remember where they go. Just seemed slow to me.
December 18, 2013
Kudos in keeping with "Christmans" yet, overall.... Bah Humbug
Fully expecting to buy this, I purchased an extra credit to apply prior to Demo-ing the game. I am not certain now that I will use those credits toward this game rather than wait for the SE. The first cut scene was enjoyable. Yet, to me, the magic, along with the graphics and storyline were more than a tad too watered down and 'sketchy; versus vivid, well polished and enticing and most importantly,overall, the game just did not flow and the storyline did not portray the classic "oomph" of the original. Rather, it offered disjointed and unintuitive and frequently annoying little interruptions and roadblocks #common to everyday games and I'll add... partly due to the game not being intuitive in nature# so ultimately there just was not the substance there to make it a true Christmas treat IMO. I believe in part the graphics are a huge part of my opinion as I just have not been able to warm up to the "artistic" style of "E" games and find them to be, frankly speaking, just a tad ugly-ish. I also do not appreciate the repetitive nature of the "E" game's puzzles overall #not enough originality#. So, this one may have to wait for a winter SE for me... and despite my being in the minority, I believe there are others that echo my sentiments. If you appreciate the graphics, the strange boxy things and doors constantly needing strange keys, the very 'typical' gameplay, etc. etc., please do enjoy and I do recommend with said reserve. Lastly and very importantly: A sincere and hearty Merry Christmas to all those swimming in the pond!
December 6, 2013