The Agency of Anomalies: Mind Invasion Collector's Edition
Exclusive
All they wanted was a cure, but what they got was terror! Return once again as a detective for the Agency of Anomalies. This time you're called to a health spa in the Alps, where an evil professor has something terrible in mind for his unwitting patients.

This is a special Collector's Edition release full of exclusive extras you won't find in the standard version. As a bonus, Collector's Edition purchases count toward three stamps on your Monthly Game Club Punch Card!

The Collector's Edition includes:
Play the bonus game to uncover more secrets
Earn Achievements
Collect canes throughout the game
Soundtracks, wallpapers, screensavers and art
Integrated Strategy Guide
Game System Requirements:
OS:

Windows XP/Windows Vista/Windows 7/Windows 8

CPU:

1.0 GHz

RAM:

1280 MB

DirectX:

9.0

Hard Drive:

798 MB
Game Manager System Requirements:
Browser:

Internet Explorer 7 or later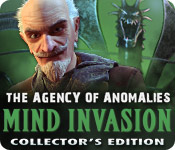 The Big Fish Guarantee:
Quality tested and virus free.
No ads, no adware, no spyware.

Reviews at a Glance

The Agency of Anomalies: Mind Invasion Collector's Edition
0
out of
5 (
0
Reviews
Review
)
Customer Reviews
The Agency of Anomalies: Mind Invasion Collector's Edition
50
50
They've Kidnapped My Brain!
The Agency (AKA Me!) has taken on a new case at the sanatorium in the Alps. An evil professor has invented a mind control device that can manipulate your thoughts and ideas to one's that better suit his ideas of world supremacy. Things go wrong as they sometimes do, and you wake up in a strange and twisted anomaly of a world. You must escape this paranormal mind prison before it's too late! Hopefully this is enough to convince you on this game, if not, how about 31 collectible and not so easy to find canes, each with their own identity such as the octopus hug! Of course there are achievements to earn, contained in snow globes, and one of the widest assortments of HOS around. There are the usual list finds, finding and placing tools back in to their proper cases, finding items that match their silhouetted shapes and placing inventory items back into the scene where they belong. And that's just in the demo folks! Mini games are good, most new or twists on older versions. The puzzle I enjoyed the most was where you had to guide a chain latch on a door through a labyrinth maze and when you got to the end a second maze would open up and you had to continue guiding the chain through a total of 4 separate mazes. If you are an Agent like myself ( I don't like to brag but I have solved a ton of cases lol) or just playing for fun, this game should be at the top of your list!
December 7, 2013
This is no Anomaly. This is Excellence in Gaming!!
I was very excited to see Mind Invasion from Agency of Anomalies. I remembered Cinderstone Orphanage, The Last Performance and Mystic Hospital. If this was half as good as the other it would be great. Well, it's not half as good, it's twice as good. It's taken some time for this newest offering and it's not hard to tell what the developers were working on!! Overall this game is absolutely a 5 out 5. It's a 10 out of 5!. I've been excited recently with new offerings from old reliable developers only to be disappointed. This is not the case here. The game is pretty glitzy: I mean, you know you're into something special from the very beginning. BUT, does it have the juice to maintain a high level after a few scenes? YES. The game begins with a lengthy Introductory cut scene which explains the storyline and why you are where you are. Also the very beginning there is an option to take advantage of a "quick" tutorial. This is a change from the past. The tutorial is done all at once and it is done quickly. I recommend doing it. Unlike others in the past, this tutorial is not intrusive and it doesn't last forever. It real is quick and it really is helpful. The visual quality is great. It's top of the line art in HOGs. The sound quality is very good as well. The music doesn't so much drive the action as accompany it and it's very pleasant music. It's more background music than anything else. There are three different types of HOG: a. Placing items in their proper places based on context. b. Matching silhouettes from the inventory list to the actual item. This one was a little too easy: once you click on the actual item it automatically picks out the silhouette. Not enough challenge in this format. c. Standard find the listed items HOG. The items are not crowded at all, but still they are hard to find. It's because they are well-hidden and well-drawn. Again, in type "b" above, it would have added another level of challenge if you had to find it on your own. Games: You'll be pleasantly surprised by old and new games of varying difficulty. Because it's a CE there are the typical extras: a strategy guide; an additional chapter; a map. There's also the standard "who cares? fare": Concept Art, etc. There are achievements (very typical...all the same stuff you always achieve in the normal course of a game). There's one collectible. It's doesn't get in the way of the game but it adds nothing either...and this game really doesn't require anything special added to it. You will not be disappointed. AND, here is the reason why: earlier I wrote that this game is superior to the others I mentioned. The story line, which isn't always so important (often it's just a very transparent effort at giving a reason for HOG and mini-games) is central to this. You'll find yourself really interested in the story. Each chapter gives one example of a character whose mind has been taken oven by a society bent on controlling the world. Yes, it's cheesy, but it's done really well and I think you'll have a great time with it and have a very hard time turning off your computer. I strongly recommend this game. I'd like to tell you more but I don't want to ruin what I think you'll find to be a very exciting game. It's NOT FAST. Admittedly, I'm not a fast player. This is the sort of game which makes me appreciate being a slow-poke. I'm was in no hurry for the fun to end.
December 7, 2013
Creepier Than Ever!
BASED ON DEMO FIRST IMPRESSIONS I?m a big fan of this series, which started out so stark and creepy and with great imagination. The second and third games were both great games too, but they never quite matched the first in creepy. This one is back with an atmosphere that makes my skin crawl in parts. I know a lot of players, who will like this breath of fresh air, after so many beautiful fantasy games this year. SIGHTS & SOUNDS This does not mean that the artwork is any less than the best of those games. It may be depicting disturbing images, but it does so in splendid colours and animation. Voiceovers are very good, with no attempt to lip synch. The sounds are the expected creepy, and the music is pleasantly nondescript. WHAT?S HAPPENING You come to the aid of a wife whose husband appears to be held captive at an asylum hospital, having gone there initially of his own free choice. Your arrival is delayed a little by the unavoidable need to fix the sky car mid-flight! Once on the ground again, you are greeted to the spa by Dr Swen, member of the Seeking Brotherhood, who gives you a quick reprise of the stories in the other games and brings you up to date on their machinations. Then you are sedated and wake up trapped inside your very own mind! Luckily you escape, and now you must free the other patients by entering their minds are curing them. Love these mind games! MAKING PROGRESS This is primarily a HOP adventure, and HOPs vastly outnumber the other games and puzzles. There are 5 types of HOP so far: *Replace misplaced items found in the scene *Place picture fragments in the scene *Find silhouettes *Place misplaced items by list *Interactive word list At least some of these scenes are revisited, but not necessarily using the same search method. The puzzles are rare but what I saw I really liked, for example, the 4 part maze, that was very different in style. The entire hour was needed to finish the demo, which contained the first two chapters. This is my only real concern ? the SG shows only 4 chapters plus the Bonus. CE BLING! No wallpapers!! Oh no!!! Okay, overreaction, but I do like them. Instead we have Concept Art, Replayable Mini-games, Achievements (lots) and Collectible Canes (31). As well as the SG and bonus chapter of course. NO PETS THOUGH! FINAL VERDICT I absolutely love the imaginative approach in this game. Inside others? mind are eerie and creepy images and concepts at least on a par of all the so-called cute and beautiful games. And the game play is also quite different and original.
December 7, 2013
Truly Top Notch! (Review of Completed Game)
What an extraordinary game! This fourth game in the series is now my favorite. The first game was good, the second good, the third was not (at least for me, I know plenty loved it), but this one definitely brings the series back on track. Congratulations to the developers on an excellent job! This is a game worthy of being a CE. I normally don't like HOS, but in this game I enjoyed every last one. You have place the items back, silhouette, list with some interaction and a new kind where you also replace items to where they belong but you find them within the scene itself with no clue underneath. Most of them weren't difficult, but some items were tricky. You played each scene twice but this was not annoying, as they were so well done. I play these games for the puzzles and these puzzles were great! They were different, with some I hadn't seen before and some old ones with a twist. They ranged in difficulty and I actually skipped two because I didn't have the time to truly solve them. I thought I could replay them at the end but, and this is my only complaint, not all of them were available in the extras. There is no map, which could have been helpful at times, but the hint was directional and highlighted the area with an available action, so it wasn't a problem. My biggest gripe with the third game was the endless backtracking and this was definitely improved in this game. While there was some backtracking, and it wouldn't be fun if there weren't, each "chapter" was contained in about 6 or 7 scenes. So there was no going back to the very first scene after an hour to pick up a screw since once one patient's story was done, the areas associated with them were completed. The bonus game is not necessary to the story (it's a prequel) but was well done and worth playing. It was rather long (I guess about 1.5 hrs) and there were puzzles and a variety of HOS. So often a great game with interactive HOS will have just list HOS in the bonus, but that's not the case here. The bonus game wasn't just an afterthought and opened up some new areas. For me, it was completely worth it. There are achievements, and a cane to find in every scene, with some of those quite well hidden. There is a separate chapter in the SG that shows their locations, which is a plus for me, since I don't like having to go through every page to see if I missed something. There is also the rest of the usual CE fare, though no replayable HOS. All in all, I highly recommend this game. Everything about it from the artwork to the story was well done and a pleasure to experience. Try the demo and I'm sure you'll agree. Excellent game developers!!! Thank you!
December 10, 2013
Can You Survive The Mind Invasion and Dr. Swen?
What would you do if your beloved husband was suffering from a mysterious paranormal disturbance? I am sure you would do what Renee did and send him to the Alps where a physician renowned for curing these types of disturbances has a clinic. Maybe that was a mistake because Renee soon receives a letter from Alfred telling her that their marriage is over. Since Alfred didn?t sound like himself, Renee enlists your aid to get to the bottom of the mystery. You immediately recognize the name of Professor Swens and know that he works for the Seekers Brotherhood, an organization you have done battle with in the past. Could it be that you are in over your head this time. Fortunately, not is all that it seems and you do have some help. Will you be able to survive the mind invasion and Dr. Swen?s attempts to turn you into a member of the Seekers? The graphics are good but not as crisp as I like. They seem a bit old style in comparison with those in some of the more recent games that have been released. That being said they are still nice but a bit washed out. The sound package is okay but again there is nothing outstanding. You have a diary that keeps the progress of the story as you move through the game and there is also a transporter style map that is located close to your hint button. Where ?Mind Invasion? becomes an excellent game is with the variety in the HOS. Rather than all being the standard list type they are varied, and some are almost like puzzles. I found that I really liked the variation in the HOS and found them fun to get through to earn my reward. The same with the game?s puzzles, many of them were different than what we normally see. Some puzzles did present a bit of challenge but I didn?t find them so difficult that they were frustrating. Throughout the game you will find 31 collectible walking canes (they all have interesting handles so take the time to look at them). There are also achievements to be earned but that is about it as far as CE content. Of course, there is the usual CE fluff but no wallpapers. Overall the game has nothing spectacular for CE content, except that you can replay the mini-games, but for many of you it may not be worth the extra cost. ?Agency of Anomalies Mind Invasion? is a unique and very interesting game because of the puzzles and the HOS. I found the story intriguing. ?Mind Invasion? is a game I want to continue playing so I am off to hit the buy button. The developers have created a game that is interesting, challenging and a lot of fun. As always, I recommend that you at least try the demo to see if you agree that this is a great game and one well-worth adding to your collection.
December 7, 2013
Insanity Rules!
I love this game! I played the beta and have been waiting for this to be released. What a great Christmas present! Anyway, you are a detective with the Agency of Anomalies who is summoned by Renee to the sanitarium where her husband Alfred has been a patient. According to Renee, Alfred now wants to end their marriage. However, Renee is under control of Prof Gerome Sens, who is brain washing his patients to serve the needs of the Brotherhood. But Renee does help you by giving you a bracelet to resist the mind control devices scattered around the grounds. So the first patient you encounter is a newspaper man, who has been convinced by the Prof his newspapers only published lies and he now publishes what the Brotherhood wants him to publish. You get a Brain Device that lets you penetrate the patient's mind, which opens up an alternate reality. So you must play both scenes in order to solve the problem and free the mind of the newspaper man. Pretty cool! The HOS are different -- put back the missing tools into their tool kits, put pieces of a picture in place in the scene, or find the item from a list of silhouettes. The mini-games are unique, but solvable (I didn't skip any!). The Hint Button refreshes quickly. The map is teleporting and gives clues. There are three modes of play, 25 achievements, and 31 cane collectibles, plus a bonus adventure and a strategy guide, which I didn't need. Great game with interesting story line.
December 7, 2013
Candidate For Game of the Year!
For me it is always about the story-and this one is top notch. As a detective for the Agency of Anomalies, you are asked to look for a husband asking for a divorce while in a sanitarium. Once there you find you will have to help some of the other patients too. You will enter the patients' subconscious to help them, entering an eerie alternate twisted world. There are several levels of challenge, beautiful art work, lots of different types of HOS, good mini games, an interactive map, and decent music, as well as most of the usual CE extras. After some disappointing recent game releases from well known developers, this stands out as a well thought out, challenging, beautifully produced entry in an established series. Enjoy!
December 8, 2013
Not just the agency, but the entire game is definitely anomalous [and that's a GOOD thing] :)
There are already so many reviews giving the technical specifics the CE offers that I'm going to jump in and simply give an overview of my experience and opinion. And that is... WOW... this is one spectacular game.... it's the game that keeps on giving and for a change, I am glad about that! Often times I don't complete a game simply because it either peters out midway on it's own, or I do [I often wind up getting bored toward the end of many games]... yet this was not the 'case' with the newest sequel to the Agency games, "The Agency of Anomalies, Mind Invasion"! [Pun intended, haha] :} This game is definitely an eccentric one in every aspect [graphics, content, puzzles] and quite honestly, I didn't warm up to it immediately. Yet, I am almost finished with it now and I have to say I will be a bit disappointed when it ends. Most everything about this game was strangely unique and appealing as well as being challenging, offering puzzles that truly were both fun as well as interesting and thought provoking. I suggest you definitely give this game a real chance... it may not grab you immediately as was the case with me [though I previously had played and enjoyed it's predecessors of the series], and happily, in the long run, it proved to be an especially nice treat that just kept on going and giving, too. Kudos to Developer and BFG for a phenomenal game!
January 2, 2014
Another Fantastic Chapter for The Agency!
While I didn't need to play the demo to know I was going to love the newest addition to the The Agency of Anomalies (own the others already), I played it and was impressed yet again!. Always stunning graphics, great storyline, excellent mini-games and always testing your detective thoughts!..5 Stars and A++++ for another great interactive HO!
December 7, 2013
ANOTHER WINNER WITH A LITTLE SPICE
If you've liked any of the other Agency of Anomalies, you'll like this one. Other reviewers have told the story and sang its praises. I'll just reiterate that the HOS are great and I like that they've put just about every type of HOS into the game - good variety adds a little spice. The puzzles are mildly to intermediately challenging - all doable. Artistry is outstanding and I love the little mind reader (another piece of spice) which lets you into the patient's "revised" mind and see things through his eyes - it's almost similar to those games where you change illumination and find new items and uses. Fantastic production values and a good addition to your game platforms.
December 7, 2013
The Apple logo is a trademark of Apple Computer, Inc.