Spirits of Mystery: The Silver Arrow Collector's Edition
Exclusive
Discover your true destiny in Spirits of Mystery: The Silver Arrow! When you met Prince Philip, it was love at first sight... but his obligations to his kingdom kept you apart. Tradition required Philip to let Fate choose his bride by shooting a magical Silver Arrow into the sky. As luck would have it, the Silver Arrow chose you! But the moment it landed at your feet, a notorious shape shifter appeared and took it away from you! Now you must track him down and get back the arrow before his mysterious client can get her grubby hands on it and present it at the wedding. Will you make it in time? Find out in this exciting Hidden Object Puzzle Adventure!

This is a special Collector's Edition release full of exclusive extras you won't find in the standard version. As a bonus, Collector's Edition purchases count toward three stamps on your Monthly Game Club Punch Card!

The Collector's Edition includes:
A bonus game where you explore the amazing world of the griffins!
Stunning wallpapers, screensavers, and concept art
Replayable mini-games and hidden-object puzzles
An available Strategy Guide
Game System Requirements:
OS:

Windows XP/Windows Vista/Windows 7/Windows 8

CPU:

1.6 GHz

RAM:

1024 MB

DirectX:

9.0

Hard Drive:

790 MB
Game Manager System Requirements:
Browser:

Internet Explorer 7 or later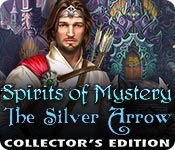 The Big Fish Guarantee:
Quality tested and virus free.
No ads, no adware, no spyware.

Reviews at a Glance

Spirits of Mystery: The Silver Arrow Collector's Edition
0
out of
5 (
0
Reviews
Review
)
Customer Reviews
Spirits of Mystery: The Silver Arrow Collector's Edition
44
44
Terrific game, but one mini game is driving me nuts!
I absolutely love this game. However I'll never get that "wedding cake" in the Achievements (you have to achieve all titles and you have to get ALL mini games for that). This is all because of that silly mini game, where you get that green square from the frog and have to cover as many squares as you can with flowers. I can't for the life of me figure out how this game works. Can someone enlighten me on the logic of this game and how you can beat it? Other than that quirk, I totally loved the game. It was worth every penny.
January 18, 2014
GORGEOUSLY FUN!Best 'Handsome Prince' yet...;)
I LOVE the handsome prince /princess fantasy type game when it is as well done as this series has been. LOVE the music, gorgeous graphics and storyline and animals. I found the length even w/o the Bonus play to be perfect and I love the fact developers are not using the same old HOS game play. This game has variety! I find the Spirit of Mystery series to be my favorite on BF. Please keep making em like this as we who love them will definately buy them! I never get tired of saving a handsome prince's ..:D
January 11, 2014
Good But Not Exciting
As always, this series, Spirits of Mystyery is very well developed but I was a little disappointed that there wasn't more to it. Although the graphics, sounds effects and HOS were all good, the overall game time just wasn't that exciting. You get to collect pearls with which you are able to "fix up" your tower and you collect a furry friend who interprets what the animals and insects want to say to you. You also earn a few achievements but mostly for not using hints in HOS or skipping puzzles. Not so sure this will be worth the CE price for me but definitely not a bad game.
December 12, 2013
Spirits of Mystery is back! (Pay no attention to the Dark Minotaur behind the curtain.)
Spirits of Mystery: The Silver Arrow Developed by ERS (Produced by Big Fish Games) Collector's Edition Review based on full game IN THE BEGINNING... The Crown Prince of the Pearl Kingdom is required to let Fate select his bride. He shoots a magic Silver Arrow into the sky and it flies through the window of the one destined to be his Queen. Fortunately, as the Crown Prince is your love Philip, the Arrow chooses you! Unfortunately, the evil sorceress Mortis is back and up to her old tricks. Her minion steals the arrow as part of her nefarious plot. Now it's up to you to get the crucial magic Arrow back, not only to save your upcoming wedding, but also to keep peace in the known world. In the bonus adventure, you must stop Mortis from opening a portal between worlds and freeing Isa, her old love and your nemesis. PLAY THE GAME... Lots to do in adventure mode?much to collect and interact with. HO scenes vary in type: silhouette, sequential silhouette, return objects, find matching pairs. Puzzles vary from simple to somewhat difficult, with most being variations on familiar puzzles. A few have customizable difficulty settings. There's also some use of animals in lieu of tools (but you then use the actual tool later on?a bit strange). Lastly, you have a blue creature that resembles a Furby who can translate any animal language for you. SIGHTSEEING? The graphics are more detailed and less pastel than ERS' usual fare which, I hope, means they're stepping away from their signature washed out look. Animation is typical for this series, hand-drawn and a touch stilted, but not awful. SOUND WAVES? The music, thankfully, was not THAT music. Although I did cringe a few times on hearing those high-pitched violins, which I wish they'd stop using. Game sounds were appropriate and voiceovers were done well. TOOLBOX? The map indicates objectives and completed tasks, and transports. The journal tracks the story, holds clues, and lists the current goals. Inventory is lockable and functional. EXTRA, EXTRA? There's the bonus adventure, of course, with some new areas to play. The revisited areas contain new items and tasks. Collectibles are multi-colored pearls with which you can repair, remodel, and furnish your tower. You can replay both puzzles and HO scenes. And there's the usual offerings, of interest mostly to artists and budding game designers. THE LAST WORD? The Silver Arrow is one thousand times better than The Dark Minotaur was, and is a worthy addition to the Spirits of Mystery series, hearkening back to the first two games in quality, enjoyment, and immersion. The main adventure does end conclusively, but the bonus adventure was lengthy and interesting?not at all an afterthought?and gives additional closure.
December 15, 2013
Worthy sequel, but still needs some work.
I really, REALLY liked Dark Minotaur and was excited to see how this one would turn out. I was expecting some cute, as ERS is now following this trend, but it's a fantasy game. The storyline is pretty easy to figure out, you need the Silver Arrow to marry your prince which has been stolen by a jealous witch who was our co-villain in the previous game. The gameplay is easy, but engaging and fun. Along the way, you get a somewhat cute furby-like helper named Romas who translates the animal language. It was an interesting concept in my opinion, but it eventually got annoying as he was used to often. The graphics are clear, as usual, and they're still the same ERS art style, which, in my opinion, is the only "same old, same old" in this game. As mentioned before, the cute factor has gone noticeably down, as we see a bleeding bear and some ugly termites, and a neutral 3D owl, which was stunning. Overall, this is a fun and appealing game, but it is very easy.
December 14, 2013
Chasing Love
I started to play the SE trial version first but had a friend who had bought the CE so played that version. Honestly, I would stick with the SE version. The CE has your typical wallpapers, strategy guide, etc.. The bonus extra story doesn't really add on much for it to be worth the extra money. And once I play a game I really don't want to go back and replay the mini-games and HOG's again (which each are unlocked after you encounter them and can access them from the extras menu after you beat them in the chapter), which is included in the CE as well. Story: Well it's your typical you meet the prince and it's instantaneous love at first sight! As if that story hasn't been used before right? Well even though you've met him and you both have fallen in love, there is a hitch. Of course, there is. Supposedly through tradition the prince has to shoot a silver arrow into the sky and whose ever's window in lands on or flies through is supposed to be the next queen. Well of course it lands in your window but some shapeshifting sorcerer decides to steal it from you for his client who is bent on being the next queen to fulfill her dastardly deeds of evil. Now that presents a problem because according to tradition, the person whom the arrow chooses is supposed to present the arrow to the prince at his castle so that they know that you aren't lying...? Which is what this lady was planning to do but everyone knows she's not the one the arrow chose anyways.... (wait did I miss something here?) So no one thought that just offing off the chosen lady or stealing it from them would be another way to lie? But in this story the prince and everyone seems to know that the arrow didn't chose the evil lady. They all miraculously know it chose you. So if that's the case what was going to happen when your nemesis presented the arrow? Sorry I don't mean to degrade the story and make it sound that bad.It does keep you interested enough to want to see what was going to happen next. I did play it all the way through. Sound: I don't play with sound because I play late at night and I don't want to disturb my husband who is sleeping. Graphics: They were crisp and clear. Some things looked realistic up close or far away. It is what I would expect from a fantasy romance. Gameplay: The HOS were fairly easy. I didn't have to use any hints. You had shadows of items that you had to find within the scene or you had to use to complete items in the scene.Nothing was too small to see though sometimes I think I clicked a couple times to get an item or put an item in the right spot. So that was a bit buggy at times. The mini games were easy as well. A few consisted of moving obstacles on a board so that you could put items in appropriate places. For example, one puzzle had 4 sea life and their homes (such as a clown fish, pearl, clam shell, sea anemone, hermit crab, starfish, hermit shell, and coral) around the board. The homes were in static places with obstacles around them. You had to move the sea life around the board either left, right, up or down with arrows. The trick was to use these sea animals to help you get other sea animals into their homes, but it wasn't easy because you could get two into their homes within two moves but then you would be stuck with the other two just going around and around the board with nothing to run into. The most common puzzle was the portals you had to get through to get to another area. You had to find between one and three pieces that were missing from the door and then click on them until they were in the right areas. Basically you had pictures of like a deer, ship, sand etc.. and you had to make sure they matched the forest, sea, desert and such. Overall, I'd get the SE version. There are better HOG's out there, but there was still something to this game that held your attention and wanted you to keep going to find out the ending. After reading some of the other reviews I was like nah I'm not one who'd want to keep playing after reading some of the lower starred reviews but I did exactly that. I felt like no my hour can't be up! So glad I had a friend and "borrowed" from them.
January 21, 2014
Good, but less than I would expect from this series
Let me start out by saying I love the Spirits of Mystery series. I have played all of them several times. However, this one was not quite up to snuff to the other ones. For one thing, it seem much shorter than the others to me, although I did not actually time it, and the plot seemed a bit?.weird. Now for the basics. If you have played the other series, then the story will be very familiar: You are a Princess that must save a Kingdom (your beloved Prince?s rather than you own this time) from disaster. The Prince tries to help and gets kidnapped (finally, the Princess saves the Prince) so now you must rescue him too. Now for the weird part. The Prince loves you, but cannot chose you as his bride. Instead, fate must decide by him shooting a Silver Arrow and he must marry whomever it lands by (OK, it is a magic land?.. If a frog can turn into a Prince, I guess an arrow can be bespelled to pick the most fitting Queen) However, this all-powerful arrow is still capable of being stolen AND, if not return, will cause ultimate disaster. I mean, if you can put a spell on an arrow to find the best Queen, can?t you put some kind of security spell on it? Oh well, I guess they need some kind of cliff hanger. Other than that oddity, the plot is pretty good. You get a cute helper that can talk to animals, the standard evil witch, and lots of puzzles to go with the hidden objects. Really, if it were not for the length, I would give it a 5
December 26, 2013
A good sequel
I have played the other games in the series and enjoyed them and this was as good. A variety of HOs and well spaced. Puzzles not much out of the ordinary but still fun. Good length of game play and good bonus chapter. I Love this type of storyline and thats what does it for me...magic and mystery... Cute animal helpers....a happy ending...pure escapism!
December 18, 2013
Enjoyed this game
This game was good-it ran quite smoothly. A couple of the scenes were a bit blurred but overall enjoyable. Like games with fantasy/fairytale feel. Would have liked a bit more colour . Enjoyed the Tribble talking to animals. Like portholes. Mini games were a bit repetitive.
December 15, 2013
Good addition to Spirits of Mystery
This is another good game with lots to do, items to pick up and puzzles to solve..HO's aren't very hard and like the idea of piecing together different items to get to the one you need..Puzzles are good, not too hard..Visuals are very good as expected..Storyline is good, but (only my opinion) has been worked over, time and time again...All in all, still worth playing for any level..
December 14, 2013
The Apple logo is a trademark of Apple Computer, Inc.