Awakening Kingdoms
Exclusive
The kingdom needs your help!
You are chosen by Queen Sophia to restore her kingdom back to its former glory through fun mini-games and beautiful hidden object scenes.
NEW in the Skyward Kingdom:
VISIT SKYCRYSTAL ATRIUM FOR A WHOLE NEW EXPERIENCE!
COMPLETE OVER 80 NEW QUESTS!
CASTLE UPGRADES AND PET ACCESSORIES!
Game System Requirements:
OS:

Windows XP/Windows Vista/Windows 7/Windows 8

CPU:

2.5 GHz

RAM:

1024 MB

DirectX:

9.0

Hard Drive:

938 MB
Game Manager System Requirements:
Browser:

Internet Explorer 7 or later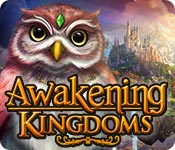 Top In-Game Purchases
1.

68 Crystals

$ 5.99

2.

145 Crystals

$ 9.99

3.

2800 Bolgins

$ 2.99

4.

8 Crystals

$ 0.99

5.

430 Crystals

$ 24.99
Game Club members
SAVE 30% on
in-game items.
The Big Fish Guarantee:
Quality tested and virus free.
No ads, no adware, no spyware.

Reviews at a Glance

Awakening Kingdoms
0
out of
5 (
0
Reviews
Review
)
Customer Reviews
Idea is fine, but too many pop-ups!
This game has fine graphics, including excellent HOS. However, as another reviewer has said, there are just too many pop-ups and instructions, an overload in fact. Similar in execution as 'Found', you can only play for so long before you need more energy, which if you are prepared to spend real money, is available at the bank. So, for most of us who are not willing to spend money on a 'Free to Play' game, progress will be slow over a long period. For me, I would rather buy such a game as this at the outset, rather than have to spend as I play. I am continuing to play this, but think that down the track I will stop, due to frustration of not being able to progress at my own speed and leisure.
December 18, 2013
Close but unfinished...
This game started out well. Color, graphics, HO screens all really nice. I got stuck when I was rebuilding the town square! There was no hint as to what or where I should do or go next and when I went to ;how to play the game, there were about 10 pages of how to use the elements in the game. This game reminded me of "Found" which ended up being very confusing. Areas of the map were "soon to come" so game is not finished yet. I wanted to play further but no blog walkthrough. Will try again later.
December 12, 2013
Fun, but not able to play at my pace
OK, basic breakdown: Queen Sofia is still out cleaning up the aftermath of the evil Dreadmire?s schemes and has left you in charge of getting the original Kingdom , in shape. To do so, you have to rebuild the original Palace, several villages and go on ?quests? or fulfill requests for various people. Simple, right? Here is where the problems crop up. To go on these quests, you need energy points, and these run out FAST. It can take between 18 ? 65 (so far, the further you go in the game, to more energy points the locations take) energy points per quest, and there is no guarantee that you will get the item you need when you visit the location. Also it will often take visiting several locations to fulfill a request. Every time you level up, you energy meter refills, but it takes a lot of quests to level up. You can buy special energy food to get more energy points, but many of the request take money, so that defeats the purpose. The game does automatically refill you energy points, whether you are logged in or not, but it is only at a pace of 1 point per every 5 minutes. Now, if you are willing to spend real money, you can buy things to let you get more energy points, but that is not something that I am willing to do So, basically: If you enjoy sitting down to a game for several hours until you have finished it or tire of it, then this game will frustrate you. My strategy is to play for about an hour or until my energy runs out, log off and wait a few hours. Log back and play that few points I have received and then go to bed and work and come back the next day. I figure I am going to either finish eventually or level up to the point where I actually have enough energy points to play for several hours and then have to wait a few days for my energy meter to fill. However, this game has reminded me why I almost never play free games, I just love this series enough that I did not want to pass it up
December 26, 2013
Good, but not great.
This is an okay game. Just a lot of waiting around for buildings to get built. You also need to wait for your energy to build back up in order to explore areas. The one thing I don't like about this game is that it runs off of a crystal system. You can process through the game faster if you spend real money on crystals for the game. I can kind of understand the concept since the game is free to play, but I can't understand it when you have to buy crystals in order in progress through the game. It would've been better to just pay a standard price for the game.
December 18, 2013
NOT FOR ME!!
I loved all the previous games in this series, but did not like this one. Too confusing and difficult to figure out the gameplay. I also do not like games that expect you to buy extra stuff, especially after paying for the game in the first place. Very disappointed considering how good the previous games were. The graphics are really good, but that's not enough to recommend it. Sorry!!
December 14, 2013
Was great in the beginning
I love the Awakening series. The graphics are awesome and the music is not annoying. Loved the game in the beginning, but once you hit the higher levels, the costs to obtain objects skyrockets and the energy accumulation does not. Don't get me wrong, I don't mind spending a few bucks for an upgrade, but going from an energy cost of 42 to a cost of 80 per hidden object game is just too much. Won't be playing anymore. :-(
January 10, 2014
Held my attention for a while - but then disappointing
This game started out really well. At the beginning quests are new and high value items are easily found and awarded when minigames are completed. Now that I am 20 levels in, I have no energy, no money, and no "crystals" - all of which are necessary to proceed. I've purchased a fair amount of currency and crystals yet every quest requires more and more without awarding the same. You will need to wait overnight for your energy meter to fill - or level up. In the mean time there is no way to earn currency or crystals and like I said you need all three to progress. At least in Farm Up, players have the option to plant high dollar earning crops to grow overnight. Then, when you rejoin the game the next day you can sell the crops for plenty of currency to buy enough energy and powerups to at least get you started for the day. I don't mind paying for a good game but this one requires more and more with every quest. Disappointing.
January 5, 2014
Kitty's Thoughts: Hmm... Being a Queens Stool Maybe Fun!
I can't believe I am saying this. I will admit. I was leaning away from the awakening games til I gave this one a chance. I had to say, It's not a bad game as most people stated. Actually, the game is quite decent, and maybe healthy competition to "Found". However, I believe it's not a 5 star game. Here's why- Storyline: This one gave me some confusion a bit to understand the placement in this game. It seems this takes place after she traveled off which would make sense before the 5th game : Sunhook Spire. In that perspective, you are safe to assume this is not the 6th game, but like a branch of the major series. Instead of being Sophia, you are her unknown steward, and she gave you a task...... "Fix my broken down kingdom." So get prepared to play Awakening Kingdom: Kingdom restoration Project to say the least. I had to say the story was more decent than found, but what about Visual? Visual Quality: The Visuals is the same old same old style. I am sure they are trying to get this game out quick, but I was hoping for at least a slight upgrade on the visual category. I had to say the map though was gorgeous, and probably the animated people is a bit of a step up. But If you played all the awakening games, you've seen their quality art in every game. Not much difference. Level of Challenge: I found this game to be pretty easy at the beginning. Found was the same way. The more you get into it, hopefully the harder it gets. However, I like this better than found because you actually have puzzle games as well, and other multiple things to do besides just the same old hidden object, collect this, and so on routine. I give it a plus for that. Finally the Fun Factor: I think this game is quite fun, but I bet it will have the same issue as found. You're going to run into a situation where you will run out of power. Have to wait for power to recharge to play more. By that time, you probably already found another game to buy other than spending money to recharge and such. My final verdict is that this game is a 3 star. It's not a 5 or 4 start because it's no where near the perfection of being a highly fun game nor the improvements reflect such. However, it doesn't deserve a 2 or 1 because it is pretty decent, and the game is quite fun. Honestly, this is a 3 star game. Kitty Out!
December 18, 2013
Awakening Kingdoms
This is a very addictive game and I wish it would just "work" for us who love HOG as I do.(1) The food you need to buy for your energy are WAY TOO EXPENSIVE. (2) And some of the Quests you have where you can skip and spend crystals, they are very pricey too and the rewards should match the cost you are laying out for the "skip". You have to work very hard to get your levelling and I am at Level 32 and I have almost completed the Skyward Castle interior... It is a great pity because this game has excellent potential to be one of the top rated games I have played on my PC. And I am an avid Xbox360 gamer too. The Elderscrolls complete series I have played, Fallout, Gears of War to name but a few, so I know what I am talking about here, people!! I am 61!!
February 11, 2014
Expensive free game
The Awakening world is very pretty. I like the variety of the HO scenes and the characters are good. Little mini games are rather lame. Really expensive to play, energy recharges at 1 every FIVE minutes. On average it cost 50 energy to play ONE HO scene. Game, though free, really pushes you to either Facebook and then auction inventory items for in-game crystals, OR, spend what would seriously amount to a lot of money to buy crystals or in-game gold coins.
December 31, 2013