Midnight Castle
Exclusive
Save the fate of Midnight Castle!
Start searching for magical items now! Unveil mysterious treasures & characters and use your coins and diamonds to continue your journey.
THIS JUST IN! Now added:
NEW! EXCITING OPTIMIZATIONS ARE HERE!
CHECK OUT THE CLOUD CITY PRISON AND MORE!
GET A FREE SPIN WITH EVERY PURCHASE! WIN PRIZES!
Game System Requirements:
OS:

Windows XP/Windows Vista/Windows 7

CPU:

1.0 GHz

RAM:

1024 MB

DirectX:

9.0

Hard Drive:

528 MB
Game Manager System Requirements:
Browser:

Internet Explorer 7 or later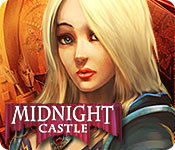 Top In-Game Purchases
1.

275 Diamonds

$ 9.99

2.

50 Diamonds

$ 1.99

3.

130 Diamonds

$ 4.99

4.

3,037 Coins

$ 7.99

5.

570 Diamonds

$ 19.99
Game Club members
SAVE 30% on
in-game items.
The Big Fish Guarantee:
Quality tested and virus free.
No ads, no adware, no spyware.

Reviews at a Glance

Midnight Castle
0
out of
5 (
0
Reviews
Review
)
Customer Reviews
MIDNIGHT CASHtle
The precept of this game [intentional misspell in title] is similar to many of the TM builder games in a sense, yet you eventually [yes everyone will, eventually!!!] have to pay a lot more than the usual game price for playing. I enjoyed building my little game world until I was continually flagged to purchase more and more.... sorry, I like to know how much a game costs up front. Please realize this aspect if you play or review this game... it is NOT free by any stretch of the imagination [in the long run]. I also didn't like playing the eternal haunted house theme throughout the seasons; it got very 'old' very fast in that regard also. Definitely not the type of game for me [nor are any of the PFF games]; sorry BFG!
February 3, 2014
Horrible
While I guess this is technically a HOS game, you only get to use two scenes and you keep going back to the same scenes. Luckily, they move some of the pieces around. You have to pay coins to open new areas. Then you have to find 3 unrelated things to open and "win" that section. But really, you just go back to the same person. Who tells you to collect 3 more things. Ad nauseum. You collect objects thru these mini "adventures". And when you look in your inventory, well, you can sell them. Oh - and it listed only 2 of one object I have 5. Sound confusing? It is. And there's a tutorial. Yay. There is not one redeeming feature to this game. Not one. Hopefully, Big Fish Games will stop making/selling these games. If this is the future of their gaming, I'll have to find a new place to get games. And as for recommendation? It's Heck, no!
January 12, 2014
Pay or Wait...It's Your Choice!
I generally hate pay to play games, but thought I'd give this one a whirl based on the teaser. Nope. Should've moved on and spent a couple of hours of my life elsewhere. Game play feels disjointed and there isn't anything to explain what the items are for in my bag. I'm really struggling to find the positives in this game! Pros: 1. Nice graphics 2. Fun mini games Cons: 1. Pay to play...While the game is free to download and start playing, you WILL have to fork over real money in order to progress through this game. 2. Not much happening....You end up talking to a couple of characters who give you tasks, but there isn't any real exploration to be had. 3. Waiting, waiting, and more waiting. Each time you complete a HOS (there are only 3 in the first bit), the timer starts counting down and locks the HOS until the timer reaches zero. Each time you play, there is time added to the clock so you wait longer to play it again. There is absolutely nothing else to do while you wait, unless you pay to play a mini game, or pay to speed up the timer. 4. The mini games are super short and are only free to play once every 24 hours....not game hours, real hours. Otherwise, you have to pay to play them again sooner. Overall, this feels less like a quest and more like a fleecing.
January 24, 2014
What's the Point?
Redundant. Same thing over and over. No self guidance or exploration. All you can do is just punch the next button that you are told to. You get a notice that someone wants to connect with you. I don't want to, but not given a choice. So I just did a hard shut down because it wouldn't let me proceed without agreeing to connect. Deleted the game.
February 7, 2014
Waste of Time!!
Overly repetitive hidden object game, re-uses hidden object areas over and over, with cool down times in between. Attempts at storyline were poorly written and completely unrelated to actual game. Clumsy gameplay, not enjoyable. I understand that this is a free to play game, but I advise you that you are free to play elsewhere, you can definitely do better.
February 7, 2014
This is a dull game
It's one of those games that leads you by the hand and insists that you do things in the order it wants you to do them. It's treats you like a 5 year old that's too stupid to work it out for yourself. And you can't get out of the tutorial rounds. So if you have any brain at all..... It looks beautiful but it's dull. Very very dull.
January 24, 2014
Boring
Once you have played this a few times it all gets very boring.
February 12, 2014
irritating
I tried the free download, to see if it was some game I would like to purchase. Thanks to that I now am able to decide that I won't buy this irritating game. I miss a start screen where one can choose for easy or more difficult options. The game starts automatically on a childish level, where I hardly have to think for my self, because some annoying game has to show me every step, if I want it or not. May be it will stop that after some time of playing, but I did not like to find out and was happy to quit.
January 24, 2014
Played for 5 minutes
I only played for 5 minutes and knew I didn't want to play this game. I really do think it is only suitable for children. I've never been in a game where I couldn't ask for the tutorial or turn it off. Way too easy.
February 5, 2014
boring
I,m sorry....but I found this game to be meaningless and repetitive.....ho hum........
July 15, 2014