Mythic Wonders: The Philosopher's Stone
Exclusive
You are awakened by a strange premonition concerning your uncle. Your intuition tells you something is wrong, and the project you were collaborating on may have put his life in danger. You will use the portal you built together to enter a new and mythical world, and along the way, you'll discover the secrets and powers of the Philosopher's Stone! Explore magical realms on your journey to save him. Overcome obstacles created at every turn by a strange and magical creature. Who is he? What is his agenda? Perhaps not everything is as it seems.
Game System Requirements:
OS:

Windows XP/Windows Vista/Windows 7/Windows 8

CPU:

1.6 GHz

RAM:

1024 MB

DirectX:

9.0

Hard Drive:

1402 MB
Game Manager System Requirements:
Browser:

Internet Explorer 7 or later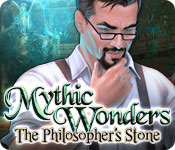 NEW299
The Big Fish Guarantee:
Quality tested and virus free.
No ads, no adware, no spyware.

Reviews at a Glance

Mythic Wonders: The Philosopher's Stone
0
out of
5 (
0
Reviews
Review
)
Customer Reviews
Mythic Wonders: The Philosopher's Stone
21
21
i really liked this game
i played with custom settings!!!! i like that games are coming out with this. you can set the length of recharge for skips and hints. all kinds of things. be sure to check it out. most mini games, again, are too had for me. it plays well. it has a journal and map (not interactive). i had to write some things down so i could reference them later. maybe i just didn't look at my journal enough. idk. your uncle has summoned you to help him with the philosopher stone. you need to find the different elements to reassemble it. you will be surprised about 3/4 of the way through. that is all i will say.
April 21, 2014
Excellent Game
This game had it all- great story line, challenging puzzles, excellent graphics... I can't wait for the next installment. My only criticism is that it was too short.
December 16, 2014
Fun Hidden Object Adventure Demo
Based on the Demo The visuals are very well done. Clear, clean, crisp graphics with lots of special effects. The soundtrack begins eerie and creepy, the voice overs are great, especially the screams. Part of the soundtrack is sing-song harp music during some of the places you visit through the portal. There are creepy, eerie characters throughout although some parts of the game are more fantasyish than dark and eerie. The storyline is good. The heroine awakens from a dream about her uncle, tries to telephone him and gets no answer so she takes a train to his house. Previously the two of them had been building a time portal. The hidden object scenes are very well done, most of the interactive. Mini puzzles range from easy to moderately hard. There is a journal, an interactive map, and an artifact that lights up and assists you. Lots of bells and whistles to make a great game.
February 2, 2014
Where's Uncle Alfred??
This is a fantasy game where you and your Uncle Alfred were building a portal to shoot you off to another dimension, when lo and behold, Uncle Alfred did not wait for you but used the portal alone. Now he's in great danger and you, the niece, must go into the portal and track him down. You, the niece, are quite the chatter box, and can't help but make comments all throughout the game. But I digress. The colors and graphics are very nice. There is not mouth movement, which kind of bothers me. The people are cartoonish. The music is peaceful and relaxing. I'd say this leans heavily as an adventure game and I do love adventure games. Just really not a great fan of fantasy/sci fi games. However, this one I really enjoyed. The HOS are few and far in between and were done very very well. 2 were list, and one was fragments. The puzzles were unique, something different than the same old same old. I found them to be medium difficulty. However, the last puzzle in the demo ... , the one with creating the recipe, did not work so well for me. I had difficulty moving the spoon, but perhaps it was just me. There are 2 modes of play to choose from. . I do like the game a lot. I found it challenging and different than the usual same old same old that is released. I did however, will wait for the SE. I'm not a big fan of searching until my eyes hurt for morphing objects and except for the bonus chapter, have no need for al the CE extras. Enjoy :)))
February 3, 2014
good game based only on the 60 minute trial, mind you
played better, but hey, its darned difficult to please everyone. i dont like hos for instance, and would prefer just puzzles. but we cant have everything we want. i like the travelling through portals and different weird scenes, and charging up the artifact, which acts an aid throughout the game i believe. worth buying, i'm about to do just that, lol
February 2, 2014
Interesting Game
This game is very interesting. Things are not what they seem. Uncle Alfred needs your help. The experiment that you and he have been working on somehow went crazy and Uncle was swept away. Being over zealous, he tried to go it alone. The portal opened and now he is trapped in a strange world with an equally strange being who tries to stop you at every turn. You must enter the portal to find your Uncle. The worlds are varied, beautiful, and interesting. Personally, I like the Sun, Earth, Water, and Fire worlds. I wish these worlds were longer. I liked the two headed dog and his creepy friend the snake. And in the fire world I like the dragon and phoenix. I am afraid of heights but even the universe couldn't stop me. My curiosity to see what happened to Uncle Alfred propelled me onward. But, things are no all that it seems. As you continue your search for your Uncle, you also become the protector of the Philosopher's Stone. With an artifact as powerful as the Philosopher's Stone, can treachery and betrayal be far behind? As an an intermediate player, I buy the Collector's Edition. I like the idea of have the strategy guide right there just in case. I used a game credit for the standard version. But, surprisingly I did well. I did need little tweaks every now and again in the game. The hint button was great. And it charged very quickly. But, I still would like to play the CE version.
February 26, 2014
Bit too Much Fantasy
This is based on the Demo version. This game is too much fantasy for me. I just don't care for that type of game. Having said that, this game is well done. No, it wan't fun for me, but you need to try it yourself to see how it fits you. The graphics and sound, especially the voice overs were great. The Hidden Object Scenes were clear and the objects for the most part easy to see. The music I really didn't pay much attention to, so it must not have been bad. The Hidden Objects were easy and of the mini games I played one was very simple, one was kind of tough and the last I ended up skipping simple because I didn't want my time to be wasted on one element of the game. So the level of challenge I would say was for a beginner. It would be a pretty good game for someone like my granddaughter. The map is helpful and the hint button refills quickly. All you have to do is figure out what to do in the scene and you have it made. I don't know much about the story line other than what is mentioned in the description by Big Fish. I didn't get far enough into the game to tell if the story line fit. This is a clean game with good graphics and excellent sound, but just too much fantasy for me. I'll not be purchasing it, but I do recommend it for those who do enjoy this type of game.
February 3, 2014
Lacked in a few areas.
Overall, the was OK. The puzzles were either super easy or super tough. The one near the end I skipped...just couldn't figure it out. The play was about five hours which I find on the short side. 2013
February 6, 2014
It's OK
I really need to do the trial before buying. this is a good game, just not my kind of game, it's not a keeper for me. I played it and deleted it. I need to want to keep looking at the scenery over and over to keep it in my queue. I used to love anything Mr. Vallejo was involved in, but that love is fading. Maybe he's involved in to many gaming companies, I don't know but I think the quality is suffering. or maybe I'm just getting pickier. the HO's were fine the flow was fine, the games were good, just not a fan of space games and getting tired of portals. play the trial and see if it grabs you. I bought the CE on sale but you might be happier spending a free game credit on the SE. from now on it's hand drawn or delete for me.
February 9, 2014
This game was buggy!
There were so many problems with this game freezing and crashing that it interfered with my enjoyment.
February 8, 2014
The Apple logo is a trademark of Apple Computer, Inc.