Mythic Wonders: The Philosopher's Stone
Exclusive
You are awakened by a strange premonition concerning your uncle. Your intuition tells you something is wrong, and the project you were collaborating on may have put his life in danger. You will use the portal you built together to enter a new and mythical world, and along the way, you'll discover the secrets and powers of the Philosopher's Stone! Explore magical realms on your journey to save him. Overcome obstacles created at every turn by a strange and magical creature. Who is he? What is his agenda? Perhaps not everything is as it seems.
Game System Requirements:
OS:

10.9/10.8/10.7/10.6

CPU:

1.6 GHz (INTEL ONLY)

RAM:

1024 MB

Hard Drive:

936 MB
Game Manager System Requirements:
Browser:

Safari 4.0 or later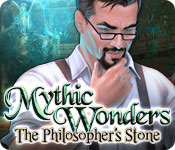 NEW299
The Big Fish Guarantee:
Quality tested and virus free.
No ads, no adware, no spyware.

Reviews at a Glance

Mythic Wonders: The Philosopher's Stone
0
out of
5 (
0
Reviews
Review
)
Customer Reviews
Mythic Wonders: The Philosopher's Stone
15
15
Travel To An Alien World!
You have been helping your Uncle build a replica of an ancient portal, but you don't know how to activate it. A strange dream that your Uncle is in trouble has you panic stricken so you travel through the night to make sure he's okay. You arrive too late, he's already learned how to activate the portal, even worse, he went alone and now you must enter the portal and try to find him in a strange hostel world. I haven't changed my mind, I still think this is an awesome game but I will admit I like all the goodies of the CE better. You will find an artifact that will help you during your travels with lighting up entire rooms or making plants grow faster and as you find new elements, they will automatically update your artifact. The HOS are a nice mixture of interactive list finds as well as finding items that look like the picture and find 12 of the same items. There are a lot of unusual mini games such as a pic cross game with tiles as well as some standard puzzles, moving horizontal stones right and left to achieve a picture of a phoenix bird on a pillar but when you move one tile, others move as well. I love the theme of traveling through an alien world and in my opinion this is a very entertaining game, enjoy!
February 2, 2014
ANOTHER WINNER
This game flows well with a decent story line and a good level of challenge. The graphics and sound are good with only a small complaint that a few times through the game the screen stays black for an unusually long time between scenes and I was sure my computer was hung - all good in the end - so be patient! The HOS are a good mix and the puzzles provide some change to the same old, same old. All in all a good game and an enjoyable play, good length and good challenge.
February 2, 2014
Great game
Relaxing music and some beautiful scenes (I'd like to stay plugged in to the water portal for good!). I'd played the demo of the CE so was waiting for this to be released. It was one of the nicest games I've played.
February 3, 2014
great game for a SE
The hidden obj games are clear and therefore somewhat easy, but don't let that fool you because there are plenty of interesting interactive things to do. I like when the things are not so crammed together, but then there is a flower scene requiring finding beetles that were a challenge even though the drawing was gem quality beautiful. The puzzles were not easy and I skipped some to get further into the game during the trial. I did not buy yet so this review is based on an hour, but I will be buying it tomorrow to take advantage of the two fer on Monday. The story is quite interesting as one has to enter a portal to find one's relative and the things to do are interesting though not necessarily unheard of before. There are more portals, so one has more different landscapes to work through. Of course there is the thwarting threatening villain, but one proceeds with courage and persistence. I played on the easy mode, so my giving this less than an excellent rating might change were I to venture into the more difficult setting. I am looking forward to playing the game without an eye to rushing through. Then I will be able to take the time with the more difficult puzzles. I liked the balance of hidden obj to puzzle to look around for stuff to keep figuring out the next step. I also liked the magical egg that gave a continuing increase in powers as one progressed through the game. I did not miss the morphing objects or the things one is finding in some of the other games because I thought this games Hidden object scenes were very interesting in the interactions that were required. O no I just checked and there is no walkthrough; I do not buy without a walkthrough. Darn! But I just learned there is a CE I am going to check it out! Maybe I'll use my two credits on this one. So far it is very deserving.
February 2, 2014
Got better and better as it went, spectacular
This is one of those games where I burned to finish, to keep going to reach the end. Some games, I can only take so much, where it feels tedious, and I need to give myself a break before tackling the next hurdle. Not so with this one. Each level was entrancing, clever, thoughtful, but more importantly, psychologically deep (just are the graphics and the mini-games were interesting and fun, different) - portraying the depth of human character the 'creators' must posses in order to create such a joyous wonder as this game. It was challenging, but not too hard, and if one just does not give up, they will find it - but not ridiculously hard either - it was a perfect balance. Big Kudo's for this one.
February 24, 2014
Best Graphics Ever!
This game has the best graphics I have ever seen in these games. They have set a standard others should try to meet.
February 17, 2014
Fun Hidden Object Adventure Demo
Based on the Demo The visuals are very well done. Clear, clean, crisp graphics with lots of special effects. The soundtrack begins eerie and creepy, the voice overs are great, especially the screams. Part of the soundtrack is sing-song harp music during some of the places you visit through the portal. There are creepy, eerie characters throughout although some parts of the game are more fantasyish than dark and eerie. The storyline is good. The heroine awakens from a dream about her uncle, tries to telephone him and gets no answer so she takes a train to his house. Previously the two of them had been building a time portal. The hidden object scenes are very well done, most of the interactive. Mini puzzles range from easy to moderately hard. There is a journal, an interactive map, and an artifact that lights up and assists you. Lots of bells and whistles to make a great game.
February 2, 2014
Where's Uncle Alfred??
This is a fantasy game where you and your Uncle Alfred were building a portal to shoot you off to another dimension, when lo and behold, Uncle Alfred did not wait for you but used the portal alone. Now he's in great danger and you, the niece, must go into the portal and track him down. You, the niece, are quite the chatter box, and can't help but make comments all throughout the game. But I digress. The colors and graphics are very nice. There is not mouth movement, which kind of bothers me. The people are cartoonish. The music is peaceful and relaxing. I'd say this leans heavily as an adventure game and I do love adventure games. Just really not a great fan of fantasy/sci fi games. However, this one I really enjoyed. The HOS are few and far in between and were done very very well. 2 were list, and one was fragments. The puzzles were unique, something different than the same old same old. I found them to be medium difficulty. However, the last puzzle in the demo ... , the one with creating the recipe, did not work so well for me. I had difficulty moving the spoon, but perhaps it was just me. There are 2 modes of play to choose from. . I do like the game a lot. I found it challenging and different than the usual same old same old that is released. I did however, will wait for the SE. I'm not a big fan of searching until my eyes hurt for morphing objects and except for the bonus chapter, have no need for al the CE extras. Enjoy :)))
February 3, 2014
good game based only on the 60 minute trial, mind you
played better, but hey, its darned difficult to please everyone. i dont like hos for instance, and would prefer just puzzles. but we cant have everything we want. i like the travelling through portals and different weird scenes, and charging up the artifact, which acts an aid throughout the game i believe. worth buying, i'm about to do just that, lol
February 2, 2014
Interesting Game
This game is very interesting. Things are not what they seem. Uncle Alfred needs your help. The experiment that you and he have been working on somehow went crazy and Uncle was swept away. Being over zealous, he tried to go it alone. The portal opened and now he is trapped in a strange world with an equally strange being who tries to stop you at every turn. You must enter the portal to find your Uncle. The worlds are varied, beautiful, and interesting. Personally, I like the Sun, Earth, Water, and Fire worlds. I wish these worlds were longer. I liked the two headed dog and his creepy friend the snake. And in the fire world I like the dragon and phoenix. I am afraid of heights but even the universe couldn't stop me. My curiosity to see what happened to Uncle Alfred propelled me onward. But, things are no all that it seems. As you continue your search for your Uncle, you also become the protector of the Philosopher's Stone. With an artifact as powerful as the Philosopher's Stone, can treachery and betrayal be far behind? As an an intermediate player, I buy the Collector's Edition. I like the idea of have the strategy guide right there just in case. I used a game credit for the standard version. But, surprisingly I did well. I did need little tweaks every now and again in the game. The hint button was great. And it charged very quickly. But, I still would like to play the CE version.
February 26, 2014
The Apple logo is a trademark of Apple Computer, Inc.
The Windows logo is a trademark of Microsoft, Inc.