Redemption Cemetery: Bitter Frost Collector's Edition
Exclusive
Your house is warm and ready for Christmas Eve when an unexpected visitor magically appears at your window. Your ancestor, the Owl Spirit, begs your help. You must stop the jealous and vindictive Wenonah, the Spirit of Cold, from destroying your ancestors. If she succeeds in her terrible plan, she'll make sure you'll never be born! A photo album is the key to stopping her, but can a mere mortal handle this ghostly task? Travel through time to save your grandparents from her bitter, icy grasp!

This is a special Collector's Edition release full of exclusive extras you won't find in the standard version. As a bonus, Collector's Edition purchases count toward three stamps on your Monthly Game Club Punch Card!

The Collector's Edition includes:
A bonus game to help Santa fulfill children's wishes!
Re-playable videos and mini-games
Wallpapers and concept art
An available Strategy Guide
Game System Requirements:
OS:

Windows XP/Windows Vista/Windows 7/Windows 8

CPU:

1.6 GHz

RAM:

1024 MB

DirectX:

9.0

Hard Drive:

916 MB
Game Manager System Requirements:
Browser:

Internet Explorer 7 or later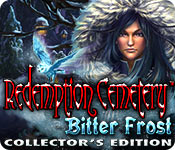 The Big Fish Guarantee:
Quality tested and virus free.
No ads, no adware, no spyware.

Reviews at a Glance

Redemption Cemetery: Bitter Frost Collector's Edition
0
out of
5 (
0
Reviews
Review
)
Customer Reviews
Redemption Cemetery: Bitter Frost Collector's Edition
58
58
T?was The Night Before Xmas...
...and we're in a cemetery! BASED ON DEMO FIRST IMPRESSIONS Christmas Eve, done Redemption Cemetery style, is something a bit different from the rest of the series. Yes, you still do end up in a cemetery, and you do save people, at the behest of spirits who are trying to protect them from the other realm. Just as with each previous instalment. But this time it is your ancestors you must save, in order to ensure your own continued existence. And our sometimes-helpful raven has departed, leaving us in the care of Koturi, the Owl Spirit, who is our ancestor, and a... Native American(?). While it breathes new life into a series that had probably reached the end of its cycle, it comes dangerously close to not qualifying as a legitimate follow on from previous stories. The fact that it is a Christmas tale only adds to the alien feel of the game. SIGHTS & SOUNDS The opening sequences present a new look for ERS as well. There is something remarkably stylish in their depiction of an unnatural frost, and something of a departure for them from the usual look and feel. It is magically done, and definitely a new peak in artistic terms. I would never have imagined leaving a Christmas story by Elephant to play one by ERS, where the colour and flamboyance would be comparable. If you not familiar with the works of these developers, my apologies for the ?insider lingo?, I mean merely that my two favourite developers, each exceptional in their artwork, are both now offering spectacle and extravaganza on a new level. I must say, in music, the Elephant still leads by a long shot. Here the music is nice, for the most part appropriate, but it?s Christmas Eve, where are the carols? Voiceover by the narrator is very good, and the other characters are reasonable. I would have liked to be made more aware of ambient sounds. MAKING PROGRESS In this we are more typically ERS. There are two HOPs in the demo, one a simple word list visited twice, with the difference that each item retrieved uncovers a piece of a jigsaw puzzle to be completed at the end of the HOP. There is also the option to switch to a (relatively) difficult Match 3 game instead. The other HOP is a new design. It is a highly stylized replace objects game, and very cool. There are more puzzles and mini-games, not overly hard at this stage. You have the choice on some to play the casual or hard version. (This is on top of your 3 difficulty levels plus custom option). I found it difficult to get into the mind set of this game, and so my progress was slow, and relied heavily on the interactive jump map and directional hint. Other features include combining items in inventory, and a magic feather that allows you to enlarge items, for example scissors become garden shears. CE BLING! Nothing shockingly new or different here, but nicely done. A generous number of attractive gallery items, plus replayable mini-games (18) and HOPs (11). Plus the SG and Bonus Chapter. Achievements are prettily depicted, and collectibles are snowflakes, which you use to restore your personal snow globe in the manner of Gardenscapes et. al. FINAL VERDICT It?s a good game, just how good I am still not sure. A lot will depend on the developer?s ability to hold on to the tradition of Redemption Cemetery within a different kind of story. For me, one hour was simply too soon to tell.
December 26, 2013
Not Exactly a Cheerful Game!
T?was the night before Christmas, all through the house, not a creature was stirring not even a mouse when suddenly; a snow owl appears with a package that changes your life. The Bunny Team does it again, and in this particular story, you won?t find any Christmas cheer, gingerbread men, candy canes and Ole St Nick. Instead on Christmas Eve, Redemption Cemetery: Bitter Frost continues its series of murder and mayhem. Our story begins with you meeting Koturi, a Native American owl spirit, who gave up his immortality for the love of Sheenah. He tells you that your total existence depends on you going back in time to save several members of your family from the evil clutches of Wenonah, the Spirit of the Cold, who apparently doesn?t really understand the true meaning of Christmas. Instead of forgiveness, her desire for vengeance is so cold that she decides to start eliminating several descendents and thus ending the bloodline of your family. Well then, better put on your winter coat, cap and gloves because you are in for a very cold adventure. I have to say that these developers are forever constant with their signature look; washed-out graphics, beautiful hand drawn artwork, animation scenes that could have been done with a better resolution and voice-overs that were a bit bland for my part. I prefer a bit of realism in my games and with no mouth movements and cartoonish characters, I am reluctant to give this game full marks. Redemption Cemetery: Bitter Frost Collector's Edition is yet another standard HOPA game with a menu that offers you three levels of difficulty that also can be customized, full points for that. On your adventure, you have a journal, a map that does allow for travel, a feather which unfortunately I have yet to discover exactly what it is used for, standard hidden object scenes that can be switched to Match 3 games, collectables along with a few achievements to earn as you play. As you collect the snow flakes throughout the game, you will get to fix up your homestead for Christmas which I suppose is a cool thing to add on. Puzzles are relatively easy to solve but I did enjoy some of the mini-games. Yes we have all come to accept that this team of developers will continue on with creating one game after another, using the same cookie cutting technique. The only thing that does change is the storyline and setting. Although I am not overwhelmed with the game play here, it does feel like watching your all time favorite classical TV series, same style and feel but you do enjoy watching each episode. Sometimes, they do come up with something totally different but this time, it?s like watching a re-run. Still it is Christmas, and there is adventure and I could use a break from picking up after the family. So I will take advantage of the sale today and continue with saving the lives of my relatives. Isn?t that what Christmas is about? Family!
December 26, 2013
AWESOME! ERS is BACK!
For the first time in a long time, I want an ERS game! I've never really been a fan of the Redemption Cemetery series, but this one hooked me as soon as it started! I'm now back on the path to being an ERS fan again! As I mentioned, the story hooked me pretty much instantly. The common theme of the Redemption Cemetery series is time travel, and something about going back in time to save your ancestors just appeals to me. It starts off on a normal Christmas Eve, until you're summoned by the Owl Spirit, who warns you that the Spirit of Cold, Wenonah, is out to destroy your ancestors. So, you must go back in time to prevent Wenonah and save your blood line! I've been critical of ERS as of late for having storylines that are too ?cute?, but this one is awesome! This is their best story in a long time. The concept is great and it is executed great! I can't wait to see how this ends. There is also a backstroy, told The gameplay is pretty good, but I have one issue with it, to do with the HOS. The HOS themselves are good. They're a mixture of silhouette and junkpile, but the junkpile are a little different. Every time you find an item, it reveals a puzzle piece, and when the HOS is complete, you must put the puzzle pieces together to form an object. This is my issue. I don't want to solve a puzzle to find my inventory item. In my opinion, the HOS and puzzles should be kept separate, not joined together. Other than that, the HOS were decent. The puzzles were okay, too. They're nothing new, but they're enjoyable. That being said, I did have to skip one, because it was too hard, and given that there were only two in the demo... yeah, you get it. I think the puzzles might be a bit too hard for me. One thing that's different about this is that you can join two objects together to make the one (indicated by green + signs). This was a nice feature as it made the game slightly more enjoyable. The other different thing was the feather. It can make items bigger. There is also an indication for this, but if you use the hint, the hint will tell you which item you need to use the feather on (because I didn't notice an indication the first time). The feather was a nice, unique addition to the game. I think what makes this game so good is that there's nothing cute here. There's no animal helpers, no fuzzy creatures, no singing plants, etc. so it's truly wonderful. The only thing remotely cute that I've seen so far is a puppy in a blanket, but I can deal with that. It is so great that ERS have finally listened to the fans and have given something for those of us who aren't particularly a fan of the cute and the fuzzy. Other than that, this is pretty much your standard HOPA. Experienced players should have no trouble navigating their way through the game. It has all your standard features (map excluded. If there was one, I didn't see it), so everything should be familiar. I don't think I'd recommend this to beginners because of the puzzle at the end of the HOS and the feather. The graphics are classic ERS. They are hand drawn and really well done. The scenes are clear and the character designs are great. One issue I have, though, is that ERS characters no longer move their lips. This makes the game less realistic, and makes it a bit of a joke. It's hilarious to watch someone talking without their lips moving. The voice-overs are standard. I have no issue with them. FEATURES 4 modes of difficulty: Casual, Advanced, Hard and Custom. Custom lets you set the game the way you want it. Difficulty can be changed in game. I played Casual. Hint/Skip- both recharge pretty fast for Casual. It seems I've just used the hint and then it's available again. The hint is useful outside HOS. Diary- not used often, but keeps track of events. Feather- used to make ordinary items bigger. Using the feather changes the original item in to a different one. CE EXCLUSIVES Built in Strategy Guide. Bonus Chapter Wallpaper Concept Art Replay HOS Replay Puzzles Music Replay movies Achievements Collectible snowflakes All in all, I really enjoyed this game. It earns a solid four stars, a recommendation and I will be buying the SE. This is the first ERS game I will be buying in quite a long time, but I am looking forward to it. In my opinion, this is the best Redemption Cemetery ever.
January 25, 2014
Save Your Bloodline in Redemption Cemetery
It looks like Christmas Eve is definitely starting out strange for you. An owl smashes through your window and leaves a package on the table. The owl soon morphs into Koturi, your ancestor, who tells you the story of a jealous spirit who is determined to destroy his bloodline ? and that includes you. This journey into the Redemption Cemetery will save your bloodline as you do battle with the jealous spirit who is bent on destroying your family. The graphics are typical of ERS with wonderful, realistic artwork. The artistic team at ERS has outdone itself with the beautiful, crystalline depiction of winter. Bitter Frost seems so real I can almost feel the chill and want to reach out and touch the snowflakes. As great as the graphics are in this game, what really surprised me, and it seems to be a step back for the bunny team, is that there are no lip-synced voiceovers. Wow, what a departure from the norm for them since they led the field in lip-synced voiceovers. You have an interactive map along with a diary both located on the lower left of your screen. Early in the game you will receive a magic feather that gives you the ability to make things larger. The first HOS I encountered was the list type and there was a very fun twist at the end to finally ?earn? my prize. There are differing types of HOS included into the mix as well but if you choose to not play the HOS you do have the option of playing a very interesting match 3 game. The mini puzzles are fun and are nothing new but they are fun. I haven?t found any to be overly challenging but I hold out hope that as the game progresses the puzzles will pick up in difficulty. There is nothing earth shaking in CE content and it seems to be the standard fare so there is not a lot to say about it. Redemption Cemetery Bitter Frost seems to be a welcome departure from a year or more of ERS games that have been jam-packed with cutesy animal helpers. Even as a huge fan of ERS games, I have to admit that I was becoming quite tired of the overwhelming use of animal helpers in some of the recent ERS games, so I was delighted to find that ERS has scaled back on some of the cutesy animals and is returning to the days of substance in gameplay rather than relying on cuteness. The demo of Bitter Frost was entertaining and enjoyable and I enjoyed the puzzles and the new twist on the HOS. However, since there is not a lot of CE content, I am not sure if I will purchase the CE or wait for the SE to appear - I guess that depends on what type of sale we have this weekend. After the demo of the game I am keeping my fingers crossed that Bitter Frost continues to be as entertaining and as promising as it was during the demo. As always, I recommend that you try the game to see if you like it.
December 26, 2013
Good but short
This game seems much shorter than the others in the Redemption Cemetery series. It feels like they pushed it out in a hurry to try and get it out for the holiday season, and barely made it at that. The main game only has 3 victims, and there is a bonus play area in the collectors edition. Good game with rich graphics and a great story line, but doesn't feel like it was a stand alone game instead of a part of a game.
December 27, 2013
Worthy CE game
This was one of those games where the extra content made me smile. No spoilers here, but the CE was definitely worth the time, money and effort. Buy the CE if you can.
January 3, 2014
Enjoyable
Game is fun for the time of the year! Little short I thought. It is somewhat like the scrooge, so don't expect happy, happy on Christmas Eve. You are saving your ancestors, so you can be born.
December 27, 2013
Pretty nice for a dark game
The third game in the Redemption Cemetery series by ERS ---------------------------------------------------------------------------- Usually this game starts at a creepy cemetery but this time it starts in a warm cozy room on a Christmas day. It was a nice change for a dark game. Throughout the game although it is supposed to be a dark game, it feels like Christmas. There are 4 levels of difficulties. Nice VO and cinematics. Map is however, very confusing. The markers are just not the usual 'X' or 'O'. HOGs are the usual finding objects in the list, but I like that style better. Puzzles are quite innovative. Background music is all the same throughout the series so nothing is new. I like that there's even Angry Birds in this game! I think they're very cute. Extra content is quite diverse with replayable HOGs and puzzles. Collectibles are decorating your house. Among all other Redemption Cemetery game, I think this one is my favorite.
June 25, 2014
Gorgeous game, but too short!
Excellent graphics, very immersive, but way too short
January 11, 2014
Pretty Good
I liked the artwork and story of this, and the hidden object/puzzle games were fun.
December 29, 2013
The Apple logo is a trademark of Apple Computer, Inc.