Redemption Cemetery: Bitter Frost Collector's Edition
Exclusive
Your house is warm and ready for Christmas Eve when an unexpected visitor magically appears at your window. Your ancestor, the Owl Spirit, begs your help. You must stop the jealous and vindictive Wenonah, the Spirit of Cold, from destroying your ancestors. If she succeeds in her terrible plan, she'll make sure you'll never be born! A photo album is the key to stopping her, but can a mere mortal handle this ghostly task? Travel through time to save your grandparents from her bitter, icy grasp!

This is a special Collector's Edition release full of exclusive extras you won't find in the standard version. As a bonus, Collector's Edition purchases count toward three stamps on your Monthly Game Club Punch Card!

The Collector's Edition includes:
A bonus game to help Santa fulfill children's wishes!
Re-playable videos and mini-games
Wallpapers and concept art
An available Strategy Guide
Game System Requirements:
OS:

Windows XP/Windows Vista/Windows 7/Windows 8

CPU:

1.6 GHz

RAM:

1024 MB

DirectX:

9.0

Hard Drive:

916 MB
Game Manager System Requirements:
Browser:

Internet Explorer 7 or later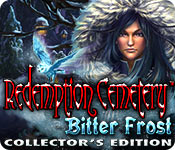 The Big Fish Guarantee:
Quality tested and virus free.
No ads, no adware, no spyware.

Reviews at a Glance

Redemption Cemetery: Bitter Frost Collector's Edition
0
out of
5 (
0
Reviews
Review
)
Customer Reviews
Redemption Cemetery: Bitter Frost Collector's Edition
58
58
Leaves me cold
I am a fan of the Redemption Cemetery games. This one, however, took me by surprise, and not in a good way. I liked the visuals and the snow. However, a spooky game set on Christmas Eve just does not do it for me. The gameplay being set during the holidays was just wrong in some way. I had a hard time throughout the entire game getting things straight. Yes, I believe this series has worn out its welcome before the Last Redemption Cemetery was released. Game play is easy, very very linear in true ERS fashion. It is a cookie cutter of the other games they put out minus a cute animal here and there. There are achievements to earn for the CE and snowflakes to collect to fix up your little house. And a bonus chapter. All the other "bling" that comes with this does nothing for me. I have seen very very good SE stand alone games come out the past few days that are very different and challenging. I will stick to them for now. Perhaps I will retry this as an SE. For the CE, no buy for me.
December 26, 2013
Same story, different day...
Hello all, hope you had a nice Christmas. Since the story has been covered in other reviews, I'm just going to give you my personal feelings on the game play and such. I have 3 of the previous 4 Redemption games and really enjoyed them. I especially like the ERS games...one of my favorite devs. Game play was nice (usual for ERS#. Graphics were nice #everyone is going the cartoon way these days#, clear, not dark and bright colors, making it easy to see everything. Nice voice overs. It seems there was more talking than in previous RC games. Liked the sound FX as well. SG is the standard, but you really don't need to use it that much, as the hint system is quite helpful and fills fairly quickly. There is a jump map, but I haven't used it yet. HOGs are clean and items are very easy to find. You can switch between HOG and match 3. The match 3 game is set up quite differently than the standard games and is not as easy as you think #at least the one I tried). You have a jigsaw puzzle to complete after each HOG as well, which is very simple to do. You are looking for snowflakes so you can get money to "fix up" a snowglobe..hmmm, no challenge there. As much as I liked the other RC games, I'm just not kicked out about this one. It was a nice game, but not really challenging and did not make me want to run out and get it now. I'm going to put this one in my puddle and hold it for a really good special. Not sure if I'll get the CE or the SE...I will get one or the other. Maybe I just need a break for a while. As always, try it for yourself and see what you think. We all have different tastes in games and you may not care for this one at all. Thanks for the reviews.
December 26, 2013
On the Redemption Cemetery Fence
As a huge fan of ERS and the Redemption Cemetery games this one will go down as my least favorite of the series. I didn?t hate it, but neither is it going to be on my top 10 list. That said, I found myself liking the bonus game over the main game and wished ERS had made it the focus of this Christmas Eve game. Still, the whole cemetery on Christmas Eve theme didn?t bother me as I anticipated the ending to fit a redemption story along the lines of Scrooge. Saving your own ancestors was an interesting change in dynamics and I quite liked that. What better Christmas present to give yourself than the continuation of your family line. The graphics were, for the most part, not bright and colorful. But, as you are visiting the past it seemed to fit. On the other hand, some of the snow scenes were quite evocative to giving a realistic feeling of bitter cold to the game?I almost felt as if I should be bundled in hat, gloves, scarf and winter parka with my hands wrapped around a hot cup of cocoa to play and liked that. I don?t play with the sound on so whatever lack there was in ambiance or voice-over was not problematic to me. My very active imagination is good at creating my own sense of how the tone should feel. The HO?s were a pleasant change and having the choice to swap to match-3 appreciated for a change of pace. Having those match-3?s be of a different ilk was also a nice surprise. I skipped a number of the mini-games that were not a good match to my skillset, but overall they were not a bother and some were pleasantly fun. The challenge for me was that the game flow did not feel at all intuitive?the story itself did not feel as if it helped move things forward beyond the basics of saving a soul. I found myself often frustrated by running/jumping around without much clue and ended up using both the hint and, to a more minor degree, the strategy guide to figure out what to do next. As an experienced gamer I don?t need my hand held, but I do like to have an inkling. There was also the case of having to visit a character up to 3 times to get things that could have been given on the first or second interaction even so it may have required carrying around for a bit. It felt as if the length of the gameplay was being padded and added to the run around factor. Overall, the game was OK. But, if I hadn?t purchased it on sale with extra punches I would not feel the snowflakes and achievements made it CE worthy. On the other hand, I liked the short bonus game with its ending surprise well enough that no stars are deducted for that. My 3 star rating comes from the general ?meh? feeling about the game as a whole. Games are liked or not based on the feelings of the individual at the time they are playing?give it a trial and see what it says to you.
January 15, 2014
A decent try, but ERS disppoints this time
If anyone is into ancestry, this will intrigue. However, as with some of the other new games, the cut scenes really begin to aggravate. Skipping is optional, but if one does, then runs the risk of missing critical info. ERS, try integrating some of this info into the interaction between characters or storyline through actual game play. Visuals are nice and there are some extras, but don't know that I would burn my credits on it. Might have given a 4th star had it not been for the mind numbing amount of cut scenes and explanatory intros into them. So-so for me..need to mull it over; perhaps the SE will do for me.
December 28, 2013
Bitter Frost doesn't measure up to previous adventures...
I love all the Redemption Cemetery series, and have played them all. Wenonah and Koturi side story native american indian theme didn't appeal to me. You must save you ancestors by way of time travel or you wont be BORN! Koturi is supposed to be related to you, Except none of the ancestors you help are indian? The bonus game requires you to help a postman with letters to kids, resulting in an awesome ending. I wish I could rate this higher because I love ERS/Bigfish!!!
December 30, 2013
Miss!
I agree with many of the 1, 2 & 3 star reviews. The series is great but this chapter of Redemption Cemetery was terrible. I wish I didn't purchase the CE version. I found it boring and nothing really tied the chapters together. So even though I'm being very generous with giving it 3 stars, I cannot recommend it to others. 2014
January 13, 2014
Nice but not great
I would buy this even though it is not as fun as previous redemption games. I did like collecting the snow flakes. Plenty to do and nice change up on HO's. So a very good game worth having just not as great.
January 8, 2014
redemption
this was very short, not as interresting as other games of redemption in the past.....
January 1, 2014
At Least They Got The "Bitter" Part Right
Merry Christmas everyone ! Well this is gonna be a shocker to some but here goes. I'm a huge ERS fan but I must say I'm very disappointed with this offering because this is clearly not the Christmas game I was hoping we would receive what happened to Christmas Eve : The Secret Of Pandora formally known as Christmas Eve : The Miracle Of Snow Hill that was a true Christmas game and it would have been your first and a real chance to shine because I played the beta and it was great and this was in the summer so any glitches with the game you've had plenty of time to work out so what's the deal with that you don't bother to even announce your not releasing that game another "not cool" move on your part, but nevertheless this one is Christmas themed just barely though and it's not the typical Redemption Cemetery we're use to and it just falls flat. I really don't think folks would really care to be playing around in cemeteries on Christmas Eve nope not at all might want to re-think that one next time. Graphics are gorgeous as always but what the heck is going on with the voices and mouth's not being in sync come on ERS that's just being lazy your games always have the voices and mouths in sync with each other, and that's a huge disappointment and so not cool. Also the snow witch's voice is just to over the top and the worst thing is I knew what she was gonna say before she said it I've heard it so many times from your female villain's also her and grandma do sound a little bit alike or at least they did to me. I love animals but really enough is enough with all the animal stuff it's getting to the point of just overkill you gotta stop with the animal thing it's driving me bonker's here come on just stop already with the animals please ! The hos are interactive and very pretty and there is a little something different going on with some of them. The story itself is not the usual gripping grab me by the throat story like you can do in fact the story is not really a story at all but a jumbled mess that's all over the place. Overall the game is good it's seriously lacking and some of it just doesn't seem to jive with other parts it's just all over the place and sadly not well done at all, I don't know if you were rushed or what but this one is really lacking. I still love ERS but lately you have been lacking with your games and the whole animal thing has got to go please listen to what people are telling you and give us the bone chilling, in your face, what's around the next corner, don't look under the bed type of game that your so good at. All in all the best thing I can say about the game is that it's very pretty and I did like some of it, didn't love though. I'll probably get it just to see what happens but seriously ERS you have got to get back on top of your game here and trust me I'm a huge fan and I really hate having to give you such negative feedback but as of late there has been some major slippage with your games so get it together and get back in the game because from now on I'm gonna really start judging your demos much more before I jump to buy one of your games. I don't know what's going on with you but something is seriously lacking and it really shows. I did buy the game and trust me it's not your usual game and just to get through the game I started hitting the hint button just to hurry through it and then I finally just gave up and didn't even finish the game and sadly that's the way I've done with your last few offerings so get your act together and get serious about what you do and listen to what people are telling you because your falling out of favor with me. Give the demo a try it's worth that. Have fun everybody and Merry Christmas
December 27, 2013
Blink and it's over
I agree with other reviewers who commented on how short the game was, not what you expect from a CE. There was a fair amount of running about to do too which doesn't really bother me just so long as I know where I'm going. Had to use the hint button a few times. All in all a disappointment but if you're happy with an 'okay' game than look no further.
March 20, 2014
The Apple logo is a trademark of Apple Computer, Inc.