Redemption Cemetery: Bitter Frost Collector's Edition
Exclusive
Your house is warm and ready for Christmas Eve when an unexpected visitor magically appears at your window. Your ancestor, the Owl Spirit, begs your help. You must stop the jealous and vindictive Wenonah, the Spirit of Cold, from destroying your ancestors. If she succeeds in her terrible plan, she'll make sure you'll never be born! A photo album is the key to stopping her, but can a mere mortal handle this ghostly task? Travel through time to save your grandparents from her bitter, icy grasp!

This is a special Collector's Edition release full of exclusive extras you won't find in the standard version. As a bonus, Collector's Edition purchases count toward three stamps on your Monthly Game Club Punch Card!

The Collector's Edition includes:
A bonus game to help Santa fulfill children's wishes!
Re-playable videos and mini-games
Wallpapers and concept art
An available Strategy Guide
Game System Requirements:
OS:

Windows XP/Windows Vista/Windows 7/Windows 8

CPU:

1.6 GHz

RAM:

1024 MB

DirectX:

9.0

Hard Drive:

916 MB
Game Manager System Requirements:
Browser:

Internet Explorer 7 or later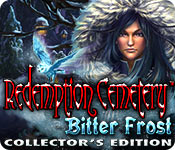 The Big Fish Guarantee:
Quality tested and virus free.
No ads, no adware, no spyware.

Reviews at a Glance

Redemption Cemetery: Bitter Frost Collector's Edition
0
out of
5 (
0
Reviews
Review
)
Customer Reviews
Redemption Cemetery: Bitter Frost Collector's Edition
58
58
So betrayed by the Redemption Cemetery title
First off, I want to start by saying I don't give such low reviews - normally. After all, this is someone's work, their craft, and there is usually a redeeming quality or two to be praised. I am a true fan of the Redemption Cemetery series - I have them all and have played them a number of times each. But THIS game, oh...was I suckered! I bought the game without trying the demo (almost a "never" in my book) based simply upon it being the next in the set of my favorite Redemption games. Well, clearly, the "A" team is on a holiday break and must have taken the "B", "C" "D" and "E" teams with them. This game was clearly written, edited and released by the "F" team! The premise of the storyline was fine...after all, who doesn't want to save their own family, especially your own ancestors! And in true Redemption Cemetery fashion, you go back in time to correct a wrong or two and straighten out history so that spirits can rest in peace. And that's the sum total of how much this game resembles the prior games in the series. Where to start - with the voice reading the storyline in a totally inappropriate tone for the content? Or should I start with the fact that even an expert and long-time gamer like me should have been able to have some reasonable idea of where each story was headed and been able to make reasonable assumptions of my next task or challenge to complete each goal? This simply did not happen. I have never used the hint or skip button so much in my life, let alone all within one game. I was completely hoodwinked by the title alone, and against my normally sound judgment, I purchased the full game. I did play it all the way through to the end, waiting - hoping - for some redeeming quality to share with you. Sadly, I have none to offer. I am soundly disappointed with this game. I believe that BFG must have also had their "A" team on holiday break, because this game does not even come close to achieving the quality of game that I expect from my favorite game site. I am so sorry that I spent my money, and time out of my life, on a game that clearly involved such meager effort on the part of the developers, and the folks at BFG for even releasing such nonsense, let alone at the price of a premium game. So for someone who "never" buys a game without reading the reviews and trying the demo, I guess I have no one to blame ultimately but myself. Clearly this is a classic case of "let the buyer beware." This fish has clearly been ensnarled in the net. Proceed at your own risk.
December 27, 2013
RIP Redemption Cemetery...ERS has jumped the shark AGAIN
Redemption Cemetery: Bitter Frost Developed by ERS Collector's Edition Review based on first two chapters of full game IN THE BEGINNING... Wenonah, the Spirit of Cold, is methodically destroying your ancestors because Koturi, the Owl Spirit (another of your ancestors) did not return her love. For some reason, a photo album holds the key to stopping Wenonah and ensuring your own continued existence. And the storyline goes downhill from there, I'm sorry to say, into a confusing morass of vignettes populated with characters so wooden that you can't identify with them, subplots so illogically twisted that you can't follow them, and gameplay so nonsensical that even the most seasoned player will be outraged. PLAY THE GAME... Navigate a seemingly endless series of filler HO scenes which are minimally interactive. Play formulaic mini-games you've seen a thousand times before. Discover items and use them in ways they were never meant to be used. For example, the lid of a jar is on tightly and you end up using a can opener to get inside the jar. SIGHTSEEING? Graphics are colorful and well-drawn, probably the best aspect of the whole game. Thankfully, the washed out pastels that typified ERS games are not in use here. Animation is somewhat stilted with lip-synching surprisingly missing. SOUND WAVES? While the music is not the standard ERS game music, it is reminiscent of that in tone, mood, and repetition. I really would like to destroy the "screeching violins" patch on their synthesizer. Game sounds are appropriate. Ambient sounds? I must have missed them, as I don't recall hearing wind blowing, water gurgling, etc. TOOLBOX? The map exists inside a screen-wide snow globe. Moving your cursor to its edges allows you to access more of the map, and it is a transporter and indicates objectives. I don't recall whether there was a journal, and I didn't use hints, preferring to rely on the SG which, unfortunately, contained uncorrected errors (probably from the beta) that were maddening. EXTRA, EXTRA? Collect snowflakes to decorate your own snow globe. I didn't notice myself earning any achievements, so I can't speak to that. There is a bonus adventure and the usual cast of characters offered as extras. THE LAST WORD? I did purchase the game, but haven't finished it. Frankly, it bored me. I don't know what the initials "ERS" stand for, but given their recent history, they should consider renaming themselves "JTS Games," as they have become infamous for jumping the shark in just about every one of their series. RIP Redemption Cemetery?we'll miss you.
December 28, 2013
Bitter is a good name for it : )
Based on playing the DEMO: I've enjoyed almost ALL of the Redemption games with the exclusion of this one, and, unfortunately, I couldn't help but feel a bad taste in my mouth after playing this game [demo]. Perhaps I was 'tasting' wherever the Devs motivation was coming from[?]. I echoe the sentiments of another reviewer regarding the fine line of politically correct and otherwise. In addition, this is just a ridiculously mixed up storyline in general that is unintuitive and quite 'forced' as far as the gameplay and that includes the voiceover. The music appeared to be a repeat of most of their games. Bottom line, I did not like this game with the exception that l appreciated some of the graphics; although they would be better offered in two separate and different themed game.... as it stands it is a very bad mix. This game is just waaay psychotic; it starts off with Christmas Eve and quickly becomes quite discombobulated! Oh, and, ekk.... poor snowman; he should have waited for Halloween!
December 26, 2013
Another disappointment from ERS
The last good Redemption Cemetery was "As you Wish". Since then ERS has totally ruined this series and also the Haunted Halls series. I have no idea why?? There must be new developers taking over and never played the previous games, because they seem to not know what the original concept of Redemption series was like. They are not even challenging anymore and way too cutesy and geared towards kids. The graphics are too cartoonish and the music does not fit the original premise of the series. It is so sad ERS is doing this and I wish they would stop ruining series that I loved to once play.
December 29, 2013
Not amusing
Too many fragments, too many cutscenes, very little to play. Nice graphics.
January 6, 2014
hidden object game
I found the game very boring & the tutorial was No help.
January 10, 2014
Ruined Redemption
I DO NOT WRITE reviews, but I do play a lot of these games, and this was one of my favorites. I was so looking forward to this sequel, only to find I was tricked into A CHRISTMAS THEMED Redemption?? I was so glad I played the demo before I bought it. I would have felt betrayed....
December 31, 2013
It didn't work
I downloaded the sample. It would not load and it froze up my computer. I could not get any visual on my screen just sound. If you want people to buy a game, a sample that works would be nice.
January 1, 2014
The Apple logo is a trademark of Apple Computer, Inc.