Mosaics Galore
The magical pets have been caged! Follow the trail and find the predator that committed this audacious crime. Play through 120 unique levels in six wonderful and unexplored worlds. Collect the puzzles, rescue the magical pets from the tenacious claws of the crafty thief and free the pets in Mosaics Galore!
Fantastic animals and scenes of a magical world
Numerous achievements
Save the magical pets from captivity!
Game System Requirements:
OS:

Windows XP/Windows Vista/Windows 7/Windows 8

CPU:

1.0 GHz

RAM:

512 MB

DirectX:

9.0

Hard Drive:

266 MB
Game Manager System Requirements:
Browser:

Internet Explorer 7 or later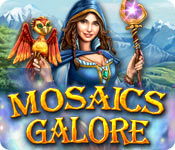 NEW299
The Big Fish Guarantee:
Quality tested and virus free.
No ads, no adware, no spyware.

Reviews at a Glance

Mosaics Galore
0
out of
5 (
0
Reviews
Review
)
Customer Reviews
Hours of Fun and Challenge
I just had to review this one because it took me a long time to complete the whole thing, and it completely mesmerized me in the process. I played it first just to get through all the puzzles. Although the first few in each set were not too difficult, they got more so as I progressed through the set and also through all of the sets. Some were amazingly difficult. The second time through I played it to achieve 3 stars on each puzzle, and that's when it really got difficult. The time assigned to nearly all of the puzzles seems very short, and it took me many tries to complete the more difficult ones within the time limit. This is a good thing!! I buy too many games that are too easy, get played all the way through too quickly, and don't grab my mind. I have to compliment the artists - their work on this one is superb. I was amazed at the textures they were able to achieve. Each set is different in texture - marble, stone, fabric, wood, etc. The completed puzzles are really beautiful. The subjects of the puzzles center around natural things, including animals, mountains, water, snow scenes, etc. A very few are simply graphic designs that show off the texture chosen for that puzzle. As I love nature, this was perfect. I would recommend this game highly to anyone who enjoys jigsaws, mosaics, beautiful design, and a challenge that takes awhile to complete.
February 3, 2014
Lots of fun
I loved this game. I found it a challenge to get some of the puzzles done in the time but then I realised I could use hints and extend the time.
December 29, 2013
Beautifully drawn jigsaws
This is a game of 120 irregularly shaped jigsaws. They are beautifully drawn with gorgeous colours. In each of the 6 areas the pieces are designed to look like a different natural material; wood, glass, polished stone, fabric etc. As you drop the pieces into place they make the appropriate noise for the type of material. I would have preferred an option of untimed mode, but you can just ignore the timer. Slightly oddly, you are encouraged to use hints rather than penalised for it. I've really enjoyed playing it and relished the rich colours and designs.
December 16, 2013
Harder Than You Think
I'm a puzzle buff and I thought this game would be a piece of cake because the pieces are pretty big, Turns out I am about 10 seconds too slow on almost every puzzle. The goal is to collect three keys on each mosaic puzzle, one for completing the picture, one for completing without any mistakes and the third for completing within a specified time. The pictures are really good and they progress in difficulty, I didn't really like the music but it's still a really entertaining game, enjoy!
November 25, 2013
Good, Could've Been Great
Wow! A mosaic game at last! I installed it, started to play and was quickly disappointed, very. Why? Because despite all its good qualities (and there are some) there's no option to play untimed. That's what lowered my ratings in most of the other categories. The mosaics are pretty, look almost like wooden jigsaw puzzles you see in primary classrooms. The colors are appropriately woodsy and the shapes flowing. The rather vague story is about freeing animals if you get enough keys. You get keys by finishing the levels without using hints or making errors, and within the time given. That's the problem.. No way you're going to get the needed 3 keys if you can't finish the mosaic on time. You won't get enough gold to buy time or hints and not enough keys. Replay is just that-replaying the puzzle but without changing any negative results. So it's a reluctant good-bye to a game I wanted to enjoy. Hope there'll be more mosaic games but with time options. I recommend trying it to see how it fits your style.
November 25, 2013
More Jigsaw Than Mosaics
BASED ON ONE HOUR DEMO If you are a fan of the World Mosaics series, you will be disappointed to hear that this is NOT a pictograph game. It is a JIGSAW style game, like Patchworkz. On the other hand, of course, if you are a fan of Patchworkz (as I am), you?ll be pleased to hear this game is as charming and delightful as that one. For those who have not played either, this is a game of ?competitive? jigsaw. Like most casual games, you must succeed at one level to unlock further gameplay. You have a jigsaw to put together ? deceptively easy to begin with ? and a certain time in which to do it. You are awarded points, coins, keys based on completion of the puzzle, accuracy and speed. You need 40 out of a possible 60 keys to move up to the next world, or you can buy your way in with gold coins (sounds like real life!). Using the hint button costs you are certain number of coins. There are 6 ?worlds? each with 20 levels (i.e. puzzles) to complete. Each world uses a different medium for its tiles. The first world (Fairy Forest) uses wooden tiles. The next world (Golden Sands) uses fabric patches. The images are very pretty and enjoyable to piece together.. The music is particularly soothing, and there are also sound effects, like a bell tolling when you are in trouble timewise. The only way you?d know there is supposed to be a story is if you?ve read the blurb on this page. In the game itself, you get an opening comic book page, which sorta shows you the story (no verbals), if you know what to expect, and that is it. There are a lot of animals in the puzzles, but there are other subjects too. If we are going to find our pets, it must be further than I got in an hour, which was into the second world. The puzzles are quite easy, if you didn?t have to worry about time and accuracy, and you can play the game that way if you want. You just have to replay puzzles you can do until you get enough coins. If you do decide to ?compete?, there are trophies for each world you finish, for collecting coins, no hints, etc. And a record of your highest scores. I like this game. It will make a nice change from Patchworkz, which is the only game like this I have seen before. And an interesting twist for jigsaw lovers.
November 25, 2013
Mosaics Galore not for me, sadly
I played the trial period of this game. I loved the puzzles--they were quite beautiful. Unfortunately, my older hands do not have the mouse control necessary to earn enough points to move through the levels. This game would be great if it had a non-timed, no-mistake penalty alternative.
November 27, 2013
ZEN FUN
Easy game, although it does get more challenging on higher levels, for those with an artistic eye. With more than 100 levels, you can imagine. Beautiful zen. Graphics are very colorful and detailed. Collecting keys is "key" to getting the pets. There's no way to tell which pieces will be large or small when looking at them in the side panel, which does add to the challenge. Looking at a small side panel piece which enlarges dramatically when selected to fill in a large chunk of empty real estate makes all the difference in the world. A nice relaxing game.
November 26, 2013
Very pretty pics, but NOT a mosaic puzzle
This is more like a jigsaw puzzle with a twist - rather fun, but I like to get gold every time and this got too hard too fast to be fun - probably because I have poor eyesight. I thought it was a Mosaic puzzle game, like World of Mosaics or the free-to-play Royal Riddles. If you like jigsaws and Tole style of Scandinavian art you will love this game.
December 10, 2013
Enjoyed this game
This is a good game for people who enjoy puzzles.
November 27, 2013