Mosaics Galore
The magical pets have been caged! Follow the trail and find the predator that committed this audacious crime. Play through 120 unique levels in six wonderful and unexplored worlds. Collect the puzzles, rescue the magical pets from the tenacious claws of the crafty thief and free the pets in Mosaics Galore!
Fantastic animals and scenes of a magical world
Numerous achievements
Save the magical pets from captivity!
Game System Requirements:
OS:

Windows XP/Windows Vista/Windows 7/Windows 8

CPU:

1.0 GHz

RAM:

512 MB

DirectX:

9.0

Hard Drive:

266 MB
Game Manager System Requirements:
Browser:

Internet Explorer 7 or later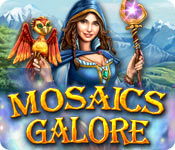 NEW299
The Big Fish Guarantee:
Quality tested and virus free.
No ads, no adware, no spyware.

Reviews at a Glance

Mosaics Galore
0
out of
5 (
0
Reviews
Review
)
Customer Reviews
Good test of mouse control
This is an excellent game with many good points. If you like tangram and jigsaw puzzles this is a kind of a mix of the two. The game itself though whilst may perhaps look like a child's game is no picnic. The first few levels as always with these types of games are relatively easy, and can be completed with relative ease and all three keys collected. After around level 6 though things get tricky and it may take a couple of times to get all three keys (top marks). The game does severely test hand/eye and mouse usage, the time limits are quite tight and as such you need to be precise in what you are doing and where you are positioning your pieces with regards to placement in the puzzle. You get three keys per level, you are guaranteed one key as that is just for finishing the level, the second is for no mistakes in placement and the third is for completing within the time limit. As I say the first one as far as I can tell you will always get it is the other two that are the trickier ones to obtain. A couple of tips 1) There is a 30 second buzzer that alerts you to your time, if you are trying to get all three keys don't let this put you off as there maybe a tendency to try and rush which is of course when mistakes occur, 2) The number of pieces in the bar that you can place are 'rigid' in other words you can't scroll down to look for other pieces and you have to place one of the currently shown pieces before it will give you any more, on top of this the new piece will be placed any where within the 'strip'. To some this maybe a frustration but to me it added to the challenge of the game. There is always one that is relatively easy to place but it is finding that one on top of everything else that needs to be completed within the game. A couple of other good things about this game. 1) The fact that it has a left-handed mode, being a 'leftie' myself I thought this a good addition, basically it puts the puzzle pieces to the left-hand side of the screen, which if you are left-handed it makes more sense as this is the way your brain focuses, though due to a lifetime of having to 'conform' I find I can use either way but, it is a nice touch. 2) It may take a couple of run-through's to get all three keys, but beware that each time you repeat the same puzzle it is a different layout so you can't really fully memorise the setup. 3) If you are new to a mouse whether it be child or adult this is a good game to play as it does test your mouse skills. Graphics are nice and chunky and keeping in well with the overall feel of the game, the soundtrack is also good and in keeping with the casual, puzzle nature of the game it is a nice ambient soundtrack. If you are a fan of these types of games I would highly recommend it. If you have a passing interest in puzzle, tangram games then I would defiantly download the free trial, so you can get a good feel of the game.
November 25, 2013
Ignore the timer!
Many people who might love this game are passing it by because there is a timer. The timer is irrelevant. I am a slow clicking senior also, but I am doing just fine. My goal is not to beat the timer but to solve the puzzle with no errors. If I make an error, I restart the level by clicking pause and restart. For each of the 20 puzzles within an area I end up with 40 keys which is enough to move on to the next area. For me this game is fun and relaxing. I realized very early in the demo that I was very unlikely to beat that timer. Once I quit trying, I started having real fun. If I ever need to buy more keys, I have quite a treasure trove of game coins, since I don't waste them buying more time.
November 26, 2013
Nicely Done Mosaic!
A very fine mosaic game indeed. Everything about it is superb. Top-notch graphics, faultless game play, fine sound effects, and beautiful zen-type music to help you on your journey to find and rescue all the pets. I reached level 25 in the demo, and the difficulty level was rising. There are 120 levels in total. Each mosaic is of an animal or other nature-related subject, and they are brilliantly constructed with pleasing colours. In each level, you can attain a total of 3 keys. First key is for completing the level, second key is for making no mistakes, and third key is for completing in the allotted time. You have to be fairly exact in your placements, to obtain no mistakes. At end of each level these 'keys' are turned into coins, which can be used to refill the hint button, or used during the level to 'buy' more time. All in all, a brilliant mosaic game which should satisfy any fan of the genre.#Only very small gripe is that it wasn't obvious how to exit to the main menu. It is actually a small stylised arrow on top of the lamp post#. Enjoy!
November 25, 2013
wow what fun!!
okay, it starts out really easy and you think this is child's play then it kicks in and you are starting to panic...luckily you can redo any level and even restart if you are like me and "accidentally" drop a piece in the wrong spot. That's my story and I'm sticking to it...LOL. Also when you redo it changes the pieces so sometimes it's easier, sometimes not. A definite buy for me!!
November 25, 2013
Outstanding Sequel to Patchworkz!!!
I've been waiting for Patchworkz 2 for some time now and almost missed it. Why they call this game Mosaics Galore and not Patchworkz 2 I'm not sure; I sure hope no Patchworkz lovers miss it. This game is just as solid and fun as the original, which is saying a lot. I really can't understand why developers don't add a non timed option as it would be so easy to include. The fact that there isn't one seems to turn many people off. That being said, I do enjoy the timed version - it adds challenge and thus fun. However, one can play this game as if there wasn't a timer and, although you won't get maximum points, you will be able to unlock all the levels and finish the game (assuming you don't make mistakes). You can then go back and try to increase your score by beating the time. Not having a non timed option shouldn't scare you away from this outstandingly well made game.
November 26, 2013
Finally a game with no strategy guide!
This game is very much like Patchworkz, which I also own an like very much. I want a relaxing puzzle type game and not an HO game that just frustrates me and makes me tense instead of relieving stress. I played the trial on this and immediately bought it to finish the other levels. Game developers, pay attention! There are many of us who want to enjoy a relaxing game and there aren't many around.
November 25, 2013
GREAT IF YOU ARE A CREATIVE PERSON
I have looked for games with a creative scene. The only one I found before this was Patchworkz. This one it much better. Kind of like finishing a stained glass piece (which I do work with) and putting everything together. There are a whole lot of levels and puzzles so I love it. Hippie that I am :) Happy Gaming!!
November 26, 2013
Wonderful Change of Pace
I love this game. I am not very good at it but that is why I like it. The puzzles are so much fun...the artwork is glorious and it is sooooo different than everything else out there . Great game. Lots of fun.
November 25, 2013
AN EXCELLENT GAME FOR ALL PLAYERS!!
JUST BEGINING THIS GAME I CAN SEE HOW IT WOULD BE GREAT FOR ALL AGES!!!!! I WILL BE BUYING THIS ONE AS I LOVE PUZZLE GAMES!! THE GRAPHIOCS AND COLORS ARE SPECTACULAR!!!
November 25, 2013
Hooked again!
OK - I'm hooked....again! I am bored with the HO, fantasy, adventure games I've been playing and it is so nice to have a new game that is "just for the fun of it". I have been playing Patchworkx and the World Mosiacs series for a long time and it's great to have a new one of this genre. It doesn't matter that I can't solve a mosaic puzzle on the first try. Thanks to the restart button I can play it until I solve it. Love this! Keep this type of game coming and I will buy them!
December 1, 2014