The Emerald Maiden: Symphony of Dreams Collector's Edition
Exclusive
After being abandoned at an orphanage 25 years prior, you've received an invitation to meet your biological mother aboard an underwater dream facility, a playground for the rich and elite, designed to simulate dreams. Powered by an ancient technology, the machine holds many dark secrets and surprises.

Set off on a quest to free your family, challenge the evil spirit, and escape the Emerald Maiden before it self-destructs!

This is a special Collector's Edition release full of exclusive extras you won't find in the standard version. As a bonus, Collector's Edition purchases count toward three stamps on your Monthly Game Club Punch Card!

The Collector's Edition includes:
Uncover Dream Corporation's plans in the bonus chapter
Find all of the hidden collectables
Wallpapers, concept art, movies and biographies
Integrated Strategy Guide
Game System Requirements:
OS:

Windows XP/Windows Vista/Windows 7/Windows 8

CPU:

1.8 GHz

RAM:

1024 MB

DirectX:

9.1

Hard Drive:

1124 MB
Game Manager System Requirements:
Browser:

Internet Explorer 7 or later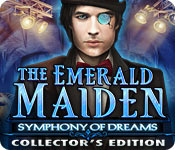 The Big Fish Guarantee:
Quality tested and virus free.
No ads, no adware, no spyware.

Reviews at a Glance

The Emerald Maiden: Symphony of Dreams Collector's Edition
0
out of
5 (
0
Reviews
Review
)
Customer Reviews
The Emerald Maiden: Symphony of Dreams Collector's Edition
61
61
Anomolies
A fairly hard game for me and I only played it on the 2nd level. A bit hard to find where things were even with the map. The concept itself was excellent and I look forward to the sequels. Biggest anomaly was the russian based kitten. Stated at the start of the game can bring back living objects.
January 1, 2014
Excellent game, however...
This is based on playing the demo. Graphics and sound are excellent. There is an option to adjust the music & sound levels. You can customize the difficulty level from easy to selecting just what you want - very nice! The story is intriguing & I will buy the game so I can see what is going on. The story is very well done & had me hooked in the first few minutes of game play. There are a lot of extras, so why only 4 stars? There aren't any achievements. You do collect roses, but that's the only thing that I saw. I really like awards of some kind in a game to track progress, so that is a negative. The strategy guide is only available by going to the main menu, selecting the extras section, & then selecting the strategy guide. This is a major negative when almost every game with a strategy guide allows you to acces the guide from inside the game. On the plus side, the guide does remember where you are, so that's something. Add access to the strategy guide from inside the game & awards of some kind & this would be a 5 star game. I'll still buy it because the story line is good & different, but the devs need to take note on how they could have made it much better.
December 28, 2013
The Emerald Maiden: Symphony of Dreams Collector's Edition
This was one of the better games except it was all over the place with movie clips one thing I didn't want to look at much
December 29, 2013
Ideal for Beginners
Our story begins when you receive an invitation to meet your biological mother aboard an underwater dream facility, apparently a playground for the rich and elite, designed to simulate dreams. Being abandoned by your mother, you are eager to meet her and discover the true mystery behind her disappearance. You soon discover that the entire facility is powered by an ancient technology, a machine that holds many dark secrets and surprises. Your quest is to set your family free while battling wits with an evil spirit and to escape the Emerald Maiden before she self destructs. What we have here is a classic HOPA game, a bit too classic if you ask me. Graphics are sharp; there are relatively good animation scenes with voice-overs and artwork that is bright and easy on the eye. There are some sound effects and the music is soft and non-obtrusive. The SG indicates that there are 6 chapters to play along with a bonus game and as I was able to complete the first two chapters well before an hour, this does give an indication of being a bit on the short side. There are no major surprises in this game which really was a disappointment. Starting with game features, you have three game modes to choose and you can also customize your settings. There are limited features in this game such as no journal or diary. However you are able to follow the story as you read notes and letters that you come across in every scene and there are also film reels that offer you a history of our plot. Please do keep a pen and paper available to write down some codes or numbers that you need to use along the way. . Adventure game play is relatively easy, picking up inventory objects, unlocking rooms and collecting clues along the way. There are a few characters you meet along the way but interaction with them is brief and pointless actually. You have a map that will indicate areas of interest as well as transport you which helps you to avoid back-tracking on foot. There are collectables, collecting 16 roses that are very easy to find. There are hidden object scenes that come in two variations: Find silhouettes of items and use them in the scenes or a list of 12 objects, some with interactions. Graphics are sharp and objects were almost too easy to find. Puzzles were also very easy to solve and mini-games were almost childish and very dated. Actually, the entire game was just too easy to play, it runs smoothly but lacks in any sort of challenge. The Emerald Maiden is a pleasant game with no surprises or extras to make it really worth a CE price tag. The only interesting feature is the storyline which slowly reveals a mystery about your past. The game is a bit dated and there are no challenges to make the game play exciting. Personally I think beginners may find this game interesting whereas I got a bit bored by the end of the demo. Due to lack of extras I will opt to wait for the Standard Edition or perhaps take advantage of the sale on CE games that we have today.
December 28, 2013
Symphony or Cacophony?
I bought this game, urged on by it's status of Tomorrow's Game Today and the great "buy one CE, get the second for $1.99" deal. As of now, I'll be counting this game as the $1.99 game. You're the protagonist. 25 years ago you were abandoned at an orphanage and now you've been invited to meet your biological mother at an event aboard a boat. This thing is CRAZY with a capital C-R-A-Z-Y. It's one cutscene after another. If I play it for another five hours (years?) I might begin to understand who's happening. So far what I know is that aboard this boat (The Love Boat) you can choose from a variety of vacations/dreams (Total Recall) without actually going anywhere (Fantasy Island) and only very wealthy people can afford it (Lifestyles of the Rich and Famous). There are creative mini-games and HOGs. The mini-games are nothing new but absolutely add some interesting twists. The HOGs are another issue altogether: a. Regular HOGs: if you have any trouble at all figuring out where to locate the next item on the list, hold on for a couple seconds and the item will be highlighted by a flashing star/symbol. b. Silhouette HOG: The silhouettes are so dark as to be indiscernible. But fear not, a description of the item is given `and if it's even partially hidden, the flashing star/symbol from the regular style HOG will reappear to help you out. The story line is incomprehensible, really: Well over an hour into the game, this is all I've experienced along with the cutscenes which are near constant: conversations with the concierge; movie reels about the "Dream Corporation" Vacations in which travelers may choose from any number of dreams to experience; a movie about your mom and dad who've traveled to the Amazon in search of an artifact which possesses great powers and provides deep insights in the subconscious mind. Along the way you encounter cracking aquariums, strangers on elevators giving you strange looks; a robot; a mechanical octopus...and so much more. You do not encounter anything that is cohesive. You will end up walking away, scratching your head and wondering WHY? I feel duty-bound to tell you that these following "features" are included in this Collector's Edition: a. A bonus chapter which tells you more about the Dream Corporation. b. Profiles of the Characters who populate the game. c. The "who cares" collections of Concept art, Wall paper, Sketches and Movies (which is interesting because the whole game seems to be one little movie after another). d. A very bare bones map. e. A strategy guide. f. Collectibles (Roses that are found along the way). g. 4 Modes of play, including a custom mode. This is such a hodgepodge of I'm-not-sure-what, I'd demand you play the free hour trial (as I did NOT) before you spend your money on this game if I could. I could be wrong but I'm thinking that by the hours end you'll decide this game is not for you. While I have to admit this is fascinating, it's going nowhere fast.
December 28, 2013
So much wasted potential!
So much wasted potential Sigh. I had such high hopes for this game! The storyline began with a really interesting premise: A young woman was invited to an underwater "hotel", where folks could experience their fondest dreams while still safely in reality. The demo promised several stories-within-a-story, as there were five dreams discovered to be available. We were able to get a taste of the first two dreams before the demo ended, and I was left with the impression that we would be able to revisit those areas as the story developed. The demo tantalized with multiple clues regarding physical things from dreams somehow showing up in reality (i.e., a monkey from dream #1 making an appearance in the hotel). The story was developed via journal entries and tapes by the scientists who worked on the dream project, plus some cut-scenes. I found these very interesting and not at all intrusive. The puzzles and hidden objects seemed to be well-balanced, although each were incredibly easy. The graphics were lovely, crisp and clear, with bright colors and overall well-lit scenes. Based on the intriguing promise of the demo, I quickly bought the game, and my disappointment came hard and swift after that! The demo had all the "good stuff", and little was left in the remainder of the game. The game devolved very quickly into only a hidden object game with little adventure, with HO scenes coming back to back. Oftentimes, I found myself returning to the exact same HO scene which I had just finished literally 30 seconds prior! In one instance, I even had to "locate" several of the exact same ITEMS as I had done only a minute before!!! It really felt as if a totally different team worked on the game past a certain point, as the game changed course so dramatically midway through. The dreams I had looked forward to revisiting were not developed any further, which was a sore disappointment. There was SO much potential there for interesting sub-stories, but they were only brief glimpses and no further information. The notes in "extras" gave a lot of info on each character, which would have been fabulous to have introduced in the actual gameplay, but this was not done. As a result, the (undeveloped) characters seemed flat and uninteresting, with nothing to make me feel an "attachment" to any of them; all of those interesting details were just left in the character notes in the Extras section and never developed in the game. Things which seemed to have some urgency (again, only in the demo!) weren't addressed any further in the remainder of the game, such as the worry over dream encounters (monkey) appearing physically in the real world. No further mention was made of these worries, as if it was *only* dreamed up (pun intended!) to use in the demo itself, with no regard for what would happen in the rest of the story. There was also the odd frequent appearance of a masked character, whose presence was never explained. I was also on a hunt for 5 kittens throughout the game, all of whom needed to be returned to their mama and human, yet that happy little family was ignored in the end. I'm angry about what happened and can't say more without giving anything away; suffice it to say that Crazy Cat Ladies will be disturbed at the way that family was left at the end. Ten stars off for that lapse! Grr. The bonus chapter was actually rather interesting, and was a bit of a finale to the main game. It was a separate storyline, though, and not necessary to the main game. I was actually hoping, in this case, that some of the questions raised in the regular game would be addressed, and some ends tied up, but that did not happen. While it was a separate story with a bit of interest, the bonus really seemed to be mainly for the purpose of indicating there would be a sequel. (Ack!) I'm giving this three stars, grudgingly. The graphics were good. The storyline had promise, but fell off a cliff shortly after the demo, with multiple odd loose ends remaining by the end of the game. There was no challenge at all, in either puzzles nor HOS. Normally I do want a challenge, but will sometimes buy a game strictly due to the interesting story: I want to see how it plays out! Again, the loose ends were never tied up here, and I was left feeling cheated. I would give this a 2-1/2, if possible, but am rounding up to a 3 as some folks might not be as put out as I was about the way things did NOT develop. Even so, I do not recommend this game. I'm even wary of saying "Try the demo, and make up your own mind", as the game did not even begin to live up to the promise shown in the demo. Okay, enough of this bad review. Now I'm off to write a good review on another game, yet to balance things out! :-)
December 30, 2013
Solve a mystery through a Dream Vacation. Literally.
Based on demo. Left on an orphanage's doorstep as a baby, you've always wondered about your mother. Now you receive an invitation to an elite Dream Vacation where you may find some answers to your most burning questions. First, let's go over the negatives. This is billed as a CE, but there are no achievements to earn. There are 16 roses to collect throughout the game, but they are so obvious to see they are no challenge at all. And this game is not a true wide screen. Big black bars on the left and right of the game which is very annoying. Also the pace of the game is slow?not something I complain about very often. Now let's talk about the positives. The Art Deco graphics are really nice. Very evocative of the Roaring 20's. The VOs are well done and the dialogue is good. I really like how the story unfolds: you find films throughout the game and learn more each time you play one. You can also replay the films at any time. The HOSs are standard list type and find and return to proper place type. Interactive map and strategy guide are available. This game had a lot of potential. I'm just sorry the devs did not take it to true CE level. I would like to rate it a 3.5, but half stars aren't an option so I'll give it 3 stars, mostly due to the lack of CE extras. If I buy this game, it will be the Standard Edition with a free coupon. Try it and see what you think. Recommended with reservations.
December 28, 2013
Could have been great
Based on demo: My biggest complaint was not being able to see the dark shadows of the hidden objects on the dark red background. I was having to look based on object name. That was frustrating. Lots of running back and forth to decide what to do next. The hints filled fast and that helped in trying to navigate. Idea of game sounded great. I would like to get to end if I can get past frustration and buy the game.
December 29, 2013
Nightmares are dreams too!!
So many dreams?so little time! This game was objectively very well done, had a few new puzzles that haven't been overdone and had a good length of game play. However it will frustrate some gamers because it is deceptively mechanic and hardware themed.... Yes yes, I knew it would be sic-fi but the name 'Emerald Maiden' evoked a rather Victorian feel for me. I am the type of person that loves to do cooking puzzles and sneak around castles, so putting together ray guns, and machinery after new tech machinery was rather boring and eye-glazing. It reminded me of the 'Abyss: Wraiths of Eden' game that also had a good storyline but so much grey metal scenes that it lost it for a fairytale adventurer like myself. Overall the length of the game was great about 5 and a half hours on 2nd mode, however the length of the bonus game was abysmal?maybe 25 minutes with no hints. If the SE was out I would definitely have gone for that instead?minimal collectables (16 roses) and no notable achievements. The graphics were somewhat washed out, and the characters were very realistic from far away but startlingly cartoonish up close, which threw me off the emontional bond I like to create with the cast. The plot was easy to unravel after the first 30 minutes, and the ending was an obvious ploy for a sequel but still wrapped things up in a satisfying way. And the dreams were at most one or two scenes?which was sad to me. I thought the majority of the game would be in different worlds when in fact maybe an 1/8th of game time was bouncing quickly to a jungle setting. Boo... I would recommend this game to anyone who is a big fan of the nitty gritty sci-fi tools and doesn't mind tinkering with radios and rockets, or for those of you who really want a change from the fanciful games out there. Worth the time it takes to play it and has a few good tidbits, nothing wowed me but I didn't stop playing it either. However, wait for the SE!
January 3, 2014
OK for an SE but not CE quality
My main gripe is no full screen. If you have a CE these days it should be full screen. The graphics aren't bad. The story line is pretty over used, finding and saving biological mother. Hopefully later on in the game the cut scenes are minimal. I like the transporting map. The audio is good. Play the trial first before buying. I'm still deciding if I want it.
December 28, 2013
The Apple logo is a trademark of Apple Computer, Inc.