Christmas Stories: A Christmas Carol
Exclusive
Everyone deserves a second chance – even the stingiest of them all.

Your Uncle Scrooge asks for your help, but some friendly Christmas ghosts have other plans for him… and you. Undo the bad turns in his life as your uncle's alter egos work either with – or against – you to change the man's fate once and for all.
Game System Requirements:
OS:

Windows XP/Windows Vista/Windows 7/Windows 8

CPU:

2.5 GHz

RAM:

1024 MB

DirectX:

9.0

Hard Drive:

1355 MB
Game Manager System Requirements:
Browser:

Internet Explorer 7 or later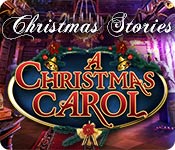 NEW299
The Big Fish Guarantee:
Quality tested and virus free.
No ads, no adware, no spyware.

Reviews at a Glance

Christmas Stories: A Christmas Carol
0
out of
5 (
0
Reviews
Review
)
Customer Reviews
Christmas Stories: A Christmas Carol
39
39
BAH HUMBUG Ebinezer Scrooge!
Another fantastical Christmas Story with beautiful decorations, Christmas candy, presents and shimmering snow. What could possibly ruin this magical Christmas Eve? Well, nothing! Not even your Uncle Ebinezer Scrooge who pleads for your help against unforeseen forces. Embark on magical journeys of Scrooges past and present, and help change his miserable future! Battle against Scrooges evil counterpart who summon pesky minions to do his dirty work, it's all made possible with the help of his good counterpart who can animate almost anything! The HOS are interactive list finds chock full of Santa's, Stockings, ribbons and holiday goodies. Mini games are long but really fun, at first you have to arrange planks of different sizes on pegs with pictures of 3 Nutcracker characters, larger pieces cannot set on top of smaller pieces. After that a scene opens up of a castle and you have to place items and characters on the correct floor, then another scene opens up and tells you a story of Scrooge and you have to interact with different items related to the story. Personally I loved the CE because of all the extra bells and whistles but either edition is exceptional and is a must have Holiday game. Have a Merry Christmas and enjoy!
December 22, 2013
The Dickens' Classic Comes to Life
In a move that is uncharacteristic of your uncle Ebenezer, he sends you a letter at Christmas, asking you to come see him. Ebenezer tells you that he has been having strange visions and he feels ?the breath of death like never before?. He has no one else to turn to for help and implores you to come to see him as quickly as possible. When you arrive at his home you find Uncle Ebenezer in a deep sleep. Soon the clock strikes midnight and you encounter the ?ghost of Christmas Past? who tells you that it is not too late to save your uncle but to do so you must change the events of the past. Will you be able to fight off the ?bad? Scrooge and change your uncle?s heart and life before it is too late? Enjoy this awesome Christmas adventure as you try to undo the past and put things right. The graphics are beautiful ? sometimes crisp and clear but at other times with a misty appearance. I love the music and the entire sound package in a Christmas Carol. What I didn?t like is that the music is choppy in that it will play briefly and then for no reason it abruptly stops and then may pick up again later. There seemed to be no consistency with the sound. Although I didn?t find a diary or journal residing near the bottom of my screen, we find various notes and diary pages as we progress through the game. There is an interactive transporter type map which I found very helpful since there is a lot of back and forth during the adventure. The HOS are the standard interactive list type with some items being difficult to find since they are either extremely well hidden or very tiny. The mini puzzles are fairly standard and include the scenario type that Elephant Games loves to create for their games. I personally don?t care for this type of puzzle but have to admit that they were fun and a bit different. Last year when ?The Nutcracker? was released for the holidays, the game took my breath away it was so wonderful and gorgeous. I have been waiting for another Christmas game from the Elephant and here it is ? a wonderful version of Charles Dickens? classic ? A Christmas Carol. I knew from the get go the game would be wonderful and I purchased the CE immediately ? no need to wait for a sale because I had to get my hands on this game NOW. Yes, the story does take liberties with the Dickens? classic but it is a game and the developer still did a great job. Needless to say, after playing the CE, I was not disappointed. I found Christmas Stories a wonderful game to add to my Christmas collection, and know I will enjoy replaying it for years to come. As always, I recommend that you try the game to see if it is right for you
December 22, 2013
Great Game!
This was a great game. Beautiful graphics. Bright, vibrant colors. The artwork was so realistic... I loved the way Tiny Tim looked and, well, I just loved the environment that was created by Elephant Games. It felt so Christmasy (of course, that was their goal. Well - they succeeded! :P). I loved how Elephant Games thought of everything the player could possibly do. For instance, I tried giving the poor boy some candy and was given a message that said that candy was no substitution for a good meal (the meal which would be bought with the money). I tried giving candy to the imp hiding under the chair in the beginning part of the game to get back the notebook and they said that imps don't succumb to bribery. I tried getting the bird in the tree down with a long cane but was told the cane wasn't long enough to reach. It was just so awesome because it shows how much time and effort Elephant Games put into making this game. The hints were perfect. Didn't give away too much, didn't give away too little. It would have been nice to have some hints on mini-games (other than the information given which explains how the game works). Other than that, everything was well-laid out and I didn't need any help from online guides etc. about 98% of the time. Everything made sense logically (not necessarily realistically). There was never a moment where I was confused on an item to use and there weren't like several different places it could be used. If you had a key you knew which room it was going to be used on. An overall wonderful game! :) I loved the references to warrior cats, too! Haha Can't wait for the third game??? I HOPE SO <333 PS. The one time I regretted the graphics skills of Elephant Games was when I was making that raw goose.... Yuck lol
January 2, 2014
MUST HAVE CHRISTMAS GAME
Beautiful game - much like the Nutcracker from last year. A true fantasy world. Puzzles are easy to moderately challenging; HOS are vivid and only a little cluttered and are far between. More puzzles than HOS. Artistry is lovely to look at; voice overs are pleasant to listen to. Music is Christmasy. What's not to love. Achievements and penguin collection. Find out what made Scrooge who he is and you may not hate him. Can you turn him into the person you know he can be by Christmas? A wonderful addition to your Christmas toys.
December 22, 2013
A Triumph
I loved last year's nutcracker and was excited to see this year's turn at Scrooge. It was amazing. Clear, beautiful graphics, fun game play and inventive story. God Bless Us, Everyone. Pros: Graphics, music, voice overs - fantastic story - with an inventive twist so its not just the same old scrooge story. Puzzles easy to med, objects intuitive, map small and manageable. Cons: Nothing - there is not one thing wrong with this game. It's amazing.
December 25, 2013
Thoroughly enjoyable game
This game was a great game to play. The storyline although not the original Christmas Carol was close to it, the variation on the theme gave a different aspect to playing. The graphics were very well done and hidden objects were relatively easy to find (none so small I could not see with my old eyes). The Xmas theme was in keeping with the time of year and the music was also delightful. I would recommend this game to anyone who enjoys a HOG/adventure.
December 26, 2013
The Most Gorgeous Christmassy Graphics Ever!
I have to say that this is one of the best games I have ever had, in terms of beautiful graphics - scene after scene can take your breath away, in terms of gameplay which is challenging, hidden object scenes which can sometimes be fun, a really great storyline, and many hours of gameplay - it is a very long game compared to some, and very satisfying in terms of value for money. I really enjoyed the Nutcracker last year for many of the same reasons, so I was looking forward to this year's festive offering and I was not disappointed. Give this game a try, it is a must for fans of the genre.
January 3, 2014
A Christmas adventure to treasure...no bah hum bug here!!!
I have to say that it was an absolute delight to play this beautiful Christmas story. The concept of the game of helping Scrooge while the imps try to prevent your progress was fantastic. I waited to play until I had time to truely enjoy this masterpiece. Simply put it is a challenging, emotionally moving, big budget adventure! When Bigfish and Elephant create, it really sets the bar in the gaming industry. Thank you so very much for another christmas classic...I wish everyone at Bigfish a Happy New Year, and I loved every moment of this game. 5 stars isn't enough....xox's
January 18, 2014
An early Christmas present.
In one word, superb. Wonderful graphics, Nice touches, Great story, nice well developed theme (Must accumulate "good deeds" in order to vanquish evil, including finding parents for the freezing matchgirl), interesting HOS and puzzles, and some nice twists...
May 30, 2014
Christmas Stories: A Christmas Carol
I love this game. The holiday scenes are bright and colorful. Story line & music really great! My favorite game to solve was the toy train. I may just play this game all year!
January 7, 2014
The Apple logo is a trademark of Apple Computer, Inc.