Christmas Stories: A Christmas Carol
Exclusive
Everyone deserves a second chance – even the stingiest of them all.

Your Uncle Scrooge asks for your help, but some friendly Christmas ghosts have other plans for him… and you. Undo the bad turns in his life as your uncle's alter egos work either with – or against – you to change the man's fate once and for all.
Game System Requirements:
OS:

Windows XP/Windows Vista/Windows 7/Windows 8

CPU:

2.5 GHz

RAM:

1024 MB

DirectX:

9.0

Hard Drive:

1355 MB
Game Manager System Requirements:
Browser:

Internet Explorer 7 or later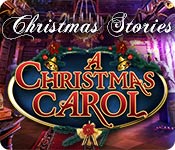 NEW299
The Big Fish Guarantee:
Quality tested and virus free.
No ads, no adware, no spyware.

Reviews at a Glance

Christmas Stories: A Christmas Carol
0
out of
5 (
0
Reviews
Review
)
Customer Reviews
Christmas Stories: A Christmas Carol
39
39
THIS IS SO VERY BEAUTIFUL!!! IT'S THE BEST CHRISTMAS CAROL I HAVE EVER SEEN!!!
this is the BEST christmas carol i have ever seen. the graphics are so real looking. and the plot is so good. the little match girl, is so pityful yet so cute. you've gotta get this game.
June 3, 2014
Fun, Clean, Beautiful Graphics
No this is Not exactly like the 'book' story BUT that does NOT take away from the fun & unpredictable things that occurs in this game. VERY enjoyable & challenging. And the beautiful graphics just make it that much more fun. For ALL ages.
January 14, 2014
Best game played in along time
I was tired of the many serious evil spirit, murder type games. This one is more on the light side but still a serious story. Excellent graphics, music, map to travel so you're not having to back track long ways, just enough challenge, and a sweet love story in the middle of it all. I got my money's worth plus some. Long enough game.
January 2, 2014
A Christmas Treat!
BASED ON COMPLETED GAME FIRST IMPRESSIONS It is so lovely to have such a beautiful game to play at Christmas. That it is in fact the second spectacular game in a Christmas series ? bonus! The game gets us in the mood for Christmas immediately, with a gorgeous tree and fireworks before we even reach the main menu. SIGHTS & SOUNDS I love the graphics in this, as I have come to expect from this developer, they are bright and cheery, beautiful use of colour, light and space, detailed and meticulous. But I don?t think it?s the best we?ve seen from them. The locations and objects themselves make up for it, however, because they are just so beautiful to look at. One of the things I love about Elephant games is the way characters and concepts from other games drop in for cameo performances. It is amazing how they can be inserted into a new game so believably. The music is in a class of its own. Nutcracker Suite, traditional Christmas carols, an old favourite of mine, Greensleeves, combine to give a delightfully festive air. The sound effects are good, and I love the voiceovers. WHAT?S HAPPENING Uncle Ebeneza is feeling his years and has come to regret his evil and miserly ways. He begs you to visit him on Christmas Eve, as he believes you are the only who can help. He is asleep, however, when you arrive and it is the Ghost Of Christmas Past who greets you. He freezes time so you can correct Scrooge?s early mistakes and change his fate. The image of this ghost bugs me. He is a youngster dressed in what looks like a skirt and it just doesn?t work. He looks foolish. You are accompanied on this quest by Good Scrooge and Evil Scrooge, two guiding influences in his life. Both are kinda cute and amusing, and wonderfully drawn and animated, but of course, their interactions with us are quite different from each other. They can animate objects, which turns out to be a great help when used by Good Scrooge, for the good guys. Evil Scrooge also has Ice Imps as his minions, and they tend to wreak havoc wherever they turn up. MAKING PROGRESS This is a nicely balanced game, with roughly the same number of HOPs as other puzzles and mini-games. The HOPs are interactive word list. The mini-games are fun for the most part, but I did skip a few because they were just a bit too tedious. One I had to skip because it required a fairly high level of coordination. There are quite a few totally original ones here, including some neat dioramas. There is an interactive jump map, very helpful, and a hint that shows you the right location and jumps you to it. FINAL VERDICT Love this game! It?s a superior game in both quality and fun. Better than the first Christmas Stories? No, but certainly equal to it. Which makes it darn close to Game of the Year.
December 30, 2013
Another Christmas Game Winner
...another win for Elephant games. Last Christmas season "The Nutcracker"; this year "A Christmas Carol". What will next Christmas Season Bring? ...can't wait! ...love, love, love this series!
December 27, 2013
Don't Scrooge on this game!
I have been a fan of the Christmas stories series since the first Nutcracker game came out, and I took on this game hoping and hoping that it would be an equal to the previous game in the series. Interestingly enough, the plot was less cute and adorable as the first but held its own and was a wonderful game to immerse myself into as the snow fell outside my window and outside Scrooge's mansion. Beautiful, glittering graphics, crisp scenes and HO's, an awesome array of mini-puzzles that will satisfy both adventure and HO fans alike. The storyline was an excellent play on the classic Scrooge story with good twists. The length averaged around 6 hours for me?but I did spend a lot of time looking at the scenes and making my way slowly through the game. The Christmas feel of the game was a great mixture of nature and classical and cute. I absolutely love traditional holiday games, especially winter and Christmas themed. I do hold the Nutcracker game higher because of the overwhelming cuteness of the dolls and tiny soldier?but that's more of my obsession with miniatures, not the effort the designers put into this game. After playing the CE, I would suggest the die-hard Christmas fans to go for the SE only if they want to see the kitty cats from the previous game. The bonus chapter was rather short and the last puzzle was confusing so I had to skip it?It has nothing to do with the main game at all, which wraps up in a very satisfying way all by itself. The collectables are minimal and not worth the extra money, unless you want to keep the Christmas spirit going for a bit longer. I absolutely recommend this game, for any age and for any player level. It is enchanting and brings the fuzzy cozy feelings, no matter the weather or season you're in. Happy gaming, Big Fishies!
January 17, 2014
My Favorite Holiday Story in a Game
I love Christmas. Since I was a kid, I have seen several versions of A Christmas Carol and it remains one of my favorite holiday stories. So I had to get this game. As someone who is quite familiar with the story, I loved the idea of being able to "redo" Scrooge's life and give him a happy ending. This game was a wonderful adaptation of the original story. In addition to the Ghosts of Christmases Past, Present, and Future, the game also includes some key settings of the original story. For example, in his past, you set things right with the woman he loved. In his Present, you help Tiny Tim and do several good deeds. As for his Future, you get to rewrite it. I loved how at the beginning you are introduced to both sides of Scrooge's "conscience" as Good Scrooge and Evil Scrooge. Of course, the Scrooge we all know is a result of the events that Evil Scrooge had set into place in the past. I know most people don't like helpers, but I did like having Good Scrooge as my helper. It was fun watching him animate inanimate objects. He would get real excited when his help was needed. Overall, the game was a visual blessing. The soundtrack was appropriate for the game, although it wasn't looped throughout the entire game. There were times where there was no music at all. One thing that I loved the most was that there was a jump map. Not only did it take you from one place to another, but it let you know if there was something that needed to be done in that location. The map proved very helpful because there was a lot of backtracking. However, the map only showed locations that were relevant to where you were. Meaning, if you were in the present, you only saw locations in the present. You couldn't go back into the past or visit locations in the future. The HOPs were not too difficult, and many of the mini games were pretty straightforward. They weren't too challenging, but they weren't significantly easy either. As for the length of the game, I was able to finish it in one afternoon, about 4-5 hours. That was surprising to me because it seemed longer. I highly recommend this game for anyone who loves a good story, a good game, and for those who are fans of the holiday story A Christmas Carol.
December 4, 2014
To set you in the mood for Christmas
I played this game a year ago, but I still remember how much I enjoyed it. I thought I might share my excitement in case anyone is looking for a good Christmas themed game around this time to spend a few enjoyable hours. This game should not disappoint you (unless your name is Ebenezer Scrooge). A touching story, excellent artwork and an overall spirit of Christmas are all there. Could make a good Christmas gift, too.
November 30, 2014
Great game!
I really love this game. The storyline is based on one of my favourites stories of all time so this is a big bonus. But the other parts of the game are amazing too. I think that no one should be disappointed.
March 13, 2014
Excellent Game
This game was excellent. It was plenty long enough and kept my attention. I loved the fact that there was a map as I tend to forget where things are and what's needed. I figured out, when the map didn't showed areas of action, I needed to either do something with an objective in my inventory or animate an object. Once I figured that out, I was a happy camper. This was an excellent, excellent game.
January 2, 2014
The Apple logo is a trademark of Apple Computer, Inc.