Dark Canvas: Blood and Stone
Exclusive
Who used the encasing device in the grisly murder of the Sculptor and his bride? What loathsome secrets are hiding behind the high walls of elegant, Grecian estates? Explore a beautiful and romantic Greek village by the sea, as you use your investigative reporting skills to track down a desperate, haunted killer – before they kill again!
Game System Requirements:
OS:

Windows XP/Windows Vista/Windows 7/Windows 8

CPU:

600 Mhz

RAM:

512 MB

DirectX:

9.0

Hard Drive:

724 MB
Game Manager System Requirements:
Browser:

Internet Explorer 7 or later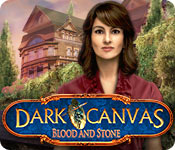 NEW299
The Big Fish Guarantee:
Quality tested and virus free.
No ads, no adware, no spyware.

Reviews at a Glance

Dark Canvas: Blood and Stone
0
out of
5 (
0
Reviews
Review
)
Customer Reviews
Dark Canvas: Blood and Stone
18
18
A MUST BUY
Based on the demo. As soon as the demo ended I didn't hesitate, I purchased it right away. Voiceovers, background music, and visuals are great. Storyline is interesting and entertaining. Hidden Object scenes went from moderately easy to moderately hard. They were all interactive and a lot of fun. The mini puzzles were great, also a lot of fun. At one point the player is asked to make a blanket for two shivering kittens. There were cute little animal helpers in the game. This is a cute little hidden object game for all ages.
November 25, 2013
Puzzling Fun
BASED ON COMPLETED GAME FIRST IMPRESSIONS When I played the demo for this game, I thought it a nice little game, professionally done, and fun to play. Well, that is certainly all true, but it is even better than that. I had a really good time with this, and my only regret is that I didn?t buy the CE, not for the bling (although that would be fun), but for the SG. For the puzzles. SIGHTS & SOUNDS The atmosphere of this game is quite creepy, even though it is set in the blazing sunlight of a beautiful Greek day. The graphics, especially in the cut scenes, are extraordinarily well crafted, and throughout the look and feel of Greece is faithfully conveyed. Colours are bright and bold, most locations are airy, and everything is captured in loving detail. The music was lovely too. Not especially ?Greek?, whatever that may mean in today?s terms, but sweet and pleasant, and again, airy. The voiceovers were excellent too. And the sounds outside were great. WHAT?S HAPPENING? Well, that?s the puzzling part. You are an investigative journalist, come to check out a story about the accidental death of a famous sculptor and his wife ?under suspicious circumstances?. You arrive to find your contact, the local doctor, dead by the same means ? instantaneous encasing in stone. Your suspicions first fall on his assistant, but then... I?ll let you try to figure out the rest. This is one game that kept me guessing (wrongly) to the very end. GAMEPLAY The gameplay is fairly standard, with the difference that there are more puzzles than usual. They range in difficulty from very easy to darn near impossible, and I really did miss the SG, because they are puzzles I?d like to be able to understand. They look really interesting. The HOPs come in two types, interactive lists and progressive silhouettes. Each is visited twice. The 3D map is wonderful to look at, interactive and gives immediate tasks. The hint is directional. You can use the map to ?jump? to distant locations. The game is logical, with not too much to and fro, with the chapters reasonably well separated, with clear directions to follow most of the time. So, apart from the puzzles, I found this an easy game. I loved the way we covered different aspects of Greek history in the course of the game. Chariots, stargazers, the gods. With each transition to a new area pain free and smooth. COMBINED IMPACT I heartily recommend this game as a really enjoyable and entertaining way to spend some time. No, it is not overly glamorous, but it has all the right components for a fun experience.
February 8, 2014
Beautiful game - good fun
you are an investigative reporter asked by a doctor in a small Greek coastal town to follow up on the death of his friends, an artist and his wife. They had been involved in an 'accident' in the artist's studio: encased in plaster and made into statues! There are villains - the creepy Christo and the elusive Helen, an interesting story-line with HOGs and fairly easy puzzles. I usually turn the music off but this music was quite pleasant with a slightly menacing undertone. The game is beautifully presented with many references to Greek myths and lovely scenery. I really loved the plump little kitten.
November 24, 2013
Great Game.
I've played both the Dark Canvas games and loved them both. The HOGs (hidden object games) or if you prefer HOS hidden object scenes) are very good. They are interactive where you have to use things you find again in the scene. The story line kept me wanting to play on. Most of the mini games are easy which I loved, but I did skip some of them but not as many as I have in other games. There is a map and BF offers a handy walkthrough. The walkthroughs come in very handy when I've been away from a game -- it allows me to read what happened previously. I also keep it open and if I get stuck I just alt-tab and go right to it. I really wish there were more of these games. I loved this game but loved Brush with Death more. I bought both SE versions of these games.
December 2, 2013
Fun Game
Liked this game so much I bought the collectors edition.
November 24, 2013
an enjoyable game
played casual, low sound. hints/skips charge in 60 seconds. you are trying to solve who is murdering the people by turning them to statues. there is a diary and a map but i don't think it is interactive. i tried to jump places and got nowhere. could have a sequel.
December 1, 2013
Enjoyed this game.
This game was between a 5 and 4 for me. I decided to go with the 5 based on the graphics, beautiful colors in the scenes and the story line was interesting. Overall it was a nice game to play using my free game code. I would buy more games from this developer.
January 4, 2015
great game!!
I really like this game. Not so dark and gloomy, as is the usual fare for this type. The map is very helpful and will transport you to the area you need to be in. Very helpful. REally cuts down on the back and forth thing. It's also nice to have inventory items that aren't kept so long before they come into play. Decent story line, altho that is not really a deal breaker for me in any game. It's nice to just have a pleasant, easy to navigate game with nicely done graphics. (Based on SE.)
November 23, 2014
Dark Canvas Whodunit!?
This Dark Canvas has taken us to a beautiful coastal town in Greece where several people are plastered, literally turned into human sculptures! As you investigate this murder you realize that the finger is being pointed in every direction, with the biggest suspect being the sculptor's assistant. Whodunit? Why are they being killed? A great story and the graphics are so realistic that I actually paused on the bridge to listen to the tranquil sounds of a babbling brook, birds chirping and crickets cricketing. (I think they chirp as well?) The HOS are a mixture of interactive list finds and progressive finds where you find the first item as shown as a silhouette, and you use that item such as a key into a lock, to uncover the next item and so forth. I will say I was a bit disappointed that all of the HOS were doubled up, but they were still fun. There are lot's of mini games, most are simple such as swapping puzzle pieces or following directions step by step as shown on an illustration. I liked the CE better because of the morphs and collectibles but this is a decent and entertaining game, enjoy!
November 24, 2013
NOT 5 STARS BUT STILL WORTH OWNING
I thought I would be so impressed that this game would be an immediate 5-star rating. Although the scenery is pretty, the HOS are typical and the puzzles are quite easy. It's relatively simple to finding pieces to complete objects (such as gate, rope) in order to move forward. Map is helpful in showing you where there are tasks to perform. Liked the kitten - he sure likes to climb. I was positive he would get stuck in some high place. Music is appropriate to whatever scene you are investigating. Voice overs are good. SUMMARY: A very nice game. 4 stars - still worth owning.
November 24, 2013
The Apple logo is a trademark of Apple Computer, Inc.