Dark Canvas: Blood and Stone
Exclusive
Who used the encasing device in the grisly murder of the Sculptor and his bride? What loathsome secrets are hiding behind the high walls of elegant, Grecian estates? Explore a beautiful and romantic Greek village by the sea, as you use your investigative reporting skills to track down a desperate, haunted killer – before they kill again!
Game System Requirements:
OS:

Windows XP/Windows Vista/Windows 7/Windows 8

CPU:

600 Mhz

RAM:

512 MB

DirectX:

9.0

Hard Drive:

724 MB
Game Manager System Requirements:
Browser:

Internet Explorer 7 or later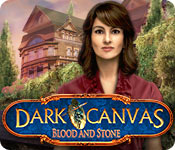 NEW299
The Big Fish Guarantee:
Quality tested and virus free.
No ads, no adware, no spyware.

Reviews at a Glance

Dark Canvas: Blood and Stone
0
out of
5 (
0
Reviews
Review
)
Customer Reviews
Dark Canvas: Blood and Stone
18
18
Worth the SE price...
The following is the review I posted for the CE version, but still stands for the SE as well. The only difference is that I did not feel this was CE worthy, but well worth the SE and will use a punch credit to purchase tomorrow, since credits don't work when you have a special. I really liked the graphics in this one. Color was very vibrant and fairly clear. Game play was nice. Music wasn't too bad...calming actually. Voice overs were good. Sounded tinny in the beginning, but cleared up when the actual game began. You can click through the dialoge everywhere in the game, except during the "story" part of it. It did need a little more of a hint as to what was going on in the beginning. HOGs were nice, clear and clean. Items not difficult to find. Games were fairly simple, but some did take a little thought. SG was nice, but not really necessary. Hint system was helpful and filled quickly. There was no real excitement to this game. Nothing that drew me in from the beginning and make me want to purchase to see what happens next. The coins are easy to find, but not sure what they are for #looked at achievements and still don't know#. The only challenge that I found so far is trying to find the morphing objects. They are extremely difficult to see and major eye strain watching for them. Otherwise, it was not challenging or difficult, but it was a nice game. Yes, I will get this game, but not sure if it is worth the price of a CE or if I'll just wait for the SE version. As always, try it for yourself and see what you think. We all have different tastes in games and may not care for this one at all. Thanks for the review.
November 24, 2013
Will You Be The Next Victim?
As an investigative reporter you have been called to a coastal Greek village to investigate the mysterious circumstances in the death of a sculptor Elias Kostas and his wife Maria who were found encased in plaster in his studio. Seemingly it was a horrific accident but Dr. Alexander, who called you, knows the truth and needs your help to prove that this was murder. As the body count mounts up, will you be able to solve the case or will you be the next victim? The graphics are very good but not always as crisp as I like. The artwork is lovely and does justice to the coastal Greek village setting. There are voiceovers with lip/sync that are generally very good with the exception of one character who speaks so slowly, I wanted to drag the words out of his mouth. The music and ambient sounds are very good and I found the music quite enjoyable. In fact, this is one of the few games where I will enjoy the extra soundtracks that are included with the CE content. You have a diary located on the lower left of your screen that, unfortunately, lights up with streaming sparkles every time you collect a note which I found extremely annoying. I found myself constantly opening the diary just to make the lights go away. The compass located next to your diary is the interactive map that shows where there is a task available. Shorty into the game you will acquire a feline helper who will be able to reach areas that you cannot. I know some of you hate furry little helpers in a game but give this one a chance because it is cute and you won?t find it annoying in the end. There are various types of HOS including the interactive list type and the progressive silhouette type. Most of the HOS were done well but in some of the early HOS I had a difficult time locating the items since the scenes were cluttered and the items seemed to fade into the background. The puzzles in Blood and Sand, although somewhat familiar, are good with many of them being fairly easy; however, there are some that are sticklers and a bit tricky. Dark Canvas Blood and Stone is a very nice game that had the misfortune to be released right after one of the most outstanding games we have seen this year and, as a result, it pales in comparison. The game?s storyline is a bit different than the usual fare and is interesting enough that when the demo ended I wanted more. Blood and Stone is not one of the best games in recent months but it is better than most. I found Blood and Sand to be an entertaining game and recommend that you at least try the demo.
November 24, 2013
Getting Plastered! (Based on the Hour Trial)
I have only played the hour trial, but I thought this game was quite good, and will probably buy it. I took a look at the other game in the series of Dark Canvas: A Brush With Death, and after an hour, still hadn't got off the dock. This one is more sensible, and I was able to figure out what to do next, without constantly referring to the hints button. The graphics are wonderful, and that extends to the Hidden Object games. When I first came across it, I wondered what I was supposed to do with the kitten, but he/she proved extremely useful. I never play the music, and if possible I get rid of the custom cursor, which in my opinion tend to be inaccurate and sluggish. I like the story in this game, and I love the Hidden Object games. I find the puzzles in any Hidden Object game annoying, but they will insist on including them. (If I wanted to play Puzzles, I would look at the Puzzles list) The objects found in the Hidden Object games, make sense, as they lead you through the game, and this makes it pleasant to play, instead of straining my brain. Overall, I enjoyed the hour, and will update this review when I complete the whole game.
November 27, 2013
GREAT FOR ALL LEVELS OF PLAYERS
I just finished playing this games and found it to be delightful. I will not go into specific details because others have already done so. This game is a nice one, I believe for beginners and increasing higher skilled players. I am on the intermediate level and thoroughly enjoyed playing it. I suspect those who are below this level will find it fun and, in playing, will increase their overall ability and problem solving skills. The hint button works well as does the transporter map.Games can be skipped if need be, and when playing for the second time, one might prefer to take time to figure out the solutions. Hope this is helpful
December 13, 2013
quite enjoyable!
i like the storyline ... gameplay is smooth and i like the puzzles ... hos are doable and not frustrating ... music is there but not annoying ... i like having music ... graphics are good ... this one is worth the discounted price ... and i am just enjoying this one ... not as exciting as some, but it keeps you interested and no technical difficulties ... yeah! ...
November 24, 2013
Better than just OK, but not quite Four Stars
BASED ON FINISHING THE DEMO: This is a straightforward HOPA with a murder mystery setting, but there's nothing that is dark or ominous. There are three levels of difficulty, and a choice of cursors. Some of the HOS are chained objects where one object is needed to obtain the next. The mini-games are the standard ones and appeared to be easy to solve, although I skipped them simply because I always skip puzzles and mini-games. There is a map, which is interactive. However, I discovered the game to be quite linear, and therefore, even though the map may show an area has a task to be performed, it will not open that area until you have performed a task in another area that comes first. Hints are active in and out of the HOS. The artwork is bright and open and quite attractive. The music is pleasant and unobtrusive. Dialogue can be skipped. Good game for someone new to HOPAs, or when you want something relaxing and not too difficult. I liked it, but I probably wouldn't pay full price for it or use up a coupon.
November 24, 2013
Nice change in scenery, but ho-hum
This is based on the 2-hr trial only. What I liked the most was a change of scenery. Greece of all places. It was a nice change from the dark and creepy, although I like those games. For that (the location) I wish I could give this game a higher score, but I found it to be pretty easy. The HOG's were nicely done, but again pretty easy. The puzzles that I completed were on the easy side, too. The graphics were just okay, and I am not a huge fan of having to click to continue a conversation. I just want a character in the story to say what they have to say. It might be a nice game for a beginner or someone that doesn't like the darker games and stories.
November 24, 2013
Could Be Better
I purchased the standard version (not the collector's edition) and found the challenge, quality and mechanics of the game mediocre at best. Clicking map locations does not bring you to the scene - a big plus in better designed games that are the same price.
December 8, 2013
The Apple logo is a trademark of Apple Computer, Inc.