Secret Trails: Frozen Heart Collector's Edition
Exclusive
Bloomingspring has always been your favorite place to visit, not just because of the year-round sunny weather, but because your little sister Emma, calls it home. You're planning a secret visit for Emma's birthday, but your surprise is ruined by a freak blizzard in the middle of July! What caused this storm? And who is that suspicious man slinking around Emma's house? No sooner have you reunited with your sister than she is kidnapped. Rescue Emma and bring summer back to Bloomingspring in Secret Trails: Frozen Heart, a gorgeous Hidden-Object Puzzle Adventure game.

This is a special Collector's Edition release full of exclusive extras you won't find in the standard version. As a bonus, Collector's Edition purchases count toward three stamps on your Monthly Game Club Punch Card!

The Collector's Edition includes:
Collectible butterflies
Beautiful graphics and music
Exciting story with humor and character!
Bonus chapter featuring an epilogue!
Game System Requirements:
OS:

Windows XP/Windows Vista/Windows 7/Windows 8

CPU:

1.4 GHz

RAM:

512 MB

DirectX:

9.0

Hard Drive:

1208 MB
Game Manager System Requirements:
Browser:

Internet Explorer 7 or later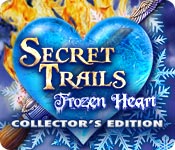 The Big Fish Guarantee:
Quality tested and virus free.
No ads, no adware, no spyware.

Reviews at a Glance

Secret Trails: Frozen Heart Collector's Edition
0
out of
5 (
0
Reviews
Review
)
Customer Reviews
Secret Trails: Frozen Heart Collector's Edition
44
44
Be Still my frozen heart I will tell you a secret.
This game was really neat to use my avatar name during game play. Wish they all did that. I had fun with the puzzles. The HO's were nice. Interactive map. butterfly's to collect. Now to make one with dragonfly's (My favorite). Hint Hint. This game is worthy of a buy so on my to buy list it goes. Sometime it would also be nice to see a game were you get saved and they show the person actions that save you as you are trying to solve the situation while in great peril.
December 21, 2013
Good game, but no 'CE'
I took the plunge at playing the demo, when this game was in 'TGT' status, and thought it as equally satisfying a game as most others. This little fare is developed by Foxy Games Studio, makers of "Mystic Legacy: The Great Ring" - which was a good game when released - and, as I see it, "Secret Trails" would have fared better if it had been released as one of the occasional - yet 'surprising' - soft edition game releases that give you bang for the buck. As the previous reviewers have already broken down the game's mechanics, features, colors, etc., there's no need for repetition on my part. Probably the most I can say is if you're one of the players that prefers to mentally 'gear up' for a deep sea dive [heavy challenge], then this probably won't be for you. But, for those that prefer - or sometimes prefer - going in waist-high and only putting your face beneath the surface [mild challenge], then this game you might enjoy. Although the game includes collectible butterflies and achievements, I wouldn't consider it to be of CE caliber but, instead, more of a "bang-for-your-buck" soft edition release, and the weekend sale's $8 price tag is more on-par than that of $14. But, as always. . .try before you buy! I give her *4 thumbs up* and #see below#:
November 24, 2013
amazing game super awesome!
i really enjoyed it owns better then any game i played! doff a big two thumbs up! Try it u wont regret it !S
November 26, 2013
An OK Time Passer - Glad It Was On Sale - Review Of Completed Game
STORY: You are visiting your sister Emma for her birthday. When you arrive she has not only been frozen but kidnapped so of course you have to save her. 4 CHAPTERS plus a bonus chapter. STRATEGY GUIDE: Since I saw it mentioned here in the forum about having to click through all the pages. Up at the top is CONTENTS. Click on that and it will show all the chapters and you can select from there. Also stays where you last left it. At least it did for me. I didn't use it. Just checked it out. 3 PLAY MODES: Once you choose a mode you are stuck with it. If you want to change it, you have to create a new profile and start again. I played the middle of the road mode. No sparkles however some black bar tips meaning tells you what to do. There is a journal along with a transporter map. I didn't use it. Just checked it out. Shows where you are and where there are things to do. You also find butterflies which restores the hint. How many I'm not quite sure as it never stated for me and I didn't count them. There's also achievements. HINT: It tells you what you need to do. It won't point you in the direction. HOS: There are quite a few scenes. Not one right after the other but they do appear quite often. Found by word list. They are interactive but not obvious which ones just by looking at the word list. These were nice, crisp, clear for me. No problem here. PUZZLES: These also appeared quite frequent. Some the usual run of the mill but some I found to be quite different . Most I found pretty easy. Some required a little thought but not impossible. I did skip a couple of these though. They also have a reset and you can skip them. The skip doesn't take very long. The main game ends with a conclusion. I didn't think the bonus chapter was needed. MY PLAY TIME: MAIN GAME 4 HRS. BONUS: 40 MINS. CE EXTRAS: Bonus chapter Strategy Guide Butterflies Achievements Wallpapers and the usual fluff. OVERALL IMPRESSION: I thought the graphics were good along with the voice overs. I had no problem with them. I also enjoyed the game play. Where this game is lacking for me is the story. I thought this could of been worked on some more. While the frozen has been done before it started out intriguing but once I got past the demo that part of the game was a disappointment for me. I was also disappointed in the bonus chapter as well as far as story. As far as game length I thought it was long enough and truth be told I was so ready for it to end. As I said I'm glad it was on sale. As always give it a whirl and decide for yourself.
November 23, 2013
Another Frozen Beauty game
You are Emma's sister, visiting her for her birthday. When you arrive, you find a frozen Emma. While you are figuring out how to defrost her, she gets kidnapped. This game doesn't have all the bells and whistles of a typical CE. You do get to collect butterflies, which restore the hint button completely. And there is a bonus game. But none of the cleverness we've become used to in our CE games -- no morphing items, no pets, no helpers, no custom mode. The HOS are straightforward and rather easy. The mini-puzzles are not unique and also easily solved because we've seen them before. The hint button gives you a specific task to do next, so the strategy guide is not really necessary. There is a teleporting map with the task places marked. And the demo is fairly short. This game, unfortunately, is boring and we've already had many frozen games to figure out that are much better.
November 23, 2013
Frozen girl again
This review is based on playing the entire game plus the bonus chapter. All I can say is it was just okay for me. Not very challenging, I completed all mini games without skipping and the ho scenes without needing a hint, no the SG is really not needed for this game, and the story itself is not as captivating as other games I have played. It is a good game for a beginer in these types of games. Not a horrible game but not a great one either
November 23, 2013
WAIT FOR THE SE
Based on the demo. I really wanted to like this game. What a great title, but all my expectations fizzled out with the too easy hidden object scenes, the too easy minipuzzles, and the jaded storyline that's been done over and over and over. There was too much handholding. Every time I collected an item there were instructions on where to use it. I kept racking up achievements just for finding the things I needed to advance in the game. I didn't see anything in here that made it a CE. I will wait for the SE to come out and then revisit it. I don't recommend it as a CE. There's just not enough there.
November 25, 2013
Not worth a CE price
Based on the trial which I might add lasted only 40 minutes. I agree with others that the speech was childish. It sounded like the sister was just having a great time not trying to rescue Emma from some maniac. The artwork was not up to the standard I expect from a CE, neither were the cut scenes. HOS's merely ok with the usual horseshoe teddy bear etc which we all get a bit sick of. Collectibles were merely butterflies. Not very imaginative. The people were drawn which I don't like either. I have just played Punished Talents twice I might add and this game is nothing compared to that.
November 23, 2013
Fun game, but way too short
I really liked the story line and the graphics. But for CE price, it should have been longer. I completed the entire game plus bonus chapter in 2-3 hours and that was with a couple of breaks in between and only skipped a couple mini-games. I think I would rate it much higher as a SE game. Overall, I enjoyed playing it. But I would recommend the SE over the CE.
November 30, 2013
Not challenging, but, worth 3.5 stars
A game from a dev that I am not familiar with, but maybe I just haven't seen their games before. The graphics were clear and game play was nice, no problems anywhere. Voice overs are good, but I did notice some skips where the mouth moved, the dialoge was showing, but no sound. There are a lot of achievements, but the only collectibles I found were the butterflies and all they did was fill up your hint...they did not give you extra hints. The inventory bar locked, which I appreciate. There was not much in the way of sound FX, nothing to build the excitement of whatever may be on the way. There is a jump map, which you will use constantly. Way too much running back and forth for one item. Did not care for the way the map was set up, e.g., click on the area and then have to click again to get there. Areas were not labeled, so you did have to remember where they were, or at least what they looked like. SG was very simple and not wordy. Did not list any chapters and I finished the demo with 26 minutes to spare. Makes me think this must be a very short game. HOGs were quite simple. Clear and easy to find items. Puzzles were not difficult, but some took some time and thought to complete. Hint system wasn't too bad, but took a while to recharge. It was kind of fun to see my name integrated into the game, but the game was not challenging at all. The story was nice, but it needed something extra. I do not see that this is CE worthy, even with the special this weekend. To me, this game was geared more toward the beginner. Too bad. Could have been a nice little game without much extra work. Not a bad try for a first time dev. I will recommend this for beginners, but not for me today. However, I have been known to change my mind when the SE comes out and I give it another chance. As always, try it for yourself and see what you think. We all have different tastes in games and you may find this to be exactly what you are looking for today. Thanks for the reviews.
November 23, 2013
The Apple logo is a trademark of Apple Computer, Inc.