Secret Trails: Frozen Heart Collector's Edition
Exclusive
Bloomingspring has always been your favorite place to visit, not just because of the year-round sunny weather, but because your little sister Emma, calls it home. You're planning a secret visit for Emma's birthday, but your surprise is ruined by a freak blizzard in the middle of July! What caused this storm? And who is that suspicious man slinking around Emma's house? No sooner have you reunited with your sister than she is kidnapped. Rescue Emma and bring summer back to Bloomingspring in Secret Trails: Frozen Heart, a gorgeous Hidden-Object Puzzle Adventure game.
Collectible butterflies
Beautiful graphics and music
Exciting story with humor and character!
Bonus chapter featuring an epilogue!
Game System Requirements:
OS:

Windows XP/Windows Vista/Windows 7/Windows 8

CPU:

1.4 GHz

RAM:

512 MB

DirectX:

9.0

Hard Drive:

1208 MB
Game Manager System Requirements:
Browser:

Internet Explorer 7 or later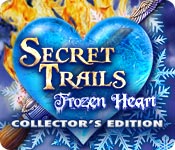 The Big Fish Guarantee:
Quality tested and virus free.
No ads, no adware, no spyware.

Reviews at a Glance

Secret Trails: Frozen Heart Collector's Edition
0
out of
5 (
0
Reviews
Review
)
Customer Reviews
Secret Trails: Frozen Heart Collector's Edition
43
43
Not challenging, but, worth 3.5 stars
A game from a dev that I am not familiar with, but maybe I just haven't seen their games before. The graphics were clear and game play was nice, no problems anywhere. Voice overs are good, but I did notice some skips where the mouth moved, the dialoge was showing, but no sound. There are a lot of achievements, but the only collectibles I found were the butterflies and all they did was fill up your hint...they did not give you extra hints. The inventory bar locked, which I appreciate. There was not much in the way of sound FX, nothing to build the excitement of whatever may be on the way. There is a jump map, which you will use constantly. Way too much running back and forth for one item. Did not care for the way the map was set up, e.g., click on the area and then have to click again to get there. Areas were not labeled, so you did have to remember where they were, or at least what they looked like. SG was very simple and not wordy. Did not list any chapters and I finished the demo with 26 minutes to spare. Makes me think this must be a very short game. HOGs were quite simple. Clear and easy to find items. Puzzles were not difficult, but some took some time and thought to complete. Hint system wasn't too bad, but took a while to recharge. It was kind of fun to see my name integrated into the game, but the game was not challenging at all. The story was nice, but it needed something extra. I do not see that this is CE worthy, even with the special this weekend. To me, this game was geared more toward the beginner. Too bad. Could have been a nice little game without much extra work. Not a bad try for a first time dev. I will recommend this for beginners, but not for me today. However, I have been known to change my mind when the SE comes out and I give it another chance. As always, try it for yourself and see what you think. We all have different tastes in games and you may find this to be exactly what you are looking for today. Thanks for the reviews.
November 23, 2013
Deja Vu all over again...
I don't know why they are claiming this is a new game - I recognised and remembered a lot of the scenes and the challenges. I wish I could remember the name of this game when I played it before! It is not identical in every way, but I would not spend any money on this as it is SO familiar I would feel I had paid twice for the same item. I'm not just referring to the easy puzzles or even the hackneyed storyline of 'kidnapped loved one needs rescuing' which is getting VERY old.... Shame, because the artwork is lovely, the game is interesting and the quality overall is excellent....but so hauntingly familiar in so many parts that it was totally spoiled for me. Give it a go - you may find it fresher than I did and if you have not played it's near-identical twin there is nothing to stop you enjoying this pleasant way to pass an afternoon
November 23, 2013
Very ordinary
I played about a half hour of the demo and found the game very tame, easy, and not very interesting. The HO's are simple, the 'hard' level is super easy, and I got pretty tired of having my name show up in the game...fun once, tedious after. The SE version of this game would be OK for a freebie.
November 23, 2013
I'm Just Not Sure
The storyline was good. You send a letter to your sister and let you know you are coming to see her. A mad weather master sends a weird blizzard, freezes your sister, and then kidnaps her. You are to go through traps and get to the castle to save her. There are 36 achievements, butterflies to collect and ice animals to create with the magic brush. The rest of the extras are the normals. You have three levels of difficulty; casual, hard and expert. I'm just not sure about the game. I started getting bored and I'm sure why as I usually love this particular genre of the hos games. I'm going to recommend it, but with the advice to play the demo before you decide.
November 23, 2013
Not CE material
Here we have a very basic game. Colors, graphics and music are all good. (As far as game music can be considered good lol ) 3 modes of play. A journal that keeps track of your progress. Your sister was expecting you for her birthday in July when a freak blizzard strikes and the villian freezes Emma. Game play is very linear. HOS are simplistic. Puzzles and fairly simple. Story line is just ok. I didn't care for the story, so quickly lost interest in the game. There are butterflys to collect, but that's about all, other than the usual wallpaper, etc. found in CE's. I see nothing to warrant this a CE edition. In fact, I doubt I'd buy it as an SE. It had no WOW or interest factor for me.
November 23, 2013
Cannot make up my mind
Ok so you are going to visit you sister in a far away place. But only after you arrive you witness a snow storm, who doesn't like a good snow. You fine her frozen by a weather wizard. Ok different. The majority of the time you play the demo it is more of an adventure and I have only did a few hidden objects. I am unsure if I would buy the game based on the demo. You do not get to play for a very long time so it is hard to choose to buy or not to buy. You meet the wizard but you do not see that until the end of the demo. Moving around from area to area is easy. There is a map in the lower left hand corner, which will take you to the place of action if you choose. Play the demo to see if it speaks to you. Still unsure after writing the review if I will purchase.
November 23, 2013
Dumb game
Oh no, not another "frozen" game! Give me a break! The story is very lame, too, with no lead in at all. All of a sudden, boom, it's snow in July supposedly caused by some mysterious weatherman. Huh? I only played the demo, which is only 27 minutes long, so maybe things get clearer later, but I doubt it. The dialog and comments when you do something are truly gag worthy - very immature. Game play is OK with the usual back and forth, decent HOS and puzzles. The HINT button tells you exactly what to do, which I don't like. Much better to just be pointed in the right direction so you don't have to click so much. Use of objects is good for the most part; i.e., no cutting down trees with a glass shard, etc. There are achievements and butterflies to collect if you like that sort of thing. Although the game is well presented, the story and the dialog are so bad that I was glad the demo was so short.
November 23, 2013
OLD
Didn't care for this game..didn't finish the demo..had a very old type of game feel to it..it was boring..especially after some of the games released this week..sorry
November 23, 2013
Needs work
This game looked promising but I found I had to constantly click on the Hint button (casual mode) and none of the puzzles made any sense to me. Wasn't sure what to do. I've been playing Big Fish now for a year. Also do not like hidden objects that are so small. The colors and art work were really lovely.
November 25, 2013
too predictable
this game is too predictable after playing the demo and seeing the beginning cinema I could tell what was going to happen already
November 30, 2013