Myths of the World: Stolen Spring
Exclusive
The rich folklore continues with this exciting tale set in an old Slavic land. As Child of Spring, can you save the world from eternal winter?

A cruel and cold Goddess of Winter has hijacked springtime, and her victim has called on you for help. You'll be surprised by what you, a lowly peasant, can do in the face of evil – and what cute little furry friends you'll meet along the way in Myths of the World: Stolen Spring.
Game System Requirements:
OS:

Windows XP/Windows Vista/Windows 7/Windows 8

CPU:

1.6 GHz

RAM:

1024 MB

DirectX:

9.0

Hard Drive:

950 MB
Game Manager System Requirements:
Browser:

Internet Explorer 7 or later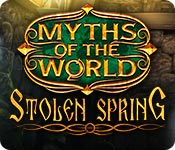 NEW299
The Big Fish Guarantee:
Quality tested and virus free.
No ads, no adware, no spyware.

Reviews at a Glance

Myths of the World: Stolen Spring
0
out of
5 (
0
Reviews
Review
)
Customer Reviews
Myths of the World: Stolen Spring
22
22
Good evening of Fun Puzzles, Hidden Objects & Adventure
I really enjoyed this game! I play with my husband sometimes on our date nights. He liked this game so well, he just kicked me off and took over. He thought the "girls" were particularly pretty and the great story line, we just had to find out what was going to happen next. Stolen Spring on "Normal" difficulty, I considered to be an intermediate challenge. It took about 5 hours to finish for an almost expert player. I tried the C.E. and found this SE was just fine, given that it wasn't extremely difficult. Made for a relaxing evening without any frustration, well, maybe in 2 places I did get a bit 'stuck' for a while, but really, no problem.
February 17, 2014
Easier than others
Puzzles are not difficult. easy to follow what you need to do. Great game for those who don't like a lot of challenge.
February 13, 2014
Good Game
Visuals aren't as good as a lot of the other hidden object games on BigFish, but still fun to play.
January 22, 2014
Stolen Spring Should Have Remained a Myth
Our adventure begins as you are looking out the window at what seems to be the longest winter you can remember when suddenly you hear a voice behind you. You turn to see Vesna the Goddess of Spring who appears in your mirror and tells you that she has been kidnapped by Morana the Goddess of Winter who is turning the world to a land of ice and snow. You play the game as the Child of Spring, the only one who can stop Morana and return warmth to the world. Vesna sends you on a quest to find a wise old woman Baba Yaga who lives in a hut in the distant forest but she can only send you as far as the village gates. After that, you must rely upon your instincts and Vesna?s animal friends to help you on your quest. As she leaves you at the gates, Vesna hands you a magic Spring Brush that will help you on your journey. Early into the game you rescue an Ermine who becomes your pet and helper. Yes, you have a pet helper that you get to name but don?t despair if you have reached your limit with overly cute animals being added to games, because your Ermine friend does prove to be useful and will assist you when you need it most. As you move through your adventure you also meet many other animals, some of them friendly and useful but others not so much who are only there to hinder you along the way. There were many comments by others about the scenes that depicted some animal cruelty and I agree. IMHO, those were unnecessary and the developer could have been more sensitive to our animal friends and done things in a kinder manner. The graphics are excellent being very colorful and crisp but after a while I became tired of the endless winter. As is becoming the case with Eipix games the sound package is very good including lip-synced voiceovers, excellent music and environmental sounds. You have a diary that contains your objectives as well as your notes that will help you as you progress on your adventure. The interactive transporter map that indicates where you have tasks to accomplish is located on the lower right of your screen next to the hint flower. The magic Spring Brush that you receive from Vesna at the beginning of the game lives across the top of your inventory box. Be sure to watch for areas where you can use the brush because if it very helpful at times, but after using the brush to thaw ice, I received a ludicrous group of flowers and a rainbow as my reward. I have no idea why the developer used that technique but I felt that it detracted from the game. There are various types of interactive HOS, some are the standard list type and others are silhouette type. If you would rather play a match 3 game rather than look for items on the list, you have that option as well. During the demo there were not as many puzzles as there were HOS, and I prefer a game that is just the opposite ? more puzzles than HOS but that is not the case with Stolen Spring. The few puzzles I did encounter were very easy and there was hardly any challenge. In my review of Myths of the World Stolen Spring CE I gave it five-stars, but found that after the demo the game became tedious with way too many HOS and some overly simple puzzles that someone in kindergarten could solve. Yes I did buy the CE and now could kick myself because it really was nothing special. Although I initially liked the game, after playing it I have to say that it can?t hold a candle to The Chinese Healer. As always, I recommend that you try the game to see if you like it.
December 1, 2013
A Little Disappointed.
I played the SE to the end. This game was okay, but I think it could have been so much better IMHO. This game has a walk through, which I used, however, I didn't find it in the Walk Through section, but in the Forum there is a link to it. The inventory items remain there even when you pick it up. Once it's placed it goes away, but it was annoying. In the beginning of the game I kept trying to pick it up, not realizing it was also stuck to the end of my cursor. Just a little nit-picky thing. I hated the last puzzle where you had to use the Spring Branch to go through a maze in one movement! Tried it several times and failed so I skipped it. I'd love to meet the person who was able to do it! What I did like was the hint button which showed items in both the HOS as well as game play, plus it gave free directions in game play. It seemed to charge quickly in the casual mode. There is an interactive map that also shows an exclamation point where there is a task that can be done and then transports you there. I switched between using the map and the hint button. There are no collectibles or extra game play as I've read there is in the CE. I always recommend reading some of the reviews, both good and bad. Also play the generous 1-hour demo provided by BF. Don't forget to check the Forum for a link to the walk through. Good gaming fellow fishes.
May 9, 2014
puzzles too easy HObj without pizzazz
Visually this is great and beautiful. Nothing really new here however, someone said the CE was worth it for extras and another said it was too boring even tho they had liked it at first. So since I am rather bored, I think I will pass on this. I might try the CE on a hard mode and see if that helps. I always play at first on easy mode to get as far as I can, In this case the game only lets you get so far. I might use this to get a free game, but I am not excited about it. I recommend you try it and see if you like it. really Tijuana for me (borderline)
December 1, 2013
It was ok
The graphics are great, the story line good but I finished the game in less then a week!! I'm not a big hidden object game so this was disappointing for me.
December 18, 2013
Too Short of game
I loved playing the game and enjoyed the music, difficulty, story line. My biggest complaint was paying for the game and it was very short.
October 27, 2014
Ok..way too short
It was a decent game. The series seem to come out very fast, at small distance from eachother, maybe that's why this game was so short. I believe it's not the first from the series, but the second, but it's the one I played first. The story seems to start with the middle, the epic flow is poorly made. Instead of having a normal story flow like beggining, action line and end, it starts very sudden without explaining who the characters are and how it came to where we are. I gave 3 stars because the puzzles and HOS were entertaining. It wasnt very challenging, but fun enough. The graphics and voiceovers were well done. I actually enjoyed the bonus game way better than the main one.
June 29, 2014
Okay, but their first one is better
The second game in the Myths of the World series by Eipix ---------------------------------------------------------------------------- Their first Myths of the World Game: The Chinese Healer was so good that I bought this game trusting it will be as good as it was,, however I was slightly disappointed that the game quality goes downhill after the first one. There are 3 levels of difficulties and 1 custom. The game progresses slowly, giving you tasks to do in between objectives, maybe just to prolong the game?? The storyline itself is not the most original, kind of like snow queen who loves winter so much she didn't want spring to come, or something like that. VO is good but characters animation is still a bit stiff. Movement of mouths and voice don't coordinate well, but this is not a big issue. HOG and puzzles are relatively easy. The HOG can be switched to Match-3 game if you like to take a break finding objects. Be warned though that there's almost one HOG in every scene so this can get pretty annoying quickly. One thing I really dislike about this game is their portraying cruelty to animals, very early in the game. This is one issue that I don't tolerate and disappoint me. I am not sure if I will ever buy another game in the series unless they are as good as their first one, which I doubt but some people may still like this story so I will recommend this game for them.
June 14, 2014
The Apple logo is a trademark of Apple Computer, Inc.