Crystals of Time
Ashley, a professional thief, has inherited this vocation from her father. When her father suddenly goes missing one night while trying to sneak into the Three Oak Mansion, Ashley finds herself standing before the vast deserted estate with only a mysterious crystal to aid her in the recovery of her father. Using her crystal, Ashley must navigate through time and space to find the clues that will lead her to her missing father and help her solve the mystery of Three Oak Mansion. Join Ashley on an epic adventure in Crystals of Time!
Over 80 beautiful hand drawn scenes
24 minigames and hidden object scenes
Atmospheric soundtrack
Game System Requirements:
OS:

10.9/10.8/10.7/10.6

CPU:

1.8 GHz (INTEL ONLY)

RAM:

2048 MB

Hard Drive:

176 MB
Game Manager System Requirements:
Browser:

Safari 4.0 or later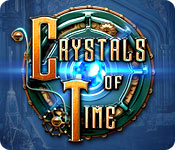 NEW299
The Big Fish Guarantee:
Quality tested and virus free.
No ads, no adware, no spyware.

Reviews at a Glance

Crystals of Time
0
out of
5 (
0
Reviews
Review
)
Customer Reviews
No jiggly nonsense
I almost didn't try it because of the mediocre reviews. I didn't like the idea of playing as a thief. I'd rather be a detective or acquaintance or something. But after playing the demo for a while, I found the game was actually more relaxing and enjoyable than other recent games with more technical polish. Why? As much as I try to ignore the incessant extraneous junk encroaching onscreen, jiggling around, and blasting off some insipid fanfare that is rampant in recent, supposedly more technically advanced, games, it has a detrimental effect on my ability to immerse myself in the gameworld. Crystals of Time has none of that. Playing it was surprisingly peaceful despite the slightly ominous environment. The art design was detailed and attractive. The music suited the game and helped maintain the atmosphere. It didn't play all the time. I often turn off music in games, but in this case the music blended with the game well enough and was inoffensive enough that I let it play. Crystals of Time took me 3hr 21min total, which is sort of an average time. On the negative side -- I would have appreciated some water animations for the lake/ocean, even if it were only a slight glimmer of reflected light. The Hint wasn't my favorite type. I like Hints that point you in the direction to go. This one just brings up a picture of where you should go, which isn't too helpful if you'd never seen that location before or couldn't remember where it was between playing sessions. There were a lot of misspellings. There were misidentifications (vacuum tubes were called lamps and a big hook was called a heart). One hidden object was called a "pergament" which is apparently a German word for parchment, but not an English word. But these things bother me a LOT less than the unwanted and un-get-riddable interruptions that plague most currently released games -- making Crystals of Time seem like a breath of fresh air in contrast. For that alone I give it an extra star. And I will definitely play it again in a few months. I very much enjoyed it.
December 30, 2013
UNFAIR COMPLAINTS
Intro gives a little history about the characters, but it is onscreen for too short a time. Although it is recycled, it is a little hard to just pick up where you left off reading the first time. You play Ashley, a thief who learned the craft at her father's knees. She's searching for her father at Three Oak Mansion, from which people have disappeared, strange appearances and weird noises occur - in other words, it's haunted. HOS are crisp and clear, list-based, and not too crowded. Puzzles and mini-games are easy for a seasoned player. The environments are bright and colorful; and I like that you can use inventory as you come across an object where you can use it (some games, if you need 4 missing pieces of a puzzle, you need to have all 4 pieces before you can use them - which I hate). It makes me feel like I've accomplished something, no matter how small. Hint system is good - shows a picture of where you should go next. There weren't that many locations that you needed a transport map when it was just as easy traveling by clicking. Sometimes, you lose cohesiveness by fast travel and this seems to be such a story. COMPLAINTS: Some people seemed to have problems finding the locations - the directional arrows are quite large and point the way to additional scenes, so I don't know how they were playing that they completely missing a scene change. The changes don't always appear to be doorways and hallways like we are frequently exposed to. You do have to explore the environment; perhaps that should have been somehow advised in the beginning. MISNAMED OBJECTS, ETC.: It's also a bit "American self-importance" that people think that games are made specifically for the English-speaking audience. Well, there are several English-speaking countries and definitions are not always the same. And whose to say it wasn't developed for, say a Turkish audience, and translated into English. We aren't the only people on earth. I do agree that the developers should at least hire a native English speaker to be sure their translations are correct or have English-speaking players beta-test the game (the last being free), since the American audience is so large.
December 7, 2013
I enjoy this game
Not so strong story, but the music is so beautiful!(music0.ogg) The graphics is very nice. Appears to be an unfinished story, a sudden cut off the end of.
July 3, 2014
Loved it!
Hidden object games are the best and this one is good to just sit back and have fun with. Dee
December 9, 2013
Not too Shabby
This SE by a small company isn't too bad. It took me a bit to get into the game. I almost quit a few times but felt this deserved the entire demo period to write a review. There are no voice overs. Everything is text., Spelling errors abound. HOS are a bit too plentiful for my taste, but they were clean and clear. Puzzles were either easy or so obscure that I needed to skip them (puzzles are not my strong suit). Once I got into the game, I noticed it is mostly an adventure game, and I enjoy that. I did not like the concept of being a thief. That was a negative for me. I don't judge games on music, but the music WAS depressing lol. Long game. It was a purchase for me with a coupon.
December 4, 2013
Crystals of Time
My first reaction to finishing this game is WHEW! After the first minutes of this game, I developed a Love/Hate relationship. I never knew if I was going right or wrong. Every time, I decided to "throw in the towel", I would do something and another window of opportunity would open up. I can't say that the story line is great, but trying to figure out where Ashley Ford's father was kept me going. I wish to thank all of the other Big Fish gamers who posted on the community board. Their questions and frustrations let me know that I was not the only one "going nuts". The other Big Fish gamers gave "little tweaks" that really helped me to finish this game. THANKS to all. Lastly, I wish to say that every time I use one of my "Free Game Coupons", I end up with a really good game that makes my day! Thanks Big Fish. To all of the others who are struggling with this game, I say, keep pushing! R John
December 5, 2013
Challenge hidden object game
I enjoyed the game. The map with its teleport ports made it easier to get from one area to the next with out clicking back to the area to get to the room I needed to go. For those having problems. You really need to remember where you see things in the HO areas. And pay attention to the story. The story gives clues to where you need to go. Sometimes the hint button does not make sense. Unless you have really listen to the story.
December 7, 2013
So Close, but a Near Miss
There are things to like in this game. The graphics are sharp, clear and colorful,even in the "dark" areas. The brief bios of the main characters are interesting but you'll probably need to go through them twice to read all the details. Not a problem. The hints are helpful and fill fairly quickly. So why low ratings? For starters, the very poor translation of whatever the original language is. Not just spelling errors, but word usage and context problems are distracting and annoying. Also, the movement arrows work only in a narrow span so finding an exit can be frustrating and areas don't always connect logically. But what kept me playing for the whole demo was the fun and unique time traveling. I hope there's more of it in the rest of the game but sadly, I won't be there to know. The flaws outnumber the pluses for me so, sadly, it's a no-go. But I recommend giving it a try and see if you can ignore or overcome the downers. There may be a good adventure hidden here.
December 3, 2013
Ho-Hum
I'm over half way through the game and and becoming annoyed by the plethora of hidden object scenes. Also, someone said the HOS are very sharp...most of them seem very blurry and flat. I'd quit playing this game if I didn't have so much time invested in it....think I've forgotten the object of the game. One thing I do like and find interesting are the present/past areas...nice concept.
October 3, 2014
Soundtrack is the best part of the game
I found this game to be a mix of challenge and frustration. The plot is almost non-existent. so just treat the game as a hidden object romp through an old mansion. The hidden object scenes present good challenges. The poor English doesn't help, though. Done properly, with a fleshed-out plot and interactive characters, a better map and English translations, it could have gone far. My sole source of pure enjoyment was the soundtrack. Really lovely. I'm going to see if I can download it from somewhere.
January 2, 2014
The Apple logo is a trademark of Apple Computer, Inc.
The Windows logo is a trademark of Microsoft, Inc.