Crystals of Time
Ashley, a professional thief, has inherited this vocation from her father. When her father suddenly goes missing one night while trying to sneak into the Three Oak Mansion, Ashley finds herself standing before the vast deserted estate with only a mysterious crystal to aid her in the recovery of her father. Using her crystal, Ashley must navigate through time and space to find the clues that will lead her to her missing father and help her solve the mystery of Three Oak Mansion. Join Ashley on an epic adventure in Crystals of Time!
Over 80 beautiful hand drawn scenes
24 minigames and hidden object scenes
Atmospheric soundtrack
Game System Requirements:
OS:

10.9/10.8/10.7/10.6

CPU:

1.8 GHz (INTEL ONLY)

RAM:

2048 MB

Hard Drive:

176 MB
Game Manager System Requirements:
Browser:

Safari 4.0 or later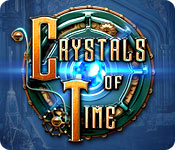 NEW299
The Big Fish Guarantee:
Quality tested and virus free.
No ads, no adware, no spyware.

Reviews at a Glance

Crystals of Time
0
out of
5 (
0
Reviews
Review
)
Customer Reviews
Needed more beta testing
I have the Mac version. The story line is sound. Graphics are excellent. I like the different PIPE objects rather than the same smoking pipe images. Things that need work: No challenge levels (Normal, Advance, Expert). Hints did not work although button was also used to switch between TIME. No screen size buttons in the Options menu to minimize the screen. Otherwise, a good game. Recommend buying version 1.5.
December 11, 2013
An awful game
I was playing the game and I get stuck. I hit the hint button it tells me what to do and I can't do it. For example I have to get a key out from behind the door. I had nothing to push the key. I would not recommend this game.
December 4, 2013
Ok for a freebie
This is not a bad game, it's just not a really good game. This is a very basic HO and puzzle game, with no bells or whistles. This would be fine for a freebie, and would be a good choice to play between challenging games, just to catch your breath! I am recommending it on that level.
December 3, 2013
Too many HOGs with BLAH storyline.
Generally agree with the good and bad comments of other reviewers. Game has two levels of play - Normal/Hard Interactive map is pretty useless. Need to use Hint function too much but Hints show location of next task without link to location. Following storyline and sequence of task is difficult; didn't make much sense to me. There are spelling errors and bad grammar; doesn't really get in the way of finishing tasks. Game play is too short and ending is abrupt.
December 4, 2013
A time-passer
This is based on the demo, of which I played 1/2. Has two modes of play: normal and hard. Written dialog, no voiceovers. Has an interactive map. Quite a few HOS, some of which were very dark (no click penalty in normal, don't know about hard), HOS were not interactive. Mini games were very easy. In some instances you can go back in time, but didn't see much, if anything, more to do than present time.
December 3, 2013
A Very Average Game ...
Graphics OK, Sound & All Other Stuff A Little Average ... All The Potential For A Really Good Game, But Badly Finished And A Lot Of Back-Tracking Required ... It's Playable, And Worth A Special Deal Or Voucher ...
December 28, 2014
Too irritating!
I use a mac so the hints do not work. The interactive map does not show objectives or available tasks it just puts you within four clicks of a destination. All in all I found the game too small. Again, I think it is because I play on a mac. The drawings are very dark and at that small size with the occasional language problem the HO's were annoying rather than challenging. If the developer could rectify out some of the issues I would play another game they produce but I would pass on this if you use a mac.
December 7, 2013
Maybe... But Then Again, No
BASED ON DEMO FIRST IMPRESSIONS The most interesting thing about the intro is that there isn?t one. You go straight from the developer?s flash page to the main menu. So, low budget game. That?s okay. The main menu page is a bit more interesting. It has ghost-like images of the key players, with their bios, so faint and so quickly cycled that you only get an impression of what?s to come. That?s intriguing. SIGHTS & SOUNDS In the locations of the game, the graphics are very so-so, and ?dated? ? the pseudo-realistic style. I don?t like that style but I don?t think it should automatically rule out a game from further consideration. In this case, where the game shines is in the HOP scenes, where the graphics are so clear and clean you can almost feel the textures. Being low budget, there is no voiceover, but not much dialogue at all either. In fact, the game is light on interaction no matter its form. The music is upbeat modern electronic, some interesting voices in it, and there is one sound I loved, the sound made when you make a wrong selection. If there were ambient sounds, I missed them. WHAT?S HAPPENING You are a thief, like your father before you. But, you know, a good thief . Right. Okay, we?ll forget occupation for the moment, but I?m sure it brings with it many talents we can make good use of. Other than that, it is your standard ?find missing dad, search spooky mansion? story. Throw in a little time travel, and yep, you got a winner amongst typical HOPA fans. PROGRESSING This is primarily an adventure game, I think, it?s hard to tell because I did not get very far into it. There are some list (not interactive) HOPs, with limited animation and despite their clarity and light, are not very interesting. There are puzzles as well, not too difficult, but there are some good reasons for recommending waiting for a walkthrough. Because the adventure gameplay is not obvious and the help you can get is not necessarily helpful. The hint system is one I would normally applaud, shows you where you need to go. But it doesn?t transport you, and there?s a good chance it?s somewhere you haven?t been yet. The teleport map, on the other hand, is not interactive, but will take you to a teleport site within a group of locations. I think there are only half a dozen of these, and many more rooms than that. All of this would be by-the-by if not for the unusual placing of exits in the locations. I spent forever looking for a fuse box in a room I couldn?t find before I finally did. This is where I started losing interest in this game. It became too slow. And when I found myself again stuck because I didn?t have what I needed to open the door hint told me to, I just couldn?t go on. There were other annoyances too. There were a noticeable number of spelling mistakes. The cursor would not change to the exit one until it was over the inventory bar. It was almost impossible to leave some of the close up boxes because there was no x, and the cursor once again didn?t change. Speaking of cursors, the darn thing is so finicky you can?t tell whether one of your desperate choices for inventory item is rejected because it is wrong or because it isn?t properly placed. All these and no walkthrough? I think not. FINAL COMMENT It was suggested in the forums that this isn?t a game for those of us who have gone ?soft?, playing games that do too much hand holding. Probably an accurate assessment, at least in my case, so hard core players, don?t rule this one out! As for us softies, I don?t think it?s going to be high on anyone?s xmas list.
December 3, 2013
Translation, please?
Pet peeve in HOGs - bad English translation. Horrible grammar. Mislabeled objects in HOGs (eg "pipe" is actually a "flute" or "recorder" - close but not quite). Not sure I can burn a credit to "finnish" this one as the game controls are clunky, too. It took me forever to figure out how to navigate, some close up scenes give you text, some don't; after you retrieve an object from the pop up it doesn't automatically close, even in "hard" mode there are still sparkles on the HOG scenes. It's a shame because the artwork really is nice.
December 3, 2013
Its a Pass For Me
Yet another one out from the vault of long lost games at BFG. Cannot say much about Crystals of Time as I barely got through 20 minutes before I realised that the music in the background was making me feel really depressed and I just had to quit. What a downer! Our story has to do with an empty mansion, a missing father and his daughter ( A pair of 'Thieves' # and your role as Ashley who begins a quest to find him. There are crystals involved and I assume time travel but to tell you the truth, I just did not stick around to find out. A game with limited features; hand drawn art-work, dark graphics, no voice-overs #Just that sporific music in the background#, two play modes to choose from and yet still you will get sparkles, a journal and a map that does allow you to jump from one location to another. A classic HOPA, heavy emphasis on Hidden Objects whereby you have a standard list of objects to find. No interactions and some objects are rather difficult to spot due to poor graphics. Mostly a point and click game throughout each scene to find and pick up an object for your inventory and then there are the sporadic mini-games that are basic and nothing we havent seen. I suppose if you are an avid fan of HOGs and really enjoy the classics, you can either spare a credit on this or not. I will take a pass on this, as my own vault is already crowded with similar antique games that are alot better than this one.
December 3, 2013
The Apple logo is a trademark of Apple Computer, Inc.
The Windows logo is a trademark of Microsoft, Inc.