Crystals of Time
Ashley, a professional thief, has inherited this vocation from her father. When her father suddenly goes missing one night while trying to sneak into the Three Oak Mansion, Ashley finds herself standing before the vast deserted estate with only a mysterious crystal to aid her in the recovery of her father. Using her crystal, Ashley must navigate through time and space to find the clues that will lead her to her missing father and help her solve the mystery of Three Oak Mansion. Join Ashley on an epic adventure in Crystals of Time!
Over 80 beautiful hand drawn scenes
24 minigames and hidden object scenes
Atmospheric soundtrack
Game System Requirements:
OS:

Windows XP/Windows Vista/Windows 7/Windows 8

CPU:

1.6 GHz

RAM:

2048 MB

DirectX:

9.0

Hard Drive:

177 MB
Game Manager System Requirements:
Browser:

Internet Explorer 7 or later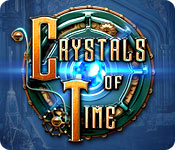 NEW299
The Big Fish Guarantee:
Quality tested and virus free.
No ads, no adware, no spyware.

Reviews at a Glance

Crystals of Time
0
out of
5 (
0
Reviews
Review
)
Customer Reviews
Not Bad If You Can Overlook The Flaws
You're going to have to overlook a weak storyline and just enjoy this game as a hidden object/puzzle game. If you can do that you're good to go.The mini games are easy but fun such as turning on 8 fuses in the correct order and I actually liked the HOS, they aren't interactive but there was a HO game in each scene. You can also travel back in time, an earlier time in the same room when your crystal says TIME in certain rooms. I also noticed several spelling and grammar mistakes, the word golf instead of gulf, openned instead of opened, creppy instead of creepy and even a door handler instead of handle, really? The budget must not have allowed for a spell check program! If you don't put too much thought into this game and just enjoy it for what it is, a no frills kind of game with lot's of HOS, then it's fun.
December 3, 2013
Hard and fun to play
I am new to this type of games, but I really like it. It was really hard to play and sometimes this is good. Visual: it looks nice, the graphics are ok. Sound: the music it's perfect for this game. Story: could be a little more polished. the end it's quite.. fast. It was fun to play, there are a lot of minigames and I think I spent like 5-6 hours to finish it. Love it.
December 8, 2013
Crystals of Time
I enjoyed playing this game but I haven't played one based on a burglary before. I sometimes like playing smaller games than bigger games because they work better for me
December 3, 2013
Excelent game
I am enjoying this game a lot . The graphics and sound effects are very nice. On the down side I had a hard time with some of the puzzles but using the journal feature I was able to solve them in the end.
December 5, 2013
Pure heaven!
It is a wonderful game! The graphics make me think of the games in 2011; nice cru! The music is really good. Plus, the game is small so my computer doesn't make bad noise while playing. Because of this game, I have reactivate my membership with Big Fish games. Hope all the games will be like this one!
December 3, 2013
Great game
Great graphics and sound! A little difficult, but beside that it's a great game!
December 4, 2013
A Very Good Game Patience Is Definitely Required - Review Of Completed Game
This is an adventure game with some HOS and puzzles thrown in. 2 play modes: I played the hardest mode. There are sparkles for the HOS and there are also some black bar tips and some things you need to figure out on your own. I read in one review there are some voices however my downloaded version of this game had no voices as my version of this game was text boxes to read and click through. JOURNAL: Keeps track of notes and story along with objectives. MAP: This is transporter but doesn't show if there is anything to do or not but I did get a message a couple of times "Can't go there yet." HINT: If you aren't in a scene where there is something to do it will bring up a circle and show you where you should be. It won't take you there so a good memory comes into play here as there is A LOT of back/forth and at times several scenes. In some scenes the hint will change to "time." When you click on that it will change the room. HOS: All found by word list and are revisited several times and sometimes even finding the same items but the game ends up being a lot of different places to go though. They're not interactive. PUZZLES: Some the usual run of the mill and a few I haven't seen before. Most I found pretty easy and some required a little thought. A couple made no sense to me so I skipped them. My Play Time: This was quite long for me as it took me about 8 hours. OVERALL IMPRESSION: A smile and wink here: Well I see the developer is here which is always nice and I also see they are a small company with 3 people and this is their 3rd game. It would of been nice if they started a thread here like the other developers do in the forum and introduced them self as not everyone is familiar with them. I'll start with the positive: The graphics are really good. I had no problem with them. I enjoyed the story and the characters. The music really good and fitting to the game. What really drew me into this game was the game play while there are HOS and puzzles this is more an adventure driven game. Having to figure out where to go/do next as it wasn't always obvious finding the hot spots to use inventory along with some inventory just laying in the scene and a good memory is also needed as at times I didn't find the hint too helpful. As I said A LOT of back/forth to this game. This game did require some patience which isn't usually mine but my patience meter was a bit higher today! Oh and I also liked the changing of the room. The couple of criticisms I have about this game: The misspelling of several words and when I completed reading something or using inventory the boxes didn't always auto close. I don't like going back over areas I've already been to and there is no longer anything to do there. Overall a very good SE version game and was definitely worth the use of my punch card coupon code and great game length. If I wouldn't of had a code I would of paid $6.99 for it the going price here at the Big Fish. Thanks Big Fish and developer As always, give it a whirl and decide for yourself.
December 3, 2013
'Four Stars' Worthy
This is a great little 'TGT' release. Played the demo and, although the story-line is nothing new, what I look at is how developers deliver the storyline - old or new - in their version of a game. 'Crystals of Time' is a soft-release presented to us by a relatively new developer with two other Hid'n-Obj games released in 2012 and 2010, and although I have yet to try those two games, I found 'Crystals' worthy of saying a few words. As is a norm for me, I won't rehash the game's plot, as it's been done both in the reviews before mine's and in the game page description; but instead, will simply give my four-cents worth of thought: If you're seeking something in the form of bells and whistles. . . .don't!!! Instead, what we have here is good 'old-fashion' simplicity, which - from time to time - can be a good thing. Yes, the game's mechanics could have used some polishing; such as the cursor's not always turning into the 'hand' when necessary, or the directional arrow has to be placed exactly on the 'hotspot' to display, or that a circle of sparkles show where an item needs to be picked up -- which is a 'no no'. However, as long-time hid'n-obj game players, these little nuances are easy enough to adjust to and overlook once you delve into the overall feel of the game play and its' element of "edge-of-seat" mystery. During the game's demo, I experienced no technical problems, my screen was filled, the scene locations were very clear with quite a few locations to explore, and the music the developers chose to use adds well to the mystery/atmosphere without being overwhelming. Also, as I'm not one that is in need of a map - only a few games I've ever needed one - both it and the journal are suitable enough for a basic game such as this. I also like the feature of going back and forth into a different time, which is similar in nature to two other games of this genre on BF. Truth be told, I actually look for games by new and/or small developers for release on BF, as they bring their own different/unique style of subtlety to hidden object games with their "no-two-games-alike", cookie cutter feel; and this little gem has enough challenge to make you think, but not too much where - for me, that is - a walk through is really necessary. This game, to me, is a definite buy. And, if you too are one that occasionally looks for a decent "back-to-basics" or "something a little different" in your games, then. . . .see below:
December 3, 2013
Great Hidden Object Game
This game kept my attention. The story line was fascinating and the character was intriguing. The scenes were wonderful to look at.
December 3, 2013
Not a bad game, but needed a tech editor
I was actually starting to almost enjoy this game when the hour demo stopped me. The game play is a little old, i.e., no interactive HOGs, and the story a bit disjointed, but neither of these were really an issue for me. However, there are several issues with this game that really bugged me: 1. Misspellings (glases, sac), bad grammar, incorrect names in HOGs (turnip instead of radish, pumpkin instead of squash, worm instead of caterpillar, wire instead of jumper cable, etc.). As I am a tech writer/editor, this is the major reason I won't buy a game (second is bad game mechanics). 2. Hint system shows you locations to go next with a popup of where you need to be, unfortunately, it often shows you places where you haven't been yet so you have no idea where it is or how to get there. Also, unlike most games, when it gives you guidance on where to go, it uses up a hint so you have to wait until it recharges. Most games I've played give you directional hints until you get where you need to go and don't use up a hint so it was a bit annoying. 3. No close button (X) in popups. You had to back out of the popup. 4. There were a few items in HOGs where you had to click on a specific spot on the item in order to select it. For example, there is a long chain (say, 3" long on screen) hanging in one scene but I had to click near the bottom 1/4" of the chain before it acknowledged that I'd found it. 5. Odd dialog, for example, mentioning that a door with wood planks nailed over it would never be opened. Uh, with an axe or nail puller, it could. There were others but this one stuck with me. It's not a bad game but be willing to look past the misspellings, bad grammar, and misnamed items. The rest is annoying but not something that would have put me off the game if it weren't for the need for a good tech editor.
December 3, 2013
The Apple logo is a trademark of Apple Computer, Inc.