Cursery: The Crooked Man and the Crooked Cat
Exclusive
From the creators of the Dark Parables series!
For more than a century, girls of a certain age have been mysteriously vanishing, never to be seen again. Some say they were taken by the Crooked Man, who always travels with a strange little black cat at his side. Now he's kidnapped your very own sister! You've got to unravel the riddles in the Cursery and find out who's the mastermind behind this whole evil plot.
Save your sister, as well as his other kidnap victims… Defeat the Crooked Man and his servant… Uncover the story behind the Crooked Man's actions… Reveal the mystery of the cursed nursery rhymes, the Cursery…
Game System Requirements:
OS:

Windows XP/Windows Vista/Windows 7/Windows 8

CPU:

1.0 GHz

RAM:

512 MB

DirectX:

9.0

Hard Drive:

683 MB
Game Manager System Requirements:
Browser:

Internet Explorer 7 or later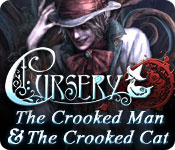 NEW299
The Big Fish Guarantee:
Quality tested and virus free.
No ads, no adware, no spyware.

Reviews at a Glance

Cursery: The Crooked Man and the Crooked Cat
0
out of
5 (
0
Reviews
Review
)
Customer Reviews
Cursery: The Crooked Man and the Crooked Cat
45
45
Cursery: A Big YES to the Game, but CE or SE? Which is right for you?
Game Review based on completing the game. First off, this is a dark game, not meant kids and not meant for you if you're searching for light-hearted fun. This is great game overall. At first I wasn't so sure. Initially, I thought it was challenging in a way that wasn't fun at all. Everything seemed very crowded and difficult to identify. The more I played the more I understood that the challenge is what makes this game great (duh). Playing this is very much like reading something really dense (think of William Faulkner's description of a forest). If you like the depth of hyper-descriptive storytelling you'll love this. If you don't, then you'll think it's overkill. I love Crooked. The visuals are incredibly detailed and full of color and depth, and once I played it for a bit, established a rhythm and got comfortable the game was a big treat. Along with the visuals, the sound quality is great as well. There seem to be fewer HOS than usual and, to me they are very difficult. There is lots of "stuff" but still it's not a mess, just really well-drawn objects that also disappeared into the background as happens in a good, challenging HOS. (I just went back and counted the HOS. Based on the the Strategy guide, there are 10 in the regular game and 5 in the bonus). If there are fewer than normal HOS, then there are lots of games to make up for it. The very first game made no sense to me. It was incomprehensible. I don't know what I was doing but I kept doing it and eventually succeeded in defeating the first mini-game and moved forward with the story. After this the games got easier to understand. The quality of the games, though, left a little to be desired. So: now I've told you that there aren't many HOS and that the puzzles/games aren't so great, but that the game is. My conclusion is this: I think this is a great story and if you enjoy a great story/storyline, with beautiful visuals, you will love this game. The lack of HOS and good puzzles will be a big negative for many gamers. But, again, and I can't emphasize this enough, the story line and story-telling are so great, I consider this game a must have. SE versus CE: The SE has a map and 3 difficulty modes. For a lot more money, the CE provides: a. Bonus chapter (not related to the game, IMO, not really strong). b. Strategy Guide. c. Additional Puzzles. d. Achievements. e. Morphing Objects. In this game there's value to finding the morphing objects because they speed up the hint re-charge (and at the beginning I needed the hints A LOT). f. Re-playable Cut scenes (a really great feature in this case). g. The "who cares assortment": Soundtrack, Wallpaper, Concept Art, Screen Saver. While I recommend this game I strongly urge you to take advantage of the free hour of play to see if you'll like it as well. If, after an hour, you like the game and don't mind spending the extra money, I think the the morphing objects and the strategy guide made this game a lot more fun for me and are worth the price of admission to CE. Also, even though the bonus chapter isn't related and wasn't the best, it was still fun (and maybe it's a preview of things to come). On the other hand, if you're playing with house money and have a coupon sitting around that's going to expire, don't hesitate to use it instead of buying a CE. I hope this review helps you. If you like the standard HOS and the idea of VERY FEW HOS concerns you, then I think you will NOT like this game. Bear that in mind when you make any decision to acquire the game.
December 9, 2013
FAIR MAIDENS BEWARE!
A long, long time ago a young Noble fell deeply in love with a beautiful and fair maiden. But fate can be cruel and the Nobel man's heart would forever be broken for you see, the beautiful maiden's life was far too short! The Noble became insane with grief and his beliefs that someday his fair maiden would be reincarnated. Now he relentlessly searches for his love, kidnapping innocent women of the same age, with hopes of finding the right one, but this time it's your sister who is the Crooked Man's victim! Similar to the Dark Parables style you will find stunningly crisp yet dark graphics charming fairy tale music and the famous fragmented hidden object scenes where you must find several fragmented pieces of a single object. There are lot's of mini games, more so than HOS and most are new and have a fairy tale twist. I enjoyed the three blind mice game where you had to interact with the scene to guide the mice through obstacles and into their home. I purchased the CE because of the extras and because I love this game and was too impatient to wait. I know you'll enjoy this game as well.
December 8, 2013
Beautiful game, gorgeous music!
I chose this game guided by its overall star rating, but didn't read the reviews until just now, having finished playing the SE. (I can't really afford the CEs, although I'm sure I would love the extra content.) I am surprised at the great difference in our perceptions/impressions! I didn't find the game repetitive during play, although I do agree there were lots of items to be opened with an appropriate "key" - it's a method of controlling the pace and direction of play. They were spaced out very appropriately, I felt, with the "keys" being found pretty much as they were needed, so I wasn't wandering around carrying loads of random objects I didn't know where or how to use (a situation I do find frustrating). My inventory rarely ran to a second page. I did find a couple of glitches - I clicked on a skeleton, and was surprised to get a remark saying, "Was that a ghost?" or something similar, because I hadn't seen any ghost. Shortly afterwards a ghost appeared ... Similarly, in another spot nearby, my character remarked: "That must be the woodcutter," but I hadn't seen any previous mention of a woodcutter. I was left wondering: am I supposed to be familiar with this woodcutter, then? However, those two glitches aside, I felt that the game was extremely polished, the pace was perfect, all the "key" objects were SOOO visually beautiful (I began to mentally compliment the artist on their glorious designs) plus each was carefully appropriate to the relevant container, thus minimising confusion as to what should go where. I really dislike games where I end up totally confused due to the large number of "can't do this yet" scenes, and "key" objects handed out too early, that when I finally find something I can actually use at that stage of the game, I can't remember where it's needed, so am stuck with checking every previous scene repeatedly, or relying on the Hint button - which I hate to do. After all, I'm not exactly playing the game myself if I am forced to keep asking what to do next, and then just following the instructions. Where's the fun in that? Not the case with this one, though. My one tiny whinge was with the Hidden Object scenes, but only because I prefer to search for whole objects, not fragments of things. But that's just me. At least there were no "interactive" bits in the HO scenes - I loathe those! I liked all the minigames, particularly those on the style of the "Guide the lambs home" which I felt were original, and great fun. I didn't think any of the games were especially difficult (I actually dislike too much difficulty), but generally they were great fun to play. I play for relaxation and entertainment, not frustration ... I absolutely LOVED the music - and a good musical soundtrack is something which I find massively increases my enjoyment of these games. The voice-overs weren't too bad - one or two a little shaky or squeaky - but bearable, so I wasn't moved to turn them off (a frequent occurrence for me with this type of game). Any lack there was totally forgiven for the beautiful music! I didn't find the storyline too dark, and it certainly wasn't gory. I would happily have let my daughter play a game like this aged 6 or 7 (and she was a sensitive child). I would have thought only the most thoroughly sheltered and unworldly of souls would have a problem with this one! However, I should imagine that this game is chiefly designed for adult players. Do many young children play these games? I'm granny to a one-year-old, and my own youngsters are long grown up, so I'm rather out of touch in that respect! The descriptions were quite "wordy", and perhaps just a little over the top, but I did appreciate being guided as to what kind of tool was intended to complete each task. When you play a lot of these games, you find that some expect you to "be creative" in guessing how objects are to be used, and others are much more restrictive; however the bottom line is that it's a game so only the "programmed" item is going to work in every case. I prefer to know what's envisioned rather than waste time looking for something appropriate, only to discover I was supposed to "make do" with something already in my inventory. If you're in that situation, you have to keep trying everything in your inventory in every interactive spot - which just becomes boring, and is the absolute opposite of creative thinking! I have also found in some games that I'm not even sure what is it I'm expected to be trying to do to accomplish a task. Am I building a ladder? Knocking down a wall? Looking for a hidden door? It's nice to understand what it is I'm trying to do, so that I can grasp how the game designer expected me to accomplish it. Top marks to this game for the brief and pertinent explanations! This game also happily avoided the ridiculous situation you sometimes find yourself in, when you are carrying an item which in reality could accomplish the task (a scalpel, say), but it doesn't work in the game because you are expected to find some other object specific to the purpose, such as a letter opener. That gets really irritating ... Still, there were no such scenarios here - all the tools were sensible and appropriate, and recognisable for their purpose when found due to the helpful comments. I would also like to say that, although I have acknowledged that the scene/descriptive comments were perhaps a little wordy in their flowery descriptions, they remained pertinent and appropriate throughout, added much to the atmosphere, and refrained from the kind of silly remarks other games sometimes indulge in. I thought they were nicely phrased and well thought out. I am a fast reader, which helps; but for any that aren't: you never know, the practice might actually be useful in the long run?
December 15, 2013
INCREDIBLY ADVENTUROUS AND CHALLENGING
Incredibly beautiful landscapes and creative, unique and very challenging puzzles and mini-games. Instructions are generally in the form of riddles and require thought on how to interpret the instructions. The many, many puzzles are a lot of fun even though, as a very experienced gamer, I had to play around with them quite a bit through trial and error. Not that easy to solve. Very light on the HOS, which are very detailed and lovely FRAGs. Music is lively and apropros to the scenes, but I think they could have played "The Crooked Little Man and his Crooked Little Cat" song somewhere. Voice overs are extremely pleasant to listen to. Scenes are very busy with a lot of activity to do. Map helps and the hint button works well, though I didn't use them much. Instead, I clicked on everything and read the descriptions and comments at the top of the screen because your clues will be from those descriptions (unless you want to use the SG). Game is very well-thought out and gameplay can become quite complicated. Should be several hours of play for most people. I can't even imagine the fast clickers playing it in a very short time. An enchanting game and a must-buy within 5 minutes.
December 8, 2013
Worth buying
The good: I loved the story line and it left me in tears (I'm too emotional! haha). The graphics were awesome and the puzzles were challenging. It took me only a day to complete, but it was worth it. I love the details and the visuals. Everything is so beautiful and dark at the same time. Not to mention it was interesting to find more and more about the story and get confused while finding out about what is going on. The bad: I wish it were longer and it didn't end so abruptly. The ending made me go, "What? How can it end like that!" There wasn't really anything besides your imagination to tell what really happened or how the story went all together. No flash backs. No telling what happened right after the ending. But I think this was more based on your imagination as well. Also, they didn't have as many hidden object scenes as I liked. It was more puzzle based and remembering to find an item and then go back to unlock/open things. That's just my opinion. Other than that, I did enjoy the game and I leave it with a high review, despite some of the things I didn't like.
December 30, 2013
Another Excellent FROG Adventure Game!
As the story begins you and your sister are traveling through the forest in a coach and she is telling you that several young women who are her age have been kidnapped while traveling on this very same road. Suddenly a wild cat attacks the carriage and your sister is kidnapped. As you seek to find your sister you come upon a lamb trapped in brambles and once you free the lamb Marianne appears to tell you the story of the crooked man. In order to save your sister, you must defeat the crooked man and this is where your exciting adventure begins. The graphics are exceptional as we would expect from Blue Tea Games. The artwork is stunning and gorgeous AND not as glaringly busy as they were in one previous game from this developer. The sound package is also another plus and I found it to be top-notch in every way. I was hooked on the Blue Tea's games years ago and have found that their games are consistently good. Shortly after beginning the game and as a reward for saving her little lamb, Marianne will appear and give you a magical, interactive map. Apparently, there are certain times that the map will not allow you to transport but that is intentional and the SG explains why this happens. One of the things I noticed early on in the game is that there seem to be fewer FROGs and far more puzzles which is something I love. The puzzles are great and seem a bit different than the standard fare we have come to expect. Some of the puzzles are more difficult than I expected and I found the first one to be a challenge. In my experience, games generally start out with the puzzles being simple and progress in difficulty as the game moves forward, but with Cursery we get a tricky puzzle minutes into the game which is something that I really liked. Cursery: The Crooked Man and The Crooked Cat is an outstanding game, and in the beginning the game reminded me of the Red Riding Hood Sisters ? one of my favorite games from Blue Tea. The CE version of this game was an instant purchase for me and I loved it and I am certain that the SE will be very good but without some of the bling factor of the CE. I thoroughly enjoyed this game but recommend that you try it to see if you agree. Congratulations to the team at Blue Tea Games for another exceptional game.
December 8, 2013
Fantastic!
Absolutely amazing game. I want there to be more like this!
December 23, 2013
BUT WAIT THERE'S MORE!
The graphics for this game BLEW ME AWAY. The play was challenging without too many needed objects hidden in strange places ("Why is the key I need hidden inside a pomegranate?") or puzzles that require a Ph.D in math. But the biggest surprise was the Bonus Chapter that was down right MAXIMUM CREEPY. The Crooked Man was strange and weird, but never chilling or scary. The Bonus Chapter caused me to have NIGHTMARES! Awesome on Awesome Toast!
December 12, 2013
Blue Tea Games rules
Another great Blue Tea game to play and I hope they are going to do another one to connect to this.
December 11, 2013
Great game!
A FROG game by Blue Tea Games. --------------------------------------------- A dark game with twists, similar to their Dark Parables series, the story tells about a crooked man with its crooked cat pet who likes to kidnap maidens. Your job is to find out what happens with them and your sister who was also kidnapped. If you are have ever played any of the games from BTG, you will surely know their graphic is very well done, but you will soon realize that their graphic style didn't change at all over the years. I hope that they are more innovative with the graphic design. There are lots of puzzles in this game. They are intricate and everywhere. I am not a fan of puzzles so I skipped every single one of them. As always, their HOG scenes are FROG, and it goes throughout the whole game. I think it will be better if they add some HOG scenes there, for a change. The music is very beautiful, sometimes creepy, really fits the game. The game flows nicely, chapters are marked with time, so it is as if we progress through the day. The ending is unexpected, maybe they continue the story in the bonus chapter, but I am satisfied with just the main story. Great game!
June 7, 2014
The Apple logo is a trademark of Apple Computer, Inc.