Cursery: The Crooked Man and the Crooked Cat
Exclusive
From the creators of the Dark Parables series!
For more than a century, girls of a certain age have been mysteriously vanishing, never to be seen again. Some say they were taken by the Crooked Man, who always travels with a strange little black cat at his side. Now he's kidnapped your very own sister! You've got to unravel the riddles in the Cursery and find out who's the mastermind behind this whole evil plot.
Save your sister, as well as his other kidnap victims… Defeat the Crooked Man and his servant… Uncover the story behind the Crooked Man's actions… Reveal the mystery of the cursed nursery rhymes, the Cursery…
Game System Requirements:
OS:

10.9/10.8/10.7/10.6

CPU:

1.0 GHz (INTEL ONLY)

RAM:

512 MB

Hard Drive:

665 MB
Game Manager System Requirements:
Browser:

Safari 4.0 or later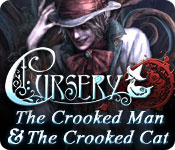 NEW299
The Big Fish Guarantee:
Quality tested and virus free.
No ads, no adware, no spyware.

Reviews at a Glance

Cursery: The Crooked Man and the Crooked Cat
0
out of
5 (
0
Reviews
Review
)
Customer Reviews
Cursery: The Crooked Man and the Crooked Cat
38
38
Loved Cursery!
I loved this game & all of the puzzles! Great story too!
January 4, 2014
Unusually challenging!
Most HOS games take you all the way through a scene or location then move to the next. This one will challenge your memory by not completing some of those earlier scenes until near the end of the game. Some of puzzles exceeded my patience a bit, the HO scenes were well done and the story was good. I really enjoyed this one.
January 2, 2014
Bravo! Brava!
What a great game! Loved the graphics, the story line, the puzzles...pretty much everything. More, please! Many more! Another one that will stay in the "play again" folder, to be enjoyed again.
December 9, 2013
TOO MUCH INFORMATION
This is a good game except for the fact that it gives too much information, which makes it not very challenging. I would rather not be told exactly what tool to use and how to use it in every situation. It made me feel like a third grader being taught how to play for the first time.
December 11, 2013
Overall, Great Game!
I really love how beautiful the graphics and back drops were. The storyline was very interesting and I couldn't guess what was going to happen next! The challenge was fair , no need for a walkthrough, because the map always lets you know what area has something to be discovered. The one little issue I had was with the puzzles. They were fun but highly repetitive! It felt like the same 3 types of games were used over and over with a different theme, color, symbol, etc..... It is a very good game however.
December 10, 2013
Good adventure game
I like my games to be slightly off their mind, dark or whimsical... and that was spot on! So full points for the art design and theme. The voices were okay and I really like the music (even if it seemed to be the same two or three tracks on loop). The story was straightforward, yet not too obvious and enjoyable. I didn't get to use the map or the hints, so I can't comment on those. There weren't too many HOGs on the game, which was good for me too as I get easily tired of them. I quite liked the mix of finding objects just lying around on the screen and getting them through puzzles. Unfortunately, the puzzles themselves were a bit of a disappointment. I played on the hardest level (as I usually do) and I wasn't stuck even once (it's probably good for beginners or intermediate players, though). It still took me around three hours to finish it, so the game is still long enough to be enjoyed.
June 29, 2014
Another win for Blue Tea Games
I adore the Dark Parables games and so I thought I would try this new series by Blue Tea Games. I was not disappointed. The beautiful images, atmospheric music and intricate story line I have come to expect from Blue Tea were all there. The puzzles were perhaps a little too easy but then I was never frustratingly stuck and I play these sort of things more for the story and gorgeous artwork than for the gameplay so I didn't mind. There seemed to be less HO puzzles than the Dark Parables games but I really enjoyed trying to find the pretty baubles used to make up a bigger object you need later on. The story was great. Interesting, creepy, with mystery and romance and a little bit sad. The atmosphere was perfect and I found it spooky with out being too scary.There were parts of the story that might have been explained a little better but on the whole I loved it. If you liked the Dark Parables series you will really enjoy this too. A really beautiful, absorbing FROG with a great story and wonderful characters. My only real complaint was that I wish it was longer. Well worth the money.
January 20, 2014
A BEAUTIFUL GAME !
A little too cute for my taste and I did become bored with this game before the end, but I stayed with it because the art work is so pretty. Just my jaded opinion.
December 30, 2013
I accepted the second invitation to tea ; ) (Second Edition)
Please note my review in the CE [Collector's Edition] section of this site... So, I did purchase the SE with a credit, yet can't help but feel a little disappointed when speculating how great this game COULD have been. The beginning cut scene was fantastic... gorgeous! I wish it had continued from there in it's coherency. As mentioned in the CE review, this game was just too much, too much... things misplaced and cluttered in areas not appropriate to the setting and this was a major qualm for me as I enjoy immersive gaming where I can sort of get lost in the game and feel a part of it. As an example, in the very beginning we are introduced to Mary and her lamb... this was so disjointed as an intro to the theme of a different fairy tale [crooked man] that it interrupted the flow of the storyline. If, perhaps, presented later, and obviously not as the presentation of the map, it would have been an interesting contrast to the story. Speaking of which, the storyline was quite weak in general. As another quick example of 'busy-ness", as we get past one of the first obstacles in the game, we come upon a house in the wood... WHY is there a WINE CELLAR practically ON the path!!?? A cabinet out on the walkway.. Whaa?? And now that I'm thinking of it, why are there cats interspersed throughout the game with, ie geese, bees, mice, dolls, boxes, skeletons, ghosts, who IS the wood cutter... we haven't been introduced, yet here are his child's toys; [and, errr! devs, enough of the puppets already].... agghh just too much too much too much jumbled mix of theme to be a coherent storyline here. What I DID enjoy was the overall premise of the game; at least what it COULD have been and ONE detail that wasn't too cluttered was the fantastic idea of the pop down print narration with original and creative description of various areas within the game... that was superb, it created atmosphere.... and I would LOVE to see that duplicated in future games. I also enjoyed much of the music and yet at the same time, there was, again, a bit too much 'clutter' in the sound department!! I stepped out of the room at one point and became ANNOYED because the background was RESOUNDING from my computer room in an undying roar from the game even while it was in a 'holding' pattern! :} Well, better luck next time Blue Tea... I will DEFINITELY look forward to upcoming games and hope a few straggled bits of tea are strained from the brew and perhaps a few new flavors added to the teapot. I recommend, with specified reservations mentioned. : )
December 10, 2013
Enjoyable but not great
Crooked man has the bling you expect from Blue Tea. The story starts with your sister being kidnapped by the Crooked Man and his cat. It is up to you to save her and all the other girls he's taken. Just like the Dark Parable series, this game is mostly mini-games scattered with fragmented HOGs. A fairly quick skip button on the mini-games...not too challenging, but not too easy either. I'm usually not into FROGs, but they were fairly easy so I found them to be enjoyable. What really makes Blue Tea games stand out from others, though, is the bling. (Even though this game seemed a little bit toned down on bling compared to some of the other Blue Tea games). Though not as good as some of the Dark Parables, this game still falls along the same lines. If you enjoyed the Dark Parable series, then you will enjoy this game. Red Riding Hood Sisters is one of my favorites.
December 8, 2013
The Apple logo is a trademark of Apple Computer, Inc.
The Windows logo is a trademark of Microsoft, Inc.