Island Tribe 5
New exciting adventures of islanders are waiting for you in your favorite game - Island Tribe 5! Do you want to rescue our old friend – scientist? Risking his life he decides to plunge into the deeps in search of Atlantis. He finds what he was looking for… But the price is too great for this discovery - he is being held hostage by the cunning Atlanteans who take him away to their mystic country. His fate is in your hands! You will have to cope with sly golems, dreadful beasts and hidden portals! More adventures are coming!
Long-awaited sequel of Island Tribe series
Familiar and absolutely new characters
Unexpected plot twists
Adventure-centric gameplay
Game System Requirements:
OS:

Windows XP/Windows Vista/Windows 7/Windows 8

CPU:

1.2 GHz

RAM:

512 MB

DirectX:

9.0

Hard Drive:

422 MB
Game Manager System Requirements:
Browser:

Internet Explorer 7 or later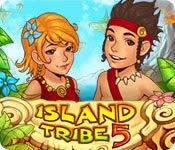 NEW299
The Big Fish Guarantee:
Quality tested and virus free.
No ads, no adware, no spyware.

Reviews at a Glance

Island Tribe 5
0
out of
5 (
0
Reviews
Review
)
Customer Reviews
Island Tribe 5
Pretty much the same as all the previous Island Tribes except that they are underwater. Only problem is that they have the replay and ok buttons in the wrong place. Most games have the ok button on the right and one kind of gets used to that, so it is easy to press the wrong button and have to play yhe same level again!
December 10, 2013
Too easy
I just finished Island Tribe 5 in Expert Mode and it was absolutely not challenging as it was in Island Tribe 3 or 4 (where I still didn't manage to finish all levels in time). I didn't had to repeat a single level. The levels itself had been nice with some good new ideas. But after all still disappointing and in my opinion a waste of money.
December 12, 2013
Decent game, but boring if you've played the others in the series.
I've played all of the Island Tribe games, and I really wanted to like this one, but it was too easy and too mundane. Beautiful graphics, cute characters, good gameplay... but not very original. And the levels didn't get any harder, so there wasn't any challenge as the game went on. Bummer.
February 4, 2014
Stuck on level 5
Can anyone help find the kelp on level 5? I own all the games and can't figure out what is different. Is there a kelp factory somewhere. There isn't enough kelp laying around to complete the level.
December 15, 2013
Misleading....
I wonder if those who gave this game 5 stars gave their rating only based on the demo. You are only under water during the first levels which takes the time the demo lasts..... After that you're on land and the game is pretty much the same as the earlier versions except that most of the time the workers have to run longer paths and you have less upgrades for your buildings and many more "monsters" so it takes much longer to get enough resources to progress in the level. Next to that the strategy value is reduced to zero since the game pretty much dictates what you have to do next. No options to try it a different way. That's why I call it misleading. The first levels are fastpaced and promising with 90% different buildings and "monsters",but as soon as you get on land(when the demo is over!) you have 90% the same buildings and "monsters"and the levels are downright boring and less entertaining than in earlier versions. Just mindless clicking and waiting for your resources. I didn't even finish the game. There are four "islands", each with 10 levels and I kept on playing hoping it would get better on the next "island" but it didn't. I quit at level 34. No replay value what so ever so I regret I bought it. I'm sorry about this! I really enjoyed the first 4.......
December 13, 2013
Too Much of the same
as other reviewers have pointed out, this is actually a disappointment once you get into it, in fact I have given up on it as it got very tedious and repetitive Think they should make this the last one.
January 5, 2014
Used to love Island Tribe
number 5 was less challenging and too easy, like a kindergarden version of Island Tribe games. Felt cheated.
December 21, 2013
Ugh - so disappointed
I have all the other Tribe games and thought this one would be challenging but it is SO easy...ugh. So bored.
December 21, 2013
Disappointing
Like several other reviewers I have all the other Island Tribe games but this one is just boring. There is no need to think about what to develop first in order to succeed in time and the hints at the load screen for each level have obviously just been transferred from earlier versions as some do not apply to this game. Too often you have done everything you can and are just waiting for enough resources to accumulate to proceed to the next stage. I shall probably finish it because I have spent the money but would not recommend this game to anyone
December 16, 2013
Disappointed
I have all the Island Tribe games. It's been way too long since Bigfish has offered any games like this. Nearly all they've had are the 'who done its'. So, boy was I happy to see a new one of my favorite series. Obviously I'm the odd man out in my opinion of Island Tribe 5, but here goes.... the graphics were cheesy looking compared to the other games. Levels were of no challenge, and were done within minutes. Right from the beginning, we are able to start increasing the power ups that make the game easier and faster but without any extra challenges that made the game fun. Not sure how many islands are left to play, but I'm at the end of the second island and all I see is one more. It's been too easy and I'm bored of breezing through levels.
December 12, 2013