Whispered Secrets: Into the Beyond
Exclusive
Journey to a strange new dimension in Whispered Secrets: Into the Unknown! You and your fiancé, Tim, have been happily preparing for your wedding day. But on the eve of your wedding, your future mother-in-law is poisoned. Tim has the scientific knowledge to cure her, but he's just been abducted by a mad inventor! As you set out to find Tim, you quickly realize he's been taken much farther away than you could have imagined – into another dimension! Explore a bizarre world and discover its secrets as you race against time to save your family in this beautiful Hidden Object adventure!
Game System Requirements:
OS:

10.9/10.8/10.7/10.6

CPU:

1.0 GHz (INTEL ONLY)

RAM:

1024 MB

Hard Drive:

813 MB
Game Manager System Requirements:
Browser:

Safari 4.0 or later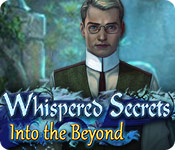 NEW299
The Big Fish Guarantee:
Quality tested and virus free.
No ads, no adware, no spyware.

Reviews at a Glance

Whispered Secrets: Into the Beyond
0
out of
5 (
0
Reviews
Review
)
Customer Reviews
Whispered Secrets: Into the Beyond
14
14
Why Are We Whispering?
Fantastic game,even without the one eyed creepy crawlers collectibles, Another mad scientist/inventor has wreaked havoc on what should have been a beautiful wedding day. The greedy scientist has poisoned your future mother-in law (this is actually a bad thing) and kidnapped your fiance through a dimensional portal! Now it's up to you to finish the poison antidote, and find a way through the portal to save your man. A mechanical dragonfly will allow you to convert the poison gas into a viable source of energy and there are lot's of mechanical gadgets to figure out. The HOS are very interactive, many things can be interacted with, pet the kitty's belly or pull the lever on the bed to expose a storage place under the bed! The mini games are fun, I liked the one where you had to align the planets in pairs, when you move one pair, others will move as well. This is an entertaining game that will keep your interest from start to finish, enjoy!
December 11, 2013
Review Of Completed CE Game
Story: This is the second game in this series. The first being Whispered Secrets: The Story of Tideville and while it's not absolutely necessary to play the first I recommend it. Tim was a young boy in the first game. In this game he is all grown up and a scientist/inventor.and is about to marry his fiance Erin but his mother has been poisoned and he has been kidnapped by the mad scientist who is back yet again. So you are taking on the role of Erin to try and save them both. 7 CHAPTERS 3 PLAY MODES: I played the hardest mode. No sparkles. Black bar tips. Hint is directional. Hint/Skip very slow on charge up. There is a journal that holds notes along with some to solve puzzles. Transporter map. You also get a "helper" dragonfly that removes toxins from the locations. HOS: Found by word list and are not interactive but you will have to "move" some things to get to some of them. The locations are also visited more than once. If you don't feel like finding objects you can play match 3. These were nicely done for me. Nice, crisp and clear. PUZZLES: Some the usual run and a few I haven't seen before. These varied in challenge for me. Most very easy, some required a little thought and some downright frustrating and annoying. The skip couldn't charge up fast enough. The main game also ended satisfactory for me. I didn't think the bonus chapter was needed. This was a new story for me and I enjoyed it. MY PLAY TIME: 7 hrs. main game. CE EXTRAS: Bonus Chapter, Strategy Guide, achievements, 164 eye ball observer collectibles, movies, wallpapers, screen savers, concept art. OVERALL IMPRESSION: I've played the CE version. I did check the walkthrough for the SE here and I didn't see the achievements or the 164 eye ball observers listed. Just like the first game in this series I thoroughly enjoyed this one. I loved the story. Nice to see Tim and his childhood friend Rudy all grown up. I thought this was very really well told. It held my interest from beginning to end. The graphics for me were excellent. I really liked them a lot. The voice overs also very well done. While I'm not into "helpers" in a game the dragonfly I didn't find intrusive at all cause I didn't have to feed it, buy clothes and dress it up or I would of stopped the madness and pulled the plug on this REAL QUICK!!! Outside of a few puzzles I didn't find this game to be very challenging as most things used either pretty much right away or not much traveling to use and that is fine. The only two criticisms I have about this game is the black bar tips on the hardest mode and the skip is way too slow. I do like to figure out on my own and when I want to skip something well that's what I want to do is skip it. Thank you for no sparkles though. Oh and definitely long enough as I take my time with games and not to see how fast I can click through it. Thanks Big Fish and Developer As always give it a whirl and decide for yourself.
December 11, 2013
PARALLEL WORLDS - HIGHLY RECOMMENDED
Story is of parallel worlds. There are 164 observers scattered around the environments to capture - once you see their roving eye and click on them, they look like spiders which you can then capture. Since they move around, it's quite a bit of extra fun. You can choose HOS or match 3. The HOS are moderately crowded and everything is richly detailed and easily recognizable. Loved how the bed opens up to a storage space under the mattress - way to create extra out-of-sight hiding places. Didn't try the match 3 because I like the HOS so much. They are hand-painted and there is some interaction. Puzzles vary in complexity, but are easily solvable. Graphics are hand-drawn and marvelously detailed. Music is unobtrusive. Voice overs are pleasant enough. Lips don't sync, but I don't really care as the games seem to be translated into several languages, so there will always be sync problems - if not in English, then in Spanish or whatever. Dialogue is also written. Good production values and fun to play. Hint is very helpful. Since I really enjoyed finding the observers, I'm opting for the CE. Can't wait to see where they come from and why they are observing the particular family starring in this game. Highly recommended.
December 11, 2013
a great fun challenging and interesting game
I tested the collectors edition and decided to wait for the regular. I really don't care about extras and I didn't need the walk through. the regular version is great. the hint button works great and often lets you jump to where you need to go. some of the games are hard but skip button works well and I did skip some. and of course you save the day so all is good. the story line is interesting. over all a great game. I don't use sound so cant rate that but I definitely recommend this game.
December 11, 2013
Fun Relaxing Enjoyable Hidden Object Game
I really enjoyed playing this one. It was a beautiful story line. The music was sweet and it wasn't full of unexpected treachery. There were HOS plenty and the puzzles weren't too hard to do. I'm not a rocket scientist and don't demand excruciating puzzles and evil demonic scenery. It was challenging enough, the artwork was beautifully done. I'd like to play more of these.
December 19, 2013
Unique and Different
Based on the demo. The story begins with the mother of the groom being poisoned and it gets creepier from there. The storyline is great with time portals, underground and secret labs, moving bookshelves and a host of scientific forumulas that the player has to figure out. It kept me really busy. There is a helper dragonfly that you can call up to get rid of noxious and poisonous gases. You know if it is a great game when there is a helper animal, or even and insect, in it to help you. Hidden object scenes and mini puzzles were challenging and lots of fun. There is an option to do a Match 3 instead of the hidden object scene, but the Match 3s looked boring and lackluster so I didn't even try them. This hidden object and adventure game has everything you want in a dark and creepy. It was an immediate buy for me.
December 27, 2013
THANK YOU GOD FOR SO MUCH COLOR!!!!
I LOVED THIS GAME!! IT FLOWED SO SO SMOOTHLY A JOY TO PLAY I NEVER GOT STUMPED FOR A LONG TIME SO I WOULD TRACK OF STORY THE LAST PORTAL CRYSTALS COLORS WERE MAGNIFICENT!!! I DID NOT WANT TO LEAVE AND GO BACK AND CURE MOM HA-HA GREAT JOB YOU GUYS MUST WORK FAster!!! you are all so brilliant you should be about done with the next game!!! lol ps I love elevators!!!
December 12, 2013
Really Liked This One!
This was a lot about the story and the characters were both interesting and likable. The story was interesting and worked its way to a good conclusion. Most of the puzzles were not as annoying as usual and the HO scenes were comfortably challenging. I really enjoyed this and was a little sorry to see it end. Whispered Secrets is going on my watch list for any future games.
December 31, 2013
LOVE IT!!!
What a fun HOPA! The storyline is good with time portals, secret labs, moving bookshelves and "scientific" formulas that the you have to mix up. It kept me busy but never frustrated. The HOS (so far) are well-lighted and clearly seen, but not too easy and do have some interactivity to keep things interesting. There is a mechanical helper dragonfly that you can call up to get rid of poisonous gases. Other than that, there are no gizmos or gadgets to clutter up the game's progress. This is a game that everyone can enjoy from junior high to adult. There is enough of a creep factor, but nothing here is going to give you nightmares. There are even a couple of very realistic cats that roll over and purr when you scroll over them.
April 10, 2014
Excellent Game
I have had this game for a while and just played it today. I was expecting very little since it was an older game. Surprisingly it was an excellent game. The story line, graphics and length of the game were great.
December 25, 2014
The Apple logo is a trademark of Apple Computer, Inc.
The Windows logo is a trademark of Microsoft, Inc.