Dangerous Games: Prisoners of Destiny Collector's Edition
Exclusive
Escape from a beautiful and deadly world in Dangerous Games: Prisoners of Destiny! You left the big city to start a new life in Brownville, Louisiana, where your friends Ben and Louise have lined up a job for you. Your new boss, Simon, seems like a friendly enough guy –he even suggests the four of you play a nice game of cards when you arrive. But it turns out that this is no ordinary game… The second you set a card down on the table, you find yourself in a strange world. As you explore your surroundings, it starts to sink in – you and your friends have become living pieces in someone's deadly game. Can you survive to the end? Find out in this gorgeous Hidden Object Adventure game!

This is a special Collector's Edition release full of exclusive extras you won't find in the standard version. As a bonus, Collector's Edition purchases count toward three stamps on your Monthly Game Club Punch Card!

The Collector's Edition includes:
A bonus adventure that reveals the true nature of the game!
Replayable mini-games and a bonus puzzle game
Gorgeous wallpapers and concept art
An available Strategy Guide
Game System Requirements:
OS:

10.9/10.8/10.7/10.6

CPU:

1.6 GHz (INTEL ONLY)

RAM:

512 MB

Hard Drive:

1370 MB
Game Manager System Requirements:
Browser:

Safari 4.0 or later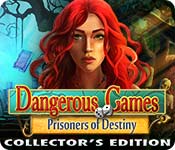 The Big Fish Guarantee:
Quality tested and virus free.
No ads, no adware, no spyware.

Reviews at a Glance

Dangerous Games: Prisoners of Destiny Collector's Edition
0
out of
5 (
0
Reviews
Review
)
Customer Reviews
Dangerous Games: Prisoners of Destiny Collector's Edition
49
49
Dangerously Fun
At first I thought it would be a so so game but it fallowed nicely. The talking did not match lip movement but the game was so delightful that it was quickly forgotten during rest of play. Nice HO's, Lots to do. Plenty of mini awards and a rabbit that almost reminds me of a cross between a dragon tail and a Gremlin So I named him Fiz Gig. He was a bit comical. Like the clouds moving across my map. The map is a jump map so save time on the back and forth. I was in the middle of trying to help a frog across a lily pond when time ran out. So the game had me fairly busy. Goes on my to buy list.
January 10, 2014
Dangerous Games: Prisoners of Destiny
it's a good guessing game with a HOG in almost every scene and a villein who introduced you to te game, wants to kill you as well
January 2, 2014
Game of Cards, Anyone?
Another game about collecting human souls--for whatever reason-- theme appears popular, however, developers have a fresh approach involving a dangerous game of cards. Looking for work, you arrive at a town where your friend lives; that looks promising, however, looks are deceiving. Maybe for newer BFG players and gamers who prefer the eye candy, this will not disappoint as artwork is superb with creative, fantasy characters. Game deserved a noteworthy review as I enjoyed the demo. Enjoy! -Mama Mia-
January 2, 2014
Enjoyable!!
I liked this game it was very interesting and kept my attention all the way though. I was surprise that this game worked on my computer because lately I have been having trouble with BF games loading and running on my system. All in all I give this game 4 stars!
January 3, 2014
Good but Not Great
It?s the era of the Depression and jobs are rare. After having received a letter from your old friend Ben, you leave the big city to start a new life in Brownville, Louisiana, where both Ben and Louise have lined up a job for you. Upon arrival, your new boss, Simon, invites the four of you play a nice game of cards and naturally you accept, after all, he is the Boss. And so your adventure begins as it soon turns out that this simple card game teleports you into a strange world and you are stuck. Not only do you have to find a way back but you have to make sure your friends make it alive as well and all of you become pawns in someone?s deadly game. Dangerous Games: Prisoners of Destiny Collector's Edition is another standard HOPA that does look a bit dated with the graphics and artwork. Nevertheless, I did enjoy the vibrant colors, settings and voice-overs. Not very sophisticated, the look and feel of the game dates back to earlier HOPA Games if you take into account the games we have had earlier this year. Game menu offers three levels of difficulty which you can also customize. Tools of the trade include a diary and a map that will allow for travel and also indicates areas of interest. You also have a deck of cards that will help you with certain tasks like freezing, opening up portals and the rest which I have yet to decipher. Although I wasn?t overly impressed with the look of the game, I did enjoy the game play during the demo which went by very quickly. I just managed to complete it with one minute to the clock. Unfortunately I cannot tell you how many chapters there are as the SG does not provide this information until purchase. I really would prefer to know before I decide to purchase. Game play is your standard adventure with Hidden object scenes that are basic list of items with some interactions. There is a lot of backtracking to do, picking up clues and items along the way. The map is of great help here which makes it easier. If you do play without black bar tips, the game does become somewhat challenging as you travel from one scene to another but the HO scenes are very easy to do as are the mini-games. There are collectables, a set of hidden puzzle pieces as well as very basic achievements. In my opinion, Prisoners of Destiny is much more suited for beginners. I personally did find the story line interesting but the game play was just too easy for me, rather uncomplicated. It is a good game but not exciting enough for me to immediately push the buy button. There lacks that particular WOW factor most of us look for as well as a level of challenge which I prefer with HOPA games. The developers have always put out good games but I just wished they would be a little more creative with their graphics, puzzles and mini-games. At best this game would be suited as a Standard edition rather than spending double for it. Sorry but I will pass for now.
January 2, 2014
Prisoner of a Card Game
You are invited by your friend Ben to come to the town of Brownville where there are lots of jobs in an otherwise poor economy. You arrive there and your new boss, Simon, invites you to play cards. Bad choice. This card game takes you into other worlds, where you must survive all different things to win. The graphics and colors are bright, vivid and good. The music is fine. However, if I don't care for music in a game, I shut it off. The HOS are interactive, however, there IS a penalty for over/rapid clicking. That's a point off for me. The mini games are cute and easy. You run into a little rabbit./toad/something kind of helper who will assist you. Game play is pretty linear. A lot of hand holding going on. Story is very different but could have been so much more. I went into this with very high expectations and hopes. It was just OK for me. You get your usual stuff you never need in the CE edition, plus a small bonus chapter. There are achievements... all game related. There is one collectible, cards. Perhaps it was the fact that this game steered off into a type of fairy tale with the cutesy helper (even though the guy wasn't too cute), or the story just dragged, but I lost interest after 20 minutes. I did play until the end of the demo, but the game did nothing for me. Also, had a hard time with hitting the exact spots in the HOS and mini games. The over click penalty and poor cursor set up gives this a do not recommend.
January 2, 2014
Recommended for beginners...
A new story for a change! Graphics are very cartoony, but have very bright, nice colors and are well done. Game play was good, although moved a bit slowly. Nice voice overs, but very few and far between. Music wasn't too bad, but got annoying after a while. Inventory bar did lock, so you don't constantly have it jumping up and down. There is a helpful jump map, which you will use a lot. There is a lot of returning to the same location for one thing or another, so put on your tennis shoes and get ready to exercise. Didn't use the hint, so can't comment on how fast or slow it recharges. We have another magic animal in this game, but he is quite funny and fun to watch. HOGs are very simple and again, you need to find a part of something before you can pick it up and remove it from the list. Items are not hard to spot, but I found a few movements that didn't make much sense to me. Puzzles are very simple so far..hopefully they pick up as the game goes on. SG is helpful and locations are well identified. The only collectibles I have seen are the cards that you need to collect and charge up before you can move to the next level, and the jigsaw puzzle pieces you collect in each scene. Not sure what you do with those, but I would guess it has something to do with the bonus level. I really found this new story line to be interesting, but it was lacking something that would draw me into the game...not sure what. I do recommend this game for beginners, but not for the expert who wants more realistic graphics and a little more challenge. A game does not have to be extremely challenging for me to like it enough to buy it, but this one did not make me want to buy it as a CE. I have frequently changed my mind once I replay when the SE comes out, so never say never. For now, this game goes in my puddle for "maybe" later. As always, try it for yourself and see what you think. We all have different tastes in games and you may find this to be exactly what you are looking for today. Thanks for the reviews.
January 2, 2014
Slow Moving Hidden Object Adventure Game
Based on the demo The graphics started out lackluster in the beginning then became more brilliant as the game progressed. The sound track was boring and two low key. The voice overs were very good. The storyline was interesting. The player takes a bus to get a job from an old friend during the depression, meets his friend's strange boss, and is hoodwinked into playing a card game, where he becomes trapped in the ultimate game of survival. The hidden object scenes are not bad, junkpiles with some interactivity. The mini games were pretty interesting. Throughout the game there are objects to collect to win an achievement. There are also achievements for finishing the hidden object games and mini puzzles without using hints. There is a cute fuzzy purple little helper animal to retrieve things for you. There are a lot of bells and whistles that could make a good game but this game was just too slow moving with too much handholding. It might be a good game for beginners or players who want something light and easy. There was nothing in it to warrant a CE.
January 2, 2014
HOPA in the flavour of Jumanji - worth playing
HOPA with a concept similar to Jumanji, but instead of board game, think card game. I quite enjoyed this game, even with a not overly original story line. Definitely worth the purchase, I don't feel cheated. There are are about 5 or 6 themed "levels" which need a specific power to complete, which you get by finding a playing card and getting it powered up. The CE and bonus chapter, advanced level, took 3 evenings to complete, playing for a few hours each time. Pros: - A companion creature which can get to hard to reach places, that is not too "saccharine" and overly cute. It made me smile. - Clear graphics and good music - You can find puzzle pieces in the game, which impact the bonus extra puzzle game you get to through the menu. Nice touch. - I found it interesting how my opinion of certain characters changed over the course of the game. - HO were nice and clear, and some objects you have to build up or click certain areas to make actions happen. - Good mix of HO and Puzzles - Really good bonus chapter, and bonus extras section - I normally don't bother looking at these on games, but I did on this one. Cons: - Some parts of the game require specific areas to be clicked. Annoying when I clicked hint and it was telling me to do what I had just tried to do. - A bit repetitive in terms of theme: get a card, do some puzzles, power up card, move on to next level - I lost a bit of power towards the end of the game, possibly because of repetition - I wasn't keen on some of the levels, they felt a bit short in scope later on in the game. - Some of the puzzles I wasn't keen on and found them 'click' heavy. Not great if there is a lag between click and action, and you have several actions that need to take place. Slows things down. In the bonus chapter there was an annoying puzzle I couldn't skip. The annoyingly slow to play puzzles which felt unresponsive would be only reason why I give a 3 and not a 4. I definitely found this game worthwhile playing compared to some other HOPAs I've experienced. I mark this 3.5 ! :) If you play the demo you will get a good idea of expectation for the rest of the game.
October 8, 2014
Good game with great classic gameplay. It is a HOS / Adventure / Puzzle hybrid.
Time Played ~ 8hr (Collector's Edition) Difficulty: Just right This game has a good balance of hidden object scenes (HOS's) and puzzling/adventuring. It has great voice acting and terrific graphics. The music could have been made a bit less repetitive though and a little more uplifting :) The mechanics of using a card and pet were pretty well done and did add to the gameplay enjoyment of the game. I like how the pet was not part of the HUD, as often times they are (in which case they would flash and immediately give away the fact that you need to use them in the scene). I like the variance in the different settings that the game takes you through. I would have preferred a little less HOS's though, and a bit more of cheering atmosphere. The game is suitable as a family game I believe, since there is no actual lethal violence in this game.
March 18, 2014
The Apple logo is a trademark of Apple Computer, Inc.
The Windows logo is a trademark of Microsoft, Inc.