The Promised Land
Take charge of a small group of settlers and build a thriving colony in The Promised Land, a casual strategy game for the adventurous at heart. Gather resources, erect buildings and establish trade as you explore a vast wilderness teeming with surprises! Can you tame the New World before it tames you?
Huge world to explore
Complete freedom of play
Build a thriving colony!
Game System Requirements:
OS:

10.9/10.8/10.7/10.6

CPU:

2.0 GHz (INTEL ONLY)

RAM:

2048 MB

Hard Drive:

212 MB
Game Manager System Requirements:
Browser:

Safari 4.0 or later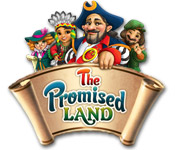 NEW299
The Big Fish Guarantee:
Quality tested and virus free.
No ads, no adware, no spyware.

Reviews at a Glance

The Promised Land
0
out of
5 (
0
Reviews
Review
)
Customer Reviews
The Promised Land
185
185
Fun "New Colony" Simulation Game
Fun to play. Can send trade ship to "Old World" for goods. Similar to Artist Colony, Virtual Villagers & a tribe colonizing game (the name currently escapes me). Only thing I don't like (some people may like this): there is no aging or families.
October 2, 2013
Fun to pass the time and very cute to watch.
The Promised Land is a fun game and I thoroughly enjoy playing it. It looks very cute and is set out in an easy to use fashion. You can check what each menu shows by clicking on the ? symbol in the corner if you forget. The game is best played in the order of the tasks/objectives that you are given, but easier to play when you do not rush through them (with the exception of the timed tasks, which then of course, rush through them!). In the beginning, the game will want you to gather 5 units of food, and then 5 units of wood. I have found it better to play slower and gather 50 units of food, before moving on to gather 50 units of wood. Likewise, later, before you repair the ship, it is better to gather a few hundred (I would advise at least 200, preferably 300) units of all available resources at that time. This will make sense once you've repaired the ship and start selling goods (I prefer to only sell the goods that are in high demand). You will find this easier accomplished if you match up each characters likes with their job, whilst keeping an eye on their dislikes. The game does not explain the different 'careers' and the jobs they reflect. The 'careers' you will have are: Worker, Artisan, Farmer, Builder, or Scientist. There is no real point in creating a builder, so if you have a character who likes building or repairing (these are effectively the same thing), it is better to have them fall under a different career but have them carry out the building/repairing. Always have a character who enjoys gathering food as a farmer, and those that like to mine or chop wood as a worker. There will no doubt be characters whose likes are 'shearing fluffers' or 'working at...'. It is best to have them do various jobs (making sure to swap them around so that they do not become 'experienced' in any one job yet) until you have built a forge, which is for an artesian. There will be 'dangerous' jobs later on, which will require a lot of healing herbs to be kept in storage. The best way to deal with this is to have someone who enjoys said dangerous job, as they will require little to no healing herbs to carry out the role. Whilst you have a population of under 10, always have at least two people (preferably three; with at least one on the field at all times) gathering food. Keep one chopping wood, another mining stone. Have your chosen artesian making nails. Always have twice as many people mining iron as there are making nails. Likewise, always have twice as many people working on gathering a product as there are making it into something else. Try to keep at least 20% of your colonists gathering or making food. The game can take a while to gather resources, so it is best that you set your people gathering their resources, and leave your computer to one side whilst they do so, especially in the beginning. The game does not run in the background, and if in window mode, it will pause once you leave the window, so it is best to have another device (or book or task) ready to keep you occupied whilst they are busy gathering resources. A character will only carry one unit of a product at time, and whilst this can be made quicker by you manually picking them up and dropping them at the store and then back to their post, this is not effective for a larger group of colonists, and will tire you out very quickly. Overall a good game, if somewhat slow in resource gathering. It can be a bit confusing when it comes to the houses, as you cannot start building extra rooms until after you have repaired the ship and bought another colonist who needs a room. This is not made clear until after you have experienced it. Final note, try to make sure that you have 10 times as much food as you have colonists. You have ten colonists? You need at least 100 food.
August 30, 2013
Liked it but needed more challenge
I guess I am spoiled by Hero of the Kingdom. This was really good, just not that difficult. Would have given it 4 and 1/2 stars if that was possible.
March 6, 2013
Very Addictive!
I'm not much of an expert on these kind of games, but this one really got me stuck for hours, truthfully. It's really addictive! Whetever you prefer family genre's to action to already fantasy, you'll love this one. Build up a mini village on your own landscape. It reminded me a little about slaves due to how exhausting the character in the game seems to have it & how hard they work for their own wealth, but it's really just a design on the game that symbolizes hundreds of years, way back in time which is easy to forget these days because year 2000 we're not even near that. LOL, at least I had this reaction to it in its very beginning.. It's very similar to a strategy game, I think. If you do not like fe-filling re-quests you'll not like this game at all.
March 3, 2013
Worth buying
This was much more fun than the usual tm games
December 27, 2012
Fun game
A really good game. The graphics is good. The tasks are good. And I liked the challenge of the houses, to get more inhabitants you had to "puzzle" more rooms. All over a good game. But I would have liked it even more, if there had been more difficult tasks or levels. Still: I LOVED IT!!! :)
December 16, 2012
The Promised Land A Good Little Game
Sometimes, I like to take a break from large file Adventure games and just play a TM game. I found this game to be fun, not too difficult but sometimes very challenging and played it several different ways several different times. After playing several different ways, I found if you click on the map area while your little sim is selected you can pick him up and just put him back at the starting point back and forth etc. By doing this you can speed up his long walk back to Town Hall and beat the clock in the TM quests that appear often in the game. It sure shortens the time needed to carry the goods back to Town Hall. I really enjoyed having to blast the pirates, and was a little disappointed that there wasn't more of those senarios to do. Made for a great break in just grinding to gain research or resources. Replayed those several times, too. Loads of laughs! I would like to see a sequel expansion to this game, maybe they could have actual kids in the game in a later version, and have to build more rooms and more resources to keep up with the population. One thing I found disappointing was 8 people could live in a 3 room house. I was hoping it would be a requirement that each must have a room making it more challenging to add them a room, too. I think that would add to the challenge level and that not all would work until they acutally got a room, too. You start with 5 that stay in a 3 room house..I think they should have made that a little harder. Each time I finished the game, I kept wishing the world was expanded and they have children and keep growing so if a game leaves you wanting more in the end then it is a very good game! As they say in showbiz, 'always leave them wanting more!" I certaintly recommend this game for those that like TM games, and the Casual game genre.
October 10, 2012
Great real time strategy
This is much more goal oriented than a lot of similar strategy games, and micromanagement actually makes a noticeable difference. Not gonna lie, though, I was able to successfully nap and play this game at the same time.
September 16, 2012
A really enjoyable twist on Sim and Time Management
I really enjoyed this game, which had a lot of the elements of Virtual Villagers, but without the persistent world and very slow progress that always annoyed me about that game. You are setting up a colony on a distant island, and you must manage your slowly growing number of colonists is harvesting resources, exploring the island, and uncovering treasures. Part of the game involves trade with the homeland, where you can acquire additional colonists, trade resources for money, and acquire bits of technology to advance your progress on the island. The pace of the game is very good, and I never felt like I was just sitting around waiting for things to happen. Every time I accomplished a goal it seemed like two more would pop up fairly quickly. The art style is decent, if a bit cartoonish. It was nice to have characters distinct enough that I could recognize who was who right away. All in all, this is a great game, and well worth a buy for anyone with even a slight enjoyment of this style of play.
July 30, 2012
Priate Shooting
This game is a lot of fun except when trying to destroy the pirates. Controlling the ball and the level of strength is unpredictable
July 29, 2012
The Apple logo is a trademark of Apple Computer, Inc.
The Windows logo is a trademark of Microsoft, Inc.