Punished Talents: Seven Muses
Exclusive
Life imitates art with deadly results in Punished Talents: Seven Muses! Several of your close friends have been murdered in Boston recently, and the crimes are identical to ones described in books written by author Russell Pollack, your husband. Evidence found at the crime scenes only condemns Russell further, and soon he goes on the lam. It's up to you to figure out who the real killer is before even more people – including you – end up dead. Find clues and explore the gorgeous world of 1930s Boston as you set out to save your friends and prove Russell's innocence in this thrilling whodunit!
Game System Requirements:
OS:

Windows XP/Windows Vista/Windows 7/Windows 8

CPU:

1.6 GHz

RAM:

512 MB

DirectX:

8.0

Hard Drive:

861 MB
Game Manager System Requirements:
Browser:

Internet Explorer 7 or later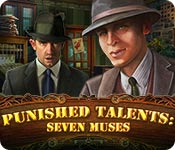 NEW299
The Big Fish Guarantee:
Quality tested and virus free.
No ads, no adware, no spyware.

Reviews at a Glance

Punished Talents: Seven Muses
0
out of
5 (
0
Reviews
Review
)
Customer Reviews
Punished Talents: Seven Muses
17
17
A Murder Novel Is Becoming A Murder Reality!
Somebody is using Russell's murder novels as a real life manuscript! It's a good thing that Russell's best friend is a detective, together the two of you will have to prove his innocence and find the real murderer. This game is centered around the fine arts, theater, music and art, with plenty of musical and theatrical gadgets to figure out. The HOS are interactive list finds but the mini games are what keeps this game interesting. A puppet show that requires you to act out each scene, placing statues from largest to smallest, and four circles with 4 tiles each that need to be rotated to correctly place the 4 tiles are just a few of the puzzles you will encounter. Graphics are detailed and crystal clear, characters are lifelike, and although I wasn't completely sold on the CE, I really think this standard edition is the better choice, enjoy!
December 15, 2013
One of the best games I've played..
I played the CE version and frankly, this is one of the best games on here that I've played. It's like an old Sherlock Holmes mystery novel brought to life! Terrific games and graphics and it wasn't too short but kept going and kept you on the edge of your seat. I loved it! I highly recommend!
December 15, 2013
Excellent game but....
My first review, the game kept you going, only one problem, which I'm seeing a trend for, is the puzzles that make you rearrange objects, to their right positions, which I skipped over many. Not my cup of tea. Regardless that I used my skip button over most of them, the overall game was well crafted, and never gvee you a chance to forget where objects were, a definite treat, plus an interactive map helps.. Hopefully games will come up with better mini games, but I am still gving this a five star, which I haven't been intrigued enough to want to even give a review. A must have.
December 16, 2013
Great Hidden Object Adventure
Based on the demo. This is a great hidden object adventure game. An author is accused of murders because all the murders he has written about are now taking place. The hidden object scenes are moderately hard, with some interactive objects, and some objects needed to complete the adventure. The mini games are superb, pretty unique, and thought provoking. The graphics are beautifully done, as is the soundtrack. The storyline is interesting as it is very unique and very different. If you like hidden object adventures you will love this game. An immediate buy for me.
December 26, 2013
Good story!
The story grabbed my attention immediately and stayed on track throughout. There was a decent mix of HOS and puzzles, none overly challenging, but largely pleasant diversions. I got through this one on the fast side, but mainly because I was enjoying the story and hard trouble putting it aside until I found out what was next. Graphics and music were good, not outstanding, but adequate for the story, which really was the focus.
January 28, 2014
Slow
Am I the only person who is experiencing long pauses between screens?
December 20, 2013
The game is NOT punishment. But, do you want it in CE or SE format?
This review is based on playing the complete game (both standard and with bonus material). Some games are driven by the story, others by HOGs and Puzzles and the storyline only provides a structure for the HOGs and Puzzles. This game is storyline driven. Fun Factor: I liked the story quite a bit and this game was a lot of fun for me. I think you'll enjoy it also. Read on...you'll see why I liked it... Visual/Sound Quality Visuals: The characters are comic strip characters come to life. I mean this as a big compliment. Visually the game is stunning, I think. It's set in Chicago in the 30s and I swear you'll feel like that's exactly where you are. Sound Quality: The game is story driven and music is a huge part of that: it helps set the mood, let's you know when something urgent is happening, can raise your heartbeat a bit, or can slow you down. Basically, the music, if well done, tells you how to feel about what's happening.. The music in Punished Talents is superb. Visuals and sound come together in lip synching and script. From the very beginning the voice overs are exceptional. The cops you meet in the first scene seem straight from the Chicago PD. They're Irish with brogues and the lip synching is dead on. Later on you meet other characters and when there is lip synching it's very good. Note that not every character scene is lip synched. Level of Challenge: HOGs: The HOGs are pretty standard. They are well-drawn and items are well-hidden but present no extraordinary challenge. There are around 20-25 HOGs. Mini-Games: First off, there are not enough puzzles (I like puzzles and I think there are only around 10-12. Second, while a few of them present a new take on old games, there isn't one puzzle that I remember being completely new. The puzzles also present no great challenge. Storyline: This is where the game really thrives. In the first person you are the wife of an author who's being sought by police. Several murders or near murders are taking place in Chicago and the victims and the ways they are victimized are detailed in the books your husband has written. You also are privy to a book about to come out so you are onto some other would-be crimes before the police. By the end of the game you've solved the mystery. The games title is a reference to the talents of the victims...a concert pianist, a sculptor, an actress, etc. So the question you have to answer is, do you spend extra money and buy the CE or do go with the much less expensive SE? With the SE you get the basic game, 4 modes of play (the 4th mode is a custom mode) and a map. For the extra money of a CE you get: a. A bonus game (a nice long bonus chapter) b. The standard "who cares" assortment of Wallpaper, music, re-playable games, videos, concept art. c. Achievements d. An integrated strategy guide. e. Two collectibles: one is intrinsic to the game (finding fingerprints: 40) the other is not (find teapots...I dunno may be they drank a lot of tea in Chicago in the 30s..but, yes, finding teapots: 25). As I said, I think this game is story driven, so the value in the Collector's Edition is the bonus gameplay. The additional puzzles and HOGs are not important. Even though the Bonus gameplay is lengthy and fun, I don't think it's a value. I recommend taking advantage of the Special Edition, especially if you have a coupon or if it's on sale. I don't think the CE is really worth it. Having said all this, I do recommend the game. I absolutely think it's a lot of fun based on the story line alone.
December 15, 2013
An Enjoyable Whodunit Mystery
The game starts off with a bang as we witness the murder of a concert pianist. As we get into the story the police arrive at your new home to speak with your husband Russell, a renowned novelist, who was a friend to the pianist and two other recent murder victims. Is this just a coincidence, or is Russell being set up? As the body count rises, can you figure out if Russell is innocent or is there something deeper to the mystery? The graphics are very nice hand-drawn art and have a bit of the old-world appearance. The game has very good lip-synced voiceovers, and the music along with the environmental sounds set the mood for a good old-fashioned mystery game. You have a journal that contains all the information you gather on your adventure and you also have a transporter type map. The HOPs are for the most part the interactive list type and most of them were junkpiles so I did find it difficult to locate some items. There are some great puzzles in the game and although some of them seem to be familiar many of them are a bit different and challenging. I purchased the CE version of Punished Talents and really liked the game a lot. It was a good mystery adventure and next moves were not always apparent. Because this is a game where you will need to think about what to do next, it makes the game a bit more challenging and entertaining. Throw in the puzzles and you have a really good game. Of course many of you may think it is the same old theme but I found it different enough that it wasn?t stale or boring. Who can help enjoying a good whodunit mystery? As always, I recommend that you try the demo to see if Punished Talents is a game that you will enjoy.
December 15, 2013
The Seven Muses Move Me
Played the demo for the CE and the SE. Found that I didn't really miss the hidden symbols or the achievements. The game was crystal clear, the voice overs were very well done, the hos were a little junky, and the mini games were not overly difficult. The music was not annoying and left it on the whole demo. The map was helpful at where there were things to be done, but forgot to check if it was interactive. The cutscene at the beginning of the game begins with a concert pianist being shot while he is onstage performing. As the game begins, the police come to the door of your new home and want to talk to your husband, as he is the main suspect. As he takes off, you learn it is up to you to find the true killer. Is it the journalist or the theatre hand, or is it some else. You help save the life of your friend, Robert who is a private detective and you arrive just in time to save the life of the sculptor. Can you find the killer in time? The game was well done and I thoroughly enjoyed it. Try it out for yourself to find if you like it though, as some people prefer CEs (myself included) but this is a really nice little SE.
December 15, 2013
Solid storyline, good gameplay
Punished Talents: Seven Muses Developed by Blam! Games Standard Edition Review based on full game IN THE BEGINNING... Your talented friends are being murdered one by one, and the murder scenes come straight from the pages of your husband's novels! Even worse, evidence from the crime scenes points to him as the leading suspect. Now you must clear your husband's name, save your remaining friends, and identify the real murderer. Explore Boston in the 1930s to solve this murder mystery. PLAY THE GAME... There's a lot to accomplish and many areas to explore, but the navigation is so well done that you almost don't need the map. This is a rather HO-heavy game, especially in the latter half, but they're all interactive. Puzzles are about half and half familiar and unique. None are overly difficult, but several were lacking in the instruction department. SIGHTSEEING? Scene graphics beautifully depict the era, while the HO scenes are well-rendered, objects clearly recognizable. In-game animation is smooth and realistic. Character animation is quite well done, with the exception of close-up hand movements (such as piano-playing and typing). SOUND WAVES? The music was nicely unobtrusive, although a touch repetitive. It did help with immersion. Voiceovers were professional and reflected the time period well. TOOLBOX? The map indicates where actions are available (not just objectives) and is a jump map. The journal notes clues and narrates the storyline. Inventory is lockable and, best of all, when you click the left/right arrows, it goes all the way to the beginning/end of your inventory, rather than simply moving one item at a time. THE LAST WORD? The storyline was engaging, gameplay was fun, and the sights and sounds were excellent. Yet a couple things kept this from being a five-star game for me. There was one period in the game where I hit nothing but HOs every few seconds. That got irritating and detracted from immersion into the story. I also found the detective's character totally unnecessary, being as the author's wife did all the work. He seemed to give advice she didn't need, take credit for her work, and magically offer just what she needed at the right time. If you're going to have a heroine, don't have a cardboard male character to prop her up unnecessarily. That having been said, I do still recommend this game and I found the quality of gameplay quite good and the storyline well presented.
January 2, 2014