In Search Of Treasure: Pirate Stories
Many years ago, the ship of the legendary pirate Henry Morgan ran into a terrible storm. To save themselves from the wild elements, the ship's crew headed toward an island not far away. Along the way, their ship became stranded on the reefs! Stuck on the island with no promise of rescue, the crew decided to bury their treasures there. As a former cabin-boy who is all grown up, you have returned to the island as the captain of your own ship in order to take the pirates' treasures for yourself!
Choose your own difficulty level!
Four types of Match-3!
Find the pirates' treasures!
Game System Requirements:
OS:

Windows XP/Windows Vista/Windows 7/Windows 8

CPU:

1.6 GHz

RAM:

1024 MB

DirectX:

9.0

Hard Drive:

130 MB
Game Manager System Requirements:
Browser:

Internet Explorer 7 or later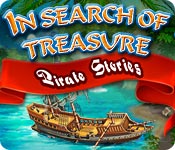 NEW299
The Big Fish Guarantee:
Quality tested and virus free.
No ads, no adware, no spyware.

Reviews at a Glance

In Search Of Treasure: Pirate Stories
0
out of
5 (
0
Reviews
Review
)
Customer Reviews
In Search Of Treasure: Pirate Stories
16
16
Arrrrr Tis A Great Match 3
Excellent match 3 game with a shiver me timbers pirate theme! First of all there are 3 modes of difficulty, casual is match at least 3, and then at least 4 and at least 5, this is really cool. The match games themselves can be switched to clicking on a group such as a square of 4, clicking and dragging a chain of tiles, clicking a line of tiles, and of course clicking a match 3 or more. There are the usual blocked tiles and tiles with ropes etc and you can earn bonuses to destroy tiles. Some gems will glow and you must make a match with that particular gem. I loved the pirated voice when you switched modes or beat the level and hopefully you will too, enjoy!
December 16, 2013
Fun!
Now this is what I call a genuine Match 3. I don't have to build a town or listen to a story or put together artifacts. All I have to do is match the jewels, whether it's 3, 4, or 5 at a time (depending on your selected level of play). The only negative thing about the game (and it's a big one) is the music. It's TERRIBLE. And what makes it even worse? It repeats over and over and over (obviously, I turned it off). As far as I can tell, there isn't a timer. You just keep playing until you've cleared the board. I could be wrong, but I'm at Level 24 and haven't run out of time yet.
December 17, 2013
Enjoy the ''Slider" way of Match 3!
This was a different sort of match 3 with various ways to play! The usual Match 3, or challenge yourself with match 4 (or 5) at the minimum, group click of gems, dragging mouse to make matches and new to me, called "Slider" match where you move one row at a time to match up with gems to make matches. First time I've ever saw this in a game! After I purchased this, I did discover that BFG does have one that is all "Slider" match 3 game called Treasures of the Ancient Cavern and its fab! I'm a fan of match 3 so new "Slider" hooked me in on both these! There is relaxed playing so no timer mode. You can also change the mode of game, match 4, slider, etc., any time you are playing. The only negatives was that the gems were boring, very standard kind. I would have liked to see more darker and special jewels more related to the pirate theme. That would have made this game a 5 star. But it has all the unique plays and varieties that makes it a worthwhile Match 3 to get!
December 16, 2013
In Search Of Treasure: Pirate Stories
I like playing pirate based match em ups but this got on my nerves when the score kept stopping
December 16, 2013
A big disappointment after much play
I considered this game pretty good, once I got past the rather boring beginning levels. I much liked the fact that you could collect many powerups and save them for harder levels. But the longer I played, the less I liked the game. Multiple locked spaces that have to be matched as many as 10 times to clear get very boring very fast. Also, the background tiles that have to be broken are often impossible to see (even when using the control key to see the background). At the most recent level (about 53 or so), I found that one background tile would not clear no matter what I did. I'll have to replay the level. In addition, while I respect the opinion of people who want no story at all, just game play, just a little bit of story would have kept my attention. After the introduction, there is no story at all. Giving the sameness of the levels, not good for me. I appreciate the many game modes this game offers, but if the basic game isn't much fun to play, repeat play in other modes is not a desirable feature.
December 18, 2013
Not my cup of grog
Well this game just did not float my boat. I found that the sounds that are made as you roll over the gems annoying. The music stopped playing after about 3 minutes. On the good side the graphics are preaty good but for me it just does not make up the gap for me to want to buy this one.
December 17, 2013
No Pirates No Story
I am bound and determined to finish this game, even tho I'll have to get new glasses when I'm done! The sparkley gems are so bright they hurt my eyes and I was stuck on one level (25) for 32 replays, because when you run out of moves..it's over. There is no storyline and I only heard pirate voices. This is the worst game I've ever bought from Big Fish. I'm usually very happy with their games. I bought it during the demo....didn't seem so bad then!
December 29, 2013
Wish I would have liked it more
I love pirate themed games and was really impressed when I first downloaded the trial. Graphics were gorgeous at the beginning and it was great to have a choice in playing modes, however that's about where it ended. The colors and shapes of the gems sort of all blended together and after a while it was a bit hard on the eyes to find matches. I prefer games with more contrasting tiles. Also had a lot of problems with stalling and "freezing" for a few seconds during play, don't know if it's the game or my computer but my computer is less than a year old and runs great otherwise. The custom cursor also was a problem with movement, so I changed to the normal cursor which helped, but the stalling thing didn't quit. When you would make a match over tiles to remove them, it would make a "zapping" sound that made me crazy. Sounded like short electrical outbursts that you would hear on cartoons etc. If I had decided to keep the game I would have definitely turned the sound off which I don't usually do unless it really gets to me. Otherwise, it's the typical M3 with ropes to break through and tiles to remove and I have found much better games out there. Sorry to have to put a "reject" sign on this one, it's definitely not for me and on the basis of the problems indicated, I cannot recommend. Hopefully other players won't encounter the problems I had, but as usual, always try before you buy.
December 16, 2013
Bought it and wish I hadn't!!
The levels, although boring at first, become hard to the point I give up after "unlocking" gems, over and over, numerous times The flashing gems are annoying as they block the color and shape of the gems next to them. After awhile, you run out of power-ups because so many are needed for certain blocks, and the fun factor is totally lost after that.
January 12, 2014
Boring Game Until Level 25; then tedious
Not much fun -- there is no story and it takes a long time to gain any powerups. Some levels (43) could not be cleared even with them.
December 31, 2013