Alex Hunter: Lord of the Mind
Alex Hunter thought the case of the missing professor would be an easy paycheck. But his investigation has proven to be anything but simple. With hours of captivating game time, a richly detailed world, and a storyline inspired by classic detective novels, Alex Hunter: Lord of the Mind will thrill casual game fans looking for their next great adventure!
Rich, atmospheric world
Sherlock Holmes-style story
Cleverly designed puzzles
Challenging hidden object scenes
Game System Requirements:
OS:

Windows XP/Windows Vista/Windows 7/Windows 8

CPU:

2.5 GHz

RAM:

1024 MB

DirectX:

9.0

Hard Drive:

1190 MB
Game Manager System Requirements:
Browser:

Internet Explorer 7 or later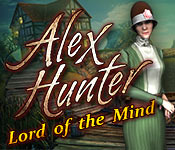 NEW299
The Big Fish Guarantee:
Quality tested and virus free.
No ads, no adware, no spyware.

Reviews at a Glance

Alex Hunter: Lord of the Mind
0
out of
5 (
0
Reviews
Review
)
Customer Reviews
Alex Hunter: Lord of the Mind
59
59
This Case Was Supposed To Be A Piece Of Cake!
Instead It is a case riddled with magic symbols, codes and puzzles. Finding the Professor would not be a piece of cake case after all! I have always said that this developer was one of the best with detailed graphics, just look at the opening scene and watch the dove taking a bath in a puddle on the street. Although there is nothing special about the story, a detective searching for a Professor, the game does keep your interest with the tricky puzzles and many gadgets to figure out. The HOS are interactive, and you can interact with items that aren't on your list such as starting a perpetual swinging ball gadget on the desk. Some may be disappointed because they do double up on the scenes, but the search items were different each time. I will admit some of the mini games are frustrating, I hate the puzzles where you have to click on 1-4 buttons to move a group of four tiles to complete a picture. There are magic symbols to collect and the interactive map will show which scenes have a symbol located, but, they are pretty well hidden. The only complaint I have is with the music, to me it sounded like the same music from Golden Trails, it didn't fit and at times became annoying. This is a lot of game, didn't see that coming, enjoy!
December 17, 2013
A game where we get to actually use our brain! What a concept.
One word: phenomenal. Actually, many more words; this is a lengthy review. This brilliant gem of an SE is actually more CE worthy than...well, let's just say I'm having fun gaming again. A LOT of fun. The developers did a fantastic job with this brilliant detective game that takes us back into the era of horse-drawn carriages and rotund and gruff Police Captains that can't be buggered by having to deal with you, the brilliant detective for hire. Much to my surprise, embedded within this SE are what we usually find as the extra filling for CE games. We have collectibles, achievements, a bonus chapter, a secret room, etc. We also have an in-game Strategy Guide, a journal and a jump-map. WOW and thanks! This game looks to be a LONG one so players will definitely get what they paid for plus; well...A LOT more. There is no way I can finish this in one sitting unless I want cramps. Graphics are superb; they are beautifully and realistically rendered and combined with the fantastic ambient sound-effects (like a bird bathing and splashing in a water puddle for example) really pulls you into the atmosphere of the game. The tiniest of details are not over looked here which goes to show just how much effort and hard work actually went into this game. Incredible. As for the storyline itself; superb. I immediately felt like Sherlock Holmes and ran off to get my detective hat and my trusty pipe before settling right in to this game. I'm having such a blast playing that it was difficult to pull myself away long enough to write this review. The voice-overs are very well done (thank you voice-actors for not grating on my nerves; you were excellent) and the lips of the person talking synch about as much as they possibly can (love that). There are several characters you will meet; each unique with their own set of 'quirks.' I've only scratched the surface and I've been playing for awhile now. As far as the technical nitty-gritty. Aspect correction is available for wide-screens (should be standard for every game these days) and for those that get annoyed by large black bars, you will be pleased. Aspect ratio, when I activated it on my wide-screen, has VERY tiny and thin black "lines" on the top and bottom as opposed to the 'bars' on the sides of the screen, And like I stressed; they are barely noticeable. For the purposes of reviewing, I had to click that button a few times to even see them. Standard volume controls, option to turn off custom cursor and two modes of play which is all that is really needed for this particular game. Casual mode: you get a tutorial, have less hidden symbols to find, and objects and puzzles are easier. Expert mode: expert gamers will be pleased. No tutorial, no help, more hidden symbols to find and harder to locate items as well as more difficult puzzles. Even in casual mode however, you will not get an abundance of hand-holding which is where using ones' brain comes in. Expert mode: you are on your own as it should be. WIN-WIN-WIN. I saved the best for last. Ready? No overuse of cute, furry, cuddly, dress me up and overall maddening stuff crammed into this game!!! NONE! It is a detective game; heavy on adventure, lighter on the HO's and puzzles yet still enough to please both HO fans, puzzle fans, and adventure gamers. It is the perfectly balanced HOPA. And...you get to use your brain; there is no zoning out and just clicking your way through this. I don't want to give the wrong impression either. It is not ridiculously difficult either. With some logical thinking and having fun exploring around, game-play runs smooth with no frustration. And remember, if you do get stuck, there is always the built-in SG to help you. So: no cuteness, excellent detective game, CE extras without the added price tag, excellent quality in all possible aspects, very good length, use of ones' brain, hard-work and creative effort on the part of the developers as in no cookie-cutter short-cuts or skimping on details. So why are you still reading this? Demo as soon as possible, buy the game (I'm betting you will want to within 10 minutes of demo time) and consider yourself properly entertained for quite some time. Happy gaming fishies and EXCELLENT work developers. Thank you for putting so much effort into your game; it shows. So, now I'm putting my detective hat back on, picking up my trusty pipe and proudly announcing that the "Game is, once again, afoot!" I'm eager to get back to solving this crime. Enjoy!
December 17, 2013
A DIAMOND IN THE ROUGH
Okay now! Many of the higher priced Collector's Edition game developers could learn a thing or two. More reasonably priced games like Alex Hunter: Lord of the Mind, please! A Standard Edition with many extras usually found in a Collector's Edition and the game is VERY WELL DONE! You are the much sought Detective, Mr. Hunter hired to find a missing person. Rich colors, splendid voice overs and a map that shows locations of the 35 secret symbols needed to collect in order to play the Bonus Chapter. Yes, Bonus Chapter. Music is appropriate and blends well with game. Hidden objects and puzzles are, thankfully, not so easy and enjoyable. Achievements are do-able since I seem to never get all of them any where! Bah! Humbug! Oh, that's a different game. Totally buying this one BFG friends! A breath of fresh air! Enjoy! -Mama Mia-
December 17, 2013
Bravo Alawar!!!!! Finally a challenging game!!!
I am so happy that one developer has not followed in ERS of Elephant foot steps in making the games too easy and child like. This is a game which an adult would enjoy! Graphics and voiceovers are great! Variety of puzzles, which I love. There is still a good amount of adventure. I would like a little less HOS, but were easy enough to quickly click on objects and continue with the adventure. I would have been willing to pay CE price for this game compared to the CE that have been coming out lately. More games like this please!!!
December 18, 2013
Loved this game!
This is one of the best BF games I've played. Everything about it is top notch. Production: The artwork is very good and the character movements and VOs are some of the best I have seen. Other developers should take lessons from these guys. The music is good and fits the story. There are collectibles that open a secret room. There is a button (feet) that if clicked has a guide and shows the location of all collectibles. Story: A good, old detective story without a single evil witch to overcome or any cute critters to help you. What a joy! The story is interesting and is well told. There is a good journal. Game play: Very well designed game. The HOS are all reasonable and have IA. The puzzles vary from easy to difficult or at least time consuming. There are some arcade-type mini games. There is an IA map that shows where action is needed and where there are collectibles. The HINT button points you in the right direction. Lot's of action and numerous locations leads to a lengthy game. I highly recommend this game; it's an absolute joy.
December 23, 2013
Alex Hunter Lord of Mind Excellent game full of surprises
Well another success for this game maker, well done , what surprises in this game, good graphics, love the music, plenty to do, find the secret signs, I was so very surprised to find a built in strategy guide in this game , will not use it only in an emergency ,but it is where the feet are in the little circle. I love the music, the overall game is not hard to manage , puzzles are not too bad to do at all, I think this game is for all beginners you will find it very manageable. good game excellent.
December 18, 2013
Reeaaallly good (based on Demo only)
The graphics great, cut scenes EXCELLENT, storyline consistent and interesting, puzzles good and I believe both genders will enjoy (a lot of pneumatics/science/science fiction/sleuthing). For $6.99 (!?) or a coupon code it's a great deal for this game, it's truly enjoyable in every way.
December 17, 2013
This is a CE in a SE!
GREAT GAME...well, for me anyway...I haven't had so much fun playing a game like this in a long time. It seems to never end and I was able to get it for free! I am playing the bonus game now, and it goes on and on....more areas to explore than some regular CE games have. I am just loving this game. I am not one to explain all the ins and outs of a game...just play the trial and see if you like it...I was hooked right away....it is just my style...and I enjoy all the HOS in this one. Well...I am going back to play some more now. Hope you enjoy this as much as I am!!!
December 21, 2013
Enjoyed this game
I'm not much for hidden object games anymore but for some reason I really enjoyed this one. It was full of puzzles and a guide to help you if you got stuck. I was half way through the game before I realized the footprints take you to the guide. Quite the bang for your buck, had more content than a lot of collector editions. I look forward to playing it again.
December 17, 2013
I really like this game!
This is a pretty cool game..:) I am playing it on the harder setting and it really is good! It's got a little touch of steampunk which I like and I also like the integrated guide too...I think it's pretty great :)
December 17, 2013