Alex Hunter: Lord of the Mind
Alex Hunter thought the case of the missing professor would be an easy paycheck. But his investigation has proven to be anything but simple. With hours of captivating game time, a richly detailed world, and a storyline inspired by classic detective novels, Alex Hunter: Lord of the Mind will thrill casual game fans looking for their next great adventure!
Rich, atmospheric world
Sherlock Holmes-style story
Cleverly designed puzzles
Challenging hidden object scenes
Game System Requirements:
OS:

Windows XP/Windows Vista/Windows 7/Windows 8

CPU:

2.5 GHz

RAM:

1024 MB

DirectX:

9.0

Hard Drive:

1190 MB
Game Manager System Requirements:
Browser:

Internet Explorer 7 or later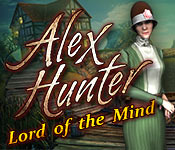 NEW299
The Big Fish Guarantee:
Quality tested and virus free.
No ads, no adware, no spyware.

Reviews at a Glance

Alex Hunter: Lord of the Mind
0
out of
5 (
0
Reviews
Review
)
Customer Reviews
Alex Hunter: Lord of the Mind
80
80
Surprisingly Good!
I must admit, I wasn't expecting great things from this game ... but I was pleasantly surprised! It was a really good "Who Dun It" type game. The HO scenes (these are not my favourite part of HO games) are good, with little bits of surprise animation! The puzzles (my favourite part!) were surprisingly good - not too easy not too hard. This game is definitely going on my "To Buy" list! I'm currently playing MCF Fate's Carnival and when I have finished that then this game will be my next challenge!
December 17, 2013
Exceptional Stand-Alone SE Game
BASED ON DEMO FIRST IMPRESSIONS At first, with no intro before the main menu, I thought this game was going to be another not-quite-good-enough SE. But in extras alone, this is a good value game, and even without them, would have received 3 stars from me. Set in the 40s (?) era of the old classic gumshoe stories, with a little steam punk thrown in, it is surprisingly atmospheric, has a promising story, and no major down side. SIGHTS & SOUNDS The graphics are okay. You?re not going to be wowed by them, but they are clear, and although it is a story that tends toward dark, it is not overused. HOPs are very clear, if not in loving detail. There are a fair number of cut-scenes, and they are about the same quality. There seems to be very little animation, until you start messing around clicking interesting bits and pieces, which sets some of them in motion. The voiceovers are well done and, perhaps more importantly, well used. There is an attempt at an approximation of lip synch, which I thought worked well. The sound effects and background are competent. The music is quite interesting, changes frequently, and is not at all intrusive. WHAT?S HAPPENING If there is one thing that goes against this game, it is that the story moves too slowly. At the end of the 1st chapter (50mins of demo), I still know very little more about what is going on than what is written up about it. You are hired by a young lady to find her father, and so far the only thing we have learned about him is that he is a genius on the workings of the human mind (and as puzzle-crazy as all these lost profs are), and received an invitation recently to visit another expert with the view to working together. MAKING PROGRESS This is more a puzzle/lite adventure game than it is a HOPA. There are 2 HOPs in the demo, each visited twice, but there are oodles of mini-puzzles (none original, some uncommon, none difficult ? so far!) and inventory items to find and use. The HOPs are interactive lists, with a close-up in each scene. All objects are clearly visible and the interactions make sense. There is 2 modes of difficulty, a directional hint, an interactive jump map, excellent journal ? and, wait for it! ? an in-game walkthrough! The game also boasts: bonus chapter, wallpapers, achievements, collectibles (where higher difficulty mode requires more of them to release the other extras - cool!) 2 other yet-to-be-revealed other gallery items, and a secret room!! I?m overwhelmed, but it is so nice to see a stand-alone game going that little bit further. FINAL VERDICT I had low expectations for this game and was genuinely astonished to see how much it had to offer and how much I enjoyed it. Definitely a buy.
December 18, 2013
No such thing as easy money...
When I saw this game, I figured it would be the usual "not up to par" SE's we have been used to lately #when we get them#. I was wrong. Graphics and game play were very nice. Colors very bright and clean. I really like the time period of this game and so far, everything seems to fit the scenery. Music was a bit monotonous, so turned it down. Voice overs and animation were well done, and the sound FX were nice. HOGs were not difficult, as long as you can see in the dark. They were a little too dark in some areas. Puzzles were the usual and not really hard to figure out. There are collectibles...you need to find 25 symbols, which are not difficult to see. You just have to remember to look for them. There is a jump map, but I didn't use it during the demo. The SG is set up a little differently. You need to click on the picture of the scene you are in to read the SG instructions. Didn't care for that at all...too much clicking. Inventory bar does not lock in place, so it jumps up and down constantly, and wiggles back and forth when you run your cursor across it #very annoying#. The story line is nothing new, and I don't know what it is about this game, but I found it interesting and fun. This is not the usual SE, there are extras, e.g. the strategy guide and the collectibles. I find the need to use a punch credit and get this one today. As always, try it for yourself and see what you think. We all have different tastes in games and you may not care for this one at all. Thanks for the reviews.
December 17, 2013
Sherlock Holmes-Style Right Up My Alley Review Of Completed Game
STORY: You take on the role of a detective Alex Hunter and you are helping a professor's daughter locate her missing father. 2 PLAY MODES; Casual and Expert. I played Expert mode. The hint and skip are slow on charge up. Hint is directional outside of HOS. There are sparkles for the HOS along with black bar tips. In Casual mode you have to find at least 25 secret symbols to unlock bonus chapter. Expert mode you have to find at least 35. There's also achievements. JOURNAL: Holds notes along with some to solve some of the puzzles/mini games. COMPASS: This is next to the journal and this is where the map is located. This is transporter. Shows where you are and an ! where there is something to do and will also show if there is a secret symbol in that scene. FOOTPRINTS: Next to the hint you will see footprints and this is where the strategy guide is and is a "pictorial." You have to click on the pictures and then there is text. Also list the secret symbols. I didn't use it just checked it out. HOS: All found by interactive word list and there are quite a few scenes. Most scenes nice, crisp, and clear but there were a couple of scenes a bit on the dark side and was challenging for me to find a few of the objects. PUZZLES/MINI GAMES Quite a few of these as well. The usual run of the mill. Nothing I would consider "new." I did most of them but skipped a few cause they are the kind I don't like. OVERALL IMPRESSION: I didn't think too much of this game until I read the game description and saw it was a Sherlock Holmes-style story. This is right up my alley. I love and am fascinated with this time era. I absolutely loved the story. Hooked right from the get go and held my interest to the very end. The graphics, cut scenes, voice overs, characters - excellent. A very well done here as everything era appropriate and fitting. I also enjoyed the game play for the most part as it flowed pretty good except for the sparkles/black bar tips on what's suppose to be the hardest mode. Thanks for providing a hint/skip button as I like those available in case needed. Also too many puzzles for me. Since this had a bonus chapter. Main game came to conclusion and bonus chapter was just that for me. A bonus chapter. I enjoyed this as well. Oh and great game length as the whole game was about 8 hours for me. Time well spent and use of my game credit.
December 17, 2013
For once the 'blurb' was correct.
For once the blurb was right. This game does evoke the feeling of the Marple/Poirot and Sherlock Holmes games. The story maybe a familiar one with regards to PI and needing to find a missing person. This is a SE but even with this being the case, there are 'secrets' to be found and the VO and lip sync acting is very good considering that is was a one credit game. The music was good and the soundbytes were in keeping with the overall mood of the game. The graphics were good and again evoked the time period of a Victorian period. The 'purists' of the genre may argue that the 'secrets' should not be able to be sought so easily as clues of to their whereabouts were given, however, for me this was a good thing as many a time I have purchased a CE edition and got all but a handful of the 'morph objects' etc thus I did not unlock the 'final secret'. So for me to be given 'guidence' as to their whereabouts was a good thing and will allow me, when I have purchased the full game, to be able to fully explore the whole game. There are only two levels casual and hard, and even on the hard you can skip the puzzles and have hints, so again this game maybe pitched more towards the first-timers or 'newbies' to the genre. However if you are just wanting a nice relaxing game with a good story and good graphics, VO etc then I would highly recommend this game.
December 26, 2013
Outstanding Game at an SE Price!!
I never buy CEs, and for that reason, the "extras" this game included weren't something that got me overly excited, although I did use the SG three or four times. I appreciated having it, because it meant three or four times I didn't have to exit the game to use a walk through. I only collected 22 of the secret symbols, mainly because I wasn't really looking for them, and that's okay, too. And I haven't played the bonus chapter and will probably save it for a later time. When you never buy CEs, you don't miss what you've never experienced. I just don't have that kind of money, and all that CE bonus stuff isn't important to me. That being said, I really, really liked this game! It's easily the best game I've played this year, and I was lucky enough to discover it in time to get it on a $3.99 sale! It's true that some of the HOS had areas that were quite dark. I also noticed quite a few discrepancies between where the map shows tasks that need doing and where the hints direct you. Often I would use the map to jump to a supposed active location only to find that something first needed to be done elsewhere before I was able to carry out the task in the location indicated by the map. Also, the button to open the map is very small, and it took me a while before I figured out where it was. I particularly liked that the game was neither airy-fairy-fantasy nor loaded with steam punk slash Rube Goldberg contraptions which have seemed like the only available choices in games lately.
March 11, 2014
A good value
The other reviewers weren't kidding when they said that this was a long game. I played it after work over the course of a few days. The graphics were superb --so much attention to detail. Every so often an item would be hidden in a dark place, so I would just use the hint button for that last item. However, all the HOS were well done and enjoyable. They had a little interaction and were not frustratingly hard or so easy that they were boring. This is an adventure game that plays like a CE and even has bonus content, collectables, and a walk-through. Not bad at all.
February 22, 2014
Surprisingly good
Although the graphics seem a bit dated they are still very good. Nice detailing, like in the first scene when the bird is taking a bath in the puddle. Interesting story and the interaction with the different people are very nicely done. This game really has everything a CE would have. Collectables, achievements, map, journal and a built in SE. Seems like a very long game too. Minigames are fun too So far I only played 30 min but I'm already hooked.
December 17, 2013
I will probably like it the Second Time Around Better
The story is a little silly and didn't motivate me very much, but the puzzles were fun. Some of the HOS's could have been done much better. The atmosphere didn't impress me that much either. I will play this again because I like to see how fast I can get through on expert level the second time around. It is a decent game, but not that great of an experience overall.
May 4, 2014
This was a SE... WOW!
This is posted after completing the whole game. I have to tell you, this was an excellent SE. I can't believe it had most all the qualities of a CE, which I never buy. There are things to collect and even a bonus chapter. Goes to show they can do whatever they want if they want to do it. Now on with the review. The fun was there. I really enjoyed the cut scenes and voice overs. Great job there. The game kept my interest and was fun to play. The graphics are really good. Some of the hidden object scenes were a bit dark, but not impossible to see eventually, especially with that little hint button. The sound was fantastic. Music was good and didn't on my nerves like some. The hidden object games are pretty simple. There were some objects I had to really look for or even use the hint button, which does charge fairly fast. However, saying that, they made up for the ease of the hidden objects, with the mini games. I am not a mini game person. I guess I either don't have the patience or intelligence to figure them out, but I did find them challenging and even skipped some. I mentioned the hint button which was a great help, but the Mr. Map will be your best friend. I normally try to wonder around on my own, but this is so back and forth you will need to use the map to figure out what to do and refer to the journal often. The story was good, not exceptional, but enough that I wanted to find out what happened next. I can't wait to play it again and see if I get more out of it. If you like a nice game to pass the time away with great graphics, sound and the qualities of a collector's edition, I do believe you will like this game.
February 26, 2014