Mystery of Sargasso Sea
While on a yacht trip in the Sargasso, you suddenly find yourself trapped in a fierce storm. Struggling with the elements you've lost consciousness, and when you come to your senses, you see a strange place resembling an island of abandoned ships. But soon you realize that the island is far from deserted...

What is this mysterious place? How did you get here? What secrets are hidden on this island of abandoned ships? Is it possible to get out? Answer all these questions and more in Mystery of Sargasso Sea!
Over 60 light adventure locations
Beautiful graphics
Ships of different eras
Game System Requirements:
OS:

Windows XP/Windows Vista/Windows 7/Windows 8

CPU:

1.0 GHz

RAM:

512 MB

DirectX:

9.0

Hard Drive:

691 MB
Game Manager System Requirements:
Browser:

Internet Explorer 7 or later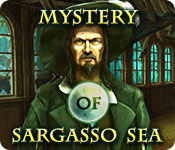 NEW299
The Big Fish Guarantee:
Quality tested and virus free.
No ads, no adware, no spyware.

Reviews at a Glance

Mystery of Sargasso Sea
0
out of
5 (
0
Reviews
Review
)
Customer Reviews
Mystery of Sargasso Sea
20
20
You Have Until Midnight!
You are sailing your small boat when you come across an eerie graveyard of ships, there is a strange green fog surrounding everything, is that an abandoned cruise ship? Suddenly out of nowhere green lightning strikes, you are tossed about and knocked out cold. When you finally open your eyes you are gazing into the cold green eyes of a sinister man, "you have 24 hours before you die!" Well that gives you plenty of time to snoop around the abandoned cruise ship in search of clues and inventory and possibly escape this madman. The HOS are very well done, they are interactive and I for one had a hard time finding a few hidden objects! They do double up on the scenes so be sure to backtrack occasionally. The music is good and the atmosphere is creepy although some of the graphics could have been better. There are a lot of HOS but not a lot of mini games. Nothing new pick a lock with a file and hairpin, or tune a piano one key at a time by turning the wrench, the key you are tuning will turn red if incorrect, yellow if close and green if good to go. The map doesn't show areas of interest at least in hard mode it doesn't but you can use it to travel. A really interesting game for a stand alone standard edition, it is well worth the buy, enjoy!
December 18, 2013
**IMMERSIVE STORY GETS 5 STARS**
Sailing alone on your yacht, your entire boat literally gets pulled into a graveyard for ships. Among the other fallen vessels, you see a much larger steamship, "The Sea Pearl" that vanished during it's 1923 voyage. More of the same where evil spirit#s# needs living souls, but there is an intriguing story that elevates the game and makes gamer want to proceed and learn more. Ambience is hauntingly noteworthy with eerie background piano music which lends an urgency to the fact you must find your way out before the moon is full. Hurry! Hidden objects can be found--not too difficult--not too easy, and are time era appropriate and interesting. You get to open drawers and doors and boxes to find hidden objects. Developers did their homework and put a lot of work and effort into the game--it's not just another cookie cutter, dog and pony show. Razzle dazzle 'em! Way to go, BFG! I love your games and appreciate more of the standard edition games released lately. Enjoy! -Mama Mia-
December 18, 2013
Haunting nautical tale
I beta tested this game over a year ago and have been waiting for it ever since. I have literally been haunted by it, remembering the scenes all this time. Wonderful detailed graphics and spooky atmosphere. Many HOPS but mechanical puzzles are few and far between. Being a musician I appreciated the piano tuning puzzle--it is exactly how you tune an instrument. Immediate buy for this long awaited pleasure.
December 18, 2013
Pretty Hidden Object Game
I like this game. Cozy atmosphere and soft music. Interesting navigation map reveals the structure of ships. Enough new story - the game runs on ships from different eras. Hidden Object caught with interesting puzzles. Puzzles unobtrusive and awesome graphics. The game is played not so long. Learned a lots about ships of different years.
December 22, 2013
exciting
easy to play without frustration ,but interesting story clever puzzle not very difficult .not very complicated
December 18, 2013
Loved Sargasso Sea
Absolutely loved this game, solving problems was not always with the obvious choice of tools, plenty of puzzles, game flowed well from one place to another. No bugs. Well worth the price. Just one thing, the ascent was a little hard to understand but then you could read the text if you needed to.
December 29, 2013
Grew On Me Fast!
This game is one of those 'love it or hate it' types, apparently, judging by reviews. I was so-so at first, but then got hooked into it. Still haven't finished and I've been playing for about 3 hours. Every time I turn around, there's several new directions to go. Tons of places to explore and things in each scene. Haunting scenery of ship graveyard very unique to me. There are lots of HOS, which I personally like, the old school type, object list with some interaction. I'm in the dying breed of folks who don't like the new style of finding one object at a time-do something to get the next object! I'm really enjoying this atmospheric game, one I will definitely replay because there's so many screens and things to remember and do. I think it's a great standard edition, give it a chance! Some of the latest releases, #you know who you are, lol# have spoiled us with their glamorous graphics, but this is a great game for a long winter night.
December 19, 2013
Very Thrilling/Engrossing- Review Of Completed Game
STORY: You're on a yacht all alone in the Sargasso and you find yourself trapped in a fierce storm. You lose consciousness. When you come to you are greeted by a sinister ghost man who needs souls to feed the Dark Stone. He tells you that you have 24 hours till you die. 2 PLAY MODES: I played the hardest of the 2. Sparkles for HOS and there are some black bar tips. Some things you have to figure out on your own. Hint/Skip slow on charge up. Hint is directional outside of HOS. JOURNAL: While there is some voice overs some of the story/notes is held here along with some to solve a few of the puzzles. MAP: This is transporter and shows where you are but doesn't show if there is anything to do in the locations. HOS: There are quite a few scenes and each visited twice. All found by interactive word list. You will also have to "move" some things to find some of the items. For the most part these were well done for me. A couple of scenes a few objects very small and on the Sanford & Son junkyard pile side. PUZZLES: Nothing new here from the many games offered here at Big Fish. I am not a fan. I prefer adventure/HOS (more adventure though). Most of these I found boring and annoying especially the click and drag puzzles. I'm glad there weren't a lot. I skipped most of them. MY PLAY TIME: This was about 5 hours for me but I skipped most of the puzzles though as I said. I was still just fine with the game length. May be more/less for you of course. OVERALL IMPRESSION: What a thrilling, engrossing story. I was hooked from the get go and held my interest to the end. The graphics may be "dated" for some but for me they were quite good. The voice overs a well done here. The music also fitting to the game. I enjoyed the creepy/eerie feeling. Very atmospheric game. I also enjoyed the game play for the most part as it was more on the adventure/HOS side. I do have a few criticisms about this game: The first being I was over 2 hours into this game and had a glitch and had to start over under a new profile. I also wish all developers would learn how to do play modes. Just give us a custom mode. I prefer no sparkles/black bar tips along with a quick hint/skip button and I'll decide when/if I need help in the game. I also thought this game could of had just a bit more character interaction with the sinister man. The ending was also a bit abrupt for me. Overall a very good game and happy to add to my collection!
December 19, 2013
Glitch in Game
First off, my rating is for the game UP TO the glitch. Puzzles and HOG are not too hard though a couple puzzles were a little tedious. Graphics very nice. Music annoying at times because of repetition. Story very interesting. I was quite a ways into game when I came across the bug. There's a plane with a puzzle on the door. You need a spring and a cog wheel disk. If you put the spring in the puzzle before the cog, you just ended the fun. It will not let you put the cog in so the game is pretty much finished. You must "restart" game and play over to be able to play entire game. As far as I can tell, this has been this way for some time but the game is still out with no fix or heads up to the problem. Not sure if I'll "start over" or just scrap it. Very disappointed. I know they'd rather reviews were not for technical issues but people need to know about this before purchasing
August 24, 2014
Interesting and Eerie
This is an interesting game. It has enough puzzles and ghostly figures and interesting story line as you try to figure out how to escape. I rather enjoy the eeriness of it and the music at times (as well as the sounds of wind blowing) add to the theme. I am still playing and look forward to seeing how this plays out in the end. I look forward to seeing other games of this type.
December 22, 2013